From a promising concept, Web3 has turned into reality in front of our eyes – and it's about time to start learning about the opportunities it brings! In our article, we have gathered key insights on the business opportunities of Web3 and the Metaverse based on our recent webinar. Check what the experts say about this revolution and its impact on various industries.
We are entering a new internet era, which rejects centralized structures for the sake of distributed, decentralized infrastructure and transparency. Knowing the importance of these changes from the business perspective, Miquido is actively spreading consciousness of the opportunities Web3 and the Metaverse bring. Our mission is to help companies understand and embrace the business potential of blockchain and NFT, and to make that easier we contribute with educational content.
Our AI Waves series is already a well-established tech event that gathers a solid panel of experts with every edition. The 6th one, which took place on November 2022, focused on Web3 and metaverse solutions. Even if you haven't had a chance to participate, this article will provide you with key insights from our experts. Our hosts squeezed out as much knowledge as possible from the event, and now we capture its essence!
How can you use Metaverse for business? Critical insights from the AI Waves webinar
Let's first briefly explain what Web3 is to understand the difference between it and the metaverse. Web3, a new generation of the world wide web, is supposed to fix the issues we have been experiencing in recent decades. Trustless and decentralized, it reduces the dependency on central units we have grown to accept, replacing it with a consensus mechanism and democratic peer-to-peer model. This way, the control over the web goes back to the hands of the community.
When it comes to the Metaverse, we are dealing with a slightly different concept. The two terms are intertwined, as they both strongly rely on blockchain technology, which gave life to the crypto scene. In a nutshell, the Metaverse could be described as a digital, virtual world that facilitates real-time interactions and enables building innovative economies. But the truth is, it is hard to define what it really means, as the concept is constantly evolving. Here's what Irina Karagyaur, Head of Ecosystem Growth and Business Development at Unique Network, answered during AI Waves when asked about the Metaverse:
We don't know what the Metaverse is because there is something in the making, and there are dozens of definitions. […] It involves virtual worlds, virtual environments as well as artificial intelligence, bridging the virtual economy with the real economy. However, we now see many Metaverses – so many virtual worlds and gaming experiences call themselves by this name.
Why is it worth including the Metaverse in your business strategy?
Now, let's talk business – that's likely what you came here for! Even though when hearing about the Metaverse, you may sometimes get the impression that it is just a buzzword, our guests confirmed there is much more to it. Chris Kogutkiewicz, Miquido's CEO and co-founder, has given us examples of the Metaverse's implementation in the fintech industry, which he is professionally involved in, saying:
Let's take the example of American Express, JP Morgan, and or Bank of America. The last one actually launched a training program using Virtual Reality, using the Metaverse, and the other two, JP Morgan and American Express, opened virtual launches. […] This is, again, similar to NFT, a way of expanding brand awareness and reaching new communities.
The big players are well aware of the Metaverse's business potential, and joining them may gain you a competitive edge.
Businesses often treat the metaverse as a space to experiment without risking financially and validate your strategies that are about to be implemented in the "real market".
Your company can use the Metaverse to access new audiences and reach different target groups or test your product in the community before letting it out on the physical market, like Nike for example.
The fintech industry was one of the first to pick up this innovation due to its already strong links to blockchain solutions and openness for the new economies enforced by the popularity of cryptocurrencies. But the interest in the Metaverse is strongly visible across other industries, particularly fashion and gaming.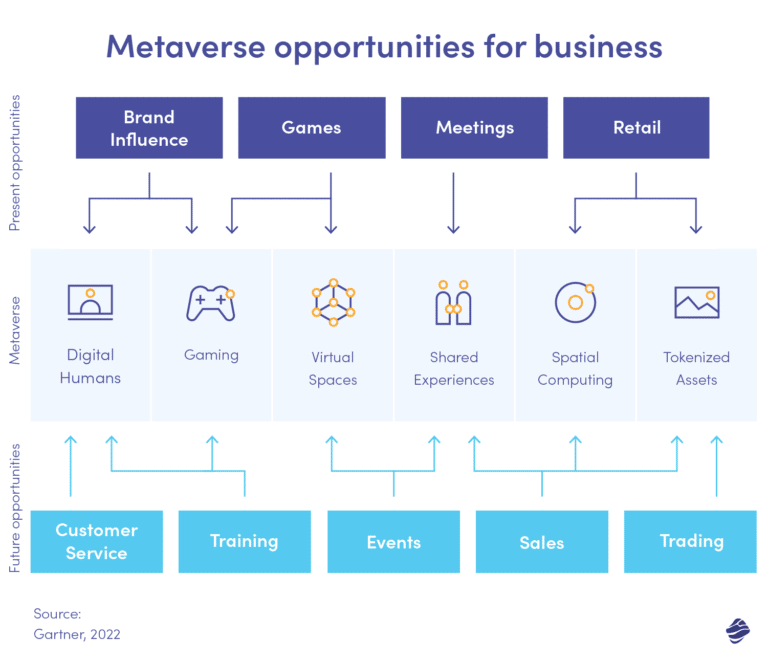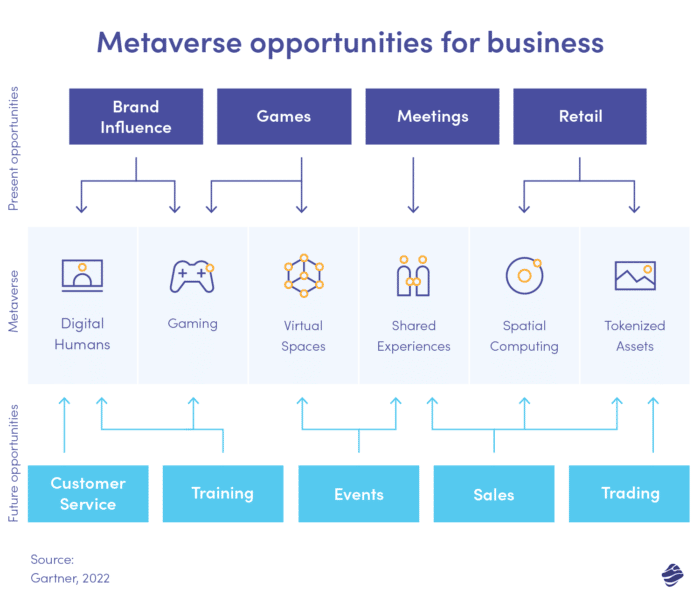 Metaverse platforms will not replace the physical market. Still, those having a "digital identity" will undoubtedly have bigger chances for success in the future as virtual or augmented reality will merge into our everyday lives more and more. The more visitors a particular virtual space has, the more benefits you can draw from it.
How can you start your adventure with the Metaverse?
The Metaverse clearly opens some new profit sources in front of you, but does it mean you have to invest in it? There are a few paths to get into the business, and not all of them lead to buying your spot on a particular platform. During our webinar, Iryna pointed out another interesting possibility, saying:
You can partner with other companies who already have a [Metaverse] space, go rent that space, run an event there, and see if there is an interest, […] It's all a matter of understanding how that new model, new environment, new community can support your business and how your business can support them to create this win-win situation.
NFT – what business opportunities can it bring? Key insights from AI Waves webinar
In 2021, we went through a brief but impactful NFT hype phase. For a while, non-fungible tokens were on everyone's lips, mainly due to the crazy amounts they would be sold for, even if they represented such abstract values as love or void.
That first wave of NFTs was marked by record-breaking prices and has shifted the public's attention in a misleading direction. Those without a background in crypto and blockchain quickly started associating NFTs with GIFs that, even though unique and unfalsifiable, are just GIFs in the end. But NFTs are much more than that, having a truly revolutionizing potential in various industries, which we tried to prove during our webinar.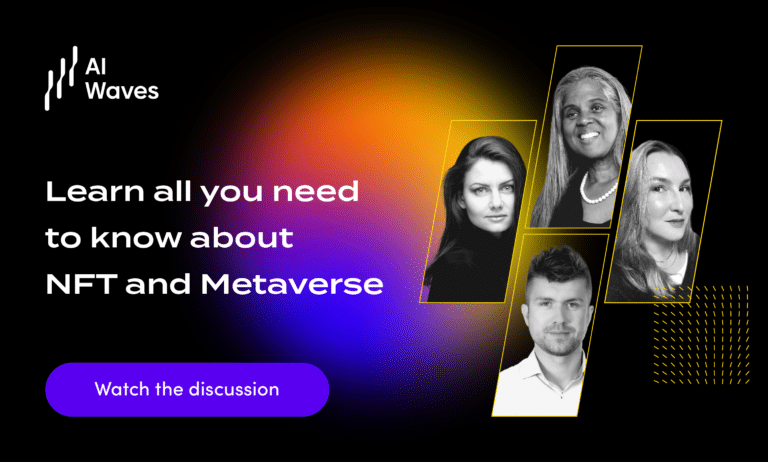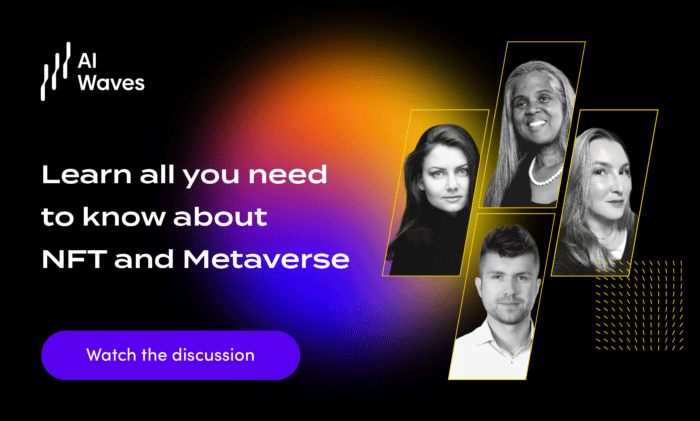 Yes, NFTs can have value in themselves, but they can also represent it and serve various purposes, from ownership rights protection to distributing profit from collaborative work. As Osnat Zaretsky, co-founder and CEO of Alsomine, puts it:
In the art world, most of the value is in visual imagery. But when it comes to businesses, the value stands for what the NFT allows you to do. Let's replace the NFT with a big fat x. If the value remains the same, it means that it's somewhere else. And what if the value is significantly diminished by replacing the picture with that big fat x? Guess what – the image was the value. And that's where it ends, really.
What can you use NFTs for in business?
After meditating on the meaning behind NFT, the experts talked about various practical ways of using non-fungible tokens in business. NFT Authentication is one that we can already see becoming increasingly common. Since non-fungible tokens are unique and impossible to replicate, they can serve perfectly for preventing the falsification of tickets, certificates, etc.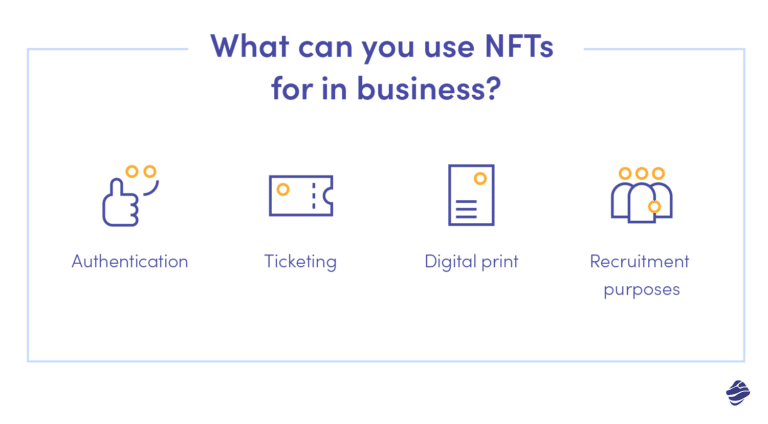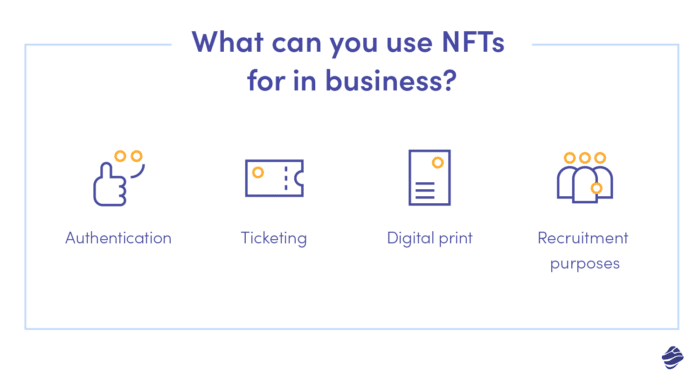 Event organizers can use NFTs for ticketing – not only the digital events in the Metaverse, but also those held in real life. We are convinced that such a solution will enter the mainstream very soon. The 2024 Paris Olympic Games will likely be an NFT ticketing-only event.
NFTs can also become a digital print, a sort of confirmation of the origin of the particular certificate or title. Genevieve Leveille has brought up an interesting example of new EU regulations that put new requirements on food producers. Using NFT, they could record the origins of the ingredients and raw materials they use, confirming that they fulfill the required norms. A similar mechanism could be also used for recruitment purposes. Work certificates, diplomas, credentials, references – they could all be emitted as NFT, proving their genuine origin and validating the candidate's credibility.
Is NFT over?
You might already suspect what we will answer, considering that we have sacrificed a big part of our webinar to this topic. No, NFT is not over – in fact, it is just the beginning of its era. The initial storm has inflated the NFT market's worth, but now things are getting settled. The descending statistics are thus not a reason for concern, but rather the opposite. As Osnat Zaretsky explains:
NFTs are moving from having the value within the NFT for the sake of the NFT towards NFT representing other value that's far bigger, mostly driven by corporates at this point; far, far bigger than the value of the NFT itself as a sellable asset.
So, we are only about to witness the revolutionizing impact of NFT, which is likely to stay with us. That brings us to another topic – education. NFT and the Metaverse are still dynamically evolving. As usually happens with new and complex concepts, their understanding is still shallow and often based on preconceptions. The most catchy aspects make headlines, but they only show a fraction of what these new technologies really are. Naturally, a GIF sold for millions of dollars will draw more attention than, for example, an NFT-based copyright ownership protection platform. But with more emphasis on education, we can regain the right balance.
We hope to contribute by providing a broad audience, including our customers, with open-source educational materials that help the regular user understand the We3 concepts better. This article focuses more on their business applications, but before the webinar, we published an introductory post that explains the origins and the basics of NFT and the Metaverse. If you would like to get familiar with these, check it out!
How to get into web3 with a digital wallet
It's no mystery that the best way to learn is by practice. Irina Karagyaur recommends starting by launching your digital wallet, which she calls "door into the Web3". As she said during the webinar:
It really starts from employees and the management of the company getting into the space and getting an experience of opening the wallet, claiming an NFT, owning it, then maybe starting to enter decentraland, opening an office there.
In order to integrate multiple wallets with your decentralized app, you can use a Web3 React framework. We often reach out for it when implementing digital wallets for our customers. If you see the potential for the Metaverse and NFTs for your business or have an idea for a solution that could involve virtually enhanced physical reality, we would love to give you a hand!
Meanwhile, you can stay up to date with the evolution of the Metaverse and NFTs with our newsletter. Every month, we share a fresh dose of Web3-related news. If you want to receive them, fill out the form below.