Music app development company
From hi-fi streaming and radio apps to audio editing software – let's rock the music industry!
Let's work together


Music application development appreciated by industry leaders
As a sector developing digitally at a fast pace, the music app development industry requires an informed, strategic approach. Preventing the audio latency issues, ensuring the highest quality of audio or delivering easy navigation with an intuitive UI are just the tip of the iceberg of factors impacting user retention. To address them all, work with experts who know the struggles of the music app sector. Oh, and have we mentioned our love for music? It's easier to cooperate with a team that shares your passion!
How can your business benefit from music app development?
Reach global audiences, build brand recognition and deliver unforgettable user experiences with personalised music applications. Turbocharge your business growth and develop new revenue streams while showcasing your unique brand values. Hi-fi sound quality, lossless music streaming, MQA audio, seamless offline access to extensive music libraries… Explore the possibilities of music app development and leverage innovation to turn your ideas into worldwide hits.
Deliver Hi-Fi sound quality
Provide immersive listening experiences that will engage and retain your users. Deliver high-quality audio in lossless FLAC and MQA formats, allowing your audiences to access top-notch content directly and effortlessly. Leverage the expertise of music app developers with a proven track record in overcoming audio latency issues and providing seamless data streaming.
Reach global audiences
Connect with users from around the world with music streaming, discovery, education and radio apps. Employ social sharing, playlists, customised radio stations and personalised recommendations features to increase your reach. Create engaged, loyal communities of music lovers that will make your business stand out in the highly competitive market.
Increase revenue streams
Since 2014, music streaming has become the primary revenue source for most music labels. Prepare an app monetisation strategy that meets your company's needs and ensures stable, steady business growth. Open up new avenues for revenue generation with features such as live streaming, subscription fees, in-app purchases, and advertising – and have your share in the $30 billion-worth music application market.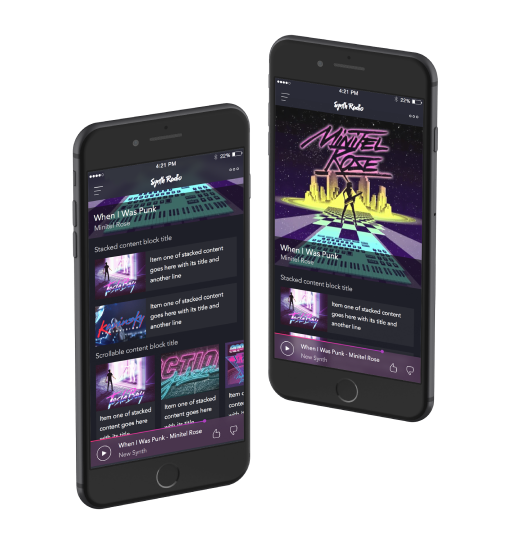 Warner Recorded Music: Internal conference mobile application
Warner Recorded Music is a collective that unities the most iconic music labels in the world. With a 60-year tradition of empowering distinctive brands, emerging talents, music makers and music lovers, WRM knows how to make the most of the creative process.
During the growth-fostering partnership, our team delivered a fully functional internal mobile application for iOS and Android devices. The intuitive conference app with FAQ, resources, and event agenda was built by cross-platform virtuosos in less than 7 weeks. Let's dig into the details of our hyper-effective teamwork. Are you ready for a replay?
for the iOS & Android app development
native-like app experience
Services we provide for the music industry
Mobile Development
Hit the top of app store lists with your app delivered by experts in mobile. Leave your mobile app development in the hands of Google-certified professionals rewarded for their expertise in building native and cross-platform apps for music industry pioneers. Whether you aim to demonstrate breakthrough audio technologies, share your music with broader audiences or revolutionise the music streaming industry – our mobile application development experts have your back!
Web Development
Stay ahead of the game with tailor-made web apps. Build cutting-edge web solutions with our end-to-end ideation, product design, frontend and backend development services. Dedicated project teams at Miquido will assist you in outlining your business goals, ​​visualising the layout and flow of your web app, setting up the server-side infrastructure, testing, deployment and further maintenance.
Product design
Take care of your user satisfaction and watch the conversions skyrocket. Benefit from the experience of product design teams with a proven track record in delivering design systems, creating user flows and building authentic brand identities for key players in the music industry. We'll help you establish state-of-the-art UX standards within your organisation, incorporate new, engaging app features and iterate the design and functionality of your product over time.
Music streaming app development
Ensure real-time content delivery with near-zero latency, high-quality audio and video streaming. Develop engaging music discovery features, including recommendation engines, personal playlists and social sharing – and reach global audiences with music streaming applications tailored to your business needs.
Audio & video streaming app development
Provide hyper-efficient audio and video streaming tools that will retain your users. Take advantage of Miquido's expertise in developing multi-party voice and video calls features, voice processing with dialogue levelling and activity detection, static noise and echo suppression and optimised device management – proven by projects for industry giants including Dolby, Warner and Abbey Road Studios.
Music media libraries development
Attract new users and increase revenue with subscription-based music media libraries. Enhance their functionality and user experience by implementing cutting-edge features such as AI-based recommendation systems, robust offline mode with easy music syncing, seamless playlist creation and engaging social features. Guarantee your customers can easily search, sort and filter their collections – and are willing to return to your app for more!
Why choose our music app development services
At Miquido, we're familiar with the twists and turns of music application development. If you're searching for fresh ideas based on years-long expertise and granted with industry awards, reach out to us. Here's why we can find common ground.
Robust experience in the music industry
Miquido is also a music app development company staying behind Onkyo Music – an online music repository with high-quality files, a conference mobile app for Warner Recorded Music. Our Topline app created for legendary London-based Abbey Road Studios was recognised twice at the UK App Awards 2018. Another music project in our portfolio – Klassik Radio – was created for a German broadcaster specialised in classical, film & opera music.
Impeccable UX and UI
We approach UI & UX design holistically, combining attractive interfaces with seamless experiences. The music app design process is preceded by deep research & competition analysis. We use wireframing and create user journey maps to visualise how users navigate your product.
One-stop music app development company
One-to-one cooperation is the best way to achieve coherence at the lowest cost. If you're searching for a company that will lead your project from the beginning till the end, there's no need to look any further. Our interdisciplinary teams will smoothly lead you through ideation and strategy phases to move on to design and development, but our role doesn't end here. After the app's launch, we'll continue taking care of maintenance and provide you with perspectives for the product's future growth.
Music apps awarded for our work
Relationships with our clients are based on trust and transparency. We make sure they always stay updated and familiar with the project's premises. Such an approach appears to be doing its job – the majority of our music projects come from recommendations! The awards we've received in recent years prove that we're not only reliable music app developers but also a solid partner embracing innovation. Miquido's work has been recognised by UK App Awards and Mobile Trends Awards – and that's just the beginning of the list.
Features we deliver in music applications
Want to create a product that stands out with its functionality? We'll make sure your app is fitted with all the features that users may find valuable.
Refined search algorithms
High-quality files
Accurate categorisation of music tracks 
Collaborative playlists
Social media integrations
Intuitive app interfaces
Music recommendation systems
Music streaming services
Built-in music players
Offline access to music files
Discover sections
Integrations with ticket sale websites
Efficient data processing
Content upload features
Event calendars
Miquido offers a fluid development process that stands out in a crowded industry."

Dominika Drońska, Head of Digital at Abbey Road Studios
Miquido (…) really got involved in every aspect of the features of the app, and most importantly, they were always always available to answer us any questions we had."

Project Manager at Warner Recorded Music
Our clients win recognition across industries
Music app development FAQ
How long does it take to create a music app?
The time it takes to develop an application depends on several factors, such as its complexity and type, the features required, the types of platforms on which the app is to be released, and the size or experience of the development team.
The average time to create a basic music app with features like streaming music, creating playlists, and simple social features can take 3 to 6 months to develop.
A more complex product with advanced features like music recommendations, personalised playlists, or real-time collaboration can take up to a year or more to build. It is worth remembering that the app development process involves not just writing code but also the research and analysis, planning, design, testing, or subsequent deployment phases. Each of these phases can significantly increase the production time of an application.
Therefore, if time is of the essence for you, it is worth choosing a one-stop music app development company that comprehensively handles each stage, thus significantly reducing the time between each step.
What are the most important features of music apps?
Essential functions or features will vary depending on the type of music application. However, there are a few basic features that most music apps should have:
Sound quality: This is an absolutely crucial aspect. Imagine Netflix with poor-quality video content. A good music app must provide the highest quality sound without any delays or interruptions.
Library: More than just having a music library is required. A good app should have a well-designed, personalised search engine and division into relevant categories.
Offline activities: a significant feature of a music app is downloading and listening to music without an internet connection.
Social Sharing: In the age of social media, the ability to share one's songs or favourite artists will be a crucial aspect. This can also increase brand awareness and user engagement.
Design: A well-designed and user-friendly app makes it much easier to navigate the app intuitively. Eye-catching design only enhances the user experience, which can increase engagement overall.
How much does it cost to build a music app?
The factors that can most strongly influence the total production cost of music application development are:
The type of application: Completely different technology solutions will be needed for a streaming app and different for a music production app. This can affect the price difference.
The complexity of the application: The more complex an app is, the more time is spent writing code, testing, or creating the design. This, in turn, increases the price.
Development team: The size of the team and its country of origin are also important. The hourly rate varies from country to country, so developing a music app may be more profitable in European countries than in the US.
Additional costs: Additional expenses, such as licences or server hosting fees, can affect the total cost.
Maintenance: Updates or subsequent design changes are also a key aspect to consider when setting a price.
All these factors make quoting specific prices an extremely individual matter. Therefore, giving an exact price is impossible. However, it is estimated that the cost of creating a music app can range from $50.000 to $300.000 or more. If you need help estimating the cost of your music app – don't hesitate to get in touch with us; we will be happy to help!
What are the most popular types of music apps?
Contrary to appearances, music apps are not limited to functions that allow users to listen to their favourite artists or playlists. There are many different types of applications, of which the most popular are:
Streaming apps: Everyone knows Spotify, Apple Music or YouTube Music. The purpose of these apps is to allow users to listen to and discover songs from a vast number of tracks or playlists.
Production Apps: These apps allow artists to create, record, and process songs. Examples of this type of app include Abbey Road Studios, Dolby On, or GarageBand.
Learning Apps: In the age of mobile apps, you can learn to play the guitar or piano while sitting at home. Apps like Yousician or Ultimate Guitar are designed to help users improve their musical skills and teach them how to use instruments or read notes.
Social Networking: These types of apps are designed not only to listen to your favourite artists, but also to establish relationships with other fans. Among the most popular social networking apps are SoundCloud or Tidal.
These are just a few of the most popular types of music apps. It is worth noting that each of them has completely different features or functions to suit other user requirements. Therefore, identifying the target group and its needs is crucial in determining the type of application.
Want to talk about your music application?
Fill out the form. We'll get back to you soon!
The administrator of your personal data is Miquido sp. z o.o. sp.k. with its registered office in Kraków at Zabłocie 43A, 30 – 701 Kraków. The basis for processing your data is your consent and the legitimate interest of Miquido.
You may withdraw your consent at any time by contacting us at marketing@miquido.com. You have the right to object, the right to access your data, the right to request rectification, deletion or restriction of data processing. For detailed information on the processing of your personal data, please see Privacy Policy.
more
They trusted us