With ten years of professional experience, we at Miquido know exactly how to transform bold business ideas into exceptional digital products. We've delivered 150+ solutions for Fintech, e-Commerce, Healthcare, and many other industries, with 9 out of 10 of our projects coming from referrals.
With that said, we want to take an opportunity to show appreciation for our clients and share with you our 2021 Year In Review on Clutch!
Clutch is an established platform in the heart of Washington, DC, committed to helping small, mid-market, and enterprise businesses identify and connect with the service providers they need to achieve their goals. In 2021, we received a total of 14 reviews on Clutch with near-perfect 4.9-star ratings.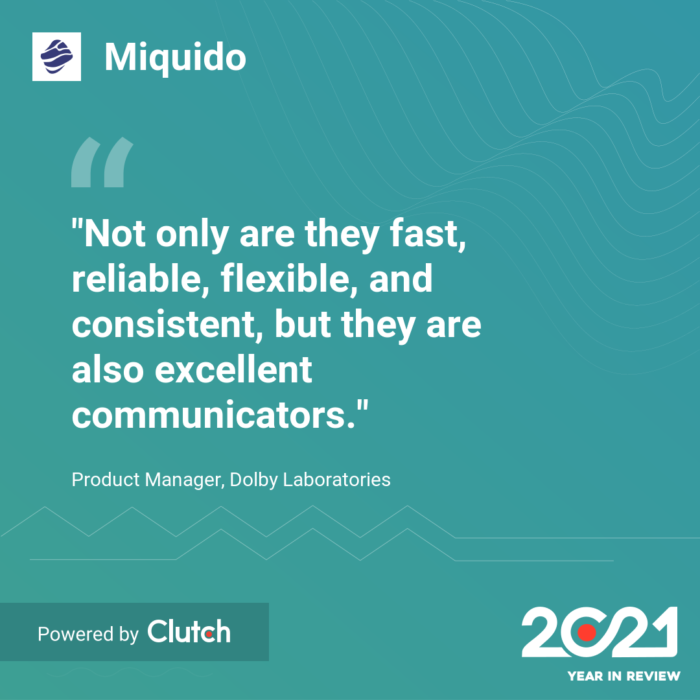 These reviews validate our commitment and expertise to every project we tackle. Furthermore, one of the essential metrics in Clutch's year in review is the NPS score — this refers to a client's willingness to refer a service provider to a friend or colleague. 12 out of the 14 clients we worked with in 2021 were 100% willing to recommend us. It is truly inspiring to see our clients give us such a high rating!
"The title of Clutch Leader is a real distinction to us. It means that the satisfaction of our clients may genuinely speak for itself."

Krzysztof Kogutkiewicz

CEO, Miquido
Another achievement we received in 2021 was being featured on Clutch as among Eastern Europe's top B2B companies in the app development industry.
We would like to extend our heartfelt gratitude to everyone who became a part of our journey over the years. We couldn't have made it without your support.
We're ready for new challenges in 2022. If you need help with your digital project, don't hesitate to send us a message!