We're excited to share some great news – we've been ranked as one of the Top Custom Software Development Companies by Softwareworld.co!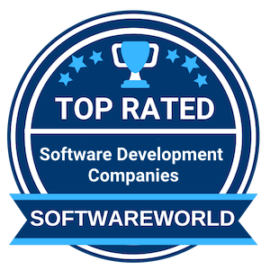 Why were we listed?
The key factors taken into consideration by Softwareworld.co while selecting the best IT firms on the market were: augmentation, innovation, modernisation, and digitalisation. All of these aspects were evaluated in terms of the companies' team, past performance, and abilities.
We're happy that our work results — maintaining the highest quality of design and development to our partners — have been recognised. Hard work always pays off and we will continue to focus on our data-driven approach to help both startups and large enterprises shape their ideas into successful apps.
Congratulations to all other great companies which were selected as The Top 50+ among Miquido!
Thinking about creating your own mobile app?
Have a mobile project in mind, but you are not sure where to start? Drop us a message – we are glad to help!