Education app development company
Revolutionise online learning for users worldwide with custom education software solutions
Let's work together


Mobile & web education app development services
Do you want to create an educational app that will bring real value to your users? Our developers have experience in launching custom learning platforms that work equally well on Android, iOS, and web. Invest in an e-Learning solution that will erase borders between online and offline studying!
Make learning fun with the right technology
The popularity of education applications is growing by the day – don't miss out on the opportunity to provide new value with your e-Learning solution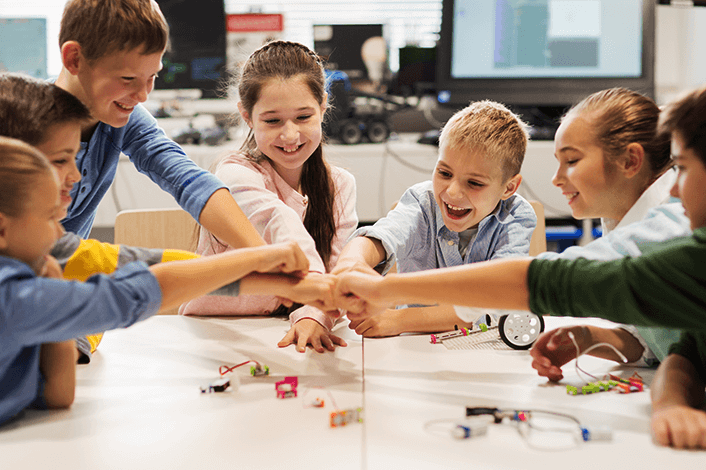 Collaborative learning for engagement
These days, interactive and collaborative education is expected from any e-Learning platform. Trust us with developing an educational app that will bring the classroom straight to your users' homes: ensure smooth communication between all students, run online quizzes and tests with transparent grading systems, and bring the value of face-to-face networking online!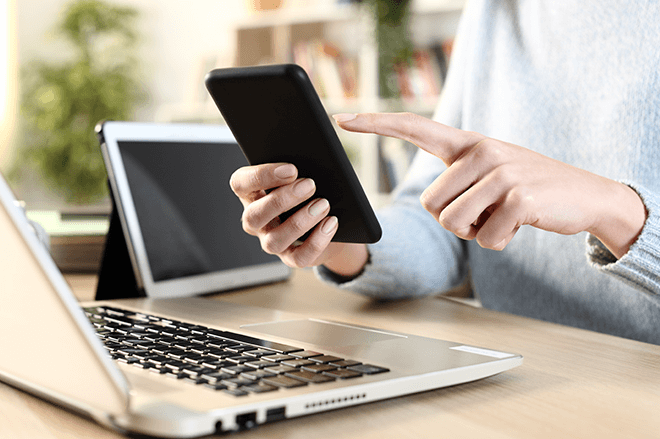 Multi-platform educational apps
Allow your students to choose the platform they are most comfortable with and ensure they can access your e-Learning application from anywhere at any time. Trust our cross-platform developers to create a readily available education app – build a solution that is supported by iOS, Android, and any web browser.
Gamification for better results
Encourage your students to actively participate in studying by providing interactive and competitive solutions. Weekly leaderboards, learning streaks, badges, etc. – these are just some of the great examples of how gamification helps users keep up with the schedules and improve their productivity.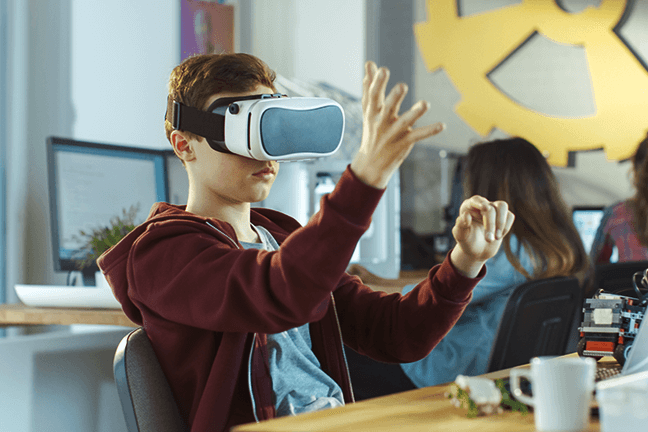 AR education apps for immersion
At Miquido, we do not fear complex solutions utilising the latest tech. With us, you can create unique 3D experiences thanks to Augmented reality e-Learning platforms. Among other benefits, immersive educational applications are engaging, captivating and less distracting. Leverage high-tech solutions for learning like never before!
Tangible results, right on schedule
Need your idea verified fast?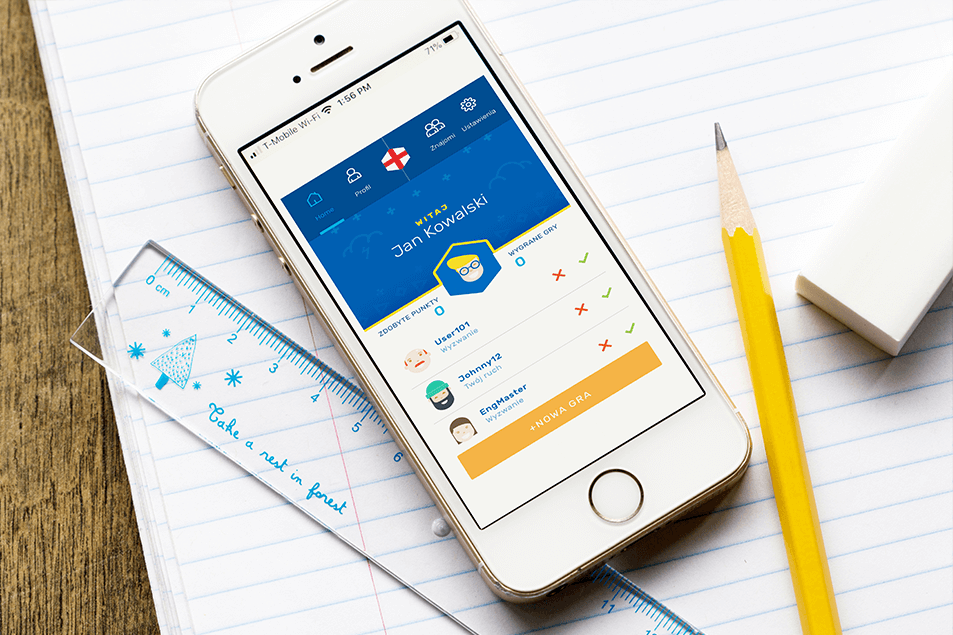 Get more out of your education app with Miquido
Qualified developers
Client-oriented approach
Industry experience
Complex tech solutions
"All-inclusive" services
In-house team
Award-winning portfolio
At Miquido, we put our clients first. That said, we won't tip-toe around poor ideas. Instead, we offer critical consulting in order for your product to answer core user needs every step of the way. Want to work with the best?
Let's work together
Check the edtech projects we've completed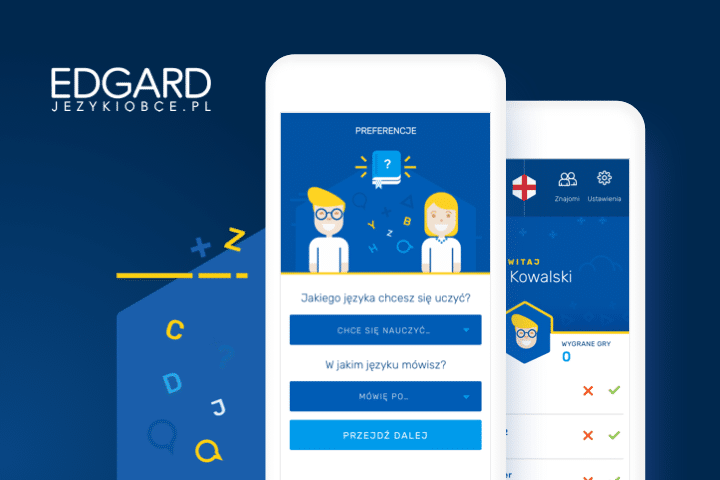 Edgard LangBandit
Boost your language skills with this mobile vocabulary & multiplayer
Want to know what working with us is like?
See what our clients have to say about their experience with Miquido!
They really dug deep to understand our industry and customer needs. They are truly engaged and always up for the next challenge
Great cooperation and agility, continuously delivering value every single iteration, starting from sprint one. It was as if we had our own team working on that.
The commitment to delivering the solution was the most impressive thing about Miquido. They are a very easy company to work with. You can rely on them even if you do not have a strong technical background.
years in software
development
digital solutions
delivered
Develop an entire product with our 360° software agency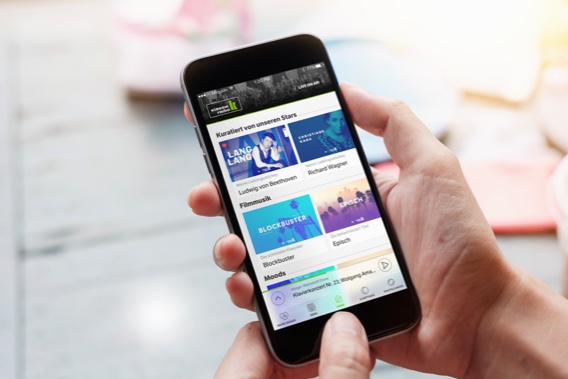 Custom education app development
Don't want to settle for ready-made features offered by out-of-the-box tech solutions? No worries! With our custom app development services, you can invest only in the specific features you have planned for your educational application and give your users exactly what they need. No hidden fees, no heavy architecture, no additional investment!
Learn about custom apps
We rely on the best tech solutions
Browse through these Frequently Asked Questions about education apps
Couldn't find the answer you were looking for? Contact us and we'll get back to you as soon as possible with a detailed response!
How much does it cost to develop an educational app?
There is no simple answer here. The ultimate cost of creating a digital solution depends on your needs. If you require additional features like social integration, advanced analytics, and compatibility with multiple platforms, the cost can increase. That is due to the fact that additional features may require additional development time and expertise, increasing the price. Oh, and remember the design! If you want your app to be user-friendly and eye-catching, that might also bump up the cost a bit.
Remember that the actual cost can vary based on your specific requirements and the rates of the development team you work with. However, it is worth remembering that investing in an educational app can have some excellent long-term benefits. It can reach a broad audience, provide valuable learning resources, and positively impact education in the digital world!
What are the key features and functionalities to include in an education app?
The basic functionalities largely depend on the type and purpose of your educational application. However, there are a few must-have features that will work well in any educational application:
Tests & Quizzes: These encourage active engagement and provide a way to assess progress while reinforcing concepts.
Hints & Knowledge Base: This feature empowers self-directed learning by providing relevant information and explanations, promoting a deeper understanding of the topics.
Gamification: Incorporating game-like elements, such as badges, points, levels, or rewards, creates a sense of achievement and motivates learners to participate and progress through the app's content actively.
Social Network Elements: Features like discussion forums, chat functionality, or collaborative projects enable learners to connect with peers, educators, and subject matter experts, facilitating knowledge sharing and peer support.
Progress Tracking: Including progress tracking mechanisms allows learners to monitor their advancement and performance.
What are the different types of educational software available?
Let's dive into some of the different types of educational software you might come across:
Authoring Systems: They let teachers make their interactive lessons and quizzes. Thanks to authoring systems, you can design and share your learning materials with others.
Reference Software: Reference software gives you access to a treasure trove of information, from encyclopedias to dictionaries. This software has your back whenever you need to look something up or dive into a specific topic.
Tutorial Software: If you like step-by-step guidance, tutorial software is your best buddy. It breaks down complex issues into manageable chunks, walking you through each step and ensuring you understand everything.
Special Needs Software: This software is all about inclusivity. It caters to learners with disabilities or special needs, providing features like text-to-speech, visual aids, and adaptive interfaces.
Math Problem-Solving Software: It offers interactive tools, step-by-step explanations, and practice problems to improve your problem-solving skills. No more math headaches!
What are the examples of educational software?
Educational applications are very popular and the recent need to implement distance education has only increased the demand for a good e-Learning software. Nowadays, education platforms come in all shapes, sizes, and prices, and you're certain to have heard of some and, perhaps, even used one on an everyday basis. The most popular free & paid education solutions include:
Google Classroom;
Duolingo;
Kahoot!
Udemy;
Coursera;
Khan Academy;
Skillshare;
Moodle
The list does go on quite a bit. So before you can choose the best educational platform for you – it'd be helpful to define clear goals you are trying to achieve.
Want to talk about your idea?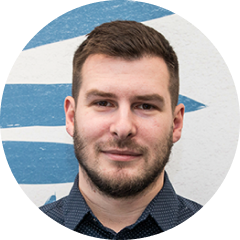 Hi, I'm Sebastian from Miquido. How can we help you with your project? Fill out the form – we'll get back to you soon.
The controller of your personal data is Miquido sp. z ograniczoną odpowiedzialnością sp.k. with its registered office in Krakow, ul. Zabłocie 43a, 30-701 Kraków. We process the above information in order to answer your questions, contact you and conduct business communication, and if you tick the checkbox, to send you messages containing commercial, business and marketing materials.
The basis for the processing of your data is your consent and Miquido's legitimate interest.You can unsubscribe from the marketing communications at any time. You also have the right to access data, the right to request rectification, deletion or limitation of their processing, data transfer, the right to object, as well as the right to lodge a complaint to the supervisory body. Full information about processing of personal data can be found in the Privacy Policy.
Show more