Hearing GenAI, you may automatically think about the United States, and that's obviously a good hint. But even though the Silicon Valley giants are outdoing each other in implementing genAI for various purposes, other regions do not fall far behind. There is a bustling generative AI scene in Europe, too, with the UK being the innovation leader in this field. However, we decided to be different and take direction North, researching the Scandinavian startups market.
Head with us to the land of the Vikings, which turns out to be a breeding ground for genAI startups, too! We have selected Danish and Swedish startups with a promising future and a solid market presence in terms of generative AI technology.
The GenAI market is only gaining momentum, so it hasn't earned many unicorns to date. However, the best Scandinavian startups presented here have already raised millions for their development. Supported mainly by venture capital, they use generative AI to empower both commercial and individual users and transform their online experience. Check what else they have in common and discover their unique value proposition!
#1  Uizard (Denmark Startups)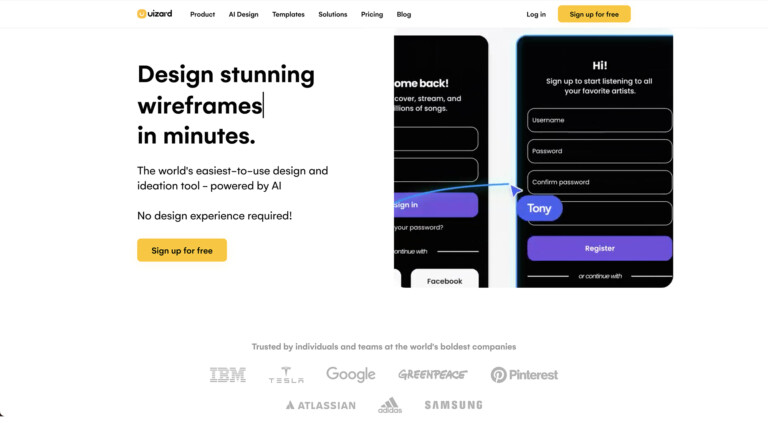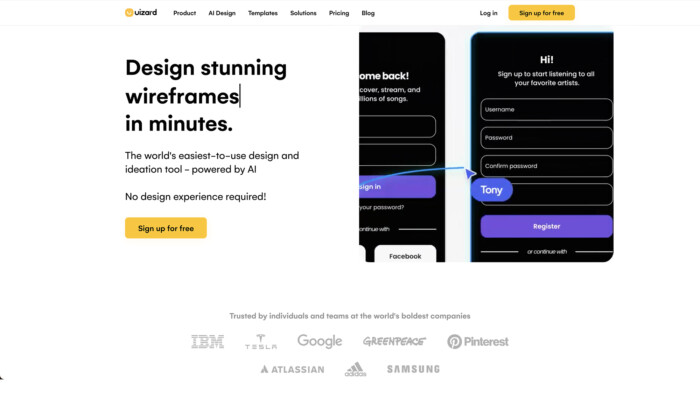 Founded: 2018
Total funding amount: $18.6 M
Industry: SaaS
Applications: UX Design, No-Code Development
Mission: Enabling non-designers to create beautiful designs with simple prompts
No-code tools for non-designers are not a new thing, but the development of generative AI has made creating designs easier and faster than ever. Instead of working manually on the components within the tool, you can now generate your wireframes, mockups, and prototypes with written prompts, saving tons of time.
That's what the Uizard facilitates, proudly claiming itself to be "the world's easiest-to-use design and ideation tool". The Danish platform uses the power of NLP, computer vision, and artificial intelligence to transform words, sketches, and screenshots into complete designs. Founded in 2018, this one of the most clever Scandinavian startups has already gathered an impressive $18.6 million in financing.
For many users, the lack of coding skills is not the only issue – they also struggle with design per se, even if it can be taken care of without touching the code. Uizard eliminates that issue, allowing them to skip the manual work. It's also a convenient way to transform the resources from product workshops into usable materials, empowering the non-designers who carry out such.
#2 Sana Labs (Sweden Startups)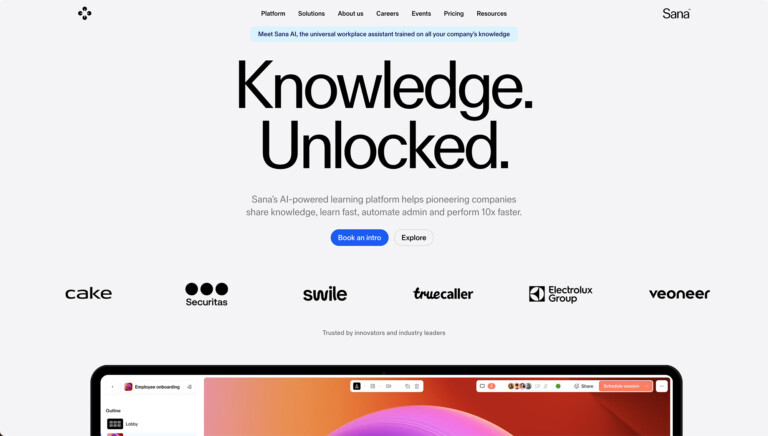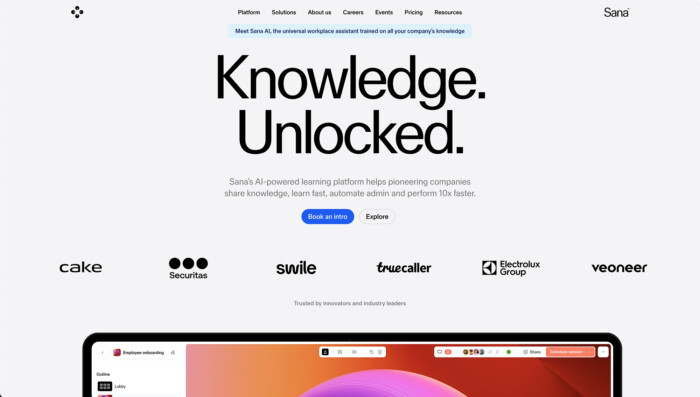 Founded: 2016
Total funding amount: $54 M
Industry: EdTech
Applications: Artificial Intelligence, Online Training
Mission: Democratizing the access to online training materials and streamlining their generation.
Stockholm-based Sana Labs entered the market in 2016, but the pandemic period was its real breakthrough. It was then that the healthcare industry discovered its potential to generate and share information for training purposes. Sana Labs provided invaluable help to over 2000 hospitals, making it much easier for them to train workers on Covid-19 treatment and prevention.
Having proven itself in such unprecedented and urgent conditions, Sana Labs established its position as a powerful Open AI-based training tool, serving companies for customer education, employee onboarding, compliance training, and leadership development. Today, one of the most influential Sweden startups supports companies and organizations across sectors, including such giants as Klarna and Meck.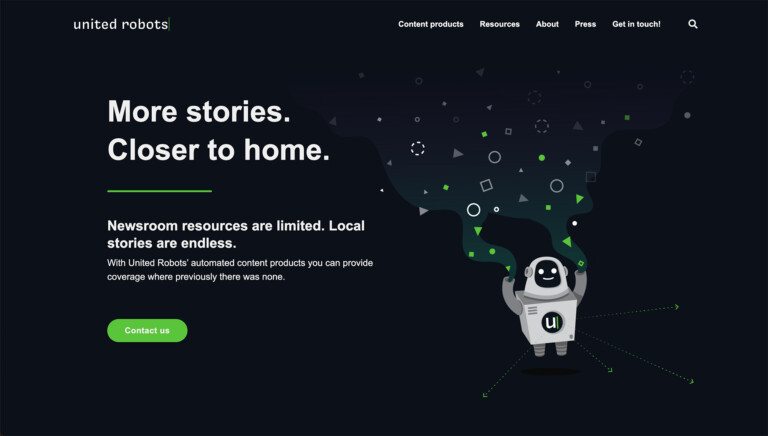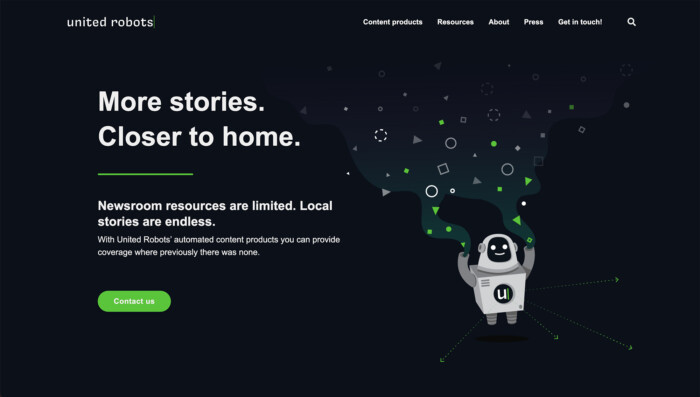 Founded: 2016
Total funding amount: $2 M
Industry: Media
Applications: Artificial Intelligence, News Generation
Mission: Empowering publishing platforms to provide extensive news coverage regardless of their resources.
We live in the information age, and with so many things going on, the traditional process of generating news is becoming less and less sustainable. Swedish startup, United Robots, has noticed an opportunity in this shift, developing a tool that streamlines publishing. 
Using Natural Language Generation (NLG), Artificial Intelligence (AI), and information from structured datasets, the robots provided by the company generate ready-to-publish texts. The AI part is responsible for establishing the storyline, and the NLG one takes care of the writing itself, having the target audience into consideration.
Although some remain sceptical about the introduction of AI into the publishing sector, such tools can be seen as an opportunity for the actual journalists to focus on more demanding story and investigative work, as well as fact-checking, which is becoming increasingly challenging in our times. United Robots has already raised $2 million, and it is likely that it will continue to grow at a fast pace!
#4 Certainly (Denmark Startups)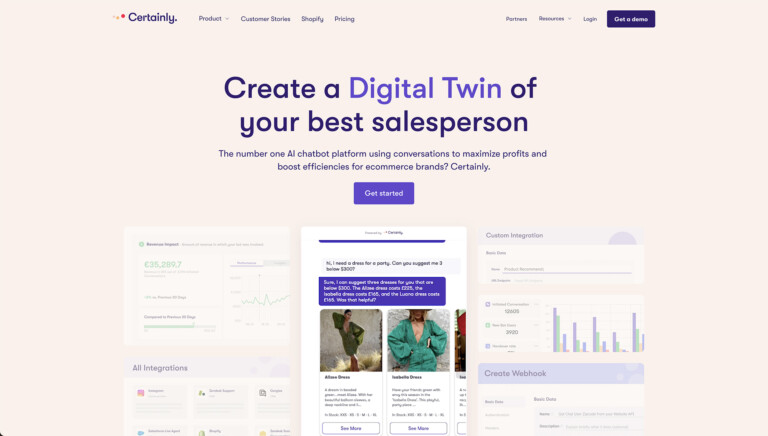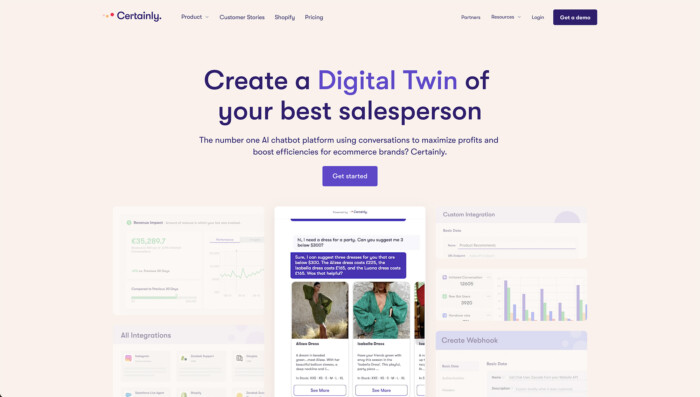 Founded: 2016
Total funding amount: $5 M
Industry: E-commerce
Applications: Artificial Intelligence, Chatbots
Mission: Bringing customers' experience with sales chatbots to the next level.
Chatbots are all around us, and with their increasing development, their emotional intelligence is becoming the most significant criterion of choice. Swedish startup Certainly knew it well when it launched its platform back in 2016, and since then, they have been perfecting its chatbot to match the e-commerce needs. 
The idea behind their business was enabling the clients to create the digital twins of their best sales agents. It's possible due to the engagement of contextual understanding and Large Language Models (LLM) that make the responses to queries much more humanlike and relevant.
These qualities have drawn multiple big market players, including Ganni, Carlsberg, Sephora, discovery, and Ticketmaster. Certainly puts the seamless user experience first (you can easily integrate it with multiple platforms, including Shopify, Whatsapp, Instagram, Google Analytics, or UPS), and it shows such an approach is essential, considering its growing customer base!
#5 Mavenoid (Sweden Startups)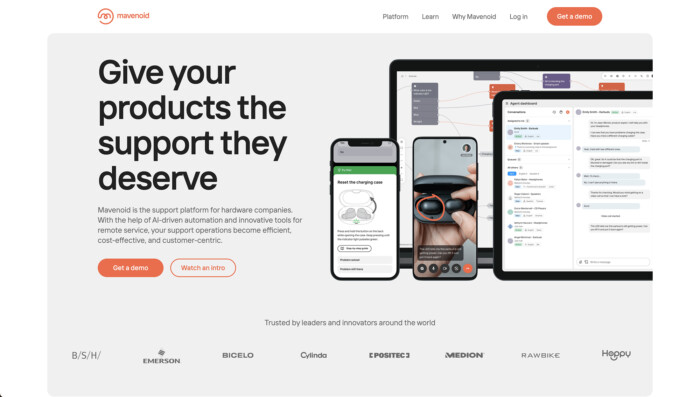 Founded: 2017
Total funding amount: $390 M
Industry: E-commerce
Applications: AI Troubleshooting
Mission: Improving customer experience with automated troubleshooting.
As Mavenoid states on its website, 65% of hardware support agents' time is spent on long but routine requests, many of which can be self-served. The Swedish startup solves this problem by automating the troubleshooting process to improve customer satisfaction and optimize efficiency.
In a nutshell, the tool generates informative and interactive guidelines that the customers can follow to solve the hardware problems themselves. Instead of wasting time on chitchat, they get guided through the troubleshooting process with instructions and videos.
Considering the $390 million funding that the company has managed to raise through just a few years and an impressive list of customers, including Jabra, Husqvarna, and BSH, Mavenoid has undoubtedly found a niche that required immediate solutions!
#6 Hypertype (Sweden Startups)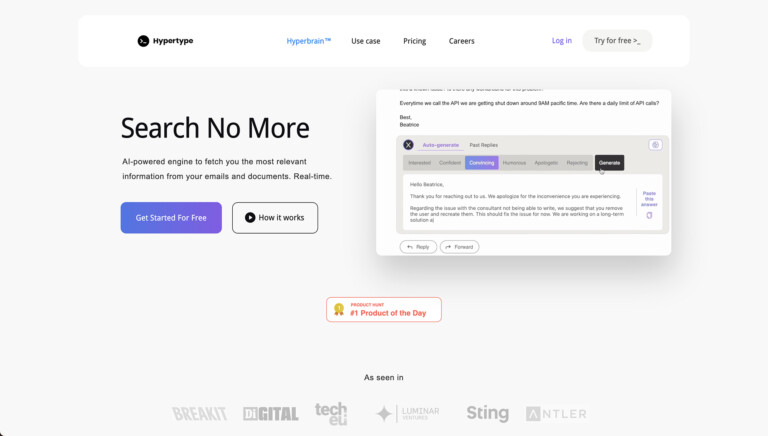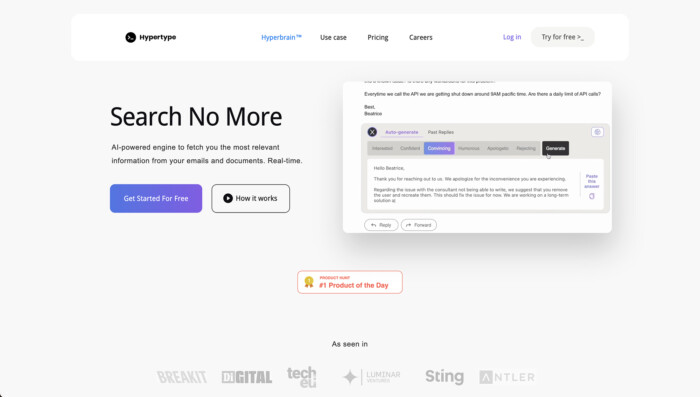 Founded: 2021
Total funding amount: $100 M
Industry: SaaS
Applications: AI analytics
Mission: Extracting maximum knowledge from communication channels to streamline sales and customer service.
Hypertype is gaining hype in the GenAI sector, not only in the Scandinavian startups market. Founded in 2021, it has been only growing since then, having gathered over $100 million with such investors as Antler, Luminar Ventures, Propel Capital, and Sting in just two years.
The startup targets every company that wants to streamline sales communications and make them more converting. It can significantly improve your customer service and make it more efficient by generating automated responses that capture a preferred tone of voice.
You don't need to search through the exchanged messages to find the right information to refer to and provide – the tool does it for you, extracting the most relevant context from your emails and FAQs. Advanced personalization makes it stand out, adding a more human touch to the customer's experience.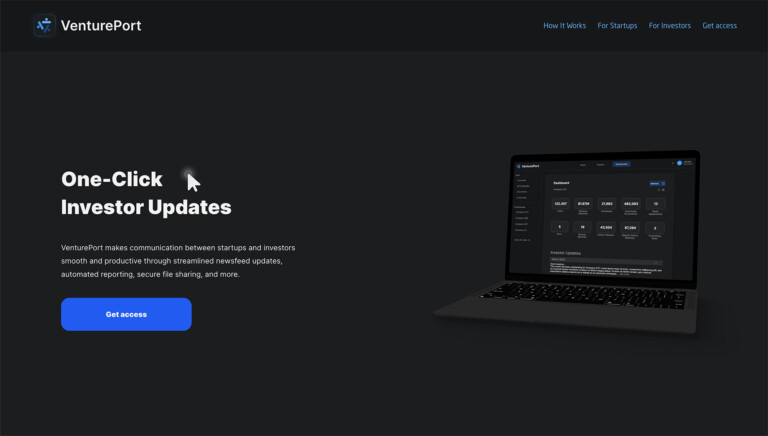 Founded: 2019
Total funding amount: – (Pre-seed)
Industry: Investor Relations-as-a-Service
Applications: AI Analytics, Report Generation
Mission: Keeping startups and investors on the same page with automated tools.
Our list is all about the best Scandinavian startups that revolutionize different industries with GenAI. Now it's time for a tool that uses GenAI to revolutionize how startups and investors communicate! It's a primary goal of the Swedish company Venture Port, which acts as a bridge between these two. Having been a startup owner himself, its founder, Daniel White, has experienced the challenges of the information exchange firsthand and decided to end it once for good.
With Venture Port's help, startups can easily keep investors up to date, providing them with a constant, automated flow of relevant information in a condensed form, whether it's the KPIs, financials, or big hires. GenAI facilitates their report generation, saving them a lot of time. For now, the company's working intensely on its beta version, and it looks promising so far!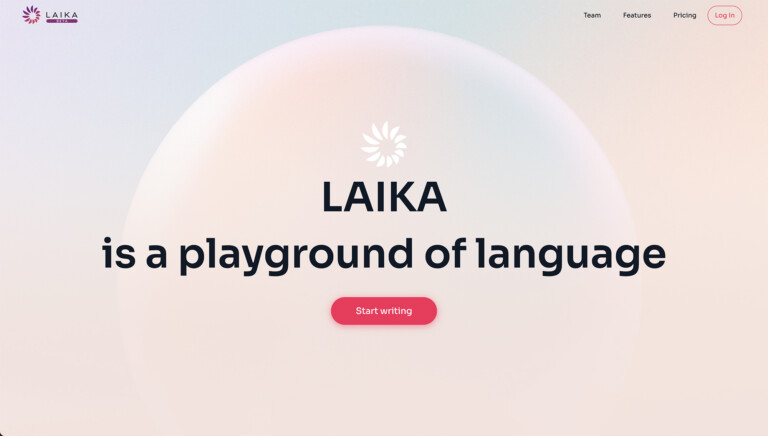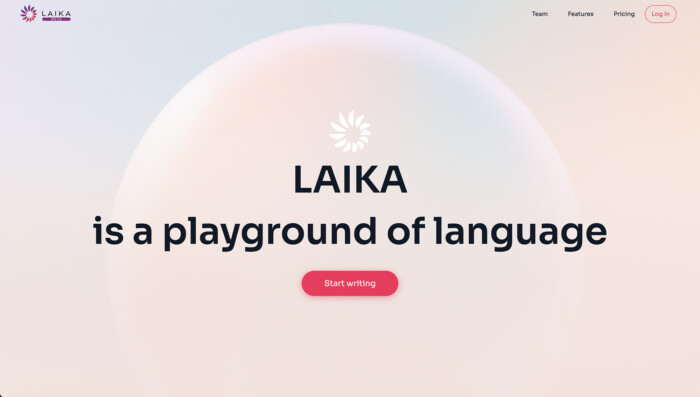 Founded: 2022
Total funding amount: $150 K
Industry: Media/creative
Applications: Personalized AI, Text Generation, Image Generation
Mission: Empowering writers to broaden their creative horizons.
For anyone who's going through writer's block, this tool could be a game-changer! The Danish LAIKA is not another text generation platform – you could treat it as more of a writer's assistant that helps to make the most of the ideas and shape or reinvent them. Writers can use it to challenge themselves and get their imagination going, as well as search for new angles and perspectives.
How? You can, for instance, use LAIKA to visualize your story, which could help you get deeper into it and increase the consistency of the created world. The tool also offers the "brains" feature, enabling the writers to test different tones of voice and styles within their text. Moreover, you can even borrow one of the famous brains to check how your story could look like if it was written by, for instance, Jane Austen or Franz Kafka.
LAIKA entered the market in 2022, so it's one of the freshest Scandinavian startups, but considering its innovative character, we can see it achieving great success in the nearest future!
2023 has been a wild ride so far, and it's all due to the chatGPT frenzy. Once it went public in November 2022, it has become a subject of lively debate and various public concerns, quickly turning into an everyday work tool for professionals across industries, particularly among GenZ.
As the legal frameworks are being developed and the genAI-driven tools are popping up, this tendency will likely strengthen. McKinsey's 2023 report on generative AI shows that commercial leaders express the need for further implementation of genAI in their sector. No wonder various Scandinavian startups have noticed its potential, gearing up for an eventual boom. 
As you can see, the Scandinavian tech scene is experiencing a strong genAI boom, bustling with new ideas for adapting this groundbreaking technology. At Miquido, we closely follow artificial intelligence advancements since we work with them on a daily basis. If you're looking for experts to partner with, let's talk! If you are an aspiring entrepreneur in the Scandinavian tech scene, our startup bootcamp consulting service can help you leverage the power of genAI and navigate the complexities of building successful businesses in this rapidly evolving field.