We all live in a constant rush. Every day, we wake up early, hit the gym for a morning workout, head straight to the office to deal with our mounting tasks, and then finally, spend some time with our children or friends.
Such a fast pace of our daily lives poses a high demand for super quick and efficient solutions. That's why it should come as no surprise that quick commerce has become one of the most talked-about trends in e-commerce that will most probably transform the way we shop online for good.
In this article, we will take a deep dive into quick commerce and learn how it can revolutionise business in the nearest future. It's time to discover how to use this emerging e-commerce trend for your business' sake!
What is quick commerce?
As the name suggests, quick commerce (also known as q-commerce or on-demand delivery) consists of delivering online orders to customers ultra-fast and efficiently. Depending on logistics and capacities, such purchases can be delivered to urban customers in 1-2 hours or sometimes even in 15 minutes.
However, as you can imagine, quick commerce may come with some limitations and can't be (at least for now!) applicable to all sorts of products and services. That's why here, mainly businesses offering groceries or essentials are the undisputed industry leaders.
Without a doubt, the outbreak of the COVID-19 pandemic in 2020 was one of the main driving forces behind the rapid development of quick commerce services, which we are still witnessing today. Because of frequent quarantines or supply chain restrictions, customers from around the world shifted towards local businesses that could deliver ordered goods relatively fast. Consumer expectations and habits have changed for good to the point where today, almost half of Americans use rapid delivery for groceries.
Q-commerce and e-commerce: What's the difference?
E-commerce refers to online purchases of various types of goods and services, while q-commerce is limited solely to the ones with extremely fast delivery. However, the list of differences between e-commerce and q-commerce goes much further.
Let's take a deeper look at how quick commerce differs from traditional online sales:
1. Warehousing
While most of the e-commerce stores can place their large traditional warehouses outside the city, for the q-commerce model, such a location would cause major operational challenges. Companies that strive to deliver their goods in less than an hour need to build a dense chain of micro-fulfilment centres (MFCs) or dark stores inside the city. Crucially, they should be located in different neighbourhoods to be able to deliver products to customers in various urban areas strategically.
2. Sustainability
Even though, for some, sustainability is not the first thing that comes to mind when thinking about online sales, the ecological benefits that quick commerce brings are undeniable. Packages ordered traditionally sometimes need to go a long distance by air or road to reach customers, while quick deliveries are most often transported by two-wheeled vehicles like bikes or scooters, thus, in a way more eco-friendly way.
The table below summarises the most significant differences between quick commerce and traditional e-commerce companies:
| | q-commerce | traditional e-commerce |
| --- | --- | --- |
| Delivery speed | 15 minutes to 2 hours | Typically from 2 to 5 days |
| Warehousing | Dark stores inside the city | Large warehouses outside the city |
| Sustainability | Eco-friendly vehicles (bikes, scooters) | Track or air delivery |
Thinking about introducing q-commerce to your retail business? Here are some tangible benefits the quick commerce model may bring in the long run. Learn how your company can take advantage of this emerging e-commerce trend.
Speed
Let's start with the most apparent benefit of quick commerce, which trumps traditional online sales.
Even a few years ago, products delivered in 5 working days were totally acceptable. But times have changed, and today, people are not willing to wait that long for home delivery. As 62% of customers admit, delivery speed is one of the most decisive factors they consider when making online purchases.
And that's the undeniable competitive advantage that beats any other type of online commerce. Super-fast delivery will skyrocket the user experience, resulting in increased loyalty to your brand and improved ROI.
Relevant products available immediately
Q-commerce companies can successfully introduce different AI-powered solutions to improve their businesses substantially. One of them is constant monitoring and forecasting of user demand, based on which it can be guaranteed that the most relevant products will be available at all times.
How does it work in practice? Advanced machine learning solutions identify various patterns following user purchasing habits and, on that basis, determine which products will most probably generate the most sales in a given period. This way, you will know what to order and when to ensure there is never a lack of relevant products.
Sustainability
It's already been mentioned before, but it would hurt nobody to repeat that any sustainable practices are highly valued (or even demanded!) by customers.
In quick commerce, the use of fuel-based transport is much less frequent. Instead, most on-demand deliveries are transported in urban areas by two-wheeled vehicles or even by foot. This environmentally friendly approach can encourage customers to choose your products instead of running to your competitors.
And importantly, quick commerce promotes local businesses and local initiatives. And as the pandemic and the numerous restrictions resulting from it have shown us, more and more people are even leaning toward buying from local suppliers.
Round-the-clock operation
Unlike brick-and-mortar stores, which usually have specific opening hours, quick commerce businesses can deliver products at any time of day or night throughout the entire year.
This gives people a sense of convenience, ensuring their favourite products are available whenever they want them. Literally! And surprisingly, the peak time for online shopping isn't during the day. Quite the opposite – most people browse the internet looking for products between 8 PM and 9 PM. Such high sales volume in the evening hours clearly indicates that round-the-clock operation may be a deal maker for q-commerce businesses.
Convenience
Making online purchases is much more convenient than going to brick-and-mortar stores for shopping. Here, people can complete a purchase in a few clicks from their houses instead of driving a car or using public transport to go from one store to another. And that's an unbeatable convenience that can't be denied. The situation in recent years, especially the raging pandemic, which forced us to stay at home for quite a while, changed customer behaviour for good and introduced a significant pivot towards digital shopping.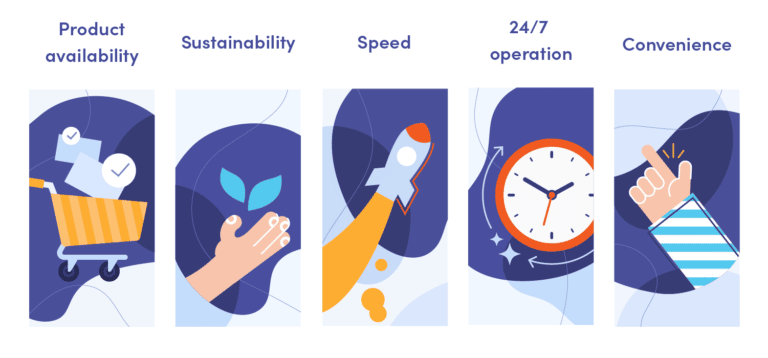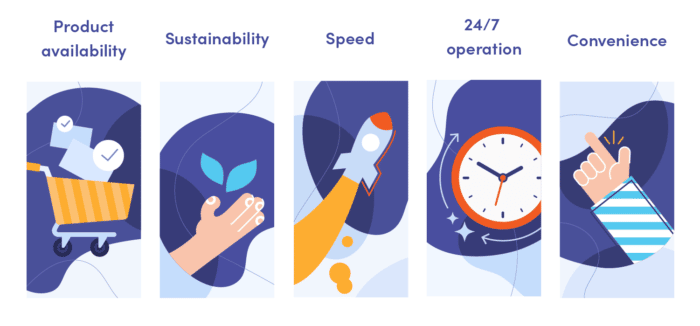 How to implement q-commerce in 3 steps
Implementing a successful quick commerce business is a much more advanced process than it may seem. Depending on your niche and location, you need to use different solutions to introduce such a system. However, 3 steps remain constant and are applicable to virtually every q-commerce business. And these are:
1. Setting up local hubs
As I have already said above, quick commerce companies can function effectively only when located within close proximity to customers. This rule holds absolutely no relevance for traditional online sales, but here it's something that can make or break your business.
So, let's say you want to sell your goods to customers living in metropolitan areas such as New York and London. To make it work, you must build a chain of dark stores or micro-fulfilment centres – each close enough to reach customers in every neighbourhood. Whether in the city centre or the suburbs – everyone in the city should have the same access to your goods. That's the key to your success!
2. Choosing the right product range
Okay, so you've already built a chain of stores from which you can send your products straight to your nearby customers. But haven't you forgotten something? You still need to figure out what precisely you want to sell. Grocery and food items would be the safest bet here. However, other types of everyday products would also work great. And certainly, there will be a massive demand for their rapid delivery. What's more, in the work-from-home culture we currently live in, any office supplies could also make an excellent business choice.
Whatever you want to choose, stick to one ground rule: the selection of your product range should be dictated by who you want to target with your q-commerce business.
3. Building a solid software solution
A quick commerce business can't function properly if not backed up by cutting-edge digital technologies. Without them, it would be practically impossible to strategically manage deliveries, handle dark stores or keep the supply chains always on track.
What's more, using different technological advancements such as machine learning algorithms, some of the work can come off your shoulders. Future-proof software may predict demand for specific products, assign orders to appropriate couriers and even indicate the most efficient way to reach the customer.


What does the future hold for quick commerce?
No one could have expected such tremendous growth from quick commerce in this short time. And yet, the COVID-19 pandemic has proved a considerable market demand for express deliveries.
Without a doubt, in quick commerce, food and grocery delivery is an undisputed frontrunner. And we can estimate that this sector will also stay on the top in the coming years. The numbers speak for themselves – in 2022, we are witnessing a 37% increase in online grocery deliveries compared to the previous year. And in the U.S., deliveries reached $3.2 billion in sales in February alone ($0.9 billion more than in 2021).
The revenue coming from last-mile food and grocery delivery is expected to increase significantly in the next few years – it's estimated that in 2025 it will reach almost three times the 2020 revenue.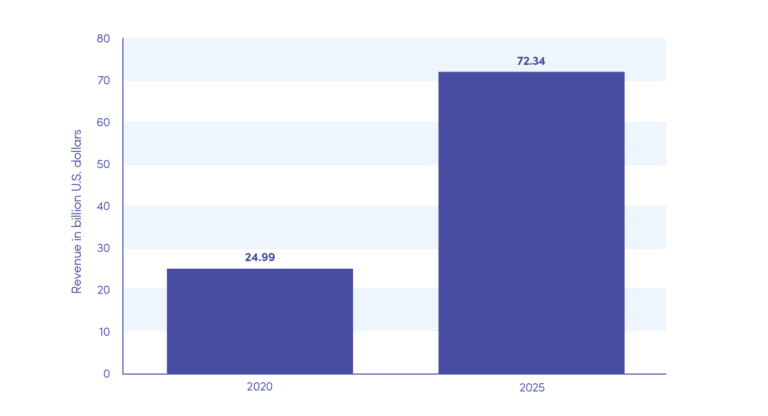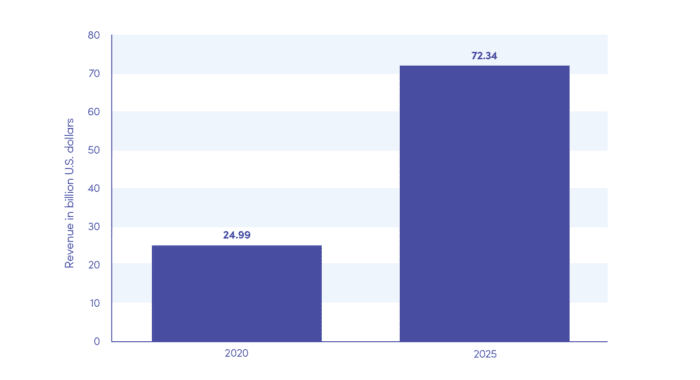 But one question remains: apart from groceries and last-mile food, will other sectors also make their marks on q-commerce? And the answer is: definitely!
Some signs are already telling us that the range of products will also widen along with the expansion of quick delivery. Just analyse the business model of a Spanish delivery company, Glovo, which operates in 25 countries. Glovo has broadened its offer, and now users can find games, flowers, and pharmacies – all from nearby local stores.
As Glovo states,
The massive success of Glovo proves that q-commerce has enormous potential and is not just limited to groceries. We can expect that in the years to come we will also be able to easily find other types of products ready to get delivered in a quarter-hour, such as books, office supplies, luxury goods and far beyond.
What's more, it is expected that some q-commerce companies will introduce the drone delivery option to make their delivery cycle even faster and more convenient for customers. It will definitely take the delivery experience to a whole new level!
Quick commerce is here to stay!
Quick commerce is a fairly new market with a peak ahead of it. In the coming years, this relatively new business model will probably be even more profitable than it currently is. And what does all this mean for your business? By investing in quick commerce today, you won't lose the competitive edge tomorrow. And now, the timing is perfect more than ever before. Soon, the market will be flooded by similar companies to the point where it will be extremely challenging to stand out from the crowd. For now, the industry still has some gaps to fill, but how long will this situation last? I guess we'll find out in the next few years as the situation in q-commerce may evolve at a rapid pace.
Have a business idea in mind? Contact us, and our eCommerce development company will create a customer-centred digital solution to support your boldest business goals and outperform your competitors. Let's build something extraordinary together!