We all live and breathe e-commerce. We buy, sell and trade millions of products online, contributing to the rapid growth in e-commerce that we are witnessing today. And while online purchases via desktops are practically nothing new and have become an integral part of our shopping experience, mobile sales are still far from reaching their peak.
Since we're glued to our mobile phones daily, we are becoming more and more likely to use mobile devices for shopping. And this opens up a whole new spectrum of possibilities for m-commerce business owners who can develop their custom apps or mobile websites to offer smartphone users an enhanced customer experience and elevate their online businesses.
This complete guide will tell you everything there is to know about mobile commerce. You'll find out which trends shape the m-commerce industry, how businesses can benefit from it, and how this market will develop in the coming years.
So wait no more, and step right into the vast world of mobile commerce!
What is mobile commerce?
Mobile commerce (also known as m-commerce) refers to online transactions carried out on wireless devices, such as smartphones, smartwatches or tablets. M-commerce enables users to complete business transactions without having to use desktops.
Importantly, when considering online transactions, we often tend to think only of purchases of goods. However, it's worth keeping in mind that mobile commerce is so much more than that. It includes activities such as:
In-app transactions
Buying and selling on virtual marketplace applications
Mobile banking
Engaging with mobile ads
Mobile ticketing
Use of digital wallets
M-commerce and e-commerce — is it all the same?
Even though m-commerce and e-commerce may seem similar or even synonymous, these terms can't be used interchangeably. While e-commerce refers to every digital purchase, m-commerce is limited only to transactions made on mobile devices.
In simple terms, electronic commerce (e-commerce) covers all digital sales and purchases of goods, whether through a desktop or mobile device. M-commerce is, however, a subcategory that refers only to mobile transactions.
At Miquido, we provide a wide range of eCommerce development services – check them out and see how we can help you.
The main areas of mobile commerce
Even though online sales of products is the first thing that immediately pops into our minds when we think of mobile commerce, it covers considerably more areas. Among the most significant ones, it is worth mentioning:
Product purchasing: The heart and soul of mobile commerce and, undoubtedly, the fastest-growing area. It consists of sales of goods via mobile applications, mobile websites, social media platforms (like Instagram or Tiktok) and marketplaces.
Mobile wallets: Instead of entering credit card details, users can link mobile wallets to the app and finalise payments effortlessly with a single click. Thanks to its extreme convenience, this form of payment is becoming progressively more potent and dominant.
Convenience purchasing: Mobile apps are successfully used to pay for a taxi, book a room in a nice hotel, deliver groceries from local stores or order food from the nearest restaurant.
Selling access to digital content: Subscriptions are on the rise and are used by major giants like Netflix and Spotify to retain users and provide them with continuous access to various types of digital content, such as movies, music or even newspapers.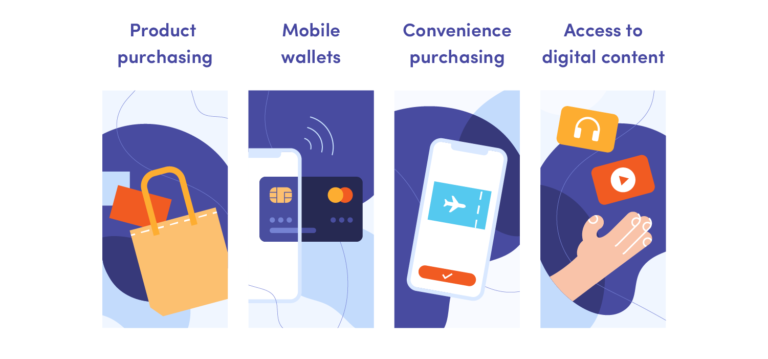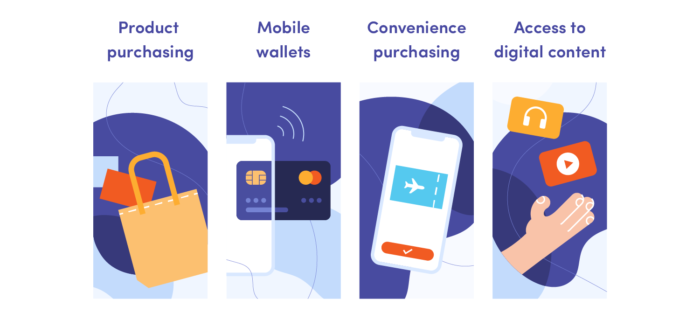 The mobile commerce market in numbers
To get a better understanding of the current state of mobile commerce, let's drill down into the numbers and statistics. I've gathered the most important ones here:
The business benefits of mobile commerce
Moving your business from desktop to mobile can do wonders and bring tangible benefits. Here's why you should embrace the full potential of mobile commerce for your company's sake:
Mobile commerce improves the overall customer experience. Mobile devices have transformed the way we shop: they not only make it much more convenient and reachable but also speed up the purchasing process.
M-commerce supports various payment methods. The growth of mobile sales has paved the way for new types of payment, like Apple Pay or PayPal One Touch. Such a wide choice of payment methods certainly encourages users to complete their purchases.
M-commerce gives you more relevant customer data. When running a bring-and-mortar store, you don't have enough data about your customers: their habits, behaviour, pain points or preferences. In m-commerce, gathering insightful customer data and using them for business improvements is much easier.
You can create an omnichannel experience. By focusing on different forms of mobile sales, your potential customers will be able to find your products in different places – not just on your website or app, but also in marketplaces or social media platforms. Such a variety of touchpoints with your brand significantly increases your chances of driving more sales.
Growth opportunity. ​​The mobile sales opportunity will help you scale your business and expand your customer reach.
A more personal approach to the customer. With the right m-commerce solution, it's much easier to create customised offers for your customers, tailored precisely to their individual needs.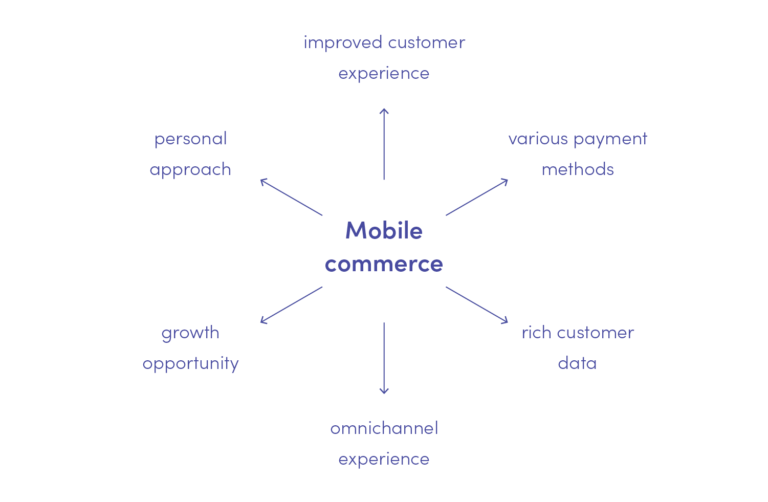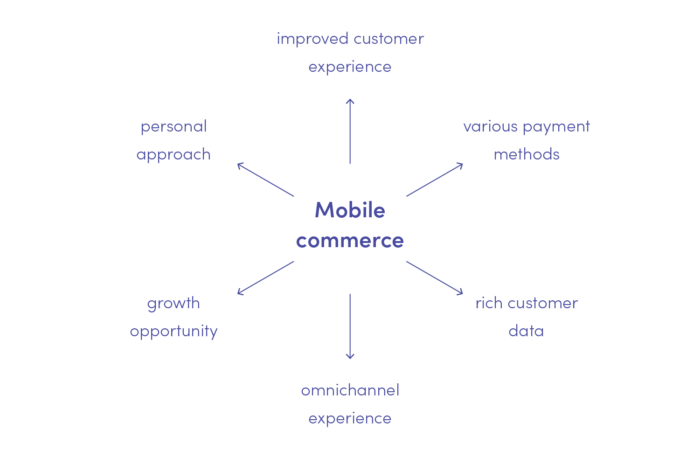 Does m-commerce have any downside at all?
Depending on your industry and target market, mobile commerce may come with some potential pitfalls. Disadvantages of m-commerce include:
High level of competition. The COVID-19 pandemic has forced many business owners to move from offline to online. For that reason, in recent years, the m-commerce market has experienced a sudden growth that probably no one could have foreseen. In such a competitive world, it's hard for online businesses to always stay in the spotlight.
Risk of data leakage. Customers enter loads of their personal data online. As a business owner, you must do whatever it takes to protect it from leakage. Although data protection should be a top priority for any online business, we still hear and read about hacking attacks aimed at capturing sensitive data.
The constant need for optimisation. Even the most successful m-commerce digital products must constantly be updated and optimised. Only by constant app maintenance an online business continuously can scale and stay relevant in the game.
Mobile commerce trend dominating in 2022
Mobile commerce is evolving at lightning speed. So to stay relevant in the game, you need to keep up with such a fast-changing market and offer your mobile customers innovative and future-proof solutions. Here, I share the most influential trends in m-commerce that are shaking the industry. Apply them to your mobile business today and don't be left behind tomorrow!
Augmented Reality (AR) is a buzzword spreading around the tech market for quite some time now, and for a good reason! This tech solution offers immense possibilities. It can be successfully applied in the healthcare, education or tourism industries. So it should be no surprise that over time AR has also made its way into m-commerce.
If you intend to show your customers how furniture will look in their living room – use AR solutions. Perhaps you want to demonstrate whether a make-up palette will match your customers' skin tone – AR solutions will do the job. ​​Or do you run a clothing shop and want to create a virtual showroom? – once again, AR is the answer.
As you can see, AR can be used for various types of m-commerce businesses, and, who knows, maybe these solutions will become a great fit for you too.
Artificial intelligence has made a mark in this trend as well.
I'm sure you know exactly what chatbots are, and you even used them on websites to get a quick answer for your pressing issues. But did you know that they can also work great on mobile shopping apps?
Chatbots can significantly elevate your m-commerce business and improve its performance for several reasons:
They are available 24/7.
They are easy to interact with, leading to improved user experience and higher satisfaction.
They provide much smoother live communication.
They let you gather valuable customer insights.
Surprisingly, the potential of chatbot solutions are still not fully leveraged in the m-commerce industry, so adding this AI-powered solution can give you a solid competitive advantage.
In recent years, voice shopping has become a smash hit in the m-commerce market and is becoming widely adopted by customers. This year alone, voice-based shopping is expected to rise by $40 billion.
However, its peak of popularity is still yet to come. Voice shopping will transform our purchasing behaviour and for many will become an integral part of the shopping process. From product research through order completion to track delivery – each of these steps will be (and in many cases, already is!) supported by voice commands. So get ready for the revolution in m-commerce and optimise your mobile shopping application or website for voice search.
Voice shopping, chatbots and AR are powerful examples of using Artificial Intelligence in eCommerce. Check other future-oriented applications of AI and get ready for the change.
Historically, completing a purchase in an online store was time-consuming and required entering all the necessary data. Each time, we had to put our name, credit card number, shipping address, email address, etc. This was a great way to cause frustration and reduce purchase intention, especially if we had to do it repeatedly on a small mobile phone screen.
One-click ordering is a great solution that solves this irritating issue. It shortens the whole purchasing process, making it more convenient and hassle-free. And since personal data and payment credentials can be stored securely on the mobile application, why not implement it into your m-commerce business as well? Such a small adjustment can make the difference!
Currently, the demand for quick solutions is higher than ever before. Learn more about quick commerce and discover how this trend will revolutionise the m-commerce market!
Social media platforms have come a long way in the past few years. From places created for social networking, they transformed into robust marketplaces where brands can promote their products.
How do they manage to boost sales through social media platforms? For example, by tagging products in shoppable posts that lead directly to the product mobile site This way, users can easily find products they really liked.
One thing is certain: social commerce has a really bright future. In America alone, there are over 90 million active social buyers. As we expect, the upward trend in social commerce will continue to grow, making it even more potent than it already is.
Most companies that want to take on the world of mobile commerce opt to build a custom mobile application. But this is not the only type of app for the m-commerce business that's worth your while.
Some industry players decide to develop a Progressive Web App (PWA) for their business. Why is this type of app so cool? For several reasons:
They work everywhere. With PWAs, users can get access on multiple devices. This cross-device switch possibility can decisively enhance their customer experience.
They operate similarly to native mobile applications. Even though they work through the web browser, PWAs imitate mobile apps.
PWAs save storage space. Since users are not required to install an app on the mobile device, they can simply add a shortcut to the home screen. This way, they consume less storage space than mobile apps.
Want to learn more about different types of apps? Read our guide and make the right choice for your business!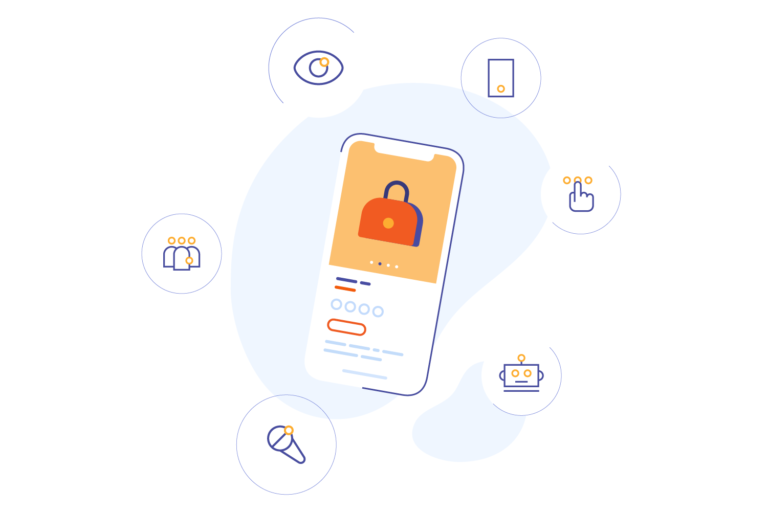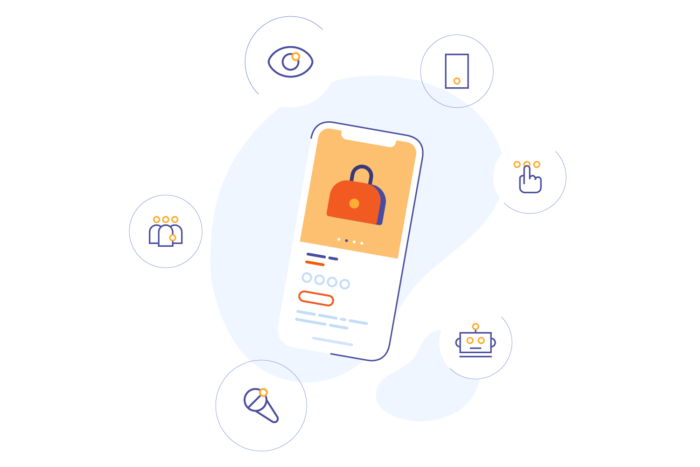 Does the mobile commerce market have a future?
The answer is pretty simple: the mobile commerce market has a bright future ahead of it and, as we can assume, mobile sales will continue to expand in the coming years.
Where do my assumptions come from? Just analyse the situation in mobile commerce, and you will see that the market is clearly unstoppable. Interestingly, it is estimated that, in the U.S, the share of mobile sales to total retail sales will continue to grow each year, reaching 10.4% in 2025 (this includes only products or services ordered via mobile devices and excludes other types of mobile transactions).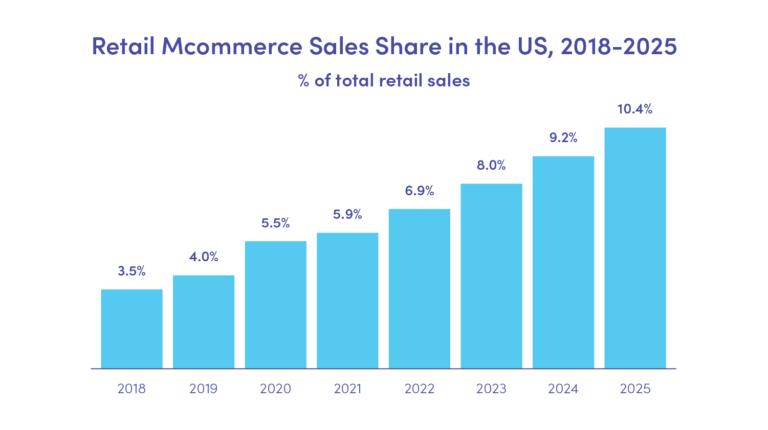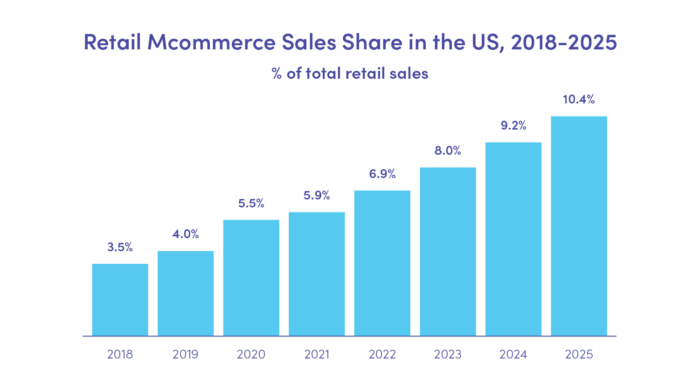 Several factors will cause such rapid growth:
The number of regular users of mobile devices is increasing every year, making the mobile market more potent. In May 2022, the mobile market share reached 59.02%, whereas desktops – only 38.65%.
Due to the pandemic, many users have switched to online shopping instead of buying in brick-and-mortar stores.
Due to numerous conveniences, such as offering different payment options or better product visualisation, users will have more confidence in online shopping.
Leverage your business with m-commerce solutions!
The main lesson from this article is this: mobile commerce is not just a seasonal trend soon to be forgotten. It's a global phenomenon that will make its mark on the e-commerce industry.
Mobile sales rises each year, and will certainly take over the vast majority of online sales in the future. So if you've resisted changing to mobile sales so far, it's about time you changed that. Here, the rule is simple: the longer you wait, the bigger the gap between you and your competitors.
Looking for the right partner to build a customer-oriented digital product for your business? Contact us today, and our experts will help you find the right solution made to answer your business challenges!