2020 has done something that had never been done before: it turned the entire business world upside down in a matter of weeks. Our stable routines, fixed schedules, the very concept of "normality" that we were all used to became irrelevant overnight.
The world economy will never be the same, as the last year has brought unemployment, global recession, and industry-wide crises. And now, as we're approaching the light at the end of the tunnel filled with lockdowns, travel bans and isolation, a reasonable question arises: what's next?
The pandemic's impact on the business world
Covid-19 has shown that a significant number of our processes are outdated. Yet, this doesn't mean that people will readily give up the good-old operational patterns they've been taught to follow.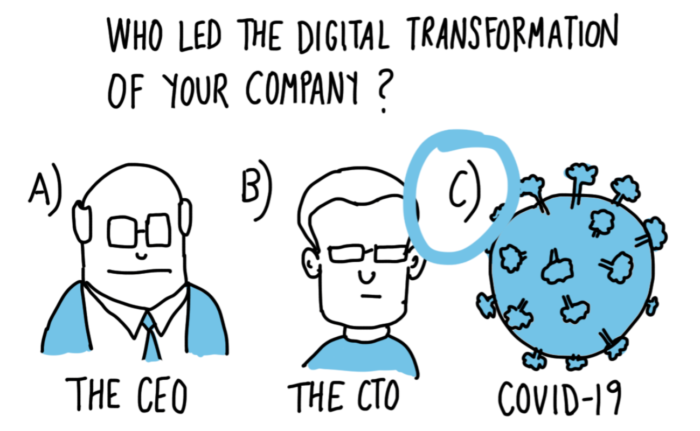 That's where high-tech office equipment kicks in
Only the adoption of truly futuristic solutions will allow businesses to keep afloat, both for their employees' and their clients' sake.
We've already discussed the effects the pandemic on e-Commerce. Now, we're taking a look at what consequences it has had on our work lives and how we can still "go back to normal" without actually going back.
Keep on reading to learn about:
Pros and cons of home office
How tech changes our perception of the work environment
The features needed to build a game-changing office-amenity application
A roadmap to success built by Miquido product experts
But first, you might be wondering:
Who is this post for?
Well, it's definitely going to be useful to business owners, who count their revenues trying to estimate whether the return to the office in the nearest future will be a smart move.
It'll also be interesting to developers, designers, and marketers who have become way too comfortable at their kitchen desks and are not certain if there's anything that can force them to change new habits.
But, first and foremost, it's for the true game-changers and revolutionaries who recognise the value of timely upgrades and who want to make the world a better place via tech optimisation and digital transformation. People like us here at Miquido!  
Future of office workers: office returns?
Some of the key Covid-19 implications for business have revealed that effectively returning from a home office may prove to be more challenging than most companies have anticipated. Partially, this is due to several unquestionable benefits of adopting Work From Home (WFH) policies.
Benefits of home office
Many global companies have already adopted "revolutionary" approaches to remote employment. For example, Dropbox was one of the first enterprises to go "virtual first" back in 2020, and Facebook has already opted in for a hybrid (aka hot-desk) model.
This became possible because of the newly discovered opportunities of WFH for the employees, such as:
Time & money spent on commuting
Higher job satisfaction
Lower rate of sick leave
Better work-life balance, etc.
At the same time, business owners and corporations have been able to save a substantial amount of money on rent, office amenities, and strict in-house benefits like Pizza Fridays and Fruity Tuesdays.
If both workers and their bosses seem to be generally satisfied with the results, then why is there even talk about returning to work after the Covid crisis is resolved?
Downsides of WFH
There are always two sides to every story, and remote work is no exception. While it's been a dream come true for some, it has only resulted in more challenges for others.
Thanks to technology in modern offices, most white-collar companies were able to transition to the remote mode with ease and gain higher productivity as well as, in some cases, more clients. For example, here at Miquido, we had to master remote software development and that was a real game-changer.
However, there are also numerous reasons against permanent home office, such as:
Growing unemployment rates across the sectors that cannot be adapted to telecommuting
Reduced productivity due to household reasons
Less impact during online meetings
Enhanced sensation of loneliness, boredom, and isolation
Prolonged working hours, etc.
That's why, in some companies, both employees and their bosses cannot wait for the pandemic to be over to return to the comfort of their open spaces.
The key issue that arises here is finding a middle ground between the two groups of people, so that the transition into the post-pandemic period is as stress-free as possible.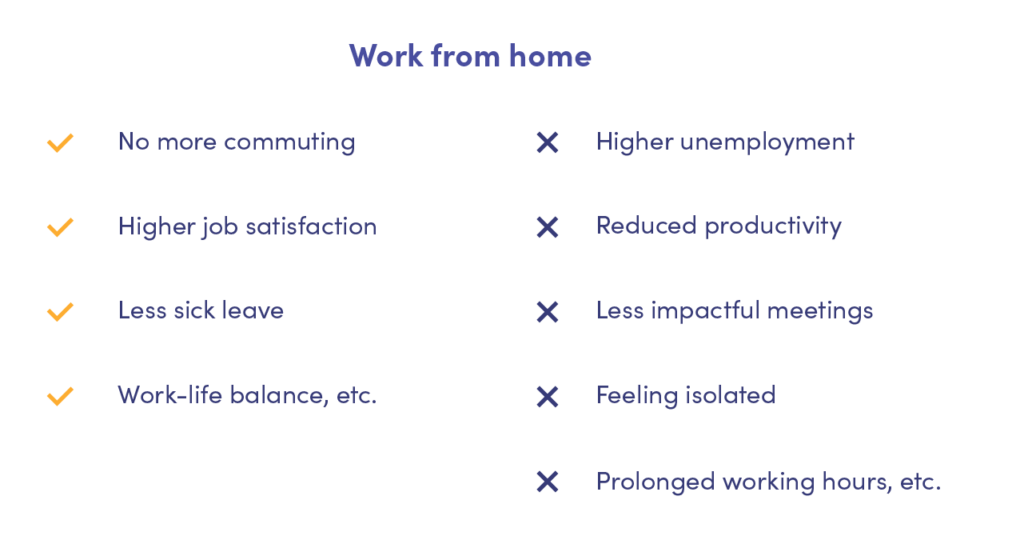 The latest office technology vs Returning to work after Covid-19
The main challenge for all business owners who want their employees to come back to offices after the pandemic is defeated is to provide effective reasons as to why working from the office (WFO) will be worth it. This is particularly important for the companies in competitive industries, where many businesses have already decided to allow permanent WFH modes.
According to a McKinsey report, technology will play a central role in enabling employees to return to office buildings and to work safely before a vaccine becomes widely available. The best way to ensure that the future of office returns will be positive is to provide workers with more control over their working environment to make it resemble the benefits they'd have were they to stay on remote.
The solution: amenity-dedicated applications
Currently, there are 7 key aspects of the work environment that affect the worker experience in the office with corresponding tech features they offer: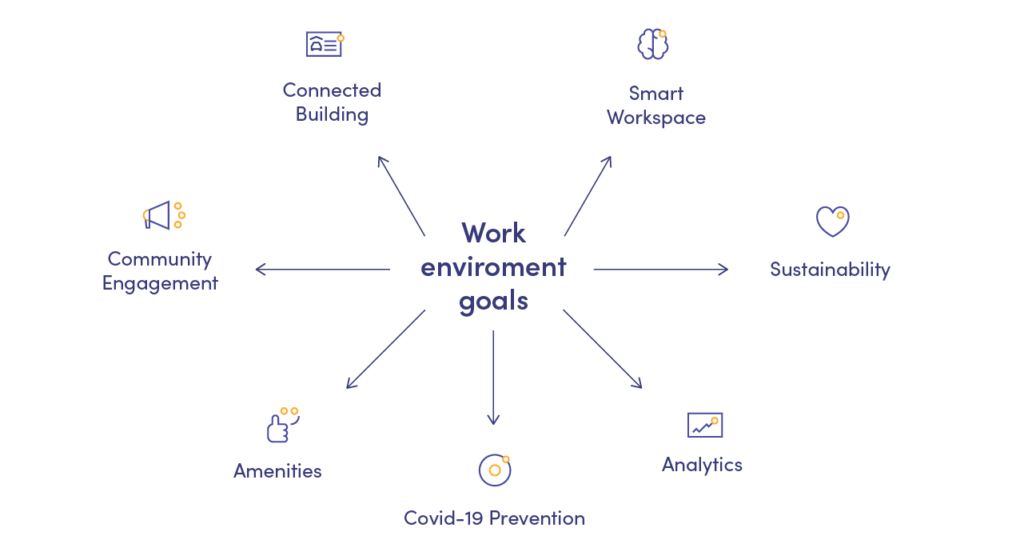 Connected Building (e.g. activity-based parking, mobile access control, office space management tools, virtual reception).
Smart Workspace (e.g. indoor positioning, wayfinding, room and desk booking, feedback, work environment management and optimisation).
Community Engagement (e.g. social feed, news, events).
Sustainability (e.g. green education tips, energy usage statistics or support in interior LEED and WELL certification).
Amenities (e.g. on-demand catering, car-wash service, yoga, massages, etc).
Analytics (e.g. space planning and layout recommendations).
Covid-19 Prevention (e.g. live updates to all tenants while they work from home, re-entry guideline videos, "Book Your Entry", touchless entry/exit, monitor lobby traffic, density and occupancy).
Build a software product that addresses as many of them as possible and once – and you've won!
The main advantage of amenity-focused mobile apps is that they can give renters full control over the property, excluding landlords from the equation.
There are many great mobile apps for specific tasks within buildings. Yet, owners and managers are now looking for something bigger. Something like a multi-feature application that covers as many functions as possible improving their employees' work-life balance within a single platform.
Got a million-dollar idea about how to optimise your office space and make WFO great again? Perfect! Because we have a little cheat sheet on how to plan it right and we're excited to share our approach with you.
How to build a revolutionary app that makes returning to work after Covid a breeze: A Miquido perspective
Have you heard of the 80/20 rule? The Pareto Principle is true for most businesses and the IT industry is no exception. 80% of all end users generally use only 20% of a software's features.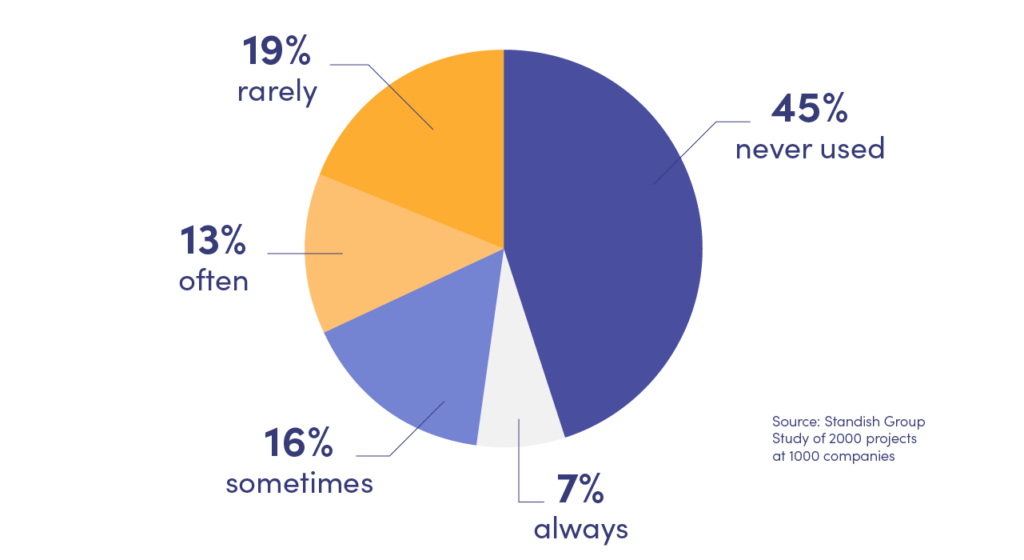 What does it mean for you? Thanks to careful feature prioritisation you can significantly cut the time needed for the development of a minimum viable product (MVP), hence releasing your app to the market faster and with fewer costs. Sounds pretty cool, doesn't it?
Let's take a closer look at our digital product strategy team's roadmap recommendation for your office tech app development.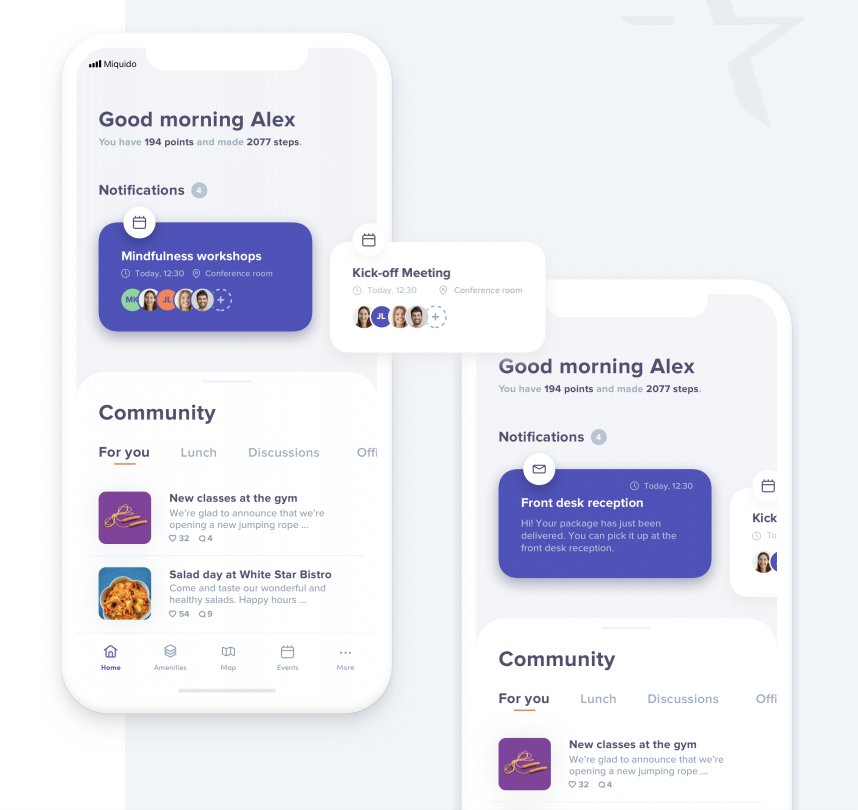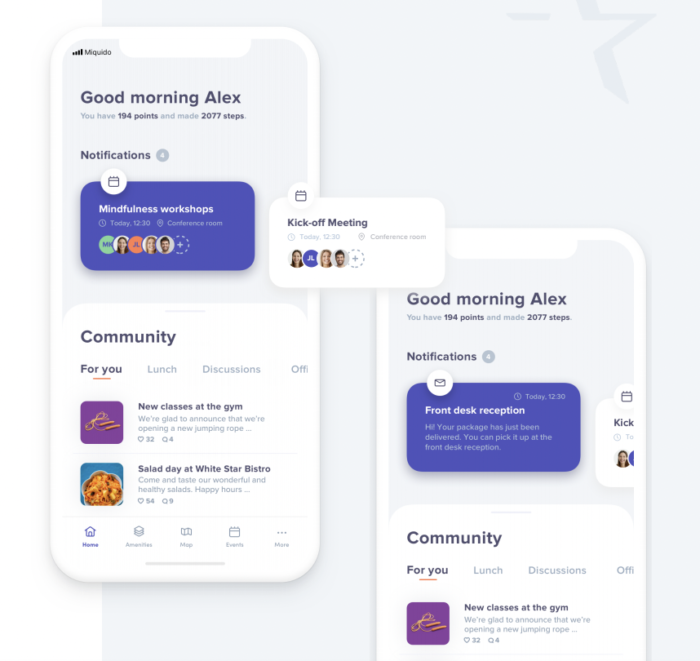 Round 1. High-priority features for the MVP
According to our in-house research and expertise, high-priority features include solutions focused on access control, closely related to each other from both the functional and the technological perspectives.
The goal here is to create a dedicated solution, so no other software application could be used instead. Such an approach makes it a great starting point for further development and a playground for collecting user feedback and validating ideas.
For the first release, we suggest focusing on must-have features like:
Access control (card-less entry)
Virtual reception
Parking
Bike lockers
Parcel collection integration, etc.
Prepare your solution, release it to the market, and see what people have to say about it.
Round 2. Medium-priority features for V1 version
Medium-priority features play an important role in how the office space is utilised, improved or experienced. However, every company has a different approach to these issues.
Besides, there are also plenty of ready stand-alone loyalty/benefit programs. At this stage, it might be reasonable to consider integrating your product with such solutions instead of developing a brand new platform.
Some of the features that might be implemented for the V1 product include:
Community Building (e.g. TPK General info, Marketing, Events, Polls, etc.)
Maintenance, ticketing and workflows
Credits/points payments
User-feedback-inspired features, like

Wayfinding
Room and desk booking
Social distancing
Real-time office occupancy, etc.
As this is the first big update of your office tech application, expect some feedback. Better yet, use that feedback to make sure you haven't missed anything crucial.
Round 3. Low-priority features for the final version (V2)
After we've covered the basics and included the must-have features requested by real users, it's time to stuff your application with even more awesome functionalities. Low-priority features are the solutions that are not strictly related to the workspace and are widely resolved by numerous popular apps. However, they could still be applied to the office environment, making it more employee-friendly.
Features worth considering here could be something like a step counter or a built-in food ordering platform.
Don't forget that a good software development company, like Miquido, will guide you through the entire process of building your high-tech office application for going back to work after Covid-19.
As a result, your final product will fit the market perfectly, not only bringing in revenue but also solving one of the most pressing problems of our times.
What does the future of office workers hold?
The pandemic and all the changes the last year has brought have taught us one thing: you can never be certain about what the future holds. It's impossible to forecast exactly when the world will return to normal, what the business scene will look like by the end of 2021, or which technology solution will be most in-demand in the next few years.
However, if you have an idea which you really believe in and which can make workers' lives a bit easier and more fun – don't let it go to waste!