In the era of COVID-19, businesses take on digital transformation for plenty of reasons. But by far, the most likely one is that they simply have to: It's a survival issue. It helps organisations stay competitive, keep up with customer demands, and bring tangible improvements to the company itself.
Key outtakes:
In the era of COVID-19, digital transformation strategy is no longer a nice-to-have option. It's a matter of survival for companies that want to stay relevant for their customers.
Digitalisation of processes opens up new revenue streams.
Digital transition reduces costs and gives your business a competitive advantage over legacy companies.
Digital tools help you get deeper business insights and skyrocket your performance.
Digital skills are in demand both for employees and employers.
Businesses that digitalise their workflow and assets are scaling faster and more easily than those that stick to the traditional, non-connected forms of business development.
***
Digital transition before the pandemic and now
Digital transformation has been a buzzword in recent years, but it was COVID-19 that actually sped up the adoption of digital approaches by several years.
In 2018, 87% of senior business leaders declared digitalisation was their company's priority and 79% of corporate strategists claimed it enabled them to create new streams of revenue.
However, before the pandemic, changes have been slow.
Less than 50% of companies that claimed to be transitioned brought their digital initiatives to the core of their business strategy. Also, the status of changes was estimated to be just halfway through in as much as 76% of investigated companies.
The crisis of Covid-19 skyrocketed digital adoption, bringing about years of change for businesses all over the world.
" (…) Companies have accelerated the digitization of their customer and supply-chain interactions and of their internal operations by three to four years. And the share of digital or digitally enabled products in their portfolios has accelerated by a shocking seven years."

McKinsey Global Survey

https://www.mckinsey.com/business-functions/strategy-and-corporate-finance/our-insights/how-covid-19-has-pushed-companies-over-the-technology-tipping-point-and-transformed-business-forever
The reason for such rapid progress seems obvious. Staying competitive in the reality of occasional lockdowns and social isolation implies new, digital-oriented approaches and business strategies. Executives recognize the strategic importance of technology. Increasingly more often, they take to experimenting and introducing innovation to respond to the crisis, adapt and thrive.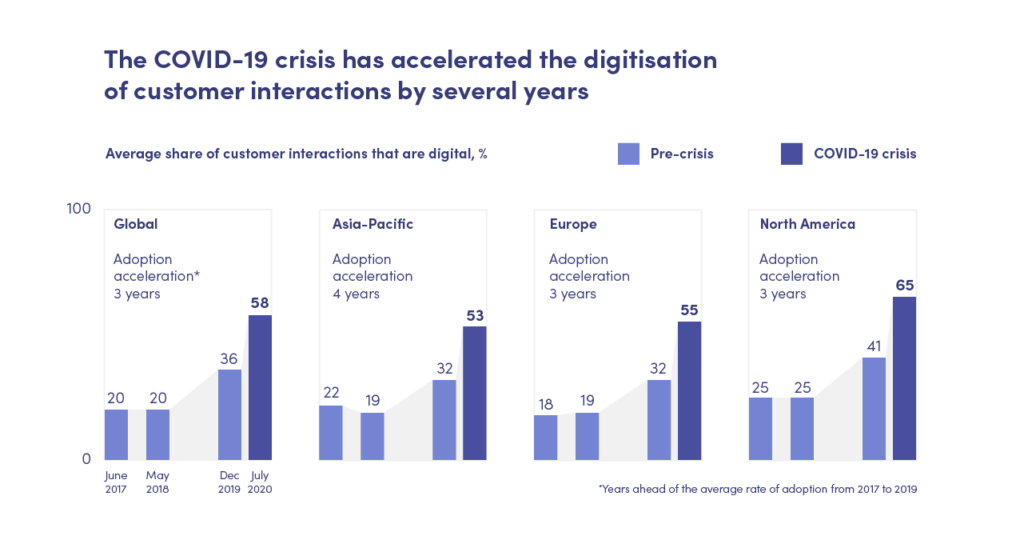 5 digital transformation benefits for your business
Want to find out how you can take your business to the next level with custom digital transformation solutions? Here, we'll indicate 5 business benefits of digital transformation. Read on!
1. Beyond adaptation. New business opportunities
When the pandemic started, digital transformation was perceived as a pure necessity for businesses to stay afloat. But, as it came out pretty fast, the adoption of digital means much more than just the adaptation to new conditions. It opens the door for new revenue streams (digital products and services) and lets companies enhance the quality of their products. If you're curious how to let your business earn new digital revenues, Gartner points out a neat checklist of exemplary hints:
Sell already existing digital assets like information or advice. All of them may become sort of a product that you can commercialise.
Digitalise your non-connected offerings. In the context of digital transformation, this is the point to start with to perform a business change. Usually, it is also a first step for scaling your services.
Sell metered revenue. A pay-as-you-go selling model is very popular in digital assets, and it's safe for the users who don't need to bother with owning or managing the product.
Contract your services based on a shared-risk outcome. In the digital reality, your prices are never written in stone. Personalise your offerings and vary your deals based on e.g. health outcome or service level maintained.
Become a platform business. This option enables future digital growth as it allows you to sell products and services without owning them or having to distribute them.
Move to new industries. When you already find out how to turn your business to digital, start thinking about scaling it for additional markets and industries. This move is much simpler in digital trading than in the analogue form of running your business, which requires physical encounters, travelling and face-to-face presence.
2. Competitive advantage and cost reduction
According to McKinsey research conducted before the pandemic, moving processes to digital influenced revenue and let companies cut on their spendings up to 90%.
What processes could cause such a change?
Here are several real-life cases:
"One bank digitised its mortgage application and decision process, cutting the cost per new mortgage by 70 percent and slashing time to preliminary approval from several days to just one minute".
"A shoe retailer built a system to manage its in-store inventory that enabled it to know immediately whether a shoe and size was in stock—saving time for customers and sales staff".
The examples are plenty, each of them with a different story and approach to digital changes.
The most common improvements include replacing paper and manual processes with software or providing real-time reports and digital dashboards that help executives address problems timely and quickly respond to customers' demands.
Basing services on digital assets lets businesses meet the expectations of their users better and gain a competitive advantage over their non-digitalised competitors.
Take a look at the infographic below, that illustrates the schema of gaining this advantage.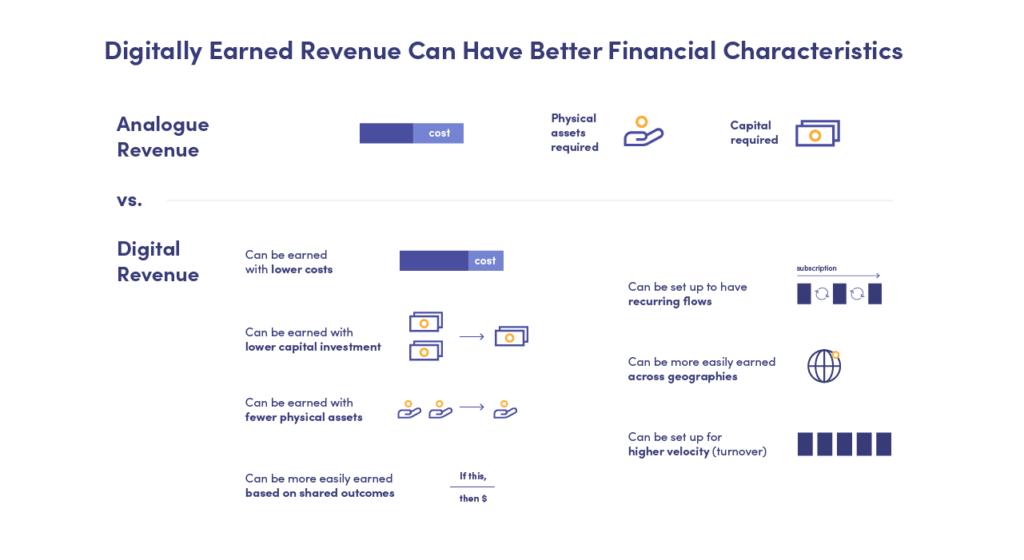 3. Deeper analysis of data and timely outcomes
Going digital enables the turn to well-informed, data-based decisions and business approaches. This is a value that simply can't go unnoticed, given that nowadays, "firms make fewer than 50% of their decisions based on quantitative information as opposed to gut feeling, experience, or opinion"(Forrester, 2020).
At the same time, data is a key pillar for the digital transition, as every interaction that takes place in the digital world generates data. This approach to gathering insights is quite different from how we historically perceived reports and stats. In the traditional, non-digitalised model, they were consumed for presenting outcomes to stakeholders, and almost never delivered in real-time to stimulate informed decision-making.
Digital changes let businesses not only base their current moves on real data but also drive prognoses thanks to predictive and prescriptive analytics. This means a huge advantage over the legacy competition, the unspoken potential for savings and targeted development and a milestone shift in the decision-making process.
The essence of digital transformation was recently wrapped up by Forbes). Turning your business to digital creates a
"comprehensive data strategy that will allow your data to be discovered, analysed and used to generate actionable insights for desired outcomes ".

Forbes
4. Empowering employees. Better productivity and work satisfaction
Digitalised actions are simply faster. They enable access to people, information or documents, even if they are not physically available. Such an approach reduces frustration, keeps morale high during work.
A high level of digitalisation of business is even more important from the perspective of so-called digital talents (positions heavily using digital solutions during their work).
Today, employees not only see the importance of work digitalisation for their personal skills development and future career – but they also want to use digital tools every day, as it affects their comfort of work. It lets them experience their work as easier, better and more effective.
The demand for digitalisation is twofold: Every employee expects a suite of tools to enable safe and comfortable work, and every organisation needs digital talents to thrive during a crisis.
According to a PwC report, 69% of employers declare they prefer employees with data science & digital skills than those without. At the same time, 55% of digitally talented employees said they were willing to switch jobs if they felt their digital skills were stagnating in their current work. This percentage has surely increased by now, considering the reality of the global pandemic accelerated the adoption of digital in almost every industry.
5. Scaling your business with the help of technology
Approaching new markets and understanding unfamiliar target groups is way easier, when digital. With all the tech solutions and systems designed strictly to improve the business scalability, you may get a data-based insight on your target audience preferences in nearly no time, whenever you need it.
Business scalability and digital technology not only bled well – they are simply inseparable for effective transition and growth.
Want to approach a new market and need customer research?
Instead of relying on blind guesswork or gathering data manually for months, you've got a set of digital business tools that can deliver in-depth analysis and smooth your work by far.
Need to polish your product or adjust your services to the demands of your users?
Use digital tools to validate your idea based on a smaller group of clients. Then, consider the outcomes and include the outtakes in the new version of your product or service, targeted for a wider, previously investigated audience.
Don't be afraid to test, experiment and question.
Don't get discouraged with failures and missed predictions.
Instead, approach your transition with an open mind, validating your assumptions on every step you take, and – above all – always trust real data.
Summary
Today, digital transformation is a necessity that lets your business stay relevant. Driving digital changes may be challenging and formulating the strategy requires experience and in-depth knowledge. But – if only implemented properly- digital changes usually result in skyrocketing performance and promising competitive advantages.
If you're thinking about turning your business into digital but feel overwhelmed with the challenge, feel free to drop a note to the Miquido team experienced in driving digital transformation for companies just like yours. Don't waste more time and invest in legacy software modernisation!

FAQ
How do you create a digital transformation roadmap?
If you want your digital transformation project to succeed, you need to plan the entire process in advance. For this purpose, create a digital transformation roadmap, which should include the following steps:
Analyse your current situation and identify what requires improvement
Clarify your vision, values and long-term business goals
Determine the right tech solutions to be implemented in your product
Plan all the activities that need to be completed
Set SMART KPIs and success metrics
Specify the budget and deadline for the project
Why do digital transformation projects fail?
Although many companies implement various digital transformation strategies, it often happens that such projects fail.
There may be several reasons behind it:
The company chose the wrong technology
The right experts weren't hired to lead such a project
Top management didn't support the digital transformation project
The company didn't define customer or employee needs, pain points, expectations and limitations
The relevant KPIs and success metrics weren't defined before the project started
If you think your digital transformation project has failed, analyse each of the above-mentioned potential reasons. By learning from your mistakes, you will manage such a project better next time.

Want to learn more about why digital transformation projects fail? Click here.