Is the product vision clear enough? Is my project aligned with business strategies? How do I set priorities, KPIs and long-term goals? If any of these questions has crossed your mind when managing a complex software project, it's a sign that you need a reliable and effective tool to control the chaos.
That's where product roadmaps come to the rescue. With this all-embracing visual tool, you will manage even the most comprehensive projects with ease.
Don't believe it? Introduce the roadmap to your project, and you will see the difference! But first, read this short and easy guide where I explain everything you need to know about product roadmaps.
What exactly is a product roadmap?
A product roadmap is a great project management tool, which visually represents how a digital product, usually software, will develop and evolve over time.
Simply put, it's a strategic vision that maps out what future functionalities should be implemented, who is responsible for delivering them, and when they should be completed. Importantly, in the roadmap, the product manager can also identify core long-term goals and anticipated outcomes.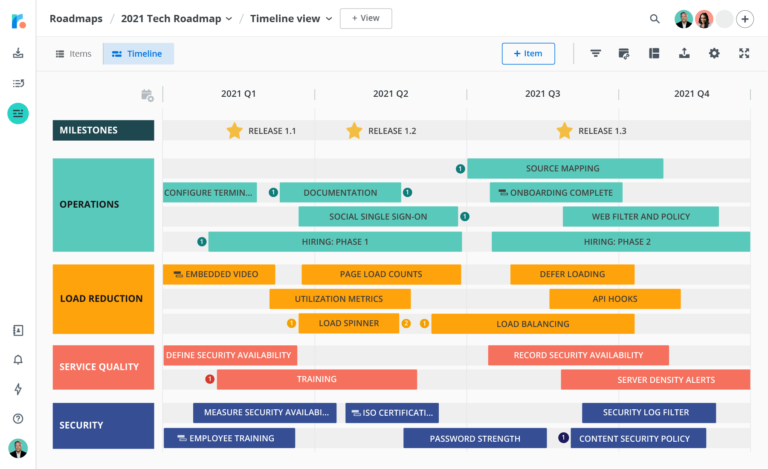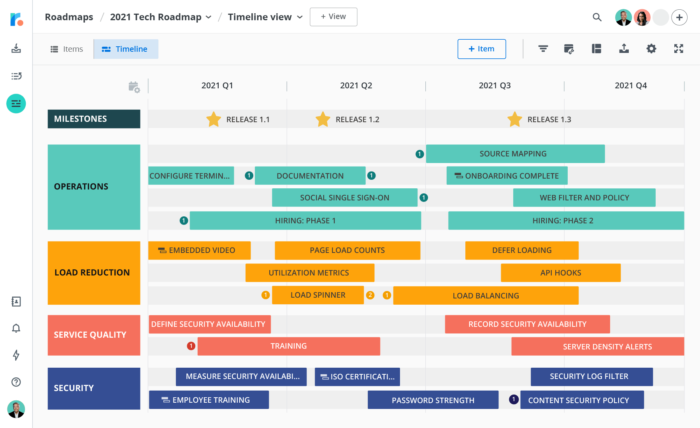 What is the main purpose of a roadmap?
The primary purpose of a product roadmap is to visualise exactly where you want to get with your project and how you will achieve this. The roadmap should show us how to achieve defined success metrics regardless of its type. It is therefore intended to prioritise certain activities and prevent potential risks that may arise on the way to the objective.
In other words, the product roadmap is intended to simplify the entire project development process and fulfill all major tasks, ensuring that all customer needs are met.
The key benefits of having a product roadmap
Why do I need to create a product roadmap? – you might ask.
Let me assure you: creating a solid roadmap brings many benefits for you and everyone involved in the project. Here are some reasons why:
It establishes a clear vision of product development.
It helps to prioritise which features need to be released first.
It keeps all teams involved in the project on track.
It helps maintain a clear product vision aligned with business goals.
It gives internal and external stakeholders, product owners and managers continuous access to the product plan.
It helps all teams (developers, sales, marketing) understand their immense contribution to the software project.
It allows you to identify and solve the most pressing issues right away.
It greatly facilitates the development and achievement of the strategic goals.
Above, I have mentioned that everyone involved in the project can benefit from introducing a product roadmap. That's right!
Just imagine: with a well-defined roadmap, engineers and designers know exactly what they should do, the sales and marketing teams can plan their strategies in advance, key stakeholders can provide feedback on the go. And what about you? As a project manager or product owner, you can more effectively manage product development team at all stages and set long-term goals.
So, are you still in doubt that the roadmap is really a must for your product?
Types of product roadmaps
Now that you know what a digital product roadmap is and why it should be an integral part of your management strategies, it's time to specify your product approach.
So, what type of product roadmap do you need to create to get the most out of it? There are quite a few types to choose from. Just keep in mind that different roadmaps serve different purposes, and some of them may not fit perfectly into your project and business objectives.


Outcome-oriented roadmap
With this approach, you define what you want to achieve within a specific timeframe. By creating an outcome-oriented roadmap, together with your team, you can specify your plans short (What do you want to do now?), medium (What would you like to achieve in 3 months?) and long (What is your main annual goal?) term.
Why use an outcome-oriented product roadmap?
By using this approach, you can align your tasks more easily with your strategic goals. You become considerably more focused on a specific vision and prioritise tasks, significantly improving the set indicators. An outcome-oriented roadmap greatly facilitates communication and workflow between teams.
When should you use an outcome-oriented product roadmap?
An outcome-oriented roadmap is the best approach when you need to efficiently measure the achievement of goals and adjust metrics in detail during product development. It is also a good solution when there are several project teams, and you need to improve their collaboration and communication. This approach will also work well for companies with external stakeholders who want an accessible overview of progress at each stage of product development.
It's a great strategy that allows you to focus on the overall outcome rather than the specific features.
Feature-oriented roadmap
This approach is based on tracking the entire product development cycle and its key features. A feature-oriented roadmap makes it much more straightforward to indicate the direction and milestones of individual product features for both product managers and external stakeholders. This, in turn, significantly improves communication and organization.
Why use a feature-oriented product roadmap?
If your project depends on specific functionalities, this approach will work best for you. A feature-oriented (aka feature-based) roadmap is the perfect solution for you if you want to schedule the growth of your product transparently.
When should you use feature-oriented product roadmap?
That's simple – you plan the release of the key features of your software and determine all the activities that must happen on time so as not to cause any delays. Choose this approach to manage the development cycle and prioritise critical features more effectively.
A key advantage of a feature-oriented roadmap is that it will work well for both large and small projects.
Strategy roadmap
A strategy roadmap is the perfect link between the strategy development process and its implementation. This roadmap lays out the vision for your organisation and greatly simplifies the achievement of the defined mission.
Why use a strategy product roadmap?
A strategy roadmap presents all the activities and efforts you must carry out to reach long-term product goals. It allows for a more strategic product management approach. A strategy roadmap enables tasks, estimated time, and resources to be clearly defined.
When should you use a strategy product roadmap?
If you want to give your internal teams an overview of how subsequent releases contribute to the overall business strategy, this type of roadmap will do the job.
A strategy roadmap will also work well if you need help aligning product vision with high-level business objectives.
Portfolio roadmap
You can smoothly communicate your strategic overview to external executives, by creating a single view for numerous projects. This allows for a broader perspective for both contributors and key stakeholders.
Why use a portfolio product roadmap?
A portfolio roadmap is a great tool to show your internal teams the correlations between their specific projects and an excellent way of showing how an individual product may evolve, facilitating product management.
When should you use a portfolio product roadmap?
A portfolio roadmap works well for organisations that manage multiple products. That's because a portfolio roadmap is a great way to present all your products in one place. This significantly facilitates having an overall product vision.
These are examples of 4 the most common types of the product roadmap. If you feel that they don't fit your needs, you can always choose something like timeline, theme-based or department-oriented roadmaps. Whatever works for you.
Or maybe you would prefer to create a custom solution? That's your call!
How to create a product roadmap in 5 steps
Already know which type of roadmap to select for your digital project? That's excellent! Now it's time to implement the roadmap in your company. Of course, you can use off-the-shelf product roadmap templates, but they will not be tailor-made. They may, therefore, not provide such a good effect.  So let us guide you how to build a solid roadmap for your product.


Step 1: Define your product strategy
The first thing to remember is: you need to do some planning and research before you get down to creating a roadmap. And that's what you should do in this step.
So take some time to understand your company's vision and long-term goals, and, based on that, set priorities and define how you will measure your future success.
When developing a product strategy, remember to:
align goals with the product and company vision
identify key goals for all stages of product development
define success metrics and KPIs.
Step 2: Specify features and requirements
Now it's time to plan the core of your digital product, i.e. all the features that need designing and developing. Simply put, at this stage, you need to schedule all essential activities for your entire project.
The best way to set up the list of key features for the MVP and future releases is to engage your internal teams. With their help, you will set priorities, consider all possible obstacles and determine a projected deadline to deliver the features.
Step 3: Develop a product backlog
Finally, we can move on to the soul of the whole process. You already know what you want to achieve and have defined your requirements. So now it's time to visualise it and build a clear product roadmap.
First, choose the right tool for you. You can opt for Asana, Confluence, Jira, Monday, Trello or any other project management tool that supports building visually pleasing roadmaps.
When building your digital product roadmap, follow these best practices:
make your roadmap easily understandable for everyone
define product backlog
break all units of work into sprints
recognise various dependencies that can cause delays or interrupt the project
Helpful tip: Implement various Agile methodologies if you want to manage your complex digital projects more effectively. Learn more about Kanban and Scrum, two strategies that have taken the software development world by storm.
Step 4: Present your product roadmap
So, who should you present your product roadmap to? It depends on who is involved in the project and who has the final say when it comes to making critical decisions. As a rule, you should consult get the final approval from:
Executives and stakeholders want to learn about the overall product strategy and how it correlates with business goals.
The marketing team is interested in getting more details about the target audience and the long-term product development strategy to better plan marketing campaigns.
The sales team usually wants to know the timeline of new features and lists of your product's main differentiators and competitive advantages.
The agile team (designers, developers, engineers, and testers) must have a general idea of which features are prioritised, when they must be released, and which activities are included in the product backlog.
Customer service needs to get detailed information about the product and its key features.
As you can see, quite a few people are closely involved in your product at different stages of its development. By presenting the product roadmap to all of these teams, you will receive valuable feedback from different perspectives and, what's more, you will keep everyone on track.
Step 5: Use and update the product roadmap
Once you have successfully gone through all the steps and your roadmap is up and running, it is high time to start using it.
One of your leading roles as a product manager or product owner is to ensure that the roadmap is always up to date.
What do I mean by that? Creating a roadmap is only half the story. Even if it's super detailed, well thought out, and you think you've taken all the factors into account, I must warn you – your project may face various obstacles when least expected, and you must always be prepared for them. What to do when such challenges arise? In these situations, you need to act quickly and adjust the roadmap right away.
And importantly: make your roadmap truly dynamic and think of it as a living document. Only in this way will you get the most out of this great management tool.
Who is responsible for the product roadmap?
The obvious answer is that the product manager should be in charge of the product roadmap, but this is only partially true. Of course, taking care of the components and updates of the roadmap is one of the responsibilities of the product strategy team. However, creating the product roadmap should be a team effort. This means that the product owner, development team, sales team, and executive stakeholders should also participate.
Are you wondering why this is so? Many factors influence this:
This solution allows key tasks and objectives to remain transparent to all teams, and it's easier when everyone is on the same page.
Teamwork makes it possible to extend the roadmap considerably, especially if you have multiple products or features.
It also has the effect of making it easier to monitor the achievement of specific goals and objectives.
This will significantly shorten the planning and product development process.
Teamwork on the roadmapping process may improve the flow of relevant information between the different collaborators.
As you can see, not only product managers or product owners can provide significant value to the entire process. This is why choosing the right participants is crucial to creating a solid product roadmap.
What makes your product roadmap truly work?
So you've built a product roadmap, and now you want to present it to the world and start using it. But hold on a second!
Are you 100% positive that your product roadmap is spot on and that it will work seamlessly? If any doubt crossed your mind, it's worth answering a few questions:
Are all outcomes and product goals measurable?
Will the product roadmap be easily understandable and legible for teams from all departments?
Does my roadmap present a clear product and company vision?
Are all the most important roadmap items prioritised?
Does it cover all the fundamental features?
Is it in line with the overall business strategy?
Have I set deadlines for all team efforts?
Is the roadmap flexible?
Does it support introducing future modifications and updates?
How to build a digital product roadmap: final thoughts
A product roadmap is one of the most effective management tools, especially for long-term and complex software projects. With it, you will be able to present how your digital product will evolve and keep the project on track. Creating such a high-level strategic plan will give you control over the entire product development cycle.
So remember: building a solid product roadmap and maintaining it is a direct route to your future success.
Facing problems with establishing a clear product vision and creating business strategies? Miquido can help you with that! Our experts will verify your app ideas and deliver solutions tailored to your needs.
FAQ
What does a product roadmap include?
A well-designed product roadmap should contain:
Product vision: what product you want to create
Product strategy: how your company will benefit from this product
Product plan: which activities need to be completed to achieve the established goals
Metrics and KPIs: how you will measure the success of your project
How do you prioritise features and product improvements?
One of the critical stages in any product roadmap for software projects is determining which features and improvements should be completed first. To set priorities, you should carry out market analysis, user research and gather feedback from your customers. It will give you a general overview of what your potential end-users demand.

In addition, you can conduct an analysis with the RICE method. This approach allows you to prioritise, taking into account four factors:
Reach: how many users a given feature will reach in a certain period.
Impact: how the feature will contribute to achieving your business goals, such as significantly higher conversion rates
Confidence: to what extent you're confident that your assumptions are correct
Effort: the amount of time all the people involved in the project will spend building the feature.
By counting the RICE score you will discover which features should be built first.
Who owns the product roadmap?
The product manager is responsible for creating, managing and updating the product roadmap. Executives, stakeholders, marketing, sales or customer service can comment, give feedback and suggestions, however, the product manager has the final say.