In business, time is always money. We want to release the best project powered by the latest tech in the shortest time for the lowest cost. It's a given.
Another given is that there is always a pressing need for compromise. Perhaps the tech stack doesn't have to be quite that powerful. Or it's better to lay back on animated illustrations because buying stock photos is easier. Or you can choose to cut back on user tests because you just know people are going to love what you have to offer.
Design Thinking is a strategy that helps you get the product just right without sacrificing any of its original value and save quite a few zeros in the process. We're going to look into how Design Thinking can help any company – not only a unicorn startup – meet its core business goals faster.
Design Thinking in a nutshell
Don't want to spend your entire lunch break digging for details? Here's what you need to know:
Products created with Design Thinking in mind are desirable, feasible, and viable; thus they cover every aspect of your strategy.
By enhancing your corporate strategy with Design Thinking principles you can create a product that is actually needed, cut down the development costs, increase your revenue, and win over more loyal customers.
Implement the Design Thinking process into your business strategy by following these 5 simple steps: empathise with the customer, define their challenge, ideate the solution to that challenge, build a prototype, and test the outcome.
We've completed more than 250 projects by following the Design Thinking approach, so we know it works.
And now it's time to jump into the specifics.
What is design thinking: a quick recap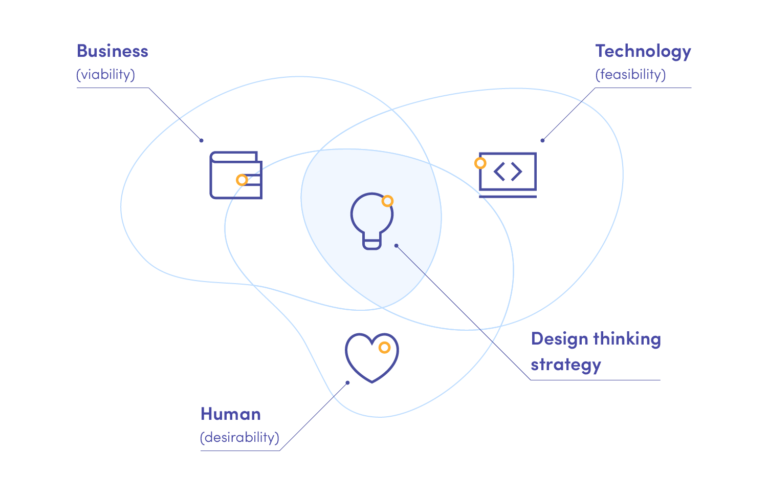 Steve Jobs claimed that design isn't how something looks, but how it works. Design thinkers take it a step further and say that design is not only how something looks, but also how it works and how much it costs.
In theory, by following the Design Thinking methodology you create a product that is desirable for customers, feasible in terms of technology, and viable from a business perspective.
But that's a challenge for your product design and development teams to tackle. The real question is:
How can design thinking help your business in the long term?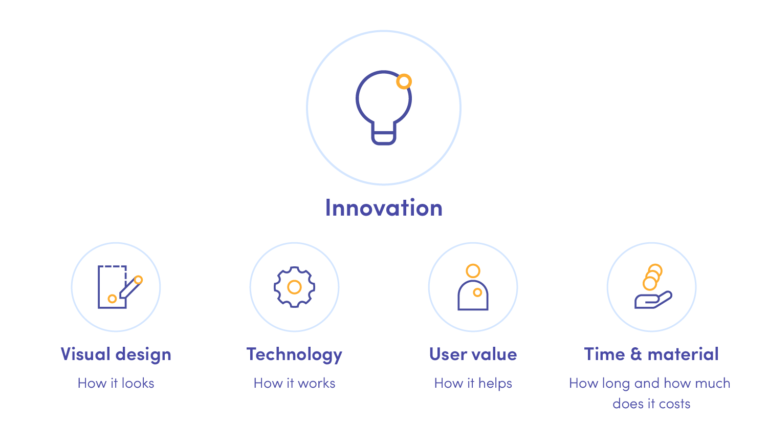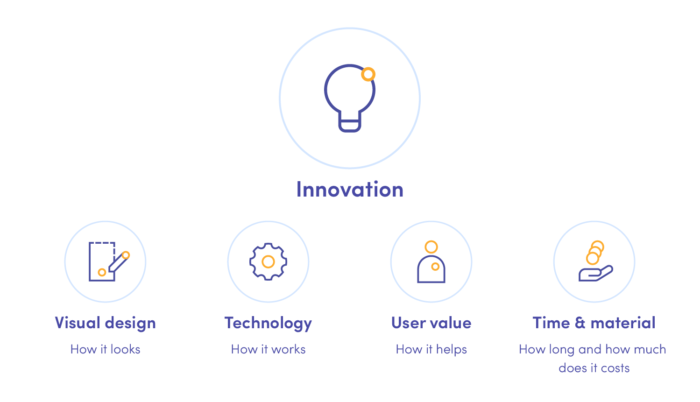 After all, releasing a product is not all there is to it. So much more is happening behind the scenes: market research, budget estimation, marketing campaigns, post-release PR, customer support, app maintenance, and so on. 
And you might be surprised to learn that Design Thinking can prove to be just as useful at any of these stages as it is during product development.


But before we jump in, I'd like to underline one more time that Design Thinking is NOT about the product design itself. Instead, think of it as yet another methodology for work organisation and strategic planning.
Business value of design thinking
I am going to skip the obvious "you will have a visually stunning digital product running on a powerful technology". You can learn more about the product design services we offer once your business strategy is settled. 
Here, I want to bring your attention to the "corporate" side of Design Thinking. As it turns out, it can bring quite a few benefits when it comes to your business strategy and long-term plans.
Success is achieved through 5 equally important factors: design, technology, value, time-to-market, and resources invested. Here's a quick example of how it may look:
Faster revenue growth
When it comes to long-term business planning, nothing matters quite as much as potential revenue. There are two ways in which Design Thinking helps you earn more with less:
You are far more likely to succeed if you try to address your challenges one at a time instead of producing a holistic non-negotiable 3-year plan as an ultimate remedy for all your problems
It is impossible to separate the actual usability of the product from the Design Thinking process. And as the research shows, design-centric companies' ROI grows faster.
Design Thinking encourages you to put users first. That means a lot of things, like rapid changes in the social environment or a shift of the general public's interest. Design Thinking allows you to react, rather than sit and wonder what is going to happen to your business strategy now that the world is burning.
Such a proactive approach is exactly what causes the numbers to rise and your profits to multiply.
Reduced expenses
Another one of the most serious benefits of applying the Design Thinking approach to your business strategy is that it can help you significantly cut costs.
This is mainly achieved thanks to the same problem-solution model that allows you to generate higher revenue. Instead of searching (and paying) for a one-size-fits-all solution, Design Thinking motivates you to break your main challenge into several smaller ones and address them individually.
As a result, you don't have to pay for the features, technologies, marketing strategies, or industry-leading reports that just don't apply in your unique case. It's one of the reasons why we are so dedicated to custom app development here at Miquido. Every product is unique because every challenge is unique. That's why the solutions need to be unique as well. 
More loyal customers
User retention can be a big problem for some businesses. There are numerous strategies on how to increase your user retention rates, but at the end of the day they all come down to one common variable: you need to give people something they actually need.
While having an engaging app with a modern design, a powerful engine, and an intuitive interface would definitely help your case, Design Thinking allows you to really dig into the core of your clients' desires.
As McKinsey's report shows, investing in design-centred solutions once again pays off here. A returning customer is a happy customer. And a happy customer is likely to recommend your app, purchase another product from the same vendor, or, eventually, to even become your partner.
So how does Design Thinking help you make your clients a little bit happier? For starters, this framework makes their best interests your top priority. Before you do as much as think of the colours you'd like for your future digital product, you must carefully analyse your target audience, pinpoint their daily struggles, and put your entire mental effort into providing a solution.
That's Design Thinking 101:
What lies in the roots of your idea? Why did you come up with it? If the answer is anywhere near "to make a large profit" – I'm afraid you may not be ready for a Design-Thinking-powered business strategy.
But as long as your solution comes from a goal to help, improve, or support – you've got yourself a recipe that will get your customers to come back again and again.
How to use design thinking in business
There are 5 steps to every Design Thinking process:


It's proven to be so successful that since 2011 numerous software development companies, branding agencies, and advertising firms have adopted Design Thinking as their go-to project management methodology.
But how does it translate into strategic planning, when the time comes for setting business goals and ensuring stakeholder satisfaction? Frankly, there are hundreds of ways you could approach it.
Here are some examples of the core differences between Design Thinking as a project management methodology and Design Thinking as a business strategy:
Product Management
Business Planning
Empathise
What problem of your clients do you want your product to solve?

E.g. An app for healthy meal planning helps users to improve their diets without seeing a professional or counting calories
What problem of your clients do you want your business to solve?

E.g. Your business promotes a healthy lifestyle that goes beyond a balanced diet, that's just the starting point for you
Define
Which specific features should your product have to deliver the highest user satisfaction?

E.g. The app should allow users to select their favourite products, edit pre-made plans, analyse user data, and make forecasts accordingly.
Which specific goals should your business have to achieve your mission?

E.g. Healthy lifestyle includes good nutrition but also can be affected by the quality of sleep, the amount of exercise, or the overall health of an individual
Ideate
How should the product work in order to address the challenge in the most user-friendly way?

E.g. Developing core UX & UI concepts for the app
What should the product(s) be in order to address the challenge in the most user-friendly way?

E.g. Deciding that the best way to reach your goal would be to release 3 separate products for nutrition, sleep management, and exercise
Prototype
Creating a clickable model of the product to see it in action

E.g. Your product team prepares the prototype ready for user testing
Creating a short-term strategy to see it in action

E.g. You decide to focus on nutrition as the first element of a healthy lifestyle and dedicate your strategy to it for the next 3 months
Test
See how real users interact with your product and draw conclusions for improvement

E.g. Nobody seems to care about the AI chatbot you wanted to implement so badly, so you decide to remove it from the app
See how your strategy is performing in the real world and draw conclusions for improvement

E.g. You discover that the market is oversaturated with nutrition apps and decide to focus on sleep management instead
Design Thinking in business: what's next?
If you're still not sold on the whole "use Design Thinking in your business strategy" gig, you should at least now be certain of how effective it tends to be in product development. And if there is just one takeaway you could get from this approach, let it be this:
Whether it is because of the engaging app design or because your entire enterprise strategy is built around satisfying ordinary customers. Technology may replace humans one day, but today it helps to make our lives better. So make sure you do too!