For some, reaching relevant users with their mobile application may seem relatively easy. However, the ugly truth is that today it's much more challenging to get discovered and expand your audience reach than ever before, especially in such a competitive world where millions of mobile apps are vying for attention.
So how can you effectively increase your audience reach and get more app installs? That's where App Store Optimisation (ASO) enters the game!
What exactly is ASO, and why should it always be a part of your marketing strategies? This comprehensive guide will take you through the basics of App Store Optimisation. We'll tell you what ASO is, why you should never neglect it and which elements it involves.
Read on and discover how to bring your digital product into the spotlight in app stores!
What is App Store Optimisation (ASO)?
App Store Optimisation (ASO) is the process of mobile app optimisation intended to increase visibility in app stores, which should translate to reaching much more mobile users and generating considerably more app downloads. Simply put, the main assumption behind ASO is that by driving high traffic to the app's page, your app is more likely to be downloaded by users.
The ASO strategies concentrate primarily on two of the most powerful app stores. These are App Store for iOS devices and Google Play Store for mobile apps running on Android.
Why is ASO so important from the business perspective?
As we have already mentioned, the mobile industry is currently highly competitive. To give you a general idea of how large a scale we are talking about here, take a look at how many apps the major app stores currently contain: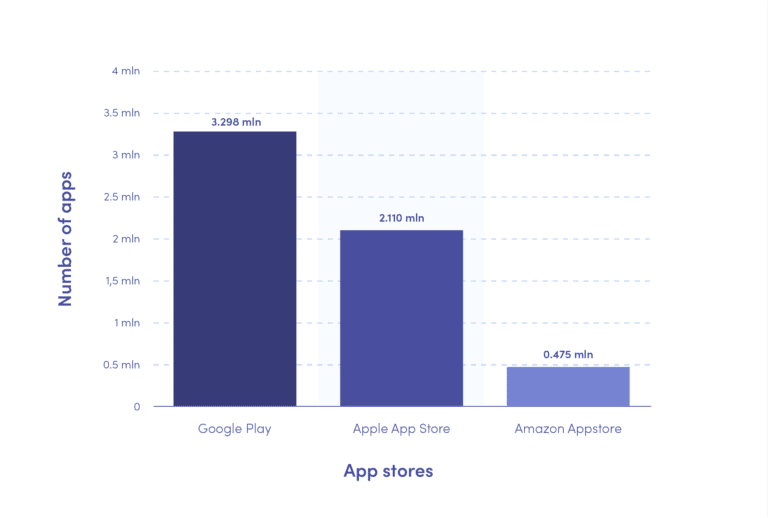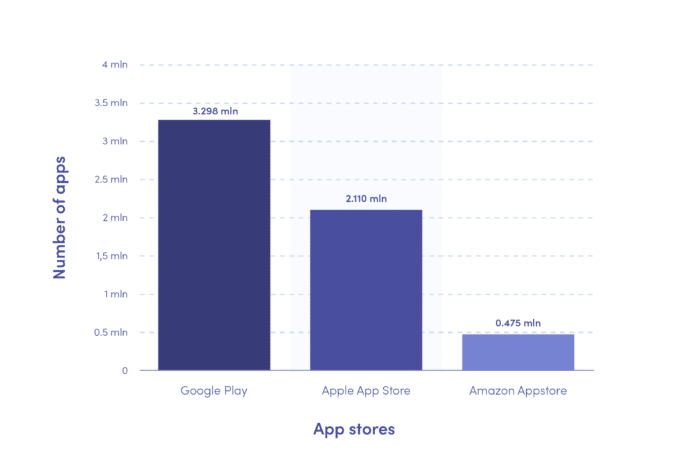 As you can see, there are over 3 million mobile apps available in Google Play and 2.1 million in the Apple App Store. For that reason, it requires lots of time and effort from your side to help users find your app with ease. After all, there are at least thousands (depending on the app category) of competitors who can stand in your way of getting more downloads.
You might think, "Okay, but app stores are not the only way to get app downloads". And you are absolutely right, however, most users still head directly to app stores to find new and exciting applications. Google states that even 40% begin the app research right there.
The lesson here is this: by ignoring the power of ASO, you have a low chance of appearing high with your digital product in app stores. So don't miss this powerful discovery channel and improve your app's ASO!
What's the difference between ASO and SEO?
If you are running a business website or are involved in marketing activities, then you must have heard of SEO many times.
But if this mysterious acronym doesn't ring a bell for you, let's quickly recap what SEO is and how it differs from ASO. Search Engine Optimisation (SEO) refers to all the activities aimed at increasing the website's visibility in search engines (especially in the global giant Google), which consequently should drive more web traffic.
SEO activities can be divided into three main categories. These are:
Category
Definition
Examples
Technical SEO
Tech improvements intended to enhance website's crawlability
Mobile-friendliness
Page speed improvement
Site security
Site structure
On-page SEO
Content optimisation within the website
Content marketing
Image optimisation
Meta data
Off-page SEO
SEO activities outside the website
Link building
Social media
Guest posting
All these activities combined together may lead to higher positions in Google's search results for specific keywords and drive relevant traffic to the website.
Even though the concept behind SEO and ASO is quite similar, these two digital marketing strategies differ in many ways.
The table summarises the main differences between ASO and SEO:
SEO
ASO
Digital product
Website
Mobile application
Search engines
Google, Bing, Yahoo
Google Play, Apple App Store
Elements on-page
Page title tag
Meta description
Page content optimisation
App name
App description
Keywords
Elements off-page
Backlinks
Mentions
Backlinks
Ratings and reviews
`Business goals
High organic traffic
More app downloads
What are the benefits of ASO?
ASO can help you achieve great business results with your mobile app in the long run. Among the significant advantages of applying the best ASO practices, we can mention:
Increased visibility in search results: Even the most outstanding mobile app needs a strong visibility boost to be easily findable by users. Thanks to ASO, your digital product may become more visible in app stores, making it far easier for users to reach it.
More app downloads: ASO is one of the most effective strategies for generating more app downloads and boosting mobile app conversion rate. Here, the rule is simple: by increasing visibility in app stores, you have a higher chance of generating app downloads.
Higher global audience reach: By applying the best app localisation practices, you can reach relevant users worldwide speaking different languages. So, if you want to go global with your app, ASO may be the most effective strategy to make that happen.
Low user acquisition cost: Thanks to ASO, you don't need to spend a fortune on in-app ads or expensive marketing campaigns. This way, you reduce the cost of user acquisition significantly.
Higher app revenue: All the above-listed business benefits combined come down to this: app monetisation. There are numerous ways to generate financial profits from your app, but mainly they involve high costs from your side. By achieving a well-performing page App Store listing in app stores, you can generate revenue in an organic, low-cost, way.
As you can see, App Store Optimisation may bring numerous substantial business benefits. Taking care of high visibility in app stores is definitely worth your while and should become an integral part of your post-launch strategies.
The main factors of App Store Optimisation
Now that you know what exactly App Store Optimisation is and why it matters from the business perspective, it's time to break down the most significant factors that may directly affect your app's ASO. Follow the best practices, and you will boost your app's page visibility in the long run!
Important note: We've selected the most important factors you can't neglect when dealing with your app's ASO. However, you must remember that different platforms dictate different approaches to ASO. That's why when optimising your app's page in Google Play Store or Apple App Store, you need to consider slightly different things. Which ones exactly? Reach these two comprehensive guides to learn more:
1. Keywords
The choice of keywords can make or break your ASO process. That's why you need to select them carefully to ensure that they are relevant to your target audience and searched by them.
Here are some tips on selecting the right keywords:
Conduct a competitive analysis and keyword research: checking your competitors' activities is always a good play to start.
Analyse the most important keyword metrics: here, competitiveness, keyword difficulty, and popularity can give you some valuable insights.
Find different synonyms that may also describe your app or features.
If possible, put the main keyword in your app name.
Use different long-tail keyword combinations: by expanding the number of keywords used for the ASO process, you gain more chances to boost your app page's traffic.
Keywords are also a great performance indicator – by analysing their positions regularly, you will be able to make conclusions about the effectiveness of your ASO process.
2. App title
Without a doubt, the app title is the first thing users notice when they enter the app page. A well-optimised title should give a general idea of what your app is all about. However, this element also serves to improve your ranking in app stores.
When setting the right app title, you should:
Make it relevant, easy to understand and unique.
Keep in mind the maximum number of characters to use in each app store.
Follow the official app store guidelines.
3. App description
As a rule, an app's description doesn't impact your application's visibility. But it doesn't mean you should ignore it or put irrelevant stuff there.
It's quite the opposite – users pay attention to how you describe your application and which information you include there.
When creating a one-of-a-kind app description, stick to these ground rules:
Use the language of benefits: Explain exactly why your application is absolutely a must for your potential users and how it will make their life easier.
Outline the core app features: The ideal description should not be overly lengthy – you should focus only on the key functionalities and present them accurately. Make it straight to the point!
Use keywords: The keywords you have already selected for the ASO process also need to be included in the app description.
Make it multilingual: When attempting to reach users from different countries, you must prepare a separate description in every language you target.
4. Reviews & ratings
It shouldn't come as a surprise that mobile app reviews and ratings are still considered to be one of the most reliable sources of actual user opinions. After all, who among us has never checked them at least once in our lifetime before downloading an app?
For your ASO process, you should make reviews and ratings your top priority as they impact your visibility in app stores. Remember, however, that not only does the quantity of user opinions matter, but the quality of reviews can also be a game-changer.
Here are some tips on how to effectively collect mobile app reviews and ratings:
Ask users to leave feedback about your app: Use pop-ups, push notifications, e-mail reminders to let users know that their opinion matters.
Simplify the review process: Make it as smooth and effortless as possible.
Implement the app review plugin.
Hungry for more insights? Check our comprehensive guide to mobile app ratings and reviews and learn how to make the most out of them!
5. And so much more…
The list of the most influential ASO factors doesn't end here. In fact, there are way more indicators taken into account by algorithms when setting listings of apps. Among other things, you need to also pay attention to:
The number of app downloads
The right category
Used additional visual aids like app screenshots or videos
Backlinks
User engagement metrics
Wait no more and get started with ASO today!
The truth needs to be told: without applying the best ASO practices, you're missing out on a chance to get discovered. And it simply doesn't pay off!
So make ASO an integral part of your post-launch app promotion strategies and prioritise it. However, be patient – high visibility in app stores will not happen overnight. It requires lots of effort and time to bring the desired results. But once you achieve it, you will be constantly generating app downloads while keeping low user acquisition costs.
When developing a mobile app, the design phase is crucial to the success of your product. Therefore, make sure you get the right product design consultancy.