Invest in legacy modernisation services
Trust Miquido professionals to elevate your business to the next level. Reduce time and the day-to-day costs of IT management thanks to our Legacy modernisation services


Expert application modernisation
Are you looking for the right solution to cut your spending on mundane technical tasks? Is your business software not fully up-to-date with the latest security standards? It's time to freshen things up! With Miquido as your legacy software modernisation company, you get a comprehensive solution to most of your everyday struggles and a personalised approach to your unique case.
A variety of software modernisation services
Browse through our solutions and choose those that fit your needs best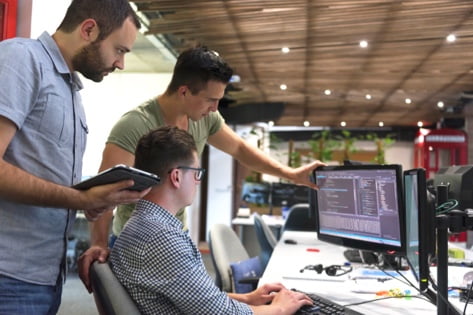 Software audit
We will put your current software through detailed testing and verification to assess whether it is as up-to-date and secure as it should be. This analysis will allow us to reveal the opportunities for future upgrades and potential pitfalls, vulnerabilities, and expired features of your legacy solution. The ultimate goal of this software audit is to discover the best chances of improving the quality of your software and cutting maintenance costs along the way.
Cloud migration
We will present you with the most promising Cloud computing technologies, such as Amazon Web Services or Google Cloud Platform and will help you choose the most appropriate option for your specific needs. Whether you decide to move your existing solution to the Cloud or if you require our help in designing a brand new project – we've got you! Thanks to Cloud deployment, you'll be able to unlock the next level of security, scalability, and adaptability for your business.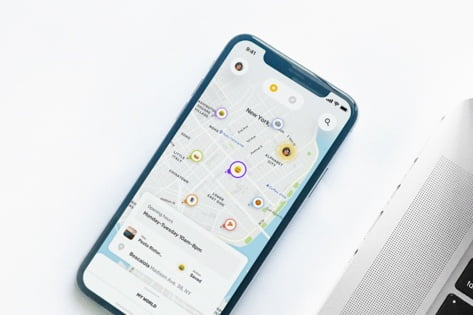 UI/UX design elevation
One of the first elements of your tech solution that your clients will notice is design. An intuitive and modern look can bring you more visitors and higher ROI, while outdated graphic solutions can prove to be disastrous to your business strategy. Our design team will help you envision the project in-line with your brand's tone of voice and the latest visual trends in your industry.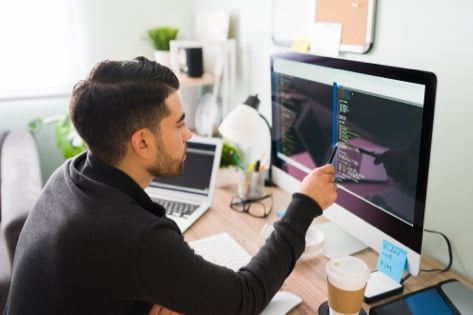 Code refactoring
The key sign of dealing with legacy software is struggling to keep it up to date with the latest security and tech regulations or add any new features. It's impossible to replace such technology all at once, and yet you need to have it updated as soon as possible for the proper functioning of your day-to-day operations. We'll carefully analyse your existing code and introduce all the necessary changes to ensure everything functions smoothly and meets the latest industry standards.
Tangible results, right on schedule
Need your idea verified fast?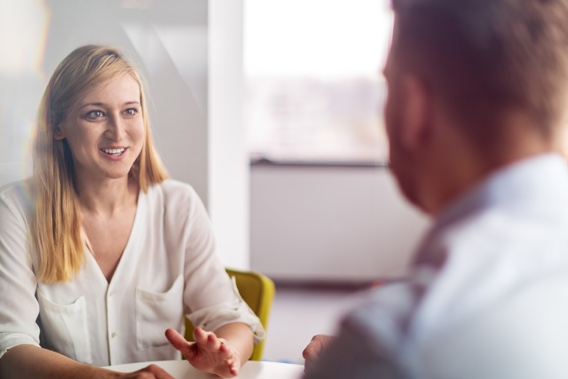 Not sure whether you need to invest in software modernisation?
Here are a couple of reasons why you should do it ASAP:
Businesses from every industry are going digital
Many legacy systems no longer meet regulations and result in penalties
Common lack of integrations means poorer flexibility
Outdated systems aggravate security threats
Omnichannel business models are on the rise
Maintaining a modernised infrastructure is cheaper than supporting obsolete software
Next-generation solutions boost your employees' productivity
There are more benefits to application modernisation, but you won't know the full spectrum of the perks it has to offer until you try it yourself
Upgrade your app the right way with Miquido
At our software house, we are tackling the most complicated tasks with the curiosity of a startup and the efficiency of a market leader. When you choose Miquido, you choose:
Experienced teams
We've been on the market for 10+ years now and our expertise stretches across many industries – you can rely on our knowledge!
Awarded solutions
The projects we've completed have been recognised, nominated, and appraised globally by Google, Deloitte, GoodFirms, and many others
Satisfied clients
9 out of 10 of our partners come from referrals. That said, not only do we deliver the best results, we also make sure the journey's engaging & pleasant too!
Bold technologies
We were among the first companies to adopt and experiment with Flutter, so with us you'll surely get a team that's not afraid of modern approaches
Check our projects for application modernisation:
See what our clients say about us
Miquido's team was well-organized and delivered on all their promises. Thanks to their expertise, the final products offer more features and integrations than originally expected.
They are quick to respond to our needs and ideas, being primarily client-oriented and willing to suggest their improvements and ideas.
The team exceeded expectations in delivering a functionally-sound product and further impressed their partner by completing SEO work and correcting long-standing issues with an internal app. Their work contributed to a 400% increase in organic traffic and boosts in company funding.
years in software
development
digital solutions
delivered
of all projects
conducted remotely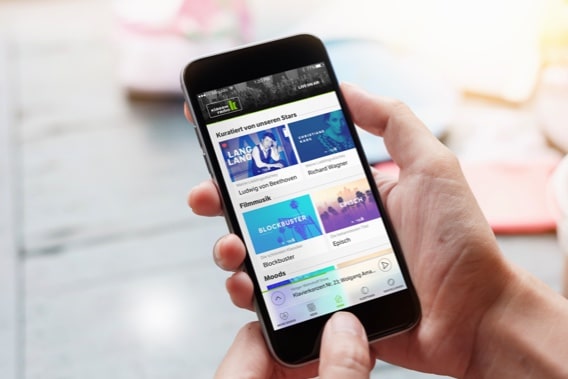 Custom app development
Are you not 100% certain that legacy software modernisation will do the trick for you? Try custom app development instead and start fresh! With a custom application created individually for your needs and requirements, you can rest assured that it will do exactly what you intended it to do. Drive more customers, grow your revenue, and leave competitors far behind!
Learn about custom app development
Legacy app modernisation: FAQ
Check out these most-asked questions about software modernisation. And if you can't find what you're looking for – reach out to us!
What are legacy applications?
A term "legacy software" generally refers to technology that's been around for a long time and has grown to be obsolete. It still has a business need to fulfill, yet it is tied to a certain specific operating system or hardware that is no longer supported. Basically, it's an application you need for your business to function, yet it is no longer nearly as effective as it used to be.
What is application modernisation?
Application modernisation is the process of updating the existing infrastructure, architecture, or even specific features of an existing legacy software. As a rule, the main goal of this process is to improve the performance and efficiency of the pre-developed app or to write a new one from scratch.
Why modernise legacy apps?
There are numerous reasons why outdated solutions need to be replaced or updated as soon as possible. Some of the most important arguments in favor of application modernisation include:
Obsolete apps are very difficult, if not impossible, to scale
They are difficult to update and/or integrate
Vendors eventually stop providing security updates to outdated software
How can you modernise legacy applications?
You might be wondering what the application modernisation process looks like. Every company would have a slightly different approach to it, yet the core idea generally remains the same. Here's how we get things done here at Miquido:
Step 1: Project documentation and code review
First and foremost, our team goes through the project documentation and the legacy app's code. Thanks to that, we can gain some general knowledge about the technology stack that was used in the legacy application and the general idea about what needs to be done for a successful system modernisation.
Step 2: Transition planning
Then, we focus on identifying the core business featureswe need to maintain at all times in order to keep your business operations running. We always take our time to plan carefully and determine what needs to be done first and what can wait. Thanks to that, we are able to prioritise our work, all while letting you maintain business continuity.
Step 3: Infrastructure audit and cost assessment
Finally, we conduct an infrastructure audit. This helps us assess the legacy application's performance, scalability, reliability and general cost of maintenance. This way, we answer the most important question: Can the current solution be used without extra costs? If it can't, we determine the scale of costs you can expect in order to keep your legacy app running.
How is app modernisation different from digital transformation?
Modernisation and digital transformation are separate things with some common ground. Modernisation takes care of existing software. Digital transformation, however, may be applied not only to applications but also certain analog business processes requiring optimisation.
Make sure you check out our Digital Transformation Services page to learn more.
Want to talk about your idea?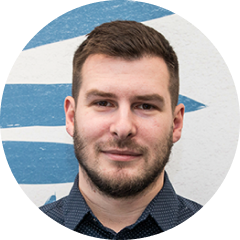 Hi, I'm Sebastian from Miquido. How can we help you with your project? Fill out the form – we'll get back to you soon.
The controller of your personal data is Miquido sp. z ograniczoną odpowiedzialnością sp.k. with its registered office in Krakow, ul. Zabłocie 43a, 30-701 Kraków. We process the above information in order to answer your questions, contact you and conduct business communication, and if you tick the checkbox, to send you messages containing commercial, business and marketing materials.
The basis for the processing of your data is your consent and Miquido's legitimate interest.You can unsubscribe from the marketing communications at any time. You also have the right to access data, the right to request rectification, deletion or limitation of their processing, data transfer, the right to object, as well as the right to lodge a complaint to the supervisory body. Full information about processing of personal data can be found in the Privacy Policy.
Show more