Have you heard about Start With Why by Simon Sinek? In his famous 2009 TedX speech (and book of the same name), this best-selling author and respected business strategist introduced the so-called golden circle for brand communication strategy. Why was it so revolutionary? By 2009, the What & How approach was prevalent in marketing. Sinek noticed that the domain of explorers and leaders in their niches is precisely the opposite model, the so-called inward communication model. That is, a communication model based on starting with why and communicating non-sales brand values, i.e. brand purpose in the first place.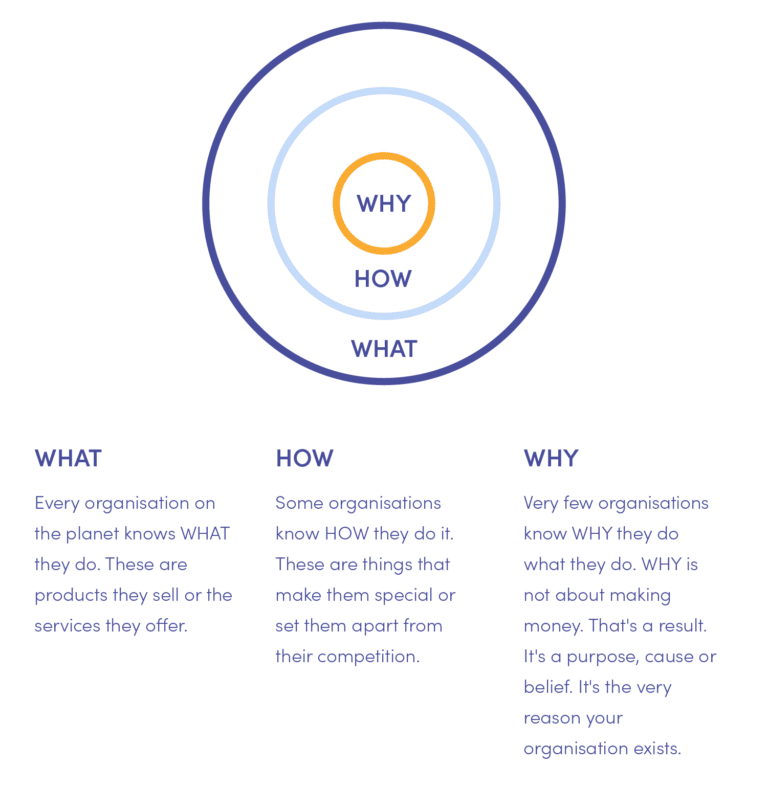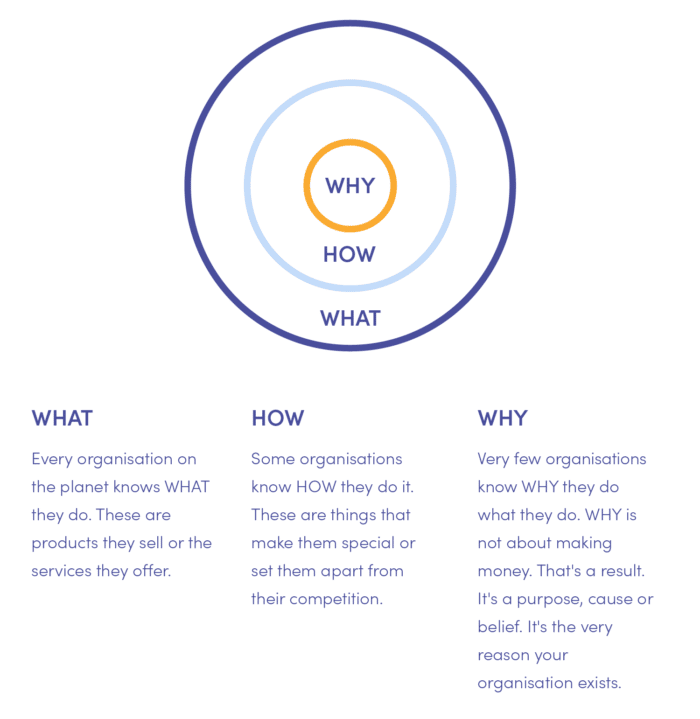 What is the brand purpose?
What exactly is a brand purpose? How does it contribute to building customer loyalty and, consequently, to the brand's growth? In his TedX speech, Sinek answers this question using the example of Apple. According to Sinek, in the early 2000s, standard marketing communication for companies selling computer hardware went something like this:
The Apple revolution was all about reversing the order of the information:
Apple was one of the first companies to build a committed and faithful network of customers on such a large scale. The Apple evangelists community consisted of customers who had been buying multiple products repeatedly and sharing their love for the Apple ecosystem. Hence, the Apple community participated in the so-called infinite game, which is not about the goal (purchasing the product), but about the game itself (willingness to identify with the brand values).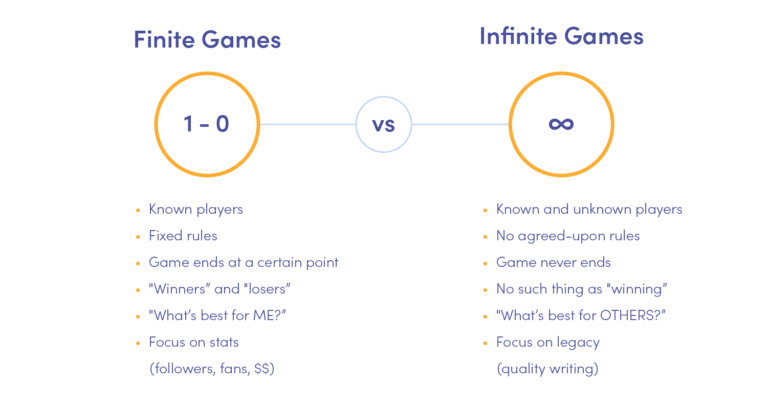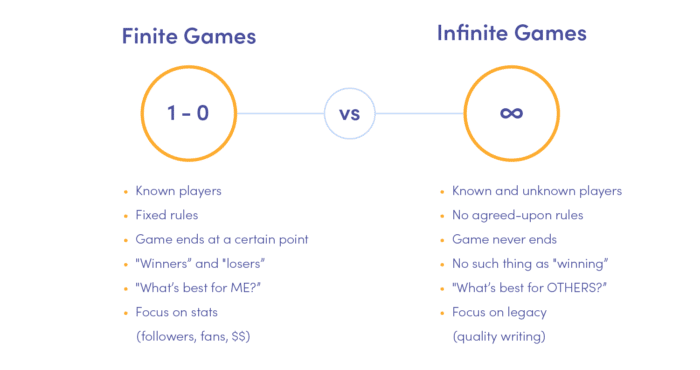 Where can you communicate brand purpose?
Since describing the Apple phenomenon, the brand purpose has become an inseparable element of the marketing strategy for every world-recognised brand. Currently, non-material brand ideals are the cornerstone of communication strategies in most significant B2B and consumer goods enterprises.
Sinek's hypothesis has already been covered by extensive research. For example, according to marketing guru Les Binet, most businesses grow most effectively when they devote 60% of their budgets to brand building and 40% to brand activation. So it is no exaggeration to say the brand purpose should be communicated at every customer touchpoint: from top of funnel advertising to branded mobile applications. Surprisingly, we still lack guidelines or extensive benchmark studies regarding the brand purpose in mobile apps. So let's fill the gap!
Decoding the brand purpose framework
Let's start with describing the basic brand purpose framework and translating it into the mobile app development process.
At the most general level, we should begin crafting the brand purpose strategy by defining the core purpose behind the brand's existence. Then it is worth planning a long-term strategy related to brand positioning – considering both the individual capabilities and market conditions. Having established this framework strategy along with the key, long-term branding goals, we can move on to strategic initiatives (i.e. actions planned on a shorter basis, e.g. annually). The initial strategic initiatives should be related to combining our visual language or communication methods with a pre-established brand purpose.
The last phase, brand activation, should concentrate on:
the implementation of the entire brand-building strategy
adapting the brand-building strategy to the market realities and the spectrum of customer expectations
inserting the strategy into the company's DNA.
Sound complicated? Let's break down this process once again into three major steps: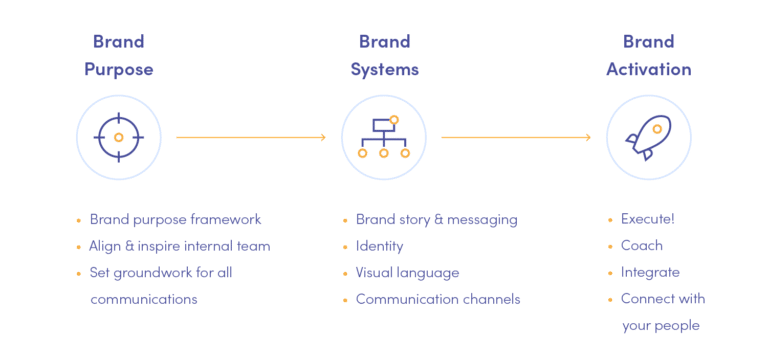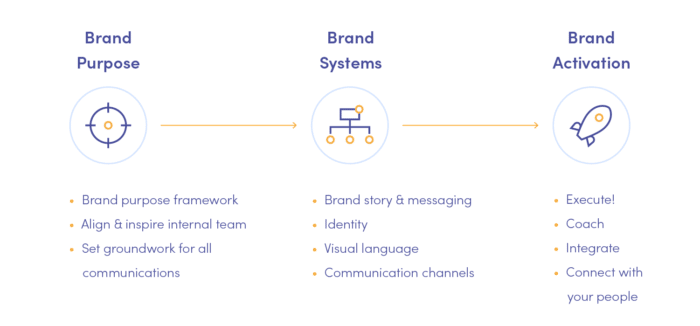 Brand purpose and the product design process
Now is the time to ask the proper question: How do you integrate the above brand purpose scheme with the process of developing a mobile application? First, let's take a look at the exemplary product design cycle at Miquido – the so-called Triple Diamond model: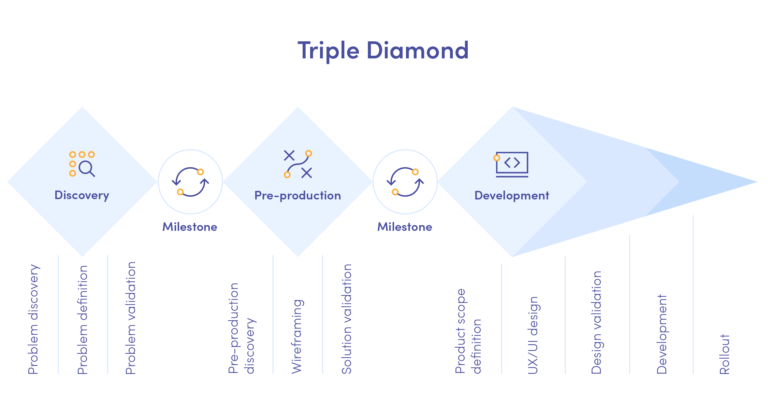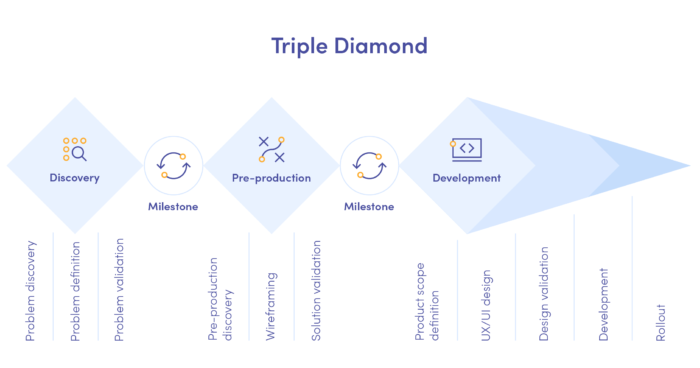 1. Discovery phase: outlining the brand purpose
If you plan to start working on a mobile application but do not have a clear brand purpose in mind, the best solution is to slightly calibrate the discovery phase to define your non-profit brand's goal. As a standard, the discovery phase establishes the user's problem to which our product should respond. However, this phase provides information that can also be invaluable in establishing the brand purpose! By learning about our users' needs and problems, we can determine what values we share and how one higher goal can become our thread of understanding. In this context, we could say that the discovery phase allows us to recap the core brand values and outline the long-term brand purpose strategy.
2. Pre-production phase: determining specific brand systems
During the pre-production phase, product designers usually prepare wireframes (low fidelity schematics) of the mobile app. The wireframing phase is a perfect time to search for specific solutions that could strengthen the brand messaging and help communicate the key brand values.At this point, some elements of the brand purpose should already be reflected e.g. in customer journey maps or user flows. To verify whether our vision of implementing a brand purpose in a mobile application is consistent and evident, it is worth conducting a series of user testing with prototypes. The well-executed tests should allow us to validate our ideas and eliminate errors at an early stage of work. During the pre-production phase, we should also consider whether our brand ideals are communicated clearly and in the proper context or whether the 'ideological layer' does not prevent the user from fully using the app's features.
3. Development phase: just before the brand activation
The entire team working on implementing the product should know the brand purpose. Elements of brand purpose may appear at every mobile application level – and developers and designers should advise the best solutions within their fields of expertise. Is inclusiveness one of the core values of your product? Designers and developers may suggest adapting your application to strict app accessibility standards! Make sure all team members know about your brand purpose and are ready to use their experience to boost your message at every stage of product development.
Trainn – the most personalised fitness mobile app out there
You probably already have enough of theory. So let us show you a real-life example straight from our portfolio! Trainn is a fitness app fully designed and developed by our product design agency with a strong brand message at its core. Read on and discover how we combined the impeccable UX & UI, advanced programming and holistic wellness know-how to craft a truly inclusive mobile app!
STEP 1: Discovery
Sarah Louise is a personal trainer with extensive experience in working with individual clients. She approached Miquido with the idea of creating a unique fitness app that helps the user holistically change his life by gradually introducing healthy habits and elements of Sarah's original training program. From the very beginning, our client's vision stood out from the mainstream fitness market. What exactly was the brand ideal, as defined by Sarah? Just take a look at this excerpt from the Trainn home page:
Knowing that Sarah wants to reflect her unique approach to training and diet in the mobile app, we decided to define the scope of the most critical functions and the MVP with brand ideals in our minds. Throughout our cooperation, the Miquido team tried to include Sarah's holistic approach in all the app's features. What were the results of our work on this highly personalised fitness app?
STEP 2: Pre-production
In the pre-production phase, experts from our UX and UI design agency worked intensively to provide wireframes for all key Trainn features selected by Sarah. We focused on recreating the complete personal training experience in user flows and did our best to map user scenarios as adequately as possible.
One of the key features of the Trainn application is the perfectly designed onboarding process, created with the brand purpose in mind: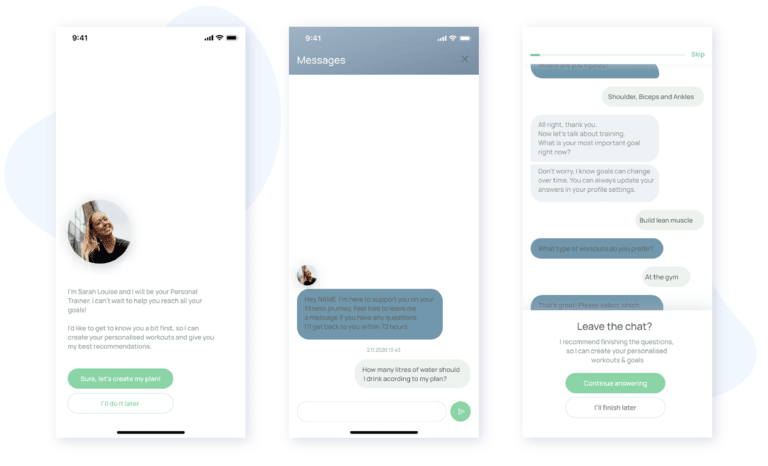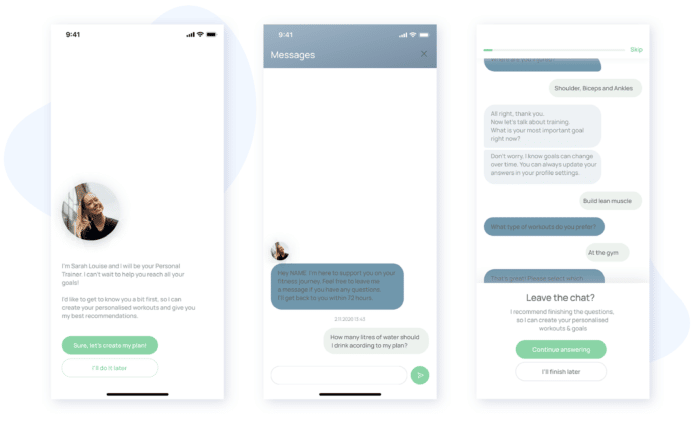 According to Sarah's idea, the training routine should be adjusted to the user's needs. At the same time, Trainn should encourage users to slowly and evolutionarily change their everyday habits. Therefore, one of the critical features of the app was the well-designed registration questionnaire. The onboarding process resembles a chat with a friend, strengthening the personal connection with Sarah, the Trainn founder.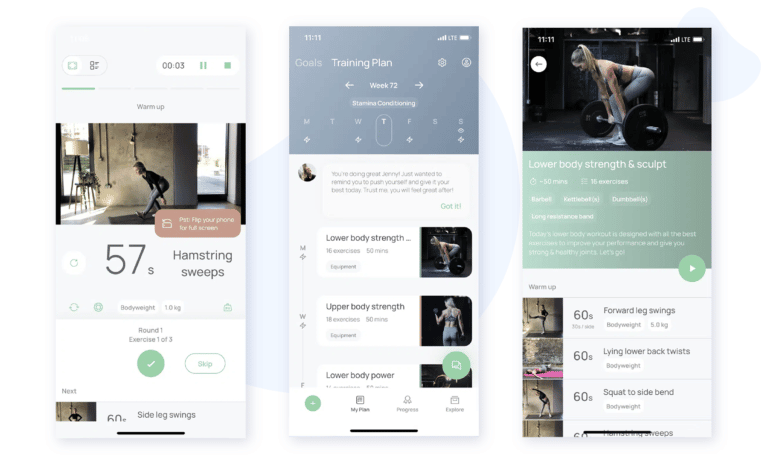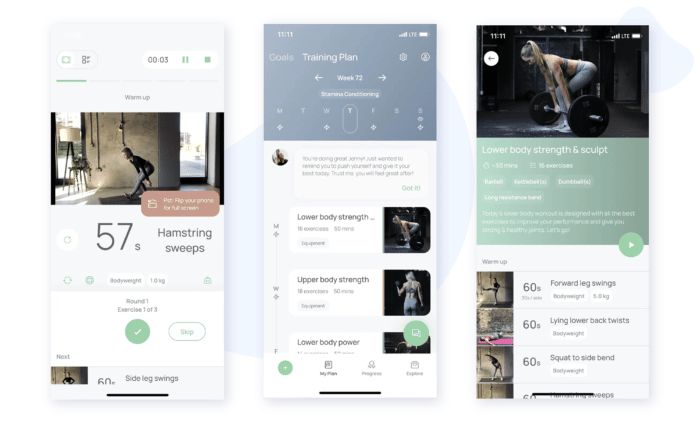 As part of "chat with Sarah", the application collects information regarding the user's personal data, habits, preferences, and training experience. The onboarding process aims to ensure the user feels that his needs are important and that his expectations related to a personal training-like approach are being met.
As a result, the mobile app should evoke such feelings as safety, self-awareness, calm, and a sense of belonging. At this point, many application elements already convey the brand purpose, such as well-thought-out user flows or friendly UX writing. Curious about what happens next?
STEP 3: DEVELOPMENT
When creating the Trainn application, the biggest development challenge related to the brand purpose was creating a custom algorithm to generate training plans.
Do you remember the friendly user onboarding process? On its basis, the application generates personalised training plans taking into account a huge number of variables, such as:
Equipment availability
Training/fitness goals
Personal preferences (e.g. the application allows users to exclude specific exercises)
Injuries and other physical limitations
Preferred frequency of training.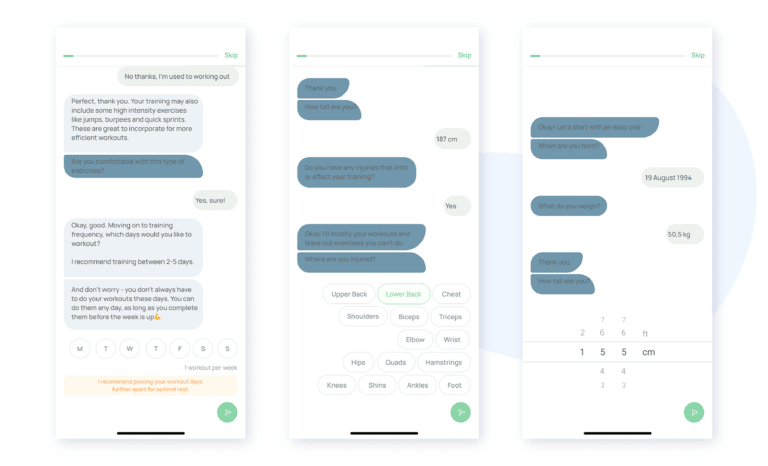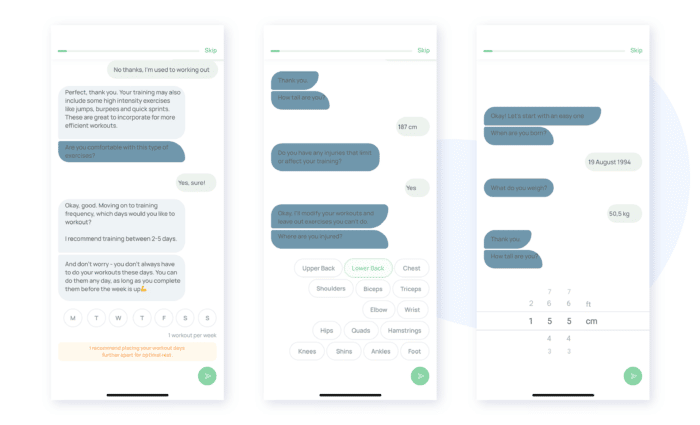 From the development side, this aspect of the brand purpose required the creation of a tailor-made workout generation algorithm based on several rules defined by Sarah and in user interviews. The algorithm, somehow resembling artificial intelligence, was created by our backend team in Java – and perfectly completed the highly customised app.
Summary
When designing the Trainn mobile application, our team ensured that the final product met all the initial assumptions related to the brand purpose. It allowed us to create a top-notch application that encourages thousands of people to join the training community created by Sarah Louise. All those people are united around a common goal (changing habits to healthier ones) and values (realistic, positive and personalised approach to diet and exercise).
Curious to learn more about Trainn? Read more here, or simply get the app on Google Play or App Store.
Examples of mobile applications with a well-defined brand purpose
There are never enough good examples – so let's take a closer look at three more mobile applications in which you can find features corresponding to the brand purpose.
1. IKEA
Let's have a look at IKEA's brand purpose:
We are sure you are already familiar with some of the brilliant IKEA marketing ideas, such as touching TV commercials or real-time marketing social media posts. The mobile app is another example of IKEA's high marketing proficiency. Here, the brand's vision and values are evoked subtly and cleverly.
The augmented reality extension in the IKEA mobile app enables users to check how IKEA products would look in their homes. Thanks to easy-to-use 3D models, users can easily become home-grown interior architects and design an ultimately personalised interior on a budget.
2. Nike Training Club
Let's have a look at Nike's brand purpose:
How does the Nike Training Club app reflect the brand's core values? Firstly, thanks to integration with Nike Training Club TV, users can constantly expand their knowledge with various proven sources in the field of exercise, health, and mindfulness. Secondly, the Apple Watch and Apple Health integrations allow users to limit the number of external stimuli during training. Last but not least, this free app adjusts the workout plan to the user's fitness experience or physical condition.
3. Zalando
Zalando is a company that firmly positions itself as a brand which is involved in social initiatives and cares for sustainable development. Zalando's mobile app features fully reflect these values. The pre-owned feature allows users to return old clothes and accessories purchased via Zalando. Items can be sold for a gift card voucher or a donation to a local cause, such as Red Cross or WeForest. This simple yet smart solution perfectly corresponds with the Zalando brand purpose to reimagine fashion for the good of all and drive positive social and environmental changes.
Summary
Implementing brand purpose in mobile applications allows companies to take the personalisation of their products to a whole new level. The brand purpose enables connecting brands with a specific chosen value and consequently facilitates reaching the appropriate target group and building an engaged community.
Let the numbers speak for themselves:
over 64% of global consumers find brands that actively communicate their purpose more attractive (Accenture 2018)
according to Kantar's Purpose Study, purpose-led brands had seen their valuation surge by 175% over the past 12 years (Kantar 2018)
certified B Corps in the UK are growing 28 times faster than the national economic growth of 0.5% (B Corp 2018).
Do you need more evidence? Or maybe you are ready to incorporate brand purpose elements in your mobile application, communication strategy or workplace? Let us know what can we do for you!