Nowadays, the attraction towards mobile finance management is very strong. The idea of banking without using a mobile app seems outdated and odd. According to market research, over 70% of customers from the four leading US banks use mobile banking apps. In general, 20% of people in the United States use banking apps frequently.
This trend is even more promising on a global scale. There are over 2 billion active online banking users worldwide, with this number predicted to rise by 25% by 2024.
In the span of just 10 years, mobile banking solutions have reached the combined user count of internet, telephone banking, and branch-visit banking. Managing finances through a mobile banking app has become one of the most intuitive and primary ways to perform our transactions and monitor our bank accounts.
This trend strongly determines user choices in the banking branch. Financial institutions are interested in giving their users new-gen, feature-rich mobile solutions, as it gives them a strong competitive edge. According to Insider Intelligence's Mobile Banking Competitive Edge Study, mobile banking is one of the key factors considered by clients when choosing a bank.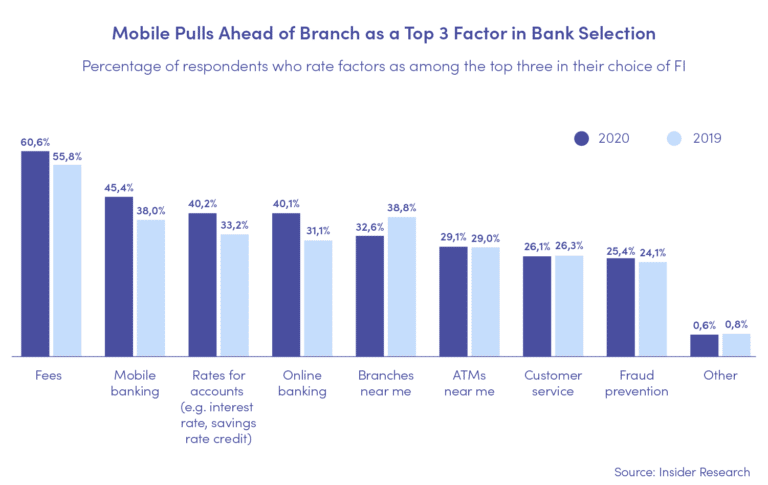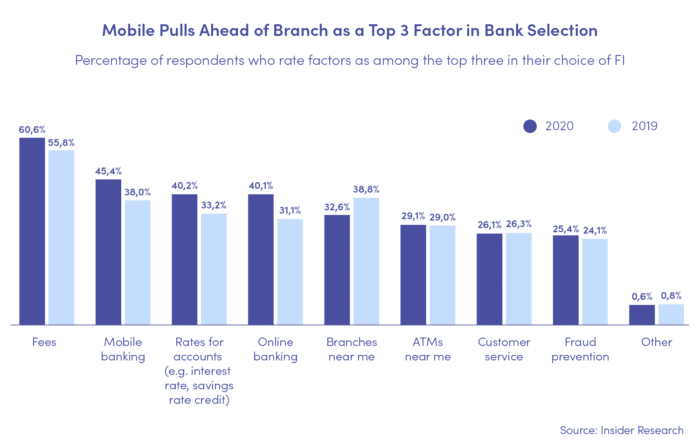 According to the same report, 89% of survey respondents said they use mobile banking. The percentage reached as high as 97% among millennials, 91% among Gen Xers and 79% of baby boomers.
With a growing appetite for mobile banking among almost every group of customers, both digital and legacy banks need to adapt to mobile market trends to remain relevant and attract new clients.
Mobile banking apps are taking the financial market by storm. The demand for them is constantly increasing, given that modern banking solutions offer not only the ability to transfer your funds, but also a wide range of convenient, time-saving functionalities.
What features attract customers the most? According to Statista, 90% of users in the US use mobile banking apps to check their balances, 79% use them to view recent transactions, 59% go mobile to pay bills, and 57% to make transfers. In the past the respondents would use online banking for all those services. Why did they take to mobile banking, then?
The benefits of mobile banking apps
According to interviewees, mobile apps offer greater options of personalisation. According to Accenture's study, this ease of mobile banking is so appreciated, that 80% of mobile banking users declare they would be willing to share data in return for personalised and convenient services.
The respondents also pointed out 24/7 availability as an important benefit of using mobile banking from wherever they are. With access to their banking accounts at their fingertips, the users of mobile banking apps are no longer limited by working hours and the locations of banking branches or ATMs. This freedom is not only appreciated by users, but also considered a must-have of modern banking.
But the benefits of mobile banking include more than meeting users' needs. Transferring finance management to mobile brings tangible improvements for banks and financial institutions as well:
According to McKinsey research, mobile banking reduces the costs of customer service by 50-70%
It's an additional, low-maintenance marketing channel, enabling banks to instantly notify users about new insurance packages, credit card offers, increased spending limits, etc.
Banking apps enable customer analytics, gathering data on in-app behaviour patterns of the clients.
Considering these facts, it's safe to say that the time has arrived for financial institutions to bet on their mobile app services and make sure they provide personalised, user-oriented experience delights their customers.
The challenge of neo-banks
The mobile revolution in banking is also triggered by new players that traditional banks need to face. Modern Fintech companies such as Revolut, Monese, or N26 focus on easy, mobile-only operations, leaving aside most of the formal requirements of legacy banking. This fact makes neo-banks highly attractive, especially for younger that are used to relying on their mobile devices. With no need to visit the bank-branch or prove their address or credit history, customers tend to choose neo-banks not only as an additional form of banking, but increasingly as an alternative to traditional banking accounts.
While the success of neo-banks sets the direction for changes in traditional banking, some fintech advantages are still hard to match for banks.
First of all, legacy institutions need to bear higher costs (e.g those connected to running local banking-branches), when the unbanking model focuses a mobile-only experience.
Secondly, neo-banking apps usually don't need to combine complex functionalities. Instead, they offer a particular, more narrow set of features, but they deliver seamlessly and with a brilliant UX. This is a hard nut to crack for traditional banks that need to combine the variety of services, offers and features in a single app.
Last but not least, neo-banks usually target a very specific segment of customers, tailoring their value proposition strictly to the group (table below). This is something unthinkable in traditional banks, which usually direct their offers to a general segment of customers.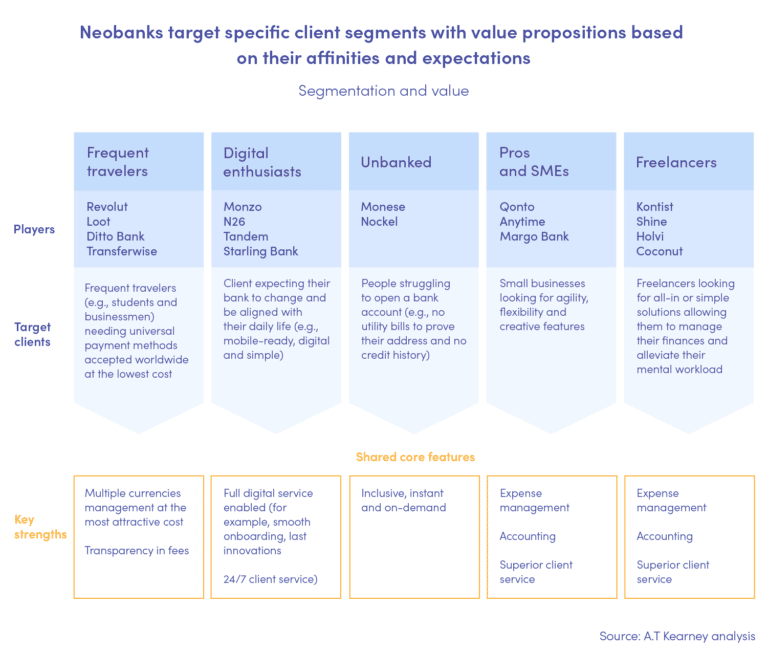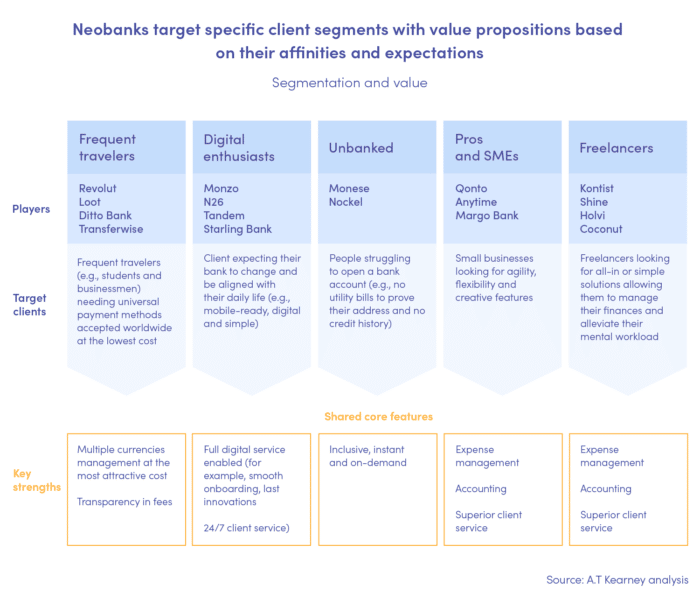 Want to discover which digital banking trends will shape the future of fintech? Check them and outperform your competitors today!
The challenge of the pandemic
The year 2020 brought rapid changes in the banking industry. The global Covid-19 pandemic forced a number of financial institutions to go digital — whether or not they wanted it.
Coronavirus has fast-tracked the digital transformation of legacy institutions that needed to cope with limited branch working hours, restrictions regarding the hygiene of handling coins and paper bills etc. The adoption of mobile banking turned out to be an ideal solution that enabled the majority of human-to-human operations to go mobile. For all these banking institutions that stayed behind, this new reality indicated a strong need to adopt changes.
The pandemic stimulated the evolution of mobile banking and moved it into the fastlane. Those who fail to keep up with the new circumstances will drop out of the race and become irrelevant to customers.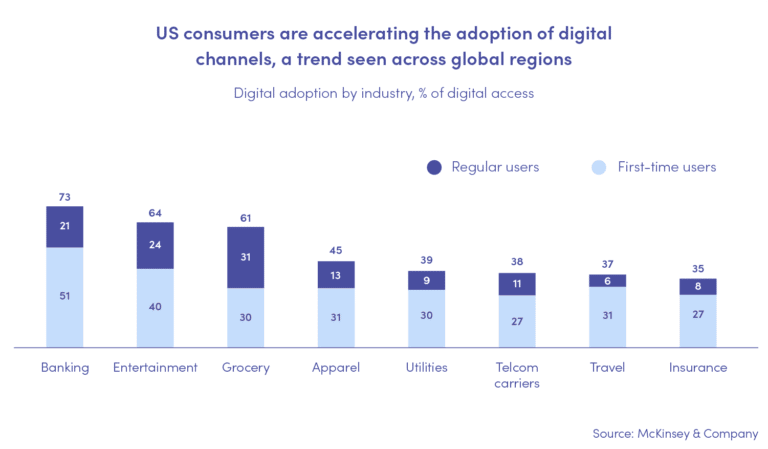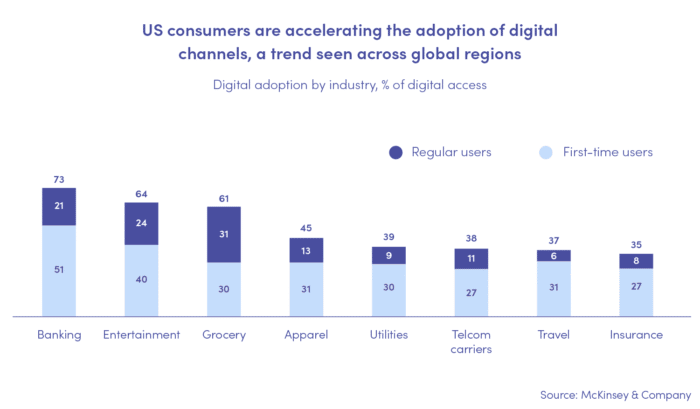 The above material is an excerpt from the Miquido Fintech ebook: the ultimate guide to the finance app sector. Are you curious to learn more about the modern mobile banking sector? Click here and get your free copy now!