Want to conquer the financial sector with an outstanding digital product? I bet you do! But to make that happen, you need ground-breaking technical innovations that will keep you one step ahead of the competition.
That's why in this article, we'll go through the 6 upcoming trends that will turn the entire fintech and mobile banking industry on its head. Read them carefully and apply these future-oriented fintech solutions!
Top 6 trends in fintech industry in 2023
Here's what you should keep an eye on to move your financial business to a new age:
Artificial Intelligence is nothing new in financial technology as it has been driving the fintech and banking markets for quite some time.
AI is here to stay and will be one of the dominant forces in fintech in the following years as well. So whether you want it or not, you should apply various Artificial Intelligence solutions to enhance your business.
And which ones? Here are the top AI game-changers in fintech:
Chatbots
Chatbots are a perfect AI-based solution for both websites and apps. With them, you can optimise customer experience and automate various processes at ease.
AI chatbots can offer an improved and more personalised approach by interacting with your customers and answering their questions in no time.
Moreover, chatbots are available 24/7, which makes them a more cost-effective solution, especially if you run an international fintech company with customers across different time zones. According to Jupiter Research, thanks to chatbot interactions, banks will save up to 862 hours in 2023. This will generate savings of up to $7.3 billion globally.
So if you want to enhance customer service processes in your business, then chatbots will do the trick.
Voice recognition
Various voice assistant solutions have been on the rise for several years now. And for a good reason! They improve work efficiency, facilitate communication, provide day-to-day customer support and make digital products more accessible.
This AI-powered technology opens up a whole new world of possibilities for your fintech business. Here, I want to focus on one particular solution that can give you a powerful competitive advantage: a voice-enabled payment option.
With it, your customers will not have to provide their credentials each time they contact their bank to transfer money or complete payment. The AI-powered solution will recognise their voice, accelerating their identification and allowing them to complete the payment safely.
Does it sound like the distant future? Not anymore! The revolution in voice payment is near, and you should get ready for the change. This way, you won't miss any business opportunities.
For many years, fintech apps have been available at your fingertips. Literally!
With various touch-based solutions, users can be identified and thus gain access to an application or even authorise online transactions. This solution is quite common and probably comes as no surprise anymore. After all, Apple has been using it for many years in iPhones.
However, as recent years have shown, users are more willing to shift to contactless biometric solutions. This is for one simple reason: they don't involve any form of touch. And that can be a real game-changer, especially during the COVID-19 pandemic.
Which biometric security method can you implement in your fintech app? Here are the most popular types: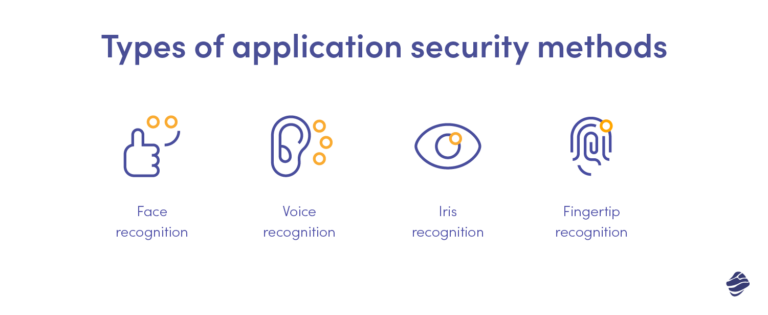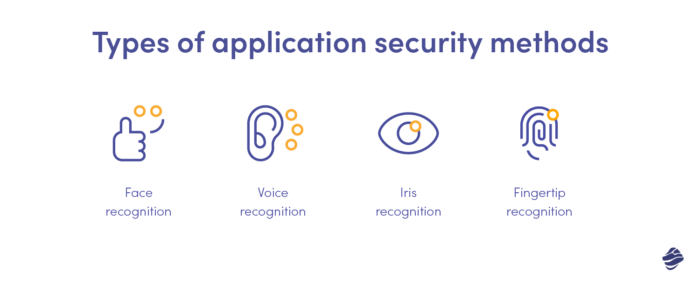 This table summarises all the most important information so that you can choose the right biometric solution for your fintech app:
| Biometrics | Accuracy | Cost | Long term stability |
| --- | --- | --- | --- |
| Facial recognition | low | high | low |
| Iris recognition | high | high | medium |
| Voice recognition | low | medium | low |
| Fingertips | high | low | medium |
Source: Biometrics for Financial Institutions, by Thales
Users want to make sure their mobile banking app is secure. That's a given. But they also want to remain fully protected during the pandemic. Use this knowledge for your business' sake and provide them with different forms of contactless biometric security.
Speaking of customer security, let's not forget about blockchain, one of the most future-oriented fintech industry trends.
First, let's quickly recap what blockchain is and how it may impact fintech sector and online banking. Simply put, blockchain stores data electronically in such a way that it is virtually impossible, or at least extremely difficult, to hack or change it. Blockchain guarantees fidelity, data security and reduces the risk of information being intercepted by third parties. For that reason, this technology has played a significant role in supporting cryptocurrency systems such as Bitcoin.
Blockchain, which emerged in the early 2010s, is already slowly transforming the financial industry market. However, its most tremendous rise is still to come.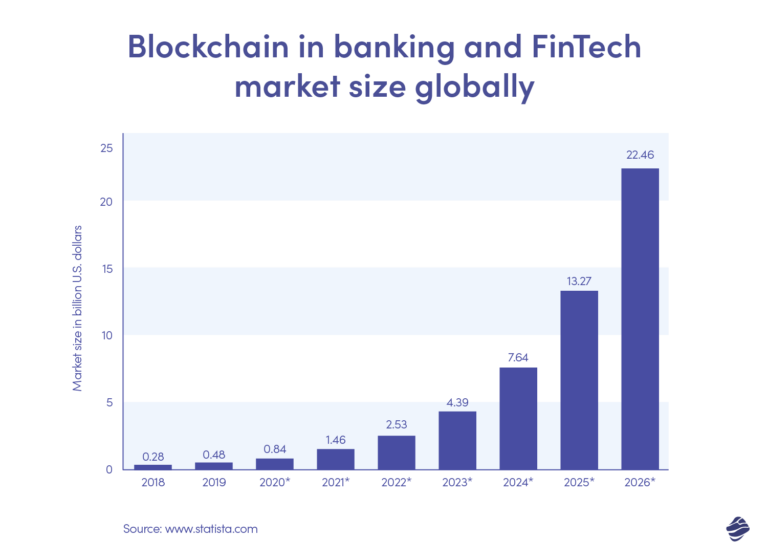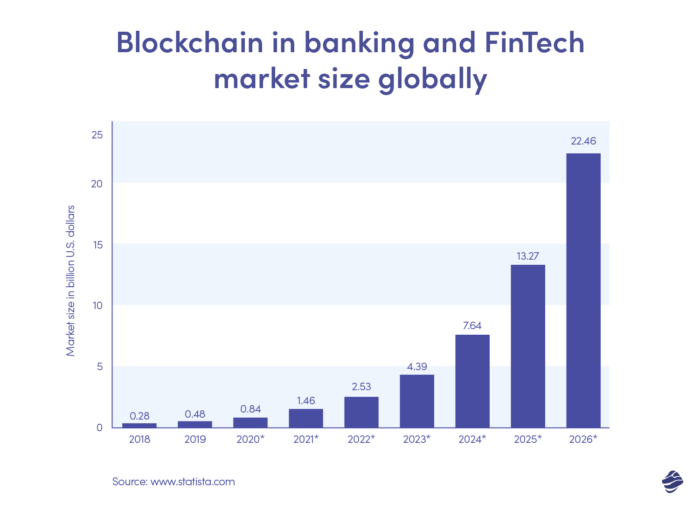 As you can see in this chart, blockchain will hit the global fintech market fairly soon. Most likely, its fastest growth can be expected in 2023. So if you want to get ahead of your competitors, you have no time to lose.
But how can blockchain make a difference to your fintech business? This technology enables:
Faster transactions than with traditional methods
Improved security of sensitive data
Reduced transaction or infrastructure maintenance costs
Faster handling and removal of errors
As you can see, blockchain may bring significant profits to business owners. Take advantage of this technology now and gain a competitive advantage!
Robotic Process Automation (RPA) is a widely popular technology that uses cross-application programs (robots) to perform repetitive, labour-intensive tasks.
RPA has been applied successfully in many fields like healthcare or telecommunications, so it should come as no surprise that fintech and bank institutions have adopted it to automate their processes.
And how can RPA be used in the financial world? This technology can effectively perform a wide range of rule-based tasks such as:
Customer onboarding
Reporting
Opening accounts
Handling insurance claims
Loan processing
Customer verification
And so much more…
As Automation Everywhere states, 80% of rule-based processes can be successfully automated. So why not automate at least some of the simple yet time-consuming tasks and let your employees focus on higher-level activities? That way, you'll significantly improve their productivity and work efficiency.
What's more, by adopting RPA, you reduce operational costs, enhance customer satisfaction, improve analytics quality, and provide better security.
Beware: about 80% of financial leaders have already introduced RPA or intend to do so. So it's time to take full advantage of this automation revolution and introduce it into your financial business!
Open Banking is a popular solution that helps banks share data with third-party service providers through application programming interfaces (APIs). Does it sound a bit vague? Let me explain how it works in practice.
So you're running your fintech startup or providing online financial services. For this purpose, you need detailed financial data about your customers' banking or transactions. By joining the Open Banking network, you get secure and encrypted access to their financial accounts and can easily verify their data in no time.
This initiative, which brings together banks and fintech companies from around the globe, can prove to be highly beneficial for your business. And here's why:
You can use the data to improve your banking services.
You can provide an enhanced customer experience by offering more relevant custom offers based on transaction data.
You get a reliable source of information about customers' financial situations.
You can quickly detect any signs of fraud.
Open Banking has a bright future and will shake up the fintech market in the coming years. No doubt about that. So join the network and take your fintech services to the next level.
And last but not least…
Neobanks (or digital-only banks) are tech-based banks that operate exclusively online and don't have physical branches located in different cities. With this innovative online banking solution, all financial operations, from opening an account to making payments or authorising money transfers, are carried out through mobile applications or online platforms.
So why replace a traditional bank with a neobank? Mainly for 3 great reasons:
Convenience and accessibility: People no longer have to drive to the nearest branch and stand in a long queue to open an account. Instead, they can do the same operation by filling in forms on the platform.
Cost-effectiveness: Neobanks usually have much lower operating costs, which allows them to offer lower and more competitive prices to customers.
Speed: All transactions can be made quickly without any hassle.
Neobanks have already slowly begun to replace traditional banks, and we can confidently say that this trend will only become stronger in the next few years. But don't take my words for granted and let the numbers speak for themselves:
In 2020, the global neobank market size hit $34.77 billion and is expected to reach $722.6 billion by 2028.
By 2024, there will be 47.5 million digital-only bank holders in the United States.
Chime, the most popular neobank in the U.S., already has 12 million users.
Note that the COVID-19 pandemic is one of the main factors that boost such rapid growth of neobanks. Users in isolation or quarantine opt for any digital solution that doesn't require them to leave home. And thanks to neobanks, they can do the same transactions with just a few clicks in the app – quickly and safely.
It's time to leverage your fintech business!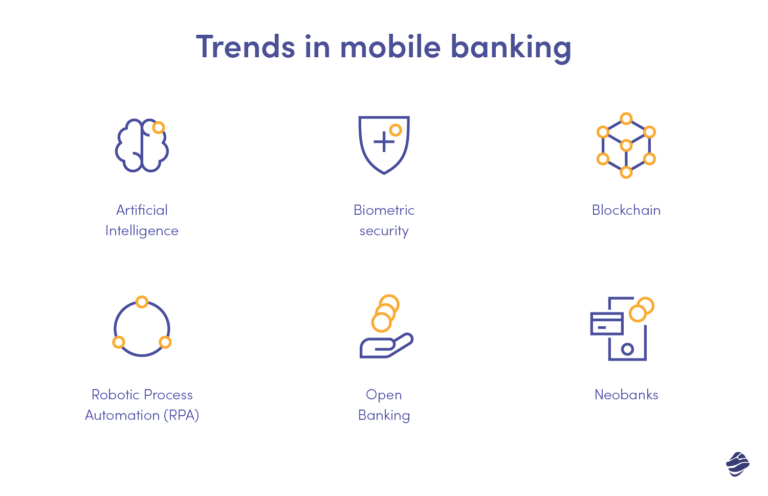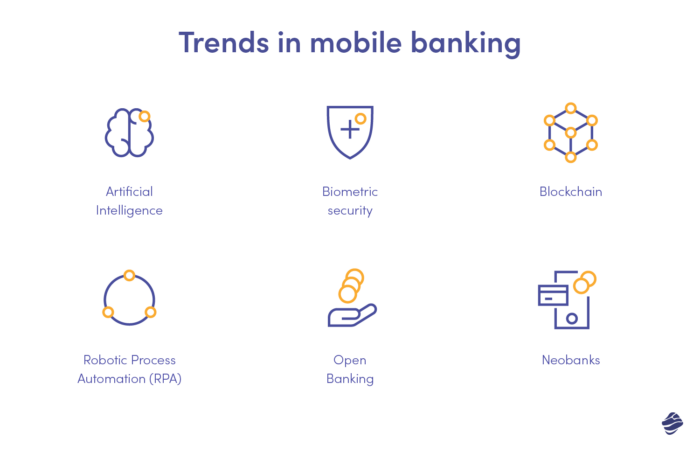 The financial services industry is evolving at a rapid pace. The rules are simple: when you snooze, you lose. In order to stay in the game, you need to follow current trends and constantly introduce embedded finance solutions.
By knowing and testing out the fintech solutions we've talked about in this article, you can outperform your competitors and take your business to new heights.