Here's a safe bet: at least once, when managing a complex software project, its requirements, development team or even features suddenly turn upside down, forcing you to introduce abrupt changes or re-define the entire project. Sound familiar?
Since change is the only constant in such compound long-term projects, you need to be fully prepared for any shifts that may come your way.
Can you avoid sudden shifts in software projects? How should you manage necessary changes? This article will give you the answers to your most pressing questions!
What exactly is change management in software development projects?
Change management in software projects is the process of transiting from the current defective state to the improved state.
Seem overly complicated? Let's look at this simple example that will give you a general overview of how it works in practice. Imagine you have been managing a complex software project. You have everything planned, the project goes smoothly, and nothing stands your way. It seems like a perfect scenario, right? At some point, the stakeholders decide to implement a new innovative technological solution that wasn't previously discussed. Such a new requirement forces you to make immense changes to your project and turn everything on its head.
That's where change management strategies come into play. By following the perfectly-defined change process, the transition from the current state (the one before the above-mentioned stakeholders decided to implement the new tech solution) to the future state (the one with the new solution implemented) can be done with ease.

Changes in software development projects can be introduced for a number of reasons. They may occur especially when:
The project requirements have changed.
Some bugs need fixing.
Some team members have left the project.
Your company has been reorganised.
Market demands have shifted.
Project performance requires some improvements.
Can changes in software projects be avoided?
The ugly truth is that most probably when managing a software development project, you won't be able avoid introducing some more or less advanced changes. But believe me, this is not such a bad thing in many cases. Quite the contrary – sometimes shifts can move the project forward and increase the chances of its success.
Here's how changes (if managed thoughtfully) can benefit a project:
Cost reduction: Sometimes, the necessary changes can lead to more efficient expense management, resulting in greater profitability.
Improved performance: Changes may positively impact the team's productivity and result in a better quality of their work.
Innovative approach: Changes encourage innovation which in software projects mostly means introducing new technological enhancements and future-oriented solutions.
Better product-market fit: Market needs are changing relatively fast, posing risks to long-term projects. To keep your software project tailored to the market, some changes may be necessary.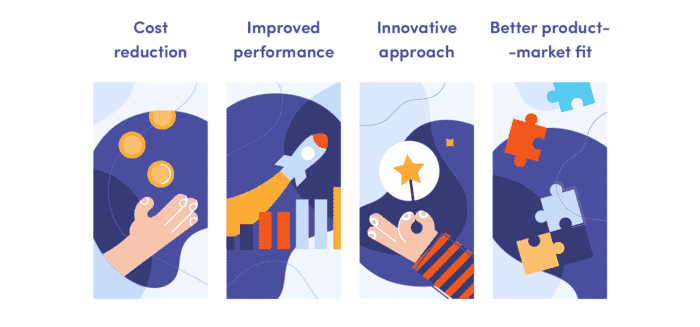 Types of change management
Change management can come in many forms and emerge for entirely different reasons. However, several types are most likely to occur when managing complex software development projects. These are:
Anticipatory change: This takes place when we know in advance that a certain change or series of changes is bound to happen. Such planned shifts are significantly easier to implement as here, the project manager has time to tackle the expected situation.
Incremental change: The changes in projects that happen relatively often and gradually. They don't involve immense shifts that turn the entire project on its head. Instead, the changes are introduced progressively and often may not be noticeable at first glance.
Emergency (or urgent) change: The changes that need to be introduced immediately. Otherwise, the project may become a failure or its execution may be impossible.
Reactive change: Shifts that occur due to an event or a series of events. They often happen when least expected. For that reason, reactive changes are particularly challenging to manage as, in most cases, they can't be planned in advance.
Strategic change: They involve the whole organisation and result from the decisions of C-level management.
Change management process in 5 steps
You've already learned what change management is, how it can elevate your project and which types of changes you may face. Now it's time to put the theory into practice and discover how to create a perfect step-by-step change management plan.
But be aware: every software project is unique, and the change management process may differ case by case. The below-presented plan may give you a general idea of how to introduce changes from start to finish. However, you still may freely adjust it to your project's needs.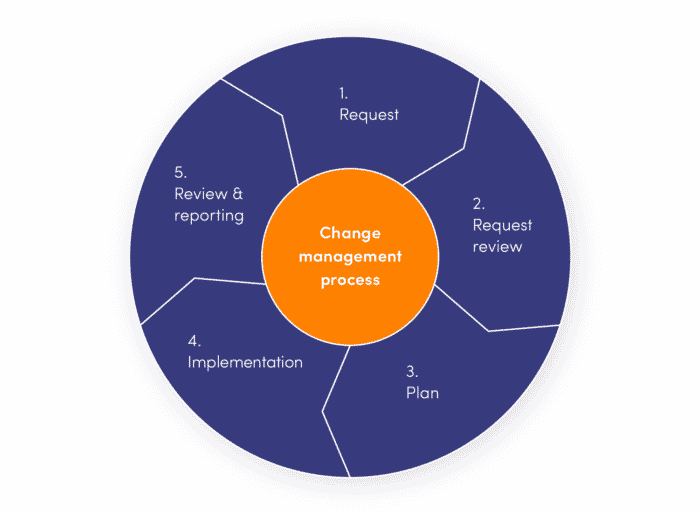 1. Change request
In order for a change in a project to occur, someone has to request it. In other words, a member of the project, someone from your organisation, or even the client identifies the need for a certain change.
Importantly, the change request should be backed up by something and have some explicit purpose. It could be a shift in team structure or modifications to improve a digital product's performance. At this point, a person requesting a change should prepare a list of potential risks, expected outcomes and areas affected by the change.
Avoid making unnecessary changes to a software project at all costs. It may do more harm than good, causing chaos and general confusion. And that's something you definitely should avoid!
2. Change request review
At this stage, a project manager, a stakeholder or a product manager (depending on your organisational structure) reviews the change request and decides whether this initiative will be introduced or rejected.
Here, it is worth asking yourself questions such as:
Is it worth introducing the change?
How will this change impact the project: its team, delivery process and overall performance?
Will the change make an immense difference or will its effects be minor and not significantly affect the project?
May the change potentially cause any risks or side effects?
You are also advised to discuss this with your software team as well before making the decision. This way, you can be certain that everyone shares your opinion.
3. Change plan
Since everyone is on board with you and the decision has been made, it's time for the planning process. At this step, decision-makers are obliged to prepare a detailed change management plan. It should include the most high-impact information such as requirements, timeline, budget, and expected outcomes. Importantly, in the change management plan, it's crucial to indicate the possible ways to withdraw from the change if necessary.
Most importantly, keep in mind that all decision-makers must also review this plan, so don't forget to ask for their approval!
4. Change implementation
You've created a detailed plan, you know all about the what, the how and the why. Now you can get down to business, that is, implementing the change.
During the implementation process, never forget to keep the documentation constantly up to date. This way, you will monitor the progress and keep everything under control.
5. Change review & reporting
And last but not least…
Once the change is being implemented, you need to review it, and if everything goes smoothly, you can close the change process.
At the final stage, you should also prepare the report presenting the whole process and, most importantly, the effects of the change implemented. So, include all the specifics of whether the change was a huge success or a dismal failure, what the overall budget was, and how much time it took to introduce the change.
Manage changes in your software project with ease!
Whether you want it or not, changes are integral to any full-scale project. The sad part is that you can't avoid them, but the good part is that you can get prepared for them.
That's why it's good to implement a well-defined change management strategy at the very beginning of your project. With it, any obstacle that may arise throughout the entire project lifecycle will not cause any damage.