Have you ever worried that a new product you launch may not be positively received by the target audience? Of course not. After all, you have an entire market research department dedicated to ensuring that it will never happen. "Product-market fit" is something a startup should be worried about, not a seasoned established corporation such as yours. Well, you'd be deadly wrong here, and not recognising this may cost you quite a bit of money.
Product-market fit is an important aspect every business has to consider. And it's true not only for the new players – every time Coca-Cola releases a new flavour, you can be certain that they've analysed the product-market fit for a specific audience. So keep on reading if you want to learn more about some of the proven techniques of delivering the right product to the right audience at the right time!
What is a product-market fit?
First of all, let me quickly remind you what product-market fit is all about. The term is far from new, and I am sure you have heard it, worked with it, and even achieved it in the past. However, in our industry, things tend to change rapidly, which is why it's never a bad idea to revisit an old concept and brush it up a little bit according to the latest trends.
There are many definitions for product-market fit. For example, from the business point of view, it could mean "being in a good market with a product that can satisfy the market" (Andreessen Horowitz). At the same time, the unofficial creator of the term, Dan Olsen, describes that product-market fit occurs when "your product meets real customer needs and does so in a way that is better than the alternatives" (The Lean Product Playbook)
At Miquido, we see product-market fit as an integral part of product strategy and a necessity for any digital solution hitting the app stores. After all, at its core, the main purpose of achieving the product-market fit is to deliver something that makes users' lives easier and will turn into a profitable product for the company.
It's a win-win situation, which is why it cannot be overlooked regardless of your company's size, years of experience, or market share.
Why is product-market fit so important?
Achieving the perfect product-market fit can bring you tangible business benefits such as:
High user retention. Simply put, satisfied customers are more loyal and will keep returning to you. As long as your product responds to customer needs, they won't turn to your competitors and will stick to your brand instead. This way, you will reduce costs on customer retention campaigns.
Lower customer acquisition cost. Winning new customers can be highly challenging, especially if you are a startup taking its first steps in the business world. If your product meets people's needs, they will independently recommend it to their family, friends or business partners. This is how you may gain new customers in an organic and low-cost way.
Rapid business growth. If your business is growing at a breakneck speed, that means one thing: you've succeeded, and your product responds to market demands.
More sales. Products that fit the market perfectly generate much higher revenues. It's as simple as that.
So as you can see, striving to achieve product-market fit is worth the effort and will undoubtedly bring more customer success and, consequently, massive business profits in the long run.
Therefore, you should invest quite some time at the beginning of your business journey to better explore your market and user demands.
So how do you do it right? I'll guide you through the process step by step.
How to find product-market fit in 5 steps
There is a set approach in the IT industry as to how we can achieve a perfect balance between the solution we offer and the people on the receiving end. It's called the Product-market fit pyramid and takes care of the business strategy in 5 simple elements: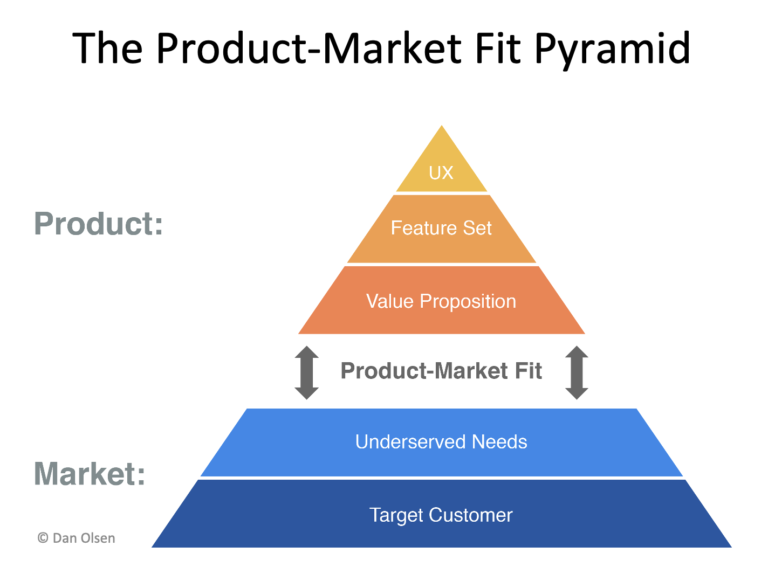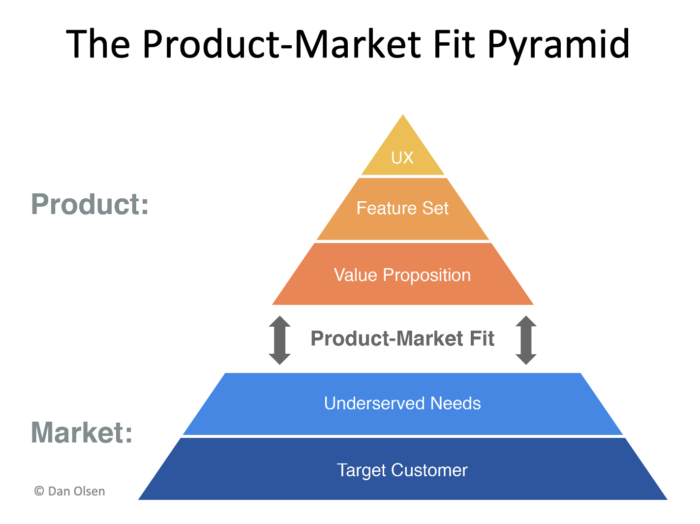 No one element is more important than another. In fact, only by paying equal attention to each part of building a product strategy will you be able to succeed. Fortunately, each of the "layers" of the pyramid easily translates into an action plan. Let's take a closer look:
1. Determine your target customers
First, you need to specify which customers are most likely to use your digital solution and to whom you will target your sales efforts or marketing campaigns. Ultimately, they will decide whether your product succeeds or fails.
For this purpose, you should develop your buyer personas, which represent your ideal target customer. Here, you need to stick to one rule: be as accurate as possible.
After all, you can't just claim that your target customers are millennials. That is not enough. Which millennials precisely? What distinguishes them? Do they come from the city or live in the suburbs? What is their social status? Or main interests? All of this matters!
And what if you are struggling to define your buyer personas clearly? It's okay. After several iterations, you will be able to return to the first point and revise your initial assumptions.
2. Identify their underserved needs
Now that you know who your target audience is, you can move on to identifying their most important needs. In this step, you will discover whether there is a clear market demand for a particular digital solution. After all, there is no point in launching a product that nobody needs, right?
Remember that the potential customers will evaluate your product against your competitors' existing solutions, so make sure that what you offer provides strong added value and brings something new or fresh.
How do you identify underserved needs? Dan Olsen suggests making a clear distinction between problem space and solution space. According to Olsen, problem space represents the most pressing customer needs, while solution space refers to your products or feature set that will satisfy those needs.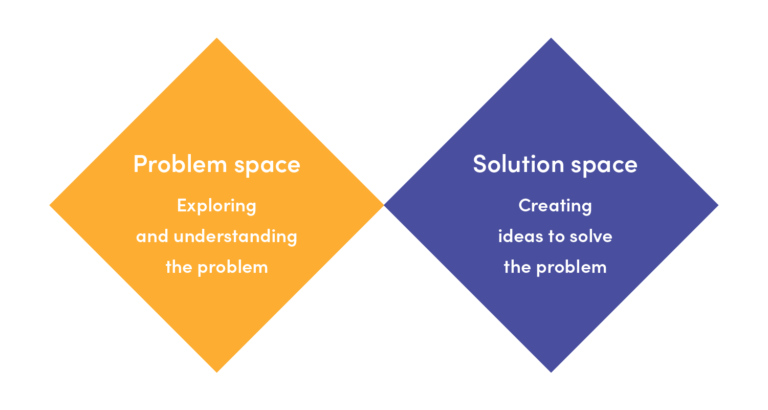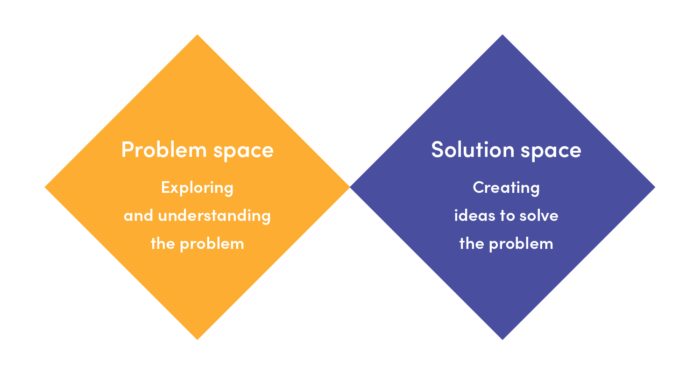 Let me give you a simple example to illustrate this distinction. Customers ordering a taxi want to know when the taxi driver will arrive and how long the journey will take in total. This is their need (problem space). So, to solve the problem, you need to develop a feature to give them this information, such as a city map with the exact location of the taxi driver (solution space).
3. Define your unique value proposition
In this step, you need to determine which customer needs your product will solve.
I'm sure you've come up with plenty of great features and innovative solutions. However, you probably won't be able to put them all in one product. Therefore, you need to prioritise which features you'll develop for your MVP, and which ones you'll skip, at least for now.
Bear one thing in mind: your product must somehow stand out from your competitors, so choose your features with unique value propositions in mind. Consider which solutions will not only be valuable to your prospective customers but will also give them a great deal of satisfaction.
4. Build your product features
Do you already know how your product will differentiate itself from competing solutions and which unique features will satisfy users? That's perfect. Now it's time to create a customer-oriented product together with your product team!
You don't have to build the whole product at once – develop just the feature set you will need to release your Minimum Viable Product (MVP). This way, you will get relevant user feedback and valuable insights about user behaviour much faster.
5. Provide a seamless user experience
User experience plays an integral part in any digital product. So if you want to truly captivate your users, you need to provide them with a delightful visual layer and a seamless experience.
Run usability tests with potential customers to get their unbiased opinions and better understand how they interact with your product. And if tests reveal that they find it difficult to use or unintuitive, then at least you have a chance to polish it a bit more before its final release.
***
So you've already identified your target audience, discovered their needs and expectations, selected features for your MVP and spent long months building your dream product. But the question remains: is your work done at this point?
Not really! Finding product-market fit is an iterative process – just because you've gone through all 5 steps doesn't mean you still can't make something better. Remember that there's always room for improvement in digital products.
That said, how can you accurately measure your product in terms of customer feedback, satisfaction, retention, and behaviour? Keep reading to find out!
How to measure product-market fit
Fortunately, you have plenty of methods and tools to make this work easier. You can do interviews, conduct a survey, dig into your Google Analytics or take a look at the statistics in the app stores.
But the analysis wouldn't be complete without the right set of metrics – with their help, you will be able to evaluate whether you are moving in the right direction or have reached a dead end.
Here are the main metrics that will give you valuable insights into your product's performance:
| Metric | Description |
| --- | --- |
| Net Promoter Score (NPS) | Indicates to what extent customers are willing to recommend your product to their friends or family |
| Customer Satisfaction Score (CSAT) | Determines whether the interaction with your product is satisfactory for customers |
| Retention Rate | Percentage of customers who keep returning to your product over a given period |
| Churn Rate | Percentage of contractual customers who discontinue using the product over a certain period |
| Customer Lifetime Value (CLV) | The total revenue that one customer brings to your business throughout the entire relationship |
| Growth Rate | Determines the growth pace of your business |
Naturally, the list doesn't end here. Check other great market research methods that will help you make well-informed decisions.
For your analysis, you can also include other relevant metrics such as bounce rate or time on page for websites and the number of downloads for mobile applications — whatever suits your needs.
Achieve product-market fit today
Want to take your business to the next level and reach new heights? I bet you do.
But for this to happen, you need to adapt your product to the market demands and customer expectations.
And don't get discouraged if you don't achieve the perfect product-market fit on the first try. It will probably take several attempts to find the right set of product features, a unique value proposition and a large customer base. So consider product-market fit as an iterative process that you need to repeat once in a while.
Once you find your sweet spot in the market, you will reach the boldest business goals. Believe me when I say: finding the perfect product-market fit for your digital solution is definitely worth the effort and will pay off with time.
Ready for your next software project? Our experts will turn your idea into a successful product. Choose our R&D services!