Over the years, project management has witnessed some fundamental changes – from a fledgling discipline, it has shifted into a consolidated area driven by technology and innovation. Today, project managers play an intrinsic part in developing highly complex long-term projects, and their role is not strictly limited to managing tasks. In fact, it goes far beyond that.
In project management, change is the only constant and is inevitable. That's why it's important for project managers not to resist adapting to changes.
So how does the project management landscape look like in 2023? Let's find out!
8 current IT project management trends
Some trends may come and go, but some are here to stay. Here, we dig into the latest project management trends. Check them out and discover how project managers and non-project managers can prepare for the change.
Artificial Intelligence (AI) is expanding to the point where it touches practically every aspect of our lives today. So it should come as no surprise that some AI software development solutions are also implemented in project management.
And why are they such a game-changer for project managers? For one simple reason – they make their daily work a whole lot easier and more effective.
Many project managers waste their time doing repetitive manual tasks that can be easily automated. And here, AI comes to the rescue to bring many improvements for project managers, such as:
Risk management: By making predictive analyses and detecting risks at their early stages, AI can minimise the costly effects of wrong decisions.
Monitoring of project's progression: ML algorithms can forecast the amount of budget and time that will be required to complete different project activities so that whatever resources will be much better allocated.
Process automation: AI-powered solutions can effectively automate numerous repetitive processes, such as administrative operations, giving project managers more space to perform more vital tasks.
As you can see, project managers can successfully apply artificial intelligence in their daily work. The shift toward using technology will definitely be the future of project management. Introduce AI to your project now and make more accurate data-informed decisions.
Achieving outstanding business results, managing tasks seamlessly, making deadlines and keeping the budget under control – all these project management skills play a central role in leading complex projects. But these are not the only qualities distinguishing good project managers from excellent ones.
Project managers who want to achieve business results, push their team forward and build a professional relationship with their clients need a well-rounded emotional intelligence (EI). In fact, studies show that PMs with a lack of this skill struggle with most challenges, such as scope creep, lack of stakeholder agreement or dealing with overly restricted processes. That's why it's essential for PMs to develop their social skills and soft skills constantly.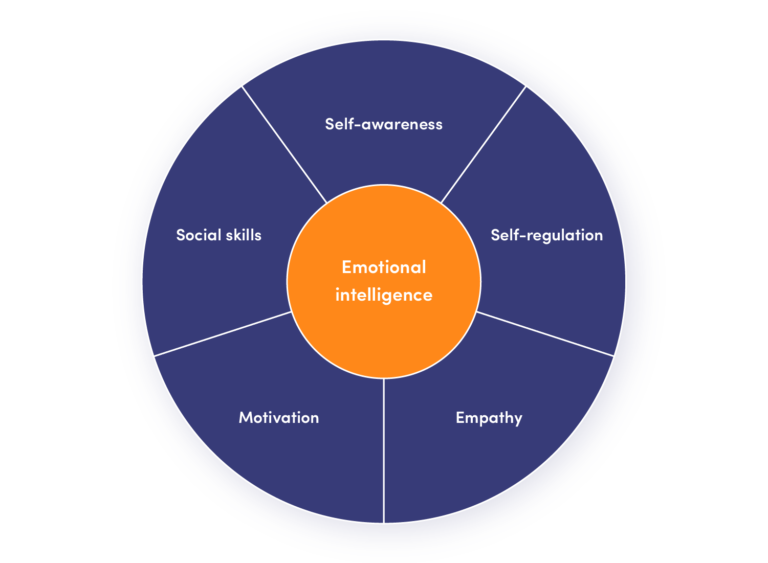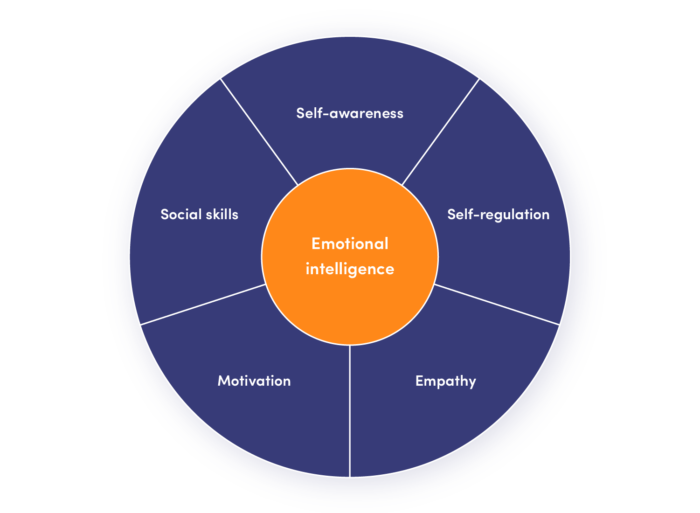 Emotionally intelligent project managers can work effectively with team members, engage and empathise with them. Simply put, by focusing on emotional intelligence at work, PMs can considerably enhance the team's productivity, leading to better business outcomes in the long run.
Emotional intelligence proves to be especially helpful in these areas:
Building relationships with project team members
Resolving conflict situations
Negotiating and finding the best solutions not only with the team but also with external stakeholders
Provide a friendly and supportive environment that drives smooth task completion
When chasing deadlines, rushing through tasks or completing lots of reports, it's easy to lose the human factor. Even though Project Manager's work boils down to numbers and figures, there is still one element that remains unpredictable: the combination of different personalities in a project team.
An empathetic manager should know how to take advantage of them and use them to benefit the project. Therefore, it's crucial to constantly develop your emotional intelligence as soft skills turn out to be no less important than having expert knowledge of frameworks or management techniques.
COVID-19 has turned the entire world upside down. Even though it's been two years since the pandemic outbreak, many companies still remain untouched by "the new normal" and force workers to come to the office. Interestingly, permitting to work fully remotely might not be such a bad idea. According to The 2022 State of Remote Work report, as many as 68% of software developers claim that the home office has significantly improved productivity. What's more, they consider remote work to be the most comfortable solution for them.
So, whether we want it or not, remote work is here to stay, and remote opportunities will only increase in the future. This shift also requires project managers to make some adjustments to their management strategies. Since it's much more challenging to control remote workers and ensure team building, PMs need to build a two-way trust relationship. Here, the rule "less control, more trust" works perfectly.
Remote project management brings great benefits like:
More flexibility: Team members can work from wherever they want and start the job whenever they want, as long as they meet all the deadlines and manage their work efficiently. What's more, it's much more convenient to hold team meetings since they don't involve any physical room to book.
Lower operational costs: With virtual project teams, companies can reduce the costs of maintaining office spaces.
Promoting work-life balance: Remote work contributes to better work-life balance, increasing employee productivity and job satisfaction.
Let's move to one of the top project management trends that should never be overlooked.
Working in a stressful environment with the constant feeling of being chased by deadlines may cause severe mental consequences. That's why project managers must take special care of their and their team members' mental health and always make it a top priority.
And what can you do as a project manager to ensure your team's mental health is properly taken care of? You need to start with:
Asking your project team for regular feedback if they are overloaded with their work.
Creating a supportive atmosphere where the needs of each team member are taken care of, and no one feels left out.
Leading by example.
Providing professional mental support from psychologists.
Giving more freedom to employees where they can work the way they want.
Managing complex projects means making tons of decisions. But how can you make sure that every decision is pitch-perfect? Here, the data comes into play. Whether it is project planning, allocating resources, risk management or budget control, data may be a decisive factor behind every decision throughout the entire project life cycle.
Forward-thinking PMs need to embrace the importance of data in project delivery and support every decision with real data. Through Business Intelligence (BI) or Business Analytics (BA), project managers are given constant access to various metrics to support their decision-making process. What's more, data may also provide valuable predictive insights and prevent PMs from making poor decisions.
So, if you want to drive better project outcomes and resolve every project problem with ease, opt for a data-driven approach and make good use of the data that your organisation already has.
Changes in large organisations, especially those centred around a digital product, are inevitable. According to Gartner's report, the average company makes 5 company-wide changes in 3 years.
With that being said, we can see that change is the only constant, and practically every company introduces some more or less complex innovations. And since change needs to be perfectly planned and well-executed, the market demand for change managers is growing each year.
You're probably wondering what change management has to do with project management. Well, a lot! They both require analytical, planning and organisational skills and even their processes look quite similar: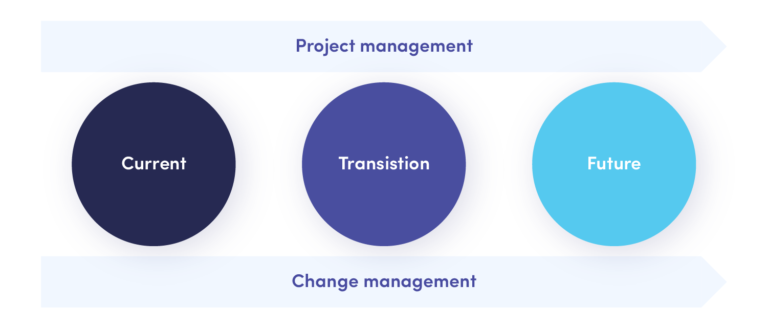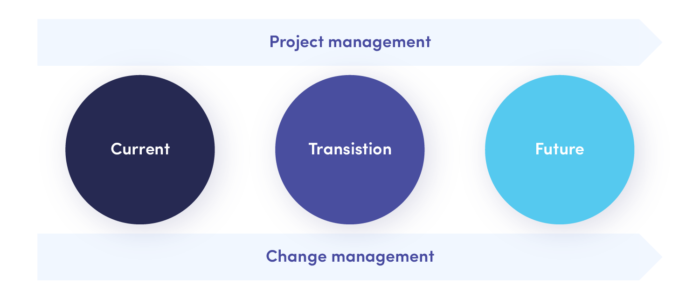 Even though change managers should be integral to every large-scale company, they're often lacking. Consequently, project managers are often also expected to demonstrate change management skills.
One thing is certain: change management ability is a powerful asset for every PM eager to lead large software projects.
In a software project, you may include some change management strategies regarding:
Project complexity
Tech stack
Resource allocation
Team management
Impact of the project
Product development direction
As a PM, always be ready for every potential change that needs introducing throughout the whole project cycle.
One of the most crucial decisions PMs need to take is choosing the most suitable methodology, as it sets the directions for the project. Here, managers have a wide selection of methodologies at their disposal. It may be Scrum, Kanban, Lean or even a slightly dusty waterfall.
But who said that only one of them can be applied in the project? Skilled PMs can combine different methodologies simultaneously, choosing only what's best from each of them. And the post-pandemic era showed us that organisations need a renewed and more flexible approach to projects. Simply put, sometimes one methodology may not be enough to ensure project success, so there's no point in sticking to them.
As it turned out, an elastic approach based on hybrid project management methods may be highly beneficial for the project, leading to better business outcomes.
Here the rule is simple: choose whatever suits the needs of your team members. Since every project is different and requires an entirely different approach, there are no good or bad decisions.
If you want to discover the most impactful differences between Scrum and Kanban, be sure to read our guide about these two popular project management methodologies!
It won't come as a surprise when I say this trend is definitely here to stay and will become even more potent in the coming years. Project management became a highly digitalised field to the point where almost (if not all!) areas of PM's work can be supported by various highly advanced tools and tech solutions.
No wonder PMs prefer using different types of project management software rather than doing more tasks manually and writing down every piece of information on paper. After all, why do project management old-fashioned way when tools can do all the work for you?
Here you will find a summary of the best project management tools that you can successfully use to manage software projects:
| Area | Tool |
| --- | --- |
| Project planning | Asana, Trello |
| Time tracking | Quidlo Timesheets, Clockify |
| Team communication | Microsoft Teams, Slack, Google Hangouts, Trello |
| Progress tracking | Monday, Jira |
It's time to apply the best trends for project managers to your daily work!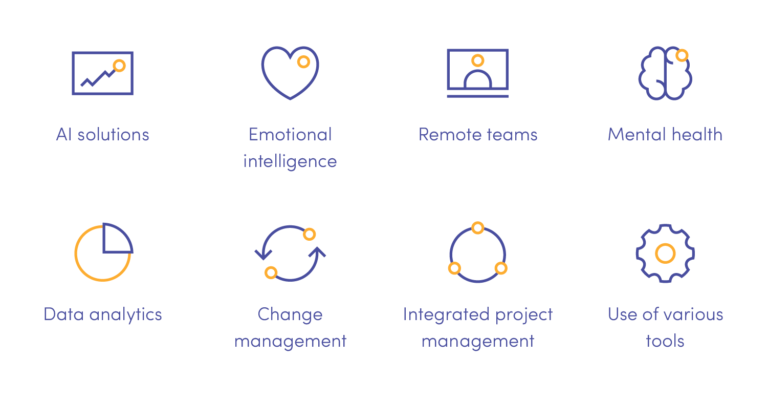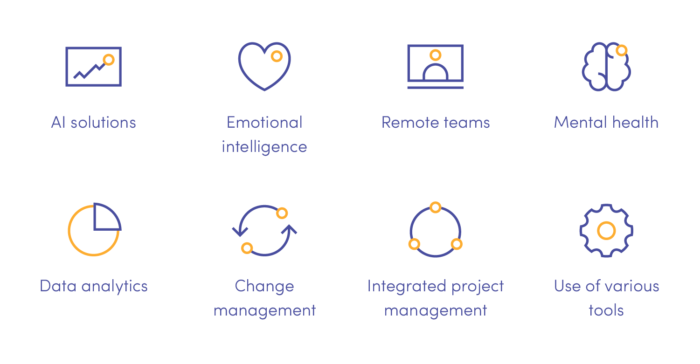 The above-listed trends in the project management industry will help PMs not only to deliver projects successfully but also to create a supportive environment with team members and stakeholders.
Like I have already said, project management trends come and go. For that reason, it's extremely crucial for project leaders to always keep up with them and adjust their strategies accordingly. By making at least some of them an integral part of project management, they'll be able to lead the project straight to success.
Looking for a team of experts to manage your digital project from start to finish and ensure successful project completion? Contact us, and let's build a future-forward product together!