The business environment has changed a lot in the past few years, and digital transformation is now a must for companies that want to stay relevant in the game. It's useful to incorporate technology in business operations regardless of the company size, but when you're a large enterprise dealing with huge resources, the need to do so becomes more urgent.
This is where enterprise software, i.e a tech solution tailored to the needs of an organisation, comes into play. In this article, we're going to talk about the things to keep in mind when building an enterprise app, and why you your organisation should have it in the first place. Let's dive right in!
The benefits of building enterprise software
It's hard to pinpoint how exactly your enterprise app will impact the way your company operates, as it all depends on a particular problem you're trying to solve or the things you want to improve. However, there are some benefits that are more or less given.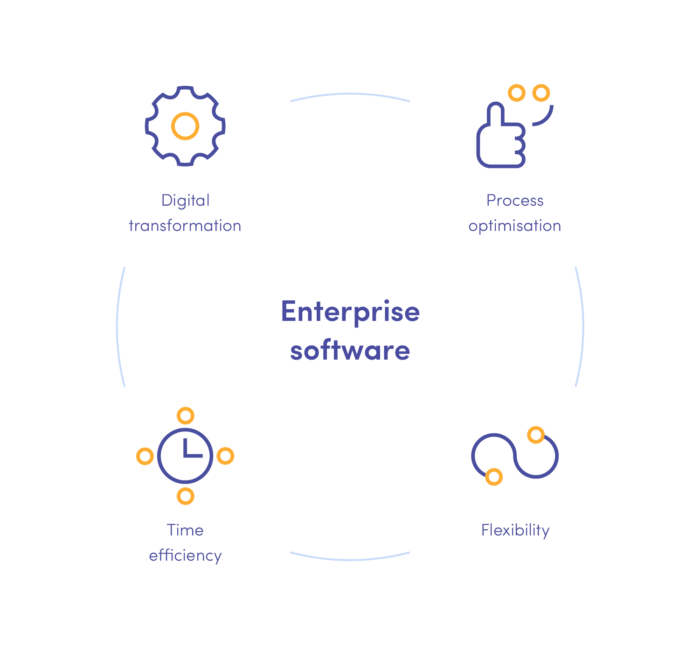 Moving to digital
We've briefly mentioned the importance of digital transformation and the role enterprise software plays in it. By incorporating such software in your organisation, you can take the first big step towards going digital, whether it means storing your data, maintaining relationships with clients, or resource management. 
Process optimisation
This is really the main reason why enterprise software is built in the first place. Depending on the solution, it can enable a company to improve communication, make for easier project management, automate tasks and integrate the work between different departments.
Time efficiency
Having one, standardised system that takes care of a part or most of your processes helps to reduce chaos and saves lots of time as a result. By investing in enterprise software, you can streamline the operations of your HR, marketing, sales or manufacturing departments, and significantly increase their efficiency.
Flexibility
When you're opting for building software for your organisation specifically, it will be tailored to your needs only. This means the ability to scale up as your business grows, and add new functionalities and changes that are adjusted to your current situation. You won't have to worry about having to come up with a whole new tech solution to replace your current one.
Building an enterprise software solution: 6 best practices
Now that you know the perks of having an enterprise app, let's take a closer look at the things you should be mindful of before, during and even after the development process.
As with any software project, defining your goals is the first step on the long journey to a finished product. It might seem obvious what you want to achieve at first, but the priorities are likely to change when you analyse the exact purpose of building your app.
Before jumping straight into the process, ask yourself a few important questions:
What problem do you want to solve or how would the software improve your current operations?
In what way would it be able to do that?
How necessary would it be for your organisation?
How would it fit into the organisation?
The more specific the goals, the easier it will be to craft a solution that is tailored to a particular business. You should keep those goals in mind throughout the entire development process, especially when considering making changes to the project.
This is something you're most likely going to consult with your development team, but it's useful to consider beforehand. Think about whether your app should strictly be a desktop one, or whether you'd like to build it on mobile, in which case you might want to go for cross-platform solutions. The cross platform mobile development services may prove to be highly beneficial for your business as this solution significantly lowers development costs, and moreover, it's much easier to maintain.
When it comes to tech choices for enterprise apps, cloud computing solutions are definitely worth mentioning. The solution has been gaining popularity, and for good reasons: it is cost-effective, takes less time to implement than creating your own infrastructure, ensures scalability and security, and the resources are available to employees regardless of their location.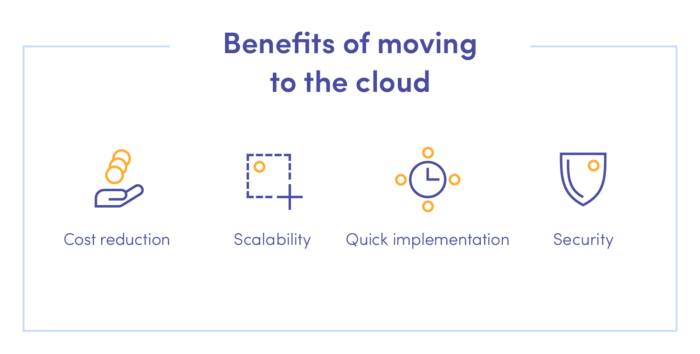 Having a clear vision of the functionalities will save you lots of time during the development process, and ensure that the team building your app is on the same page. The best thing to do would be to write a specification for the product, where you provide a general overview of the app, specify the features, deliverables and any other expectations you might have in regards to the project.
It's all right if you only have a general idea of the features and functionalities you want your app to have, without going into specifics. That said, the more information you're able to provide at the beginning stages of the project the better, since it helps the team to interpret your vision accurately.
At this point, it is crucial to have a well-defined digital product roadmap that will help you manage your comprehensive project.
When thinking about what you'd like to achieve with your enterprise software, it's important to give consideration to your future plans. How does the app fit the business plan? How can the organisation change in a few years, and what functionalities would your app need to have to satisfy its needs?
Taking all possibilities into account early helps you to craft an application that's best for your enterprise. It's important that your app's architecture takes rapid growth into account and ensures future scalability. That way, you won't have to worry about a drop in performance when your company grows.
Learn more about the importance of software scalability in enterprise projects.
It goes without saying that security is crucial in enterprise software development, as the app will deal with large amounts of vulnerable data related to the organisation, its employees and clients. 
While it may be time consuming, you should always remember to put special focus on properly testing your app throughout the development cycle, and make sure any risks or vulnerabilities are properly dealt with. It is also vital to ensure that sensitive data is protected, preferably accessible only to a limited number of people and that access to the software is protected by multi-factor authentication. Also, since it's better to be safe than sorry, it's best to make it a habit to check the system for any possible security issues on a regular basis.
It might be difficult to organise a team internally for the purpose of building your enterprise app, so hiring a custom software development company is usually the way to go in those types of projects. Before you choose your vendor, make sure to check their portfolio and see whether they've worked on similar projects before. It's also useful to look for testimonials from previous clients and see the technologies the company works with – especially if you're keen on building your app using a specific technology. 
Work with us!
Looking for an expert team to build your enterprise app? Don't hesitate to contact us! We'll take care of your project from the ideation stage all the way to maintenance, and ensure the software is up to the highest standards.