With every year, entering the mobile application market or promoting a digital product becomes more difficult. Working at Miquido, a full-service development company, I see the challenges our clients face every day. On the one hand, the dynamic and fierce software development industry is offering more and more technological solutions: from fast no/low-code tools, through developing apps for iOS, cross-platform development, to Web3, metaverse and blockchain. On the other, companies from various industries are struggling with an increasingly difficult macroeconomic situation, including soaring recession and inflation in the US and Europe.
All these factors make IT environments invest in new job positions, primarily managerial and leadership, aimed at helping companies combine business and tech perspectives and fostering stable development and growth. Undoubtedly, one of such in-demand jobs is a tech lead (or a technical lead) – a senior-level professional responsible for business development, making architectural and design decisions, guiding team members in technical matters and implementing improvements.
In today's complex business environment, a tech leader position must create value for all stakeholders, including shareholders, clients, partners and employees. So how specifically do tech leads help companies grow? What are the tech lead responsibilities? Why is the role so crucial to an organisation's growth and success? How does a specific blend of technical expertise and soft skills allow technical leaders effectively guide development teams to create cutting-edge software aligned with business needs? Let's find out!
Tech lead roles and responsibilities explained by a tech lead
If I were to describe the tech lead responsibilities in one sentence, this would be it:
Tech leaders take care of keeping up with the latest technologies and industry trends, fostering a culture of leadership within my organisation and creating meaningful value to our customers, partners and employees.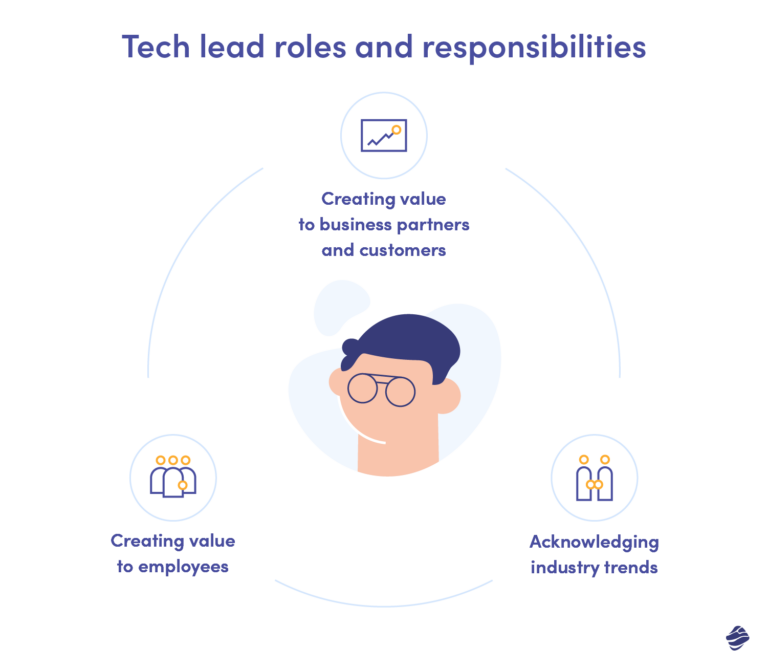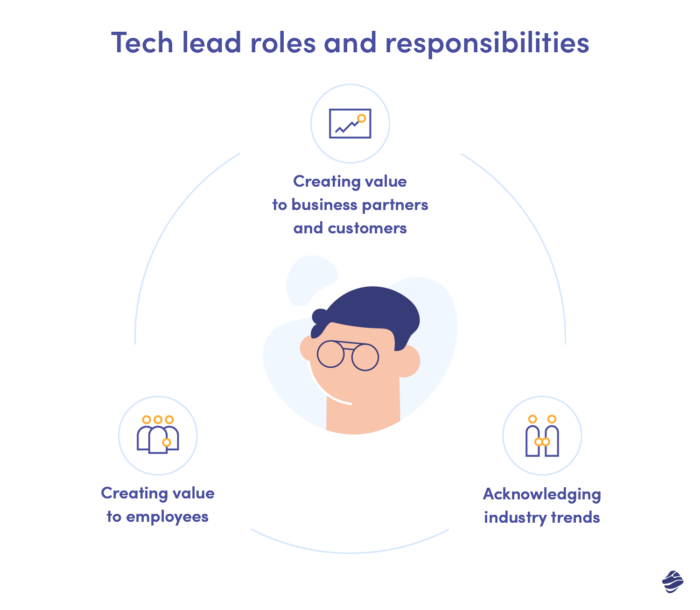 In other words, the new style tech leaders must ensure all stakeholders get what they need. Let's discuss what it means in practice.
Four roles of new style tech leaders
According to McKinsey, modern tech leaders must play four roles: visionary, architect, coach and catalyst.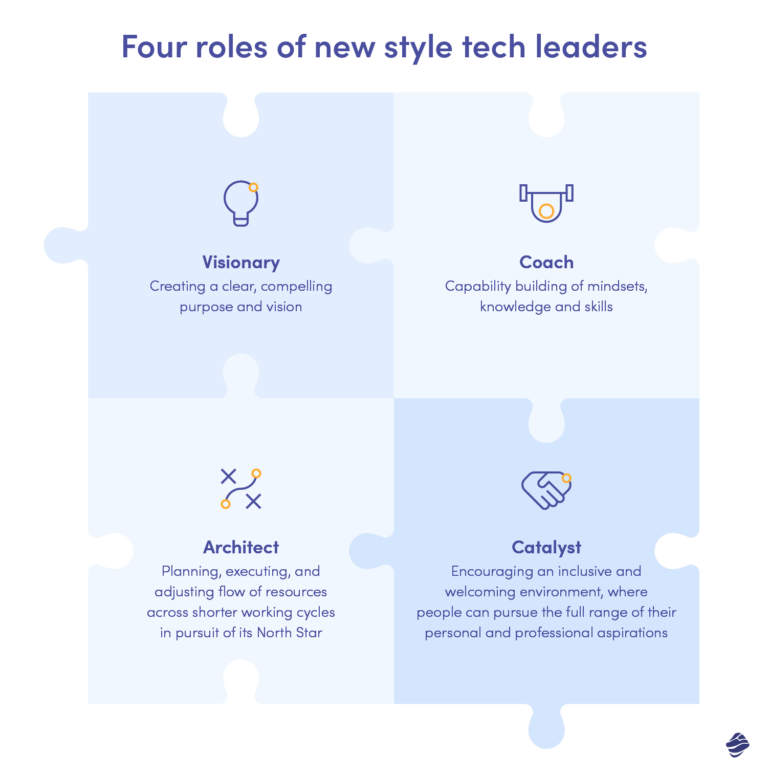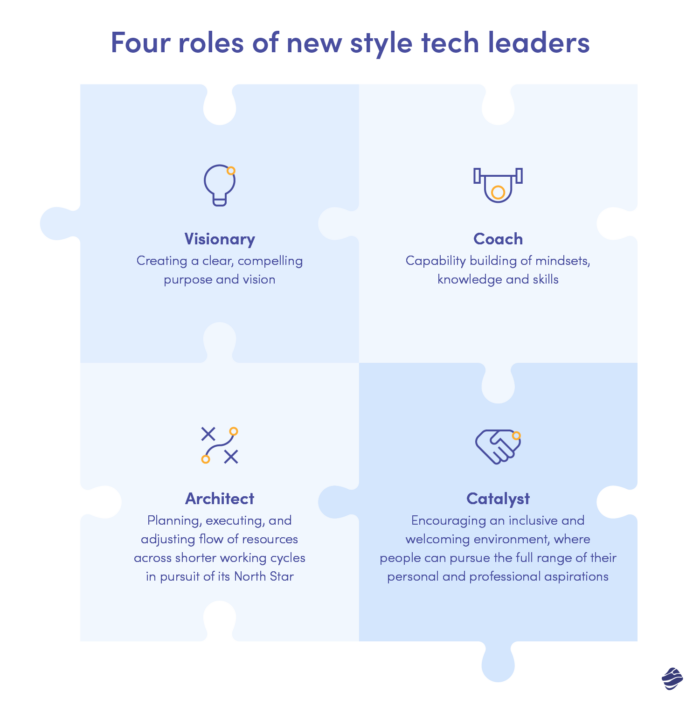 As visionaries, leaders shape the emergence of a clear, compelling purpose and vision – a North Star – that resonates throughout the organisation and beyond.
With clarity on what is to be accomplished, leaders act as architects. Rather than developing plans, leaders take on the more sophisticated role of designing the organisation as an open and empowered system, able to continually plan, execute, and adjust flow of resources across shorter working cycles in pursuit of its North Star.
As people are empowered to achieve organisational goals, they need to develop greater business acumen, learn to think more strategically, and deepen their ability to collaborate. Capability building—of mindsets, knowledge and skills—becomes a critically-important area that leaders need to address.
As catalysts, leaders unleash energy throughout the system. They do this in four primary ways: remove roadblocks that prevent empowered teams from bringing ideas to reality; foster connections across the organisation; help people connect what they're working on to the organisation's vision and aspiration; and finally, encourage an inclusive and welcoming environment of wholeness, where people can bring their authentic selves to the office, work in energising and sustainable ways, and pursue the full range of their personal and professional aspirations.
Tech lead role at Miquido is strongly focused on being a catalyst that forges excellent client partnerships driving business growth and success. As an intermediary between Miquido clients and development teams, tech leader coaches his team to prioritise effective communication, accurate task estimation, proactive problem-solving, and a collaborative approach. And what about the visionary and the architect role? Let me show you my take on this subject a little bit later.
What are the responsibilities of a tech lead
Last year, I attempted to create a tech lead job description at Miquido. As I was promoted to team leader and became responsible for the entire backend development team, I realised that I alone could only provide technical guidance for some of the technologies we use as backend services.
To determine the missing part, I conducted extensive roles & responsibilities research within my company. What were the results?
Firstly, I learned that tech leaders should possess more technical skills than other positions after the Senior Developer path. In contrast, positions such as Software Architect or Team Leader place more emphasis on soft skills than technical ones.
Secondly, I identified three recurring personality traits:
Expertise in technology,
Responsibility for technology development,
Accountability for product development.
Why are these 3 technical lead responsibilities so crucial for the company's growth? What impact do they have on all stakeholders' interests? Let's find out!
Technical lead responsibilities include being a technology expert
Tech leaders are not only good programmers. They have extraordinary experience in creating software, resulting in an in-depth understanding of the development process, from conception to deployment. Tech leaders know how to collaborate with teams, identify and solve problems, and make strategic decisions to ensure the success of their projects. Additionally, tech leaders must excel with solid communication skills, allowing them to convey complex technical concepts to technical and non-technical stakeholders effectively.
💡Key business highlight: Tech leaders work closely with developers and other stakeholders to ensure the software is developed with best practices and coding standards while aligning with business needs. Examples? If you need custom Android app development, technical leaders will help you choose tools for developing critical app features, plan the development process effectively, and ensure the plan covers all your business needs.
Technical leaders are responsible for technology development
Tech leads are accountable for the technology used in product development, including identifying and addressing technical debt, staying up-to-date with the latest technologies and industry trends, and incorporating them into the development process as required. Additionally, technical leaders mentor and guide developers in the team, providing them with valuable technical and professional skills that they can apply in their future projects.
💡 Key business highlight: By staying up-to-date with the latest technologies and industry trends, tech leads ensure that software continuously improves and aligns with industry trends, leading to long-term success and growth for the business. Need examples? Given the unprecedented growth of AI, tech leaders at Miquido analyse these tools in terms of usefulness for increasing work efficiency while also paying attention to the threats resulting from confidentiality and data security.
Tech leaders are accountable for product development
Tech leads are accountable for the overall success of the product development process. They identify critical business needs and ensure the software aligns with them. Moreover, tech leaders work with stakeholders to develop project goals and implement best practices to guarantee that software is scalable, maintainable, and secure. They also ensure that the custom app development process is efficient and effective, enabling teams to deliver high-quality software on time and budget.
💡 Key business highlight: Technical leaders ensure that the software development process is efficient and effective, enabling teams to deliver high-quality software on time and budget.
Technical lead challenges
With more than 1,000 new packages being added to NPM repositories daily, keeping up to date with all tech newbies is impossible. Therefore, one of the most critical tech lead responsibilities is filtering new technologies and focusing solely on valuable tools and promising libraries. It is crucial to have a clear goal for the team and the technology they want to work with. By doing so, tech leaders can concentrate on things that bring them closer to their goal, and everything else can be considered noise.
Another challenge that tech companies face is a leadership legacy. In the words of Roy T. Bennett, "Great leaders create more leaders, not followers". This statement emphasises the importance of creating a leadership culture within tech companies. The role of a tech leader is not to do everything alone but rather to empower and develop his team members into future leaders. It can be achieved through various methods, such as mentoring, providing opportunities for growth and development, and fostering a supportive work environment. By investing in leadership development, tech companies can ensure their organisation's long-term success.
Other challenges faced by technical leaders include:
Keeping up with the latest technologies and industry trends,
Selectively adopting new technologies, focusing on those that provide the most value,
Having a clear goal for the team and the technology they want to work with,
Creating a culture of leadership within tech companies and empowering team members into future leaders themselves,
Investing in leadership development to ensure the long-term success and sustainability of the organisation.
Technical leaders bring business value
Apart from streamlining internal processes and taking care of development teams, technical leaders address numerous business perspectives. From the business side, the most critical technical lead responsibilities include ensuring excellent client relations.
The extensive experience and soft skills of tech leads make them ideal candidates to act as intermediaries between clients and development teams – which is particularly important when there is a need to approach task estimation rationally or identify potential edge cases.
So what are the responsibilities of a tech lead that contribute to stronger client relationships?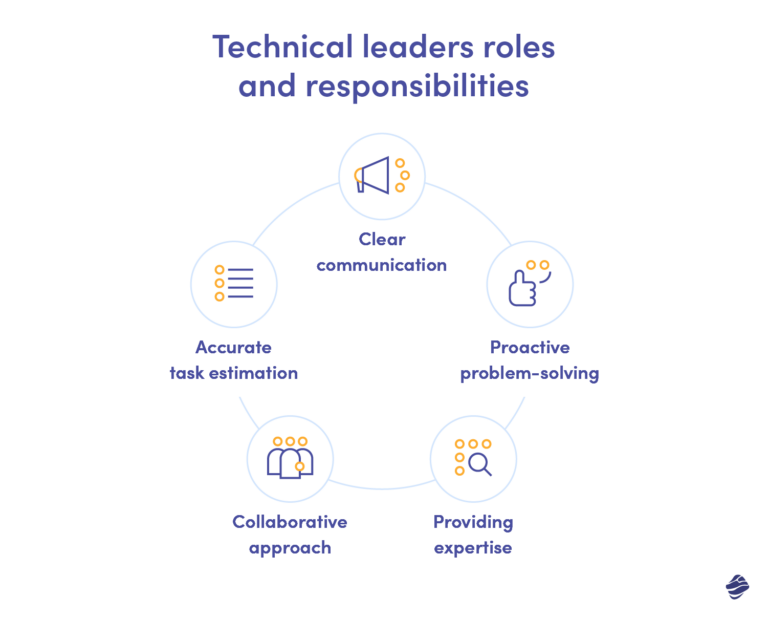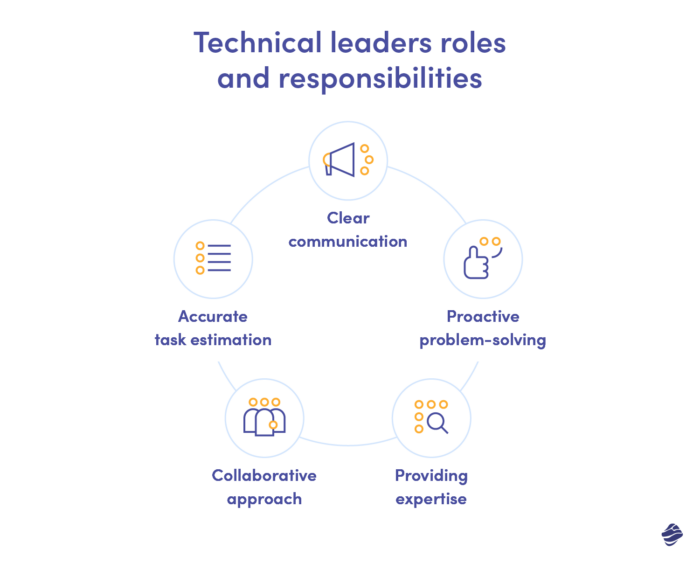 Clear Communication — Tech leads can effectively communicate complex technical concepts to clients, helping them understand the development process and set realistic expectations.
Accurate Task Estimation — With their in-depth technical knowledge, tech leads can provide accurate estimates of the time and resources needed to complete tasks. It ensures clients understand the project timeline and budget clearly, minimising surprises and potential conflicts.
Proactive Problem-Solving — Tech leads can anticipate potential challenges or edge cases, addressing them before they escalate into significant issues. This proactive approach demonstrates the company's commitment to delivering high-quality solutions and enhances client satisfaction.
Collaborative Approach — Tech leads can facilitate collaboration between clients and development teams, ensuring everyone's input is considered, and the project stays on track. This collaborative approach helps to build strong, long-lasting relationships with clients.
Providing Expertise — Tech leads offer valuable expertise that can help clients make informed decisions about their projects. By offering guidance and recommendations based on best practices and industry trends, Tech Leads can help clients maximise the return on their investment.
Tech leads not only play a crucial role within the development team but also have a significant impact on client relations. Technical leaders help create strong, mutually beneficial partnerships that drive business growth and success by acting as a bridge between clients and development teams.
Tech lead roles and responsibilities are essential for company growth
Tech leaders with strong technical and soft skills are essential for driving company growth. They ensure the software development process aligns with best practices, coding standards, and business needs and stay up-to-date with industry trends to maintain a competitive edge. Additionally, their role involves empowering and developing team members into future leaders through mentorship, growth opportunities, and a supportive work environment.
From a client relations standpoint, leaders enhance communication, provide accurate task estimations, proactively solve problems, facilitate collaboration, and offer valuable expertise. Furthermore, my experience at Miquido proves that technical leaders contribute to strong partnerships that drive business growth and success by serving as intermediaries between clients and development teams.
As a tech lead, I realised that having a deeper understanding of technology and being able to communicate that understanding with my team effectively was essential for our success. It helped me build trust and rapport with my colleagues, fostering an environment of innovation and growth. This collaborative atmosphere enabled us to work together more efficiently, breaking down barriers and encouraging open dialogue.