Automation is all the talk in business nowadays. It's precisely why more and more companies are opting to use chatbots on their websites and apps. As the Global Chatbot Market is predicted to grow to $9.4 billion by 2024, it's safe to say that tech-powered customer service is here to stay.
In this article, we're going to cover the main chatbot basics: the definition, the types, and various benefits this tool can bring to businesses. Read on to learn how chatbots can give you a way to optimise your services in a simple, yet very effective way!
Types of chatbots
There are a couple of ways in which chatbots can be categorised (like based on the purpose they're used for, for example). We're going to focus strictly on technology. Here, the simplest distinction would be between Rule-based chatbots and AI-based ones.
Rule-based chatbots
As you may have figured out from the name, this type of chatbot works based on a set of predefined rules. A rule-based chatbot uses a decision tree, giving the users a set of options to choose from in order to guide them to an adequate answer. It is very useful for answering direct questions where only one answer is correct, like "At what time does your store open on a Monday?".
However, the bot cannot operate outside of that set of defined options and the information it's been given. In case that happens, it hands the conversation over to a human agent. Moreover, its ability to interpret language is also very limited.
AI-based chatbots
AI chatbots are not restricted to a series of given alternatives, like in the case of rule-based ones. They use natural learning processing (NLP) in order to understand and interpret the meaning behind a question and provide the user with a correct answer without the need for human assistance.
Based on the data it is provided through Machine Learning algorithms, this kind of chatbot can also learn from experience and come up with relevant solutions. As a result, it becomes 'smarter' with time and is much more capable of having a natural conversation with a human. 
| Rule-based chatbots | AI-based chatbots |
| --- | --- |
| Use a decision tree | Powered by Natural Language Processing |
| Able to answer simple, predictable questions | Able to understand and interpret language |
| Limited to a given set of scenarios | Get 'smarter' with time |
So while rule-based chatbots are excellent for answering simple, predictable questions, AI-based ones are what you need when it comes to user engagement.
Why use chatbots? The benefits
Now that you know what a chatbot is and how both rule-based and AI-based chatbots work, it's time to answer the question everyone is most curious about: What's in it for business?
Let's get through the most important benefits one by one.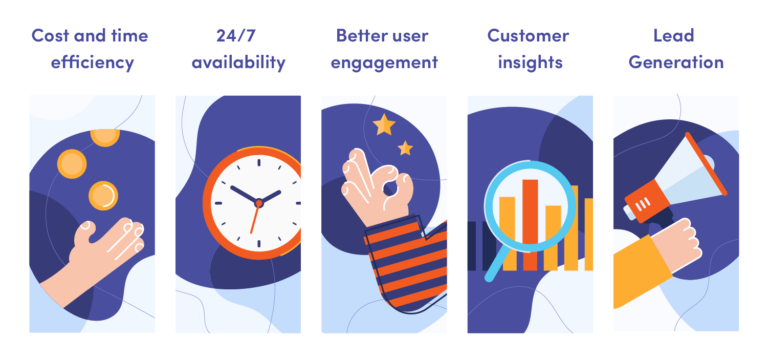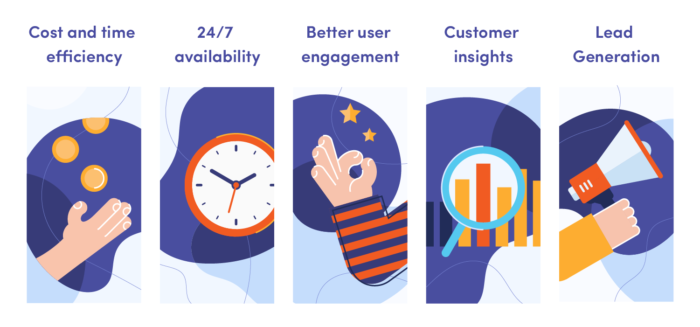 Cost and time efficiency
This is, without a doubt, one of the most important reasons for businesses to opt for chatbots on their websites and apps. Juniper Research estimates that by 2022, chatbots employed in the banking and healthcare industries will help companies save as much as 8 billion dollars. With chatbots, customer service becomes more streamlined, and the burden of answering simple questions is taken off your employees.
24/7 availability
With services becoming increasingly digitised, the pressure for constant availability is high for companies. One of the biggest advantages of using chatbots is that, unlike human employees, they are available to your clients all day, regardless of the time. This is especially beneficial for international businesses with customers based all over the world, and across different time zones.
Better user engagement
User engagement is kind of a result of the benefits we've already mentioned. Chatbots are very easy to interact with and can lead the client to the answer they've been searching for in an effective and quick way. An AI chatbot can also present your customers with a more personalised offer once it's learned enough, and guide them through the decision-making process even more easily.
Customer insights
With customer service available all day, you're able to gain a huge amount of data about your clients. What problems do they usually have? Which questions do they pose the most? What products or services are they most interested in? All this information is available to you through saved chatbot conversations. This newfound knowledge about your audience can improve your marketing strategy in ways you couldn't imagine.
Lead Generation
With better user engagement comes a better conversion rate. But that's not all there is to it. Chatbots can be fully adjusted for lead generation purposes, and support or even replace contact forms you use on your website. This approach is especially beneficial for e-Commerce, where chatbots can quickly provide the clients with relevant information about the products.
Summary
Chatbots have become a widely used tool to automate customer service, and they have proven they can bring the results that businesses need. With the technology growing as fast it is, the chatbots of the future will be able to carry out even more natural conversations with customers and help to improve the sales and marketing processes even further.
Want to build a smart chatbot for your company? Get in touch with us – our chatbot developers will build a custom future-oriented solution!