So after long months (or even years) of developing, designing and testing your mobile app, it has finally hit the market. It's quite exciting, right?
I'm not here to curb your enthusiasm. However, you need to be aware that your work is not done yet. Now, the time has come to step into the final, but no less important, phase of the development cycle: app maintenance.
This article will tell you everything you need to know about maintaining an app. Not only will you learn the business benefits of keeping your product always on top, but I'll also share the best ways to accomplish this.
Keep reading to learn more!
What is application maintenance?
App maintenance is the continuous process of updating, improving and adjusting the software application.
The question remains: Is app maintenance really a necessity? It definitely is and should never be overlooked! Just consider two essential facts:
The mobile market is currently highly competitive. With that in mind, you need to constantly provide unique and innovative solutions so that you will never get left behind by your competitors.
Technological advancements are changing at a breakneck pace. Even if you used cutting-edge technology to build your app, you can't be 100% sure that it won't become obsolete over time or that newer and better solutions will replace it.
Simply put, if you don't want your app to get rusty after a while, you need to maintain it consistently. It's as simple as that.
The release of the app is not the end of the journey. It's actually just a take-off. The success of this venture is determined by how good you are at adapting to the ever-changing market and technology.
No app just hits the sweet spot and stays there forever. There's a constant cycle of evaluation and improvement to keep from falling behind. The proper planning and execution of an app maintenance strategy are crucial to achieving the long-term success of any app.
The benefits of maintaining an app
A well-planned application maintenance process can deliver excellent business benefits in the long run. Here are the main reasons why you must make product maintenance your number one priority after its release:


Higher user retention rate. Keep in mind that annoying errors or obsolete content irritate users, making them less committed to your application. By ensuring smooth app performance and a seamless experience, people will be more satisfied and less likely to uninstall your app.
Improved user experience. A happy user is an engaged user. So make sure that the user experience is seamless and undisturbed. It's a straight road to building long-term relationships with them and winning their loyalty.
Higher ratings and more positive reviews. Remember that dissatisfied users are more willing to leave negative feedback in app stores. By fixing irritating errors, you reduce the risk of receiving low ratings and bad reviews.
Increased ROI. If the above arguments didn't convince you that app maintenance is a must, this one will. If you keep updating your app and adapting it to market requirements and user expectations, you will significantly boost ROI over time. This will allow you to seek new ways to cut expenses and attract new users.
As you can see, app maintenance is a must and making it a crucial part of your development process will pay off in the future. Be assured that it's definitely worth the effort!
Types of app maintenance
Before you step into maintaining your app, it's worth getting a general overview of the main types of app maintenance. This will give you an idea of what action you need to take in specific situations.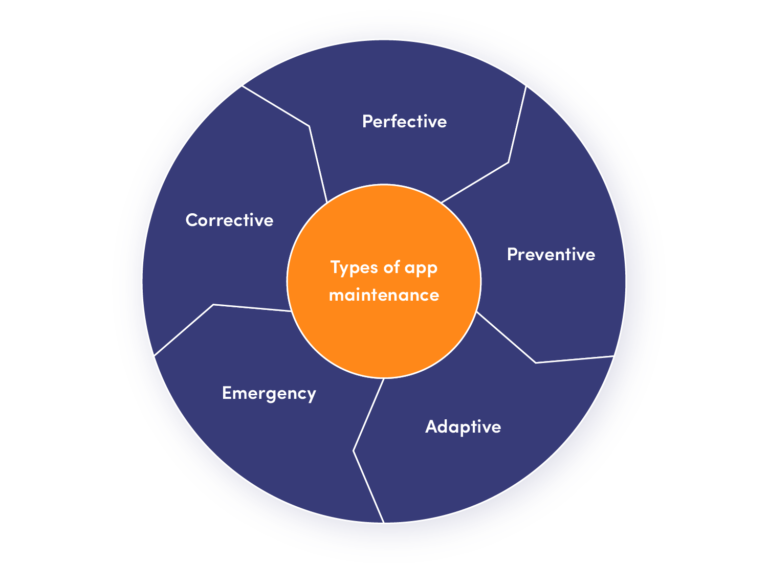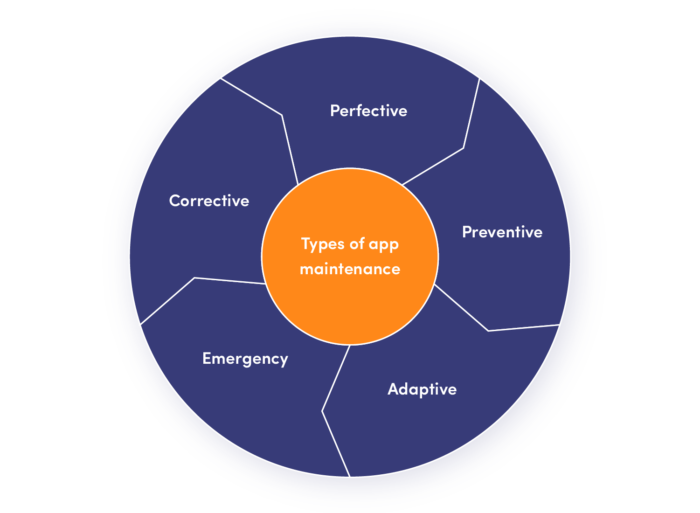 Perfective maintenance
User expectations and requirements change over time, and your app needs to always respond to them. Otherwise, frustrated and disappointed users will abandon your app and rush toward your competitors.
In perfective maintenance, you need to constantly analyse user behaviour and gather valuable feedback to introduce some necessary updates. Here, you can use various quantitative and qualitative UX research methods, such as surveys, in-depth interviews or user testing.
The main goal here is to always strive for perfection and ensure a consistently seamless experience.
Preventive maintenance
In preventive maintenance, the application is regularly tested by the developers, who try to eliminate any bugs that could potentially occur. This way, you'll be assured that your code is fully optimised, restricted and updated.
What's more, thanks to preventive maintenance, you'll also reduce the complexity of your app.
Adaptive maintenance
As I have already mentioned, the tech industry is constantly evolving — what was a groundbreaking technology yesterday may be a forgotten thing of the past today.
With that in mind, you need to adapt your digital product to current trends regularly. This means that your application will sometimes require not only code adjustments but also a transformation of the software environment. So be prepared for potential changes to an operating system or even the hardware.
Emergency maintenance
Various bugs and critical errors may occur in your application unexpectedly without any warning. When they arise, you should act quickly to avert disaster.
That's why it's extremely crucial to regularly analyse your app's performance and look for any disturbing anomalies. Once the issue has been solved, always carry out extensive testing to verify whether the situation is stable.
Corrective maintenance
Corrective maintenance focuses on fixing residual bugs and other errors related to design or coding. Here, you also take full responsibility for repairing defects that hinder the functioning of the software.
5 best practices for successful app maintenance
I have gathered 5 most essential practices that you should never ignore when planning your application maintenance process. They will help you will bring your digital product into the spotlight and keep conquering the market by following them.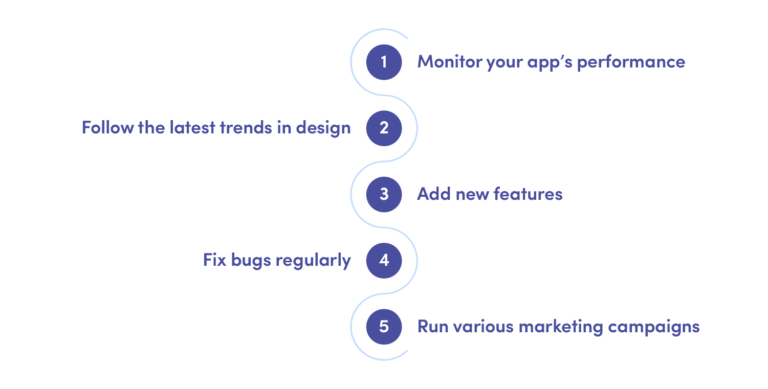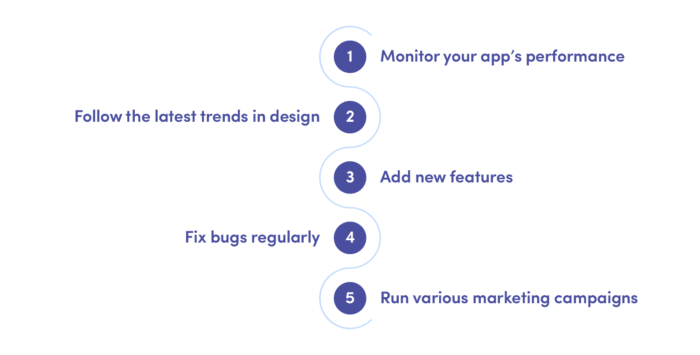 1. Monitor your app's performance
To quickly respond to user needs and improve their experience on the go, you need to monitor your application's overall performance regularly. This comprehensive analysis should include different metrics such as:
Net Promoter Score (NPS)
User satisfaction
Error rates
Loading time
The number of installs and uninstalls
Simply put, it's essential to monitor every indicator that may give you valuable insights into your app's performance and user satisfaction. With a data-driven approach, you will be able to make well-informed decisions on which app elements require improvement.
2. Follow the latest trends in design
Did it ever happen to you that you open a website or an app and immediately think, 'ugh, was it designed in the 90s'?
That's exactly what you need to avoid with your app. Even if it looks stunning and delights users today, it doesn't necessarily mean that its design will still create a 'wow' effect on people in a few years.
Trends in design tend to change in a flash. With that in mind, it is worth taking some time to update the design and give it a new and more fresh look. Users will surely appreciate this!
3. Add new features
By analysing how users interact with your digital product and receiving their feedback, you can get valuable insights into what features your app is missing. There are numerous ways to gather data from real users. You can:
Read user reviews in app stores or other platforms carefully
Conduct user testing
Carry out in-depth interviews with your users
Send out a survey
Or use different less conventional ways.
And what if a feature turns out to be unnecessary, and people refuse to use it? That's precious information as well. After all, as the app owner, you have the power not only to add features, but also to remove unwanted ones.
4. Fix bugs regularly
I have already mentioned this several times, but it does no harm to remind you once again.
Here the rules are simple: if you don't fix the bugs, irritated users will start moving away one by one and rush toward your competitors. You lose, they win.
That's why it's essential to keep an eye on technical issues, even the slightest ones that do not seem harmful at first glance, and remove them. Make Quality Assurance (QA) engineers an integral part of your development team – they will spot any disturbing bugs on the go and fix them as a priority.
5. Run various marketing campaigns
And last but not least…
Once your app is released, you start the battle for new users.
To bring more users and drive app installs, it's essential to allocate some budget to various marketing campaigns. And I'm not talking here just about increased activity in app stores (although ASO can do wonders and significantly increase your visibility!). You must try to reach the potential user via multiple channels. So invest some time and money in running a company blog, paid ads campaigns, newsletter or social media.
Maybe you haven't thought about marketing as part of your application maintenance strategy. However, to continuously bring new users to your digital product, you need to get people talking about it. And that's where marketing comes into play!
How much does it cost to maintain an app?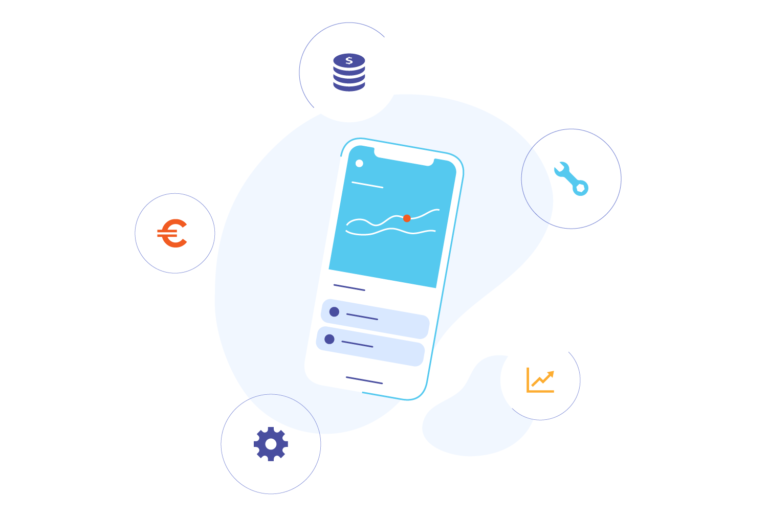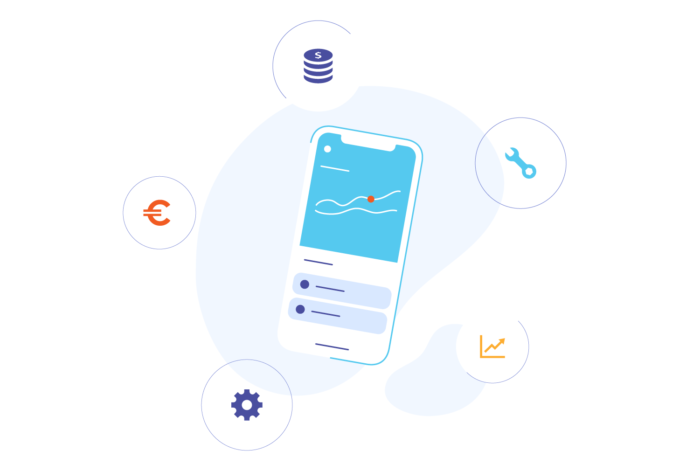 Now you know how your business can benefit from regular application maintenance and how to implement this phase into your software development cycle. The final question remains: How much it will cost you? And this is where the tricky part starts as the answer is that it depends.
So the most important factors you need to consider for your app maintenance process are:
Team size – the number of developers, analysts and designers involved in maintaining your app.
Software complexity – the number of screens and features the app has.
The technologies used to develop your digital product – native applications with separate codes for Android and iOS are more challenging to maintain than cross-platform solutions built with a single code.
Code quality – poorly developed apps with low code quality require more exhaustive post-release efforts.
It's important to remember that app maintenance is not a one-time job and needs to be regularly repeated throughout the entire app lifetime. That's why it's critical to plan your expenses for at least a few years ahead.
It's time to make app maintenance your top priority!
Maintaining an app is no longer 'a nice to have', it's definitely 'a must'. So whether you want to develop a small application or a feature-packed software, you need to include app maintenance in your development process. This way, you will be able to scale your business in the long run, achieve the boldest goals, and stay relevant in the game.
Have a killer app idea? Get in touch with our experts and see what we can do for you!