So, after the long months of creating product strategies, designing and developing, you've finally released your dream app. Congratulations!
But the challenge isn't over yet. One of the major obstacles you may face is a meagre retention rate, which indicates that your target audience downloads the app, opens it once or twice, and doesn't return anymore.
That's the moment when the frustration arises. After all, who needs an app that nobody uses? If you've discovered that your app retention strategies are not working and that people keep abandoning your app, it's high time to do something about it!
Like read this article, where I will present 8 top-notch ways to increase your mobile app retention rate. Let's dig in!
8 proven mobile app retention strategies
User engagement is the critical metric that determines your mobile app's success. That's why it's in your best interest to make your digital product as engaging as possible. How can you achieve that? These 8 proven user retention strategies are a recipe for success and high mobile app engagement rates!
1. Simplify the onboarding flow
The first impression of your mobile app is critical. That's why the onboarding process needs to be spot-on! So make it as easy and intuitive as possible. You have no time to lose – as Appsee states, the app has only 20 seconds to impress users. Otherwise, they will close it and never return.
By creating a simple and intuitive onboarding experience, you can encourage users to explore your app and discover its hidden features. Just so you don't have to take my words for it, a study conducted by Localytics proved that mobile apps can increase retention rates by over 50% with a proper onboarding flow.
So, how can you provide a flawless user onboarding experience? Follow these best practices:
Highlight the core features of your application – let users know what to expect.
Don't bombard mobile app users with irrelevant questions – only ask for what you really need to know.
Keep the sign-up process short and easy – provide the option to register via different social media accounts like Facebook or Google.
Avoid the obvious – in many cases, explaining the navigation structure or icons is unnecessary and only extends the onboarding process.
When your users open the app for the first time, you want them to think: "That's exactly what I was looking for". And believe me, your retention rate will rise!
2. Ensure good performance
If you strive to increase customer retention, good app performance is one of the first things you need to take care of. Today, we are living in a constant rush, which doesn't exactly promote patience. So, I must warn you: if your mobile app is sluggish or various errors keep popping up, it doesn't exactly call for high engagement. People will simply move on to a better product. After all, there's nothing more annoying than an app that just doesn't run the way it should.
If you want to ensure good app performance, first and foremost you need to reduce app crashes, make gesture recognition more accurate and decrease loading times. But that's not all! In fact, the list of the most pressing tech issues is quite extensive. Take some time to monitor the overall app performance, and if any errors or bugs occur – fix them immediately.
3. Deliver a personalised user experience
It's nice to feel valued and well taken care of. Not only while interacting with a mobile app, but in life in general. By personalising your content, you can get much more loyal users who will appreciate your customised approach. Surprisingly, many apps still fail to fit content to their users and don't offer tailor-made app experience. That's where you enter the game and win them over.
But how do you achieve that? You have all sorts of data at your disposal. Believe it or not, data is actually one of the most powerful assets you have. So use it wisely to get to know your users a bit better.
Which data can come in handy when creating user profiles? First of all, you can collect information about their location, interests, age, gender, frequency of application use, behaviour, conversion history, and so much more. The more data you have, the more customised your app becomes.
Keep in mind that there are two types of personalisation:
Static personalisation – factors that always remain the same, like the user's name in push notifications
Dynamic personalisation – factors that evolve, like behaviour or conversion history.
Speaking of successful personalisation strategies, one particular example always immediately pops into my mind: Spotify. The experts at Spotify use personal data and know exactly how to do it right. They collect historical data to create customised playlists. It's a win-win situation: Spotify gets more loyal users, and music lovers receive top-quality service.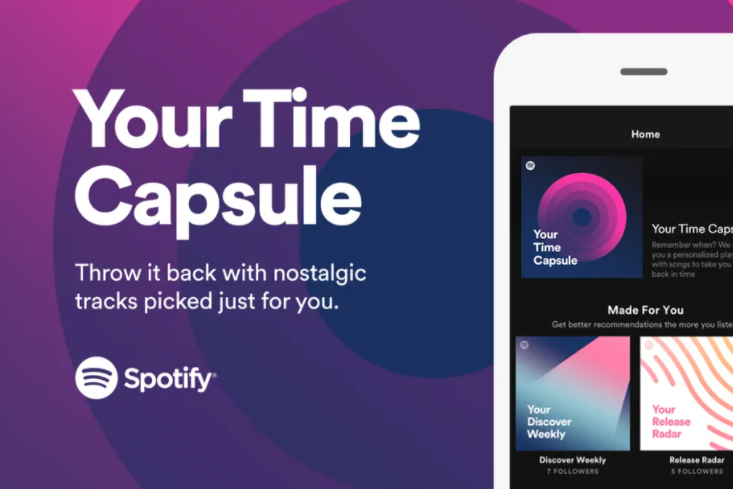 4. Gather user feedback
Want to keep your users interested and constantly engaged? You need to listen to what they have to say. And you can do this by gathering valuable user feedback. For example, you can send surveys to your target audience and ask about their personal experiences with your mobile app or if they are willing to recommend this digital product to a friend.
Another great resource of information is to check app ratings and reviews on the app store page. Users eagerly share their opinions or at least give star ratings. I'm sure you check them as well before you decide to download an application. Find out what reviews users leave on Google Play or the iOS App Store and make good use of them.
And what if they not only praise your app but also point out some irritating issues that need to be fixed? That's even better for you! This way, you will discover any problems your users face when interacting with your app. After all, there's always room for improvement and introducing updates.
Want to learn how to increase the visibility of your app store page? Read our comprehensive App Store Optimisation (ASO) guide and implement the best optimisation strategies.
5. Use in-app messages
Wondering what in-app messages are? Let's start with a quick reminder! So, in-app messages are highly targeted notifications that a user receives when interacting with a mobile or desktop application.
There's a wide range of in-app messages to choose from:
AI chatbot solutions: a pop-up window with a personalised message, usually offering help and welcoming new or returning visitors.
Product tours: mostly in desktop applications, a solution that guides users step-by-step through the most relevant features.
Mobile carousels: full-screen notifications that let you onboard new users and briefly inform them about the app's features or some promotions.
Interestingly, most users are keen to interact with in-app messages. According to Airship, it is one of the most effective messaging channels, with an average engagement rate of 44% for high-performing apps and 26% for medium-performing apps.
With in-app messaging, you can deliver a direct message to the right person at the right time based on their personal data and previous activity. For that reason, I can say, without a doubt, that it's one of the most powerful user retention strategies available.
6. Send push notifications in the right way
Push notifications are one of the most proven strategies to grab user attention and keep them coming back to your app — but only if done the right way. Why do I stress this so strongly? Because overly intrusive notifications won't engage users, that's for sure. The outcome could be quite the opposite: irritated users who keep getting meaningless messages will uninstall the application sooner rather than later.
So, how can push notifications achieve the desired results? Stick to these rules:
Personalise the push notification you send. I know I've already mentioned personalisation several times, but remember: there's nothing worse than getting generic messages.
Find the balance. Don't overwhelm users with loads of push notifications.
Timing is critical. Set the right timing, considering user behaviour and the context of your message.
Include CTA.
When it comes to push notifications, you should learn from Netflix. It doesn't spam you with all sorts of meaningless messages. Instead, it reminds you of the series and movies you are probably dying to watch. And that's exactly how you should use push notifications to increase user retention!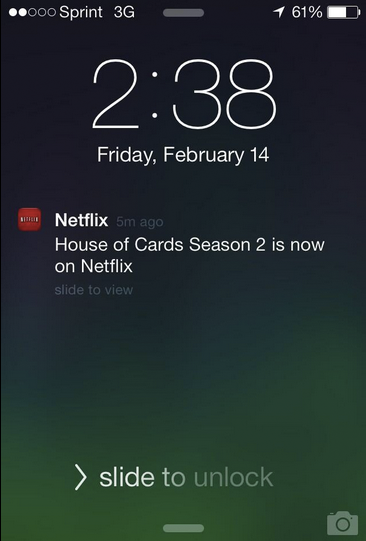 7. Reward loyal and engaged users
People love to be rewarded. In fact, 69% of them check whether they can expect some reward programs for loyal customers when choosing an online store.
Various rewards, discounts or referral programs make users believe they have made a great deal and have saved money on a product or a service they would buy anyway. What's more, it's a great way to convince users to choose you over your competitors.
A Canadian businessman, Gabe Zichermann, formed a hierarchy of rewards according to their power to engage current users and boost retention rates. This hierarchy (easily to remember as an acronym SAPS, which comes from Status, Access, Power and Stuff) demonstrates that giving free or discounted stuff is relatively costly and hardly effective. Instead, it's better to choose cheap yet powerful rewards, such as introducing indicators of high user status.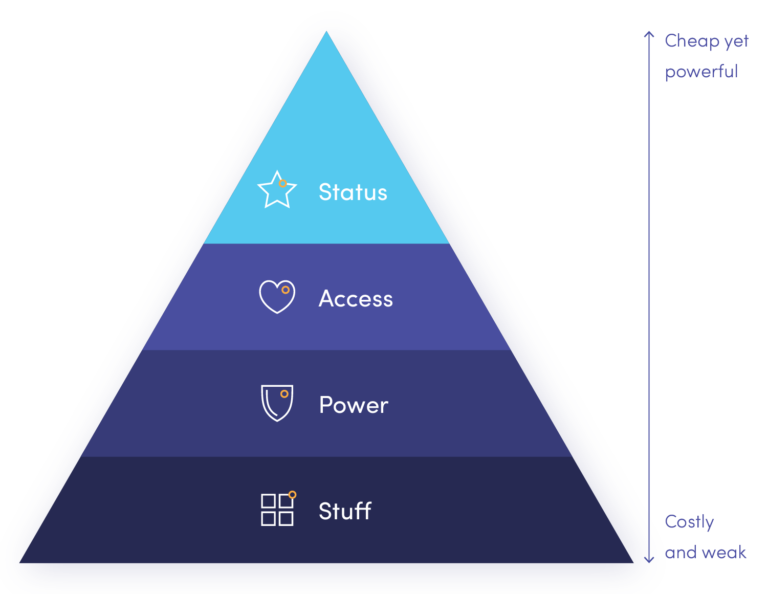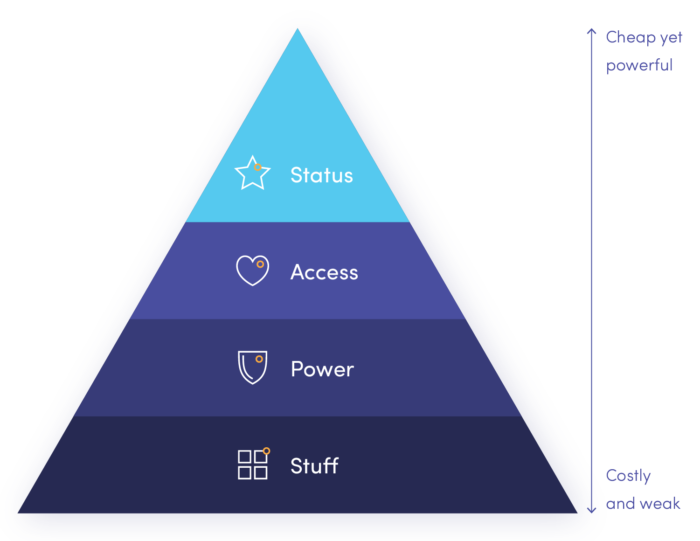 So, what types of rewards can you offer to loyal customers? These can be:
Time-limited discount for the next purchase made in your app (Stuff)
Joining the VIP program (Status)
Access to freebies (Stuff)
Unlocked access to premium content (Access)
Moderator status to control other users' activities (Power)
Immediate access to updates and new features (Access)
Opportunity to get brand new products in advance of other users (Access)
Badge or leaderboard that indicates high user status (Status)
8. Create a visually stunning user interface
And last but not least…
As it turns out, 94% of the factors that affect user first impressions are design-related. So the truth needs to be told: people really judge your mobile app just by looking at it.
That's why you need to invest some time and money to craft a beautiful and eye-catching UI design. It can, in fact, attract user attention, engage and hold them much longer. And that is what you're striving for, right?
Looking for some visually stunning design solutions for your mobile app? See our design board and get inspired!
How can you boost user retention? Final thoughts
User engagement is the critical factor that determines whether your app fails or succeeds. But how can you retain users?
Get to know your target users and deliver real value.
Be sure that your mobile app solves user problems and responds to their needs so they will keep returning to it.
Keep in mind also that a personalised approach is always a winning app retention strategy. With it, you can gain more loyal users who will keep returning to your app and recommend it to others.
Don't forget to set KPIs and track critical metrics right from the start. By constantly monitoring Customer Lifetime Value, Loyal Customer Rate or Customer Churn (these are just some relevant indicators), you will discover what needs improvement.
The struggle for high user retention is a continuous process.
So, I have three words of advice for you: analyse, iterate and update. That's how you can increase app retention rates!
Build a user-oriented and engaging digital product with our software development agency!
FAQ
How can you get more users for your app?
There are many effective ways to increase the number of app installs and attract users.
First and foremost, promote your mobile app online by creating various digital marketing campaigns. You can:
Use different social media platforms
Promote the app on your website
Invest in paid advertising on social media or search engines
Start email marketing campaigns
Increase SEO efforts
Remember, however, that most users discover mobile apps by browsing app stores. So if you want to increase app visibility and improve conversion rates you should, first and foremost, focus on App Store Optimisation (ASO).
What is the app retention rate?
App retention rate is the percentage of users who don't uninstall the app and keep returning to it over a given period (a week, month, quarter, or year).
How do you calculate app retention rate?
The most common method to calculate the app retention rate is to divide the number of monthly active users by the total number of monthly app installs. This way, you will obtain the aggregate retention rate, expressed in percentage (%).
What's the average app retention rate?
There is no single "average" app retention rate this number can vary widely depending on factors such as the app's category, target audience, and user experience. Studies have shown that the typical retention rate for mobile apps is around 25% on day 1 and after 30 days it falls to around 3-4%