UX design has taken the digital market by storm. No doubt about that. Today, top design studios and software houses are introducing UX as an integral part of their process. What's more, UX design and its principles are the subject of lectures at top universities around the world.
So, what is all the fuss about? And what makes UX design so powerful?
Here's a quick guide to walk you through the concept of UX services. Let's dive right in!
What is User Experience (UX) Design?
User Experience design is the process of creating a final product that gives users a meaningful and relevant experience. The quality and efficiency of UX depend on whether the product integrates enchanting design with functionality, usability and intuitiveness.
Want to understand the basics of UX better? For this purpose, UX designer Peter Morville created a user experience honeycomb, a visual tool indicating all the key factors that constitute a positive user experience.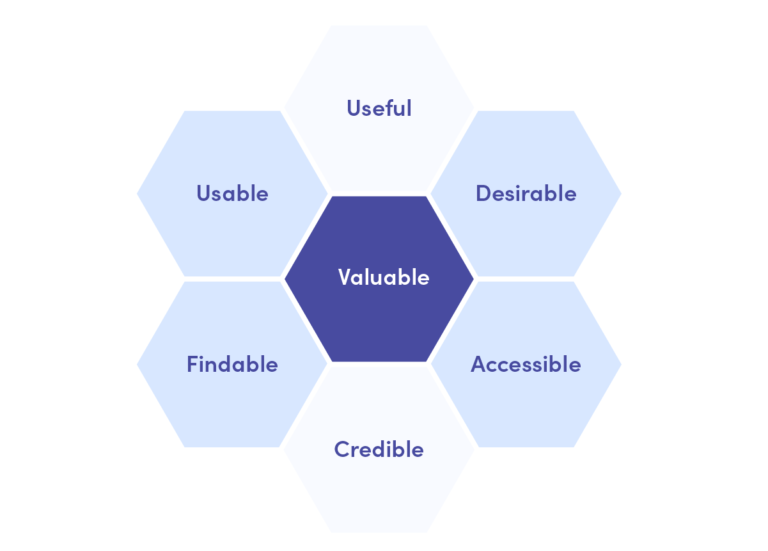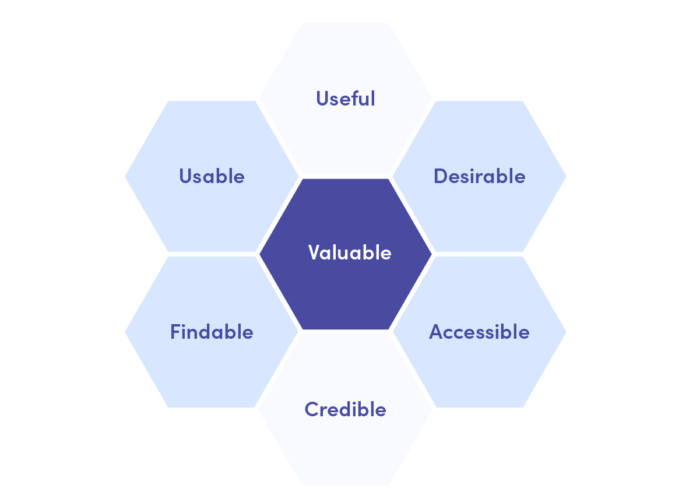 According to ​​Peter Morville's honeycomb, the perfect UX design should be:
Usable: a digital product should be designed with common components to make it simple and easy for less advanced users as well.
Useful: every mobile app or website and its elements should be created with a purpose and respond to user needs.
Desirable: a product needs to be visually appealing and to the point.
Findable: a product should have clear and intuitive navigation, allowing users to find all relevant information quickly and effortlessly.
Accessible: all users with different types of disabilities should have equal access to the digital product.
Credible: a business and the product it wants to launch need to be reliable and trustworthy.
All these elements combined form a valuable user-oriented digital product that significantly improves the experience.
Keep in mind that a good user experience is an ever-evolving concept. Eventually, users themselves determine whether a product gives them a pleasant experience. All in all, the quality of your UX is always verified by user behaviour when engaged with your digital product, system or service, and – most importantly – your business results.
UI and UX design – what's the difference?
In product design, we often hear about User Experience (UX) and User Interface (UI). These terms are nothing new, yet many people still misuse them, believing that they are synonymous. So, how do UX and UI differ?
Here's a simple example that clearly shows the difference between UX and UI. Let's assume that you're a car developer. In this case, a car is the product, and a driver is the user. The car interior and its components – that's the interface. Eventually, the driving experience, e.g. the way you operate it and quality of the car, makes it a user experience.
Considering this analogy, we can see that the UI design only involves the surface part of the product: its layout, visual design, colours, fonts and branding. UX, however, determines to what extent the interaction with your product is enjoyable and pleasant.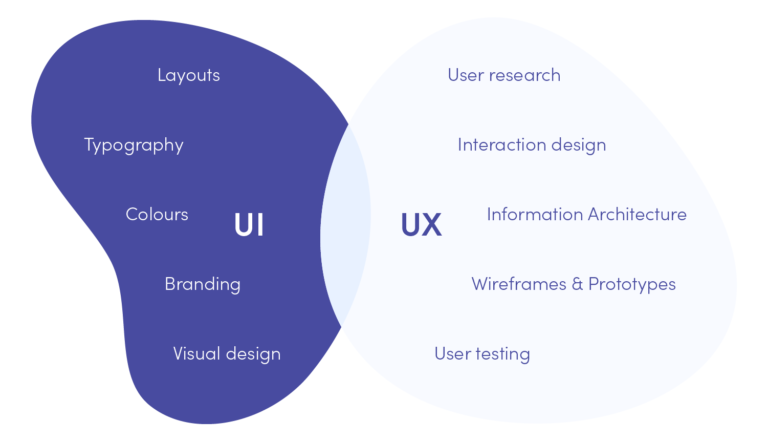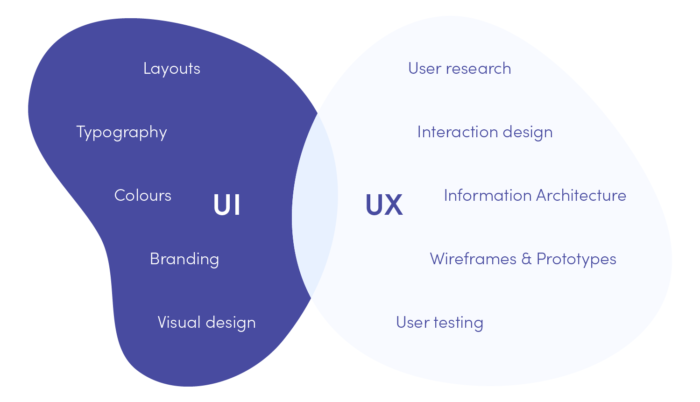 What is User-Centered Design (UCD)?
UCD always puts users and their needs at the heart of the entire process. That was quite easy to guess, right? But let's dig a little deeper to discover what User-Centered Design stands for and what techniques it uses to understand users better.
In UCD, user satisfaction is the priority throughout the entire cycle of building a digital product – from setting the right business strategy all the way to the release. The design team can make better and more accurate decisions by involving end-users from the very beginning and receiving their feedback in every phase. Simply put, UCD helps to align business goals with user expectations and needs.
UCD is an iterative approach, which means that if the outcome isn't satisfying, the process needs to be repeated once again. Each iteration involves 4 main phases:
Understand the context of use: who, when and under what conditions will be using this solution
Specify user requirements: what needs to be done to ensure the success of the solution
Create design solutions: building from low-fidelity concepts to high-fidelity complete prototypes
Evaluation: testing how the design is performing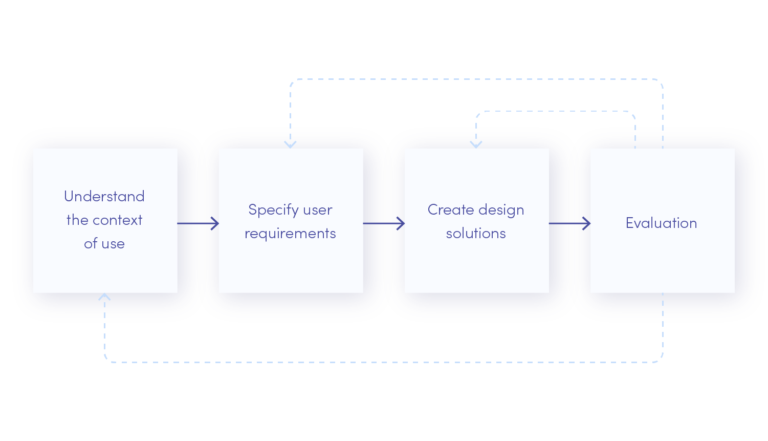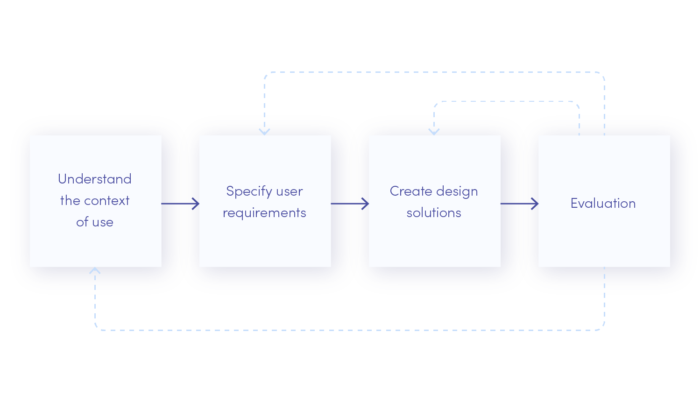 Disciplines of User Experience design
User Experience design is a broad term that covers numerous disciplines. Depending on the digital project, you may introduce various areas into your design process. But the 6 core disciplines always remain the same. And these are:
Information Architecture (IA): structure, organisation and presentation of information
Interaction Design: exploring how users interact with a digital solution
User Research: gathering detailed information about potential users, their pain points, needs, expectations, and motivations
Visual Design: creating visually appealing digital solutions
Content Strategy: preparing writing guidelines and creating meaningful and valuable content
Usability Evaluation: measuring user satisfaction when interacting with a digital product.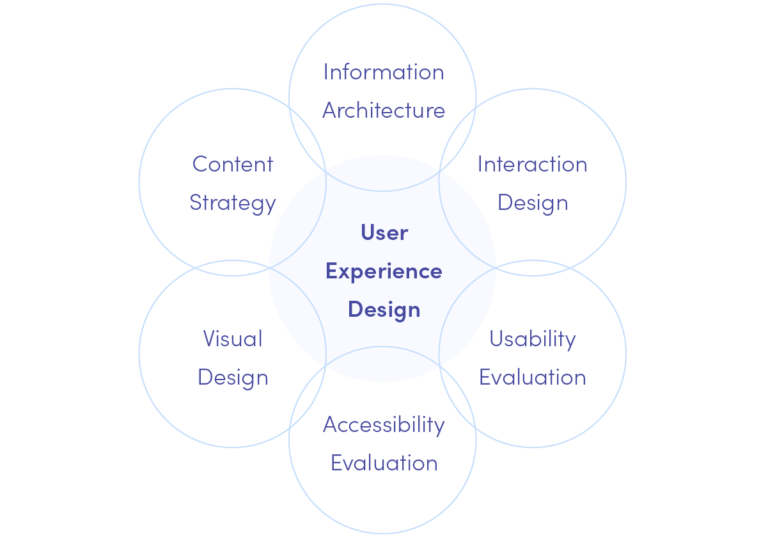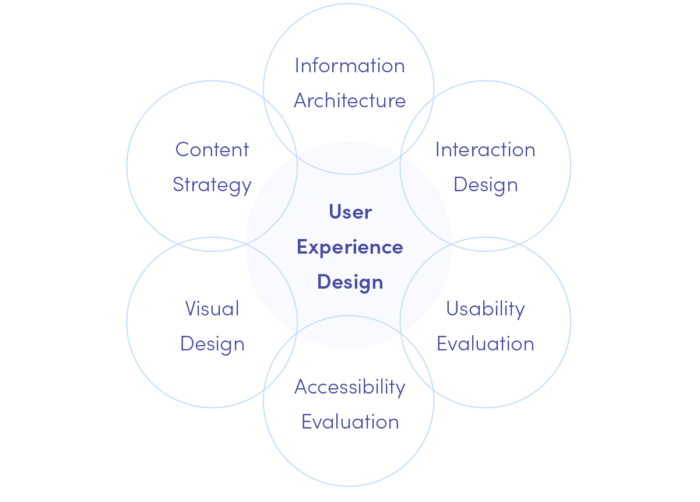 But wait, there's more! Depending on the complexity of the digital project, UX design may also include sound design, SEO (as well as the emerging SXO trend), web analytics, ideation, and design thinking.
Let's not forget that human factors play a central role in UX. Therefore, knowledge of psychology, sociology, philosophy, and cognitive science is always a powerful asset. As you can see, UX design is an umbrella term that combines various disciplines, not only design-specific ones.
UX design process
UX design is a complex process that, if well-executed, can craft excellent user experiences. Note that this process requires different approaches for different types of products. However, you should never neglect or skip these 5 core phases:


1. Product definition
Before UI and UX designers can even get down to creating a digital product, it needs to be defined first. This is one of the main phases that determine whether the project succeeds or fails. After all, without specifying what you want to achieve with your mobile app or website, you will come to a dead end at a certain point.
At this stage, you need to:
conduct in-depth interviews with stakeholders
consider the value proposition, i.e. who will use this digital product and why
create early sketches
2. Market & user research
Now that you know what digital product you want to create, it's time to start the UX research part. Although many stakeholders and entry-level designers tend to skip this step, properly planned and well-conducted research of both the market and users can save you a lot of time and money later on.
Good research gives valuable information – it indicates user pain points and identifies their fears, motivations and limitations. To get to know your potential users better, you have numerous quantitative and qualitative research methods at your disposal. Some of the things you could try include:
in-depth interviews
online surveys
card sorting
focus groups, and so much more!
It's also the ideal opportunity for market and competition analysis. Check what industry standards are, what solution has already been implemented and how your product can fill the gap.
3. Analysis
Once you have collected the data during the research phase, you can get down to an in-depth analysis. If you want to validate your assumptions, this is the time to do so.
When conducting the analysis, you can:
Create user personas (don't confuse it with a proto-persona!), i.e. a fictional person representing a segment of your target audience with particular pain points, needs, background, behaviour, habits, etc.
Build user journey maps that present how users interact with the product.
Create user stories: short sentences that help to understand the user's point of view.
4. Design
At this stage, UI designers enter the design studio and do their magic.
What exactly needs to be created? That depends on the project and its complexity. But a project will never work without a set of icons, information architecture (IA), brand colours, fonts, images, mockups, buttons and so on. All this together creates the user interface design.
5. User testing
So you've already defined, researched and designed your product and want to release it. But hold on! There is still one more step you need to take: testing.
Once your app or website has been built, you should run usability tests with a clickable prototype. It's a great solution for validating how users behave when interacting with your product.
Conducting usability testing sessions may bring tangible benefits for you. This way, you will discover what still needs improvements, get unbiased opinions and save time and money.
Challenges of User Experience design
UX design covers the entire user journey: from the first interaction with a digital product to completing a purchase. As UX is a complex process by its nature, you may face various challenges. Here are the most pressing issues you need to bear in mind:
Mobile-friendliness
Currently, more than half of global website traffic comes from mobile apps. According to Statista, in Q1 2021, they generated 54.8% of the traffic – that's more than ever before!
What does all this mean for you? You need to make sure that your website is mobile-friendly and that users can easily navigate it on different mobile devices. Avoid errors such as content wider than the screen, text too small to read, or clickable elements placed too close together.
Accessibility
Accessibility means including users with different disabilities and ensuring that they have facilitated access to your digital product. When designing your website or mobile app, you need to be aware of various impairments: vision, physical, cognition, dexterity, or hearing.
Applying the best accessibility practices is worth the effort. This way, you increase customer reach, improve your brand image, and gain a competitive edge.
Want to learn more about how to build a discrimination-free digital product? Check out our guide to accessibility in app development!
Smooth performance
Today, users are in a constant rush. So if you think they have enough patience to wait 5-10 seconds for your website to load fully, you couldn't be more wrong. Google reports that even if a page loads in 3 seconds, the probability of bounce increases by 32%.
The same goes for a mobile app. If too many bugs and annoying errors keep occurring, then you can forget about a high retention rate.
Consistent design
To make your digital solution a success, you need to take care of its visual design. Here, one of the biggest challenges you may face is consistency.
So, how can you keep the whole project consistent? Luckily, you can create a design system, a set of reusable assets and components that you and your team can use at every stage of designing a digital product. The design system may also include design principles, brand identity (colours, fonts, icons, illustrations, spaces, shapes, etc.). You will find all the guidelines for the project there. All in one place!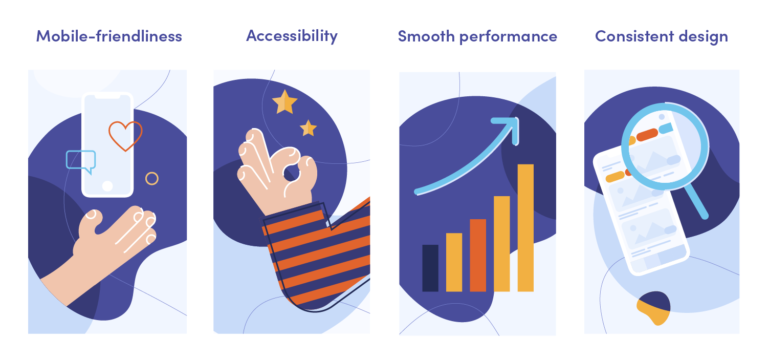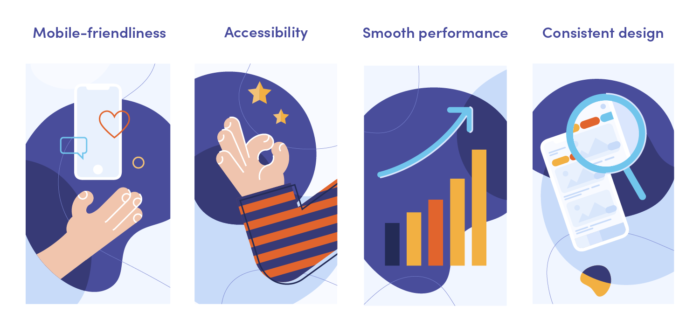 User Experience Design: final thoughts
Great UX design is a recipe for the inevitable success of your digital product. So whether you like it or not, user experience should always be an essential part of your design process. By putting users at the heart of your design, ​​you will gain a better understanding of your potential users: their fears, pain points, expectations, needs and motivations.
Whether you are just about your first digital product design from scratch or need some UX-based support with your existing one, our design teams are here to help you!
FAQ
What is the business value of UX design?
UX design has an immense impact on your business success for several reasons:
By providing an engaging experience and adjusting the product to the end-user needs and expectations, you gain more loyal customers who choose your brand over your competitors.
Thanks to UX design, you can increase conversion rates as satisfied users are more likely to perform key actions such as subscribing to the newsletter, completing the purchase or creating an account.
By conducting thorough UX research, you can better align your product with your long-term business goals.
UX design prevents you from investing money in releasing unnecessary features.
You gain extensive knowledge about your target audience: their pain points, fears, motivations, and limitations.
Does UX design have a future?
It definitely does!
UX design has been an integral part of developing digital products for many years now. And for a good reason! With UX design, companies can better tailor products to users' needs and, thus, introduce meaningful and engaging solutions.
So it should come as no surprise that both enterprises and startups have begun to recognise the power of UX design in creating digital products. For this reason, they are more willing to hire UX designers or outsource such services to UX agencies. We can, therefore, assume that in the future, the market demand for UX design will be even stronger and will impact not only digital products but also everyday things.