Travelling is currently more accessible than ever before. We can effortlessly organise a quick city break or even a several-month journey around the globe while sitting comfortably on the couch. Finding convenient flight routes, selecting fascinating tourist attractions or arranging travel insurance – all this wouldn't be possible (or at least it would be much tougher) without various digital solutions that support travellers in every aspect of the entire tour.
Simply put, travellers rely on mobile apps during their trips and use them for various reasons. Consequently, the demand for travel apps is reaching its peak – in Q2 2022, the number of app downloads hit an all-time high of 137 million in the U.S.
It all leads to one conclusion: this is the perfect time for travel mobile app development, as demand for them is higher than ever. But what should the mobile app include? Which features to build to make it stand out from the competition? This article will give you some hints!
9 must-have tourism app features to include in your mobile app
Want to make sure that your tourism mobile app fully responds to travellers' expectations and will support them throughout their numerous journeys? Here's what users value the most in travel mobile apps. Include these essential features to provide the best travel experience.
Keep in mind, however, that the set of app features will depend mainly on your travel mobile application type. Travel management, insurance, flight or booking apps will address completely different user needs, consequently determining which features should be implemented for each of them.
1. Booking system
Let's begin our list with one of the most popular features that can be included in mobile apps for travellers. With this functionality, people can easily find accommodation or flights, book them right away and, importantly, keep the boarding pass or check-in confirmation always close at hand. What's more, booking functionality can additionally give users the possibility to receive relevant notifications. According to a survey from Sale Cycle, users especially value app notifications informing about the trip status, price changes or reminders about the booking process.
Keep in mind, however, that the booking feature applies to many more fields than just accommodation. Your travel application can also serve to book a visit to a much-frequented museum or a city-guided tour. The choice is yours.
Here, Booking has been the undisputed leader for years now. In 2021 alone, the revenue of this world-famous online booking app reached $10.9 billion. To compare, in the same year, Airbnb generated $5.9 billion.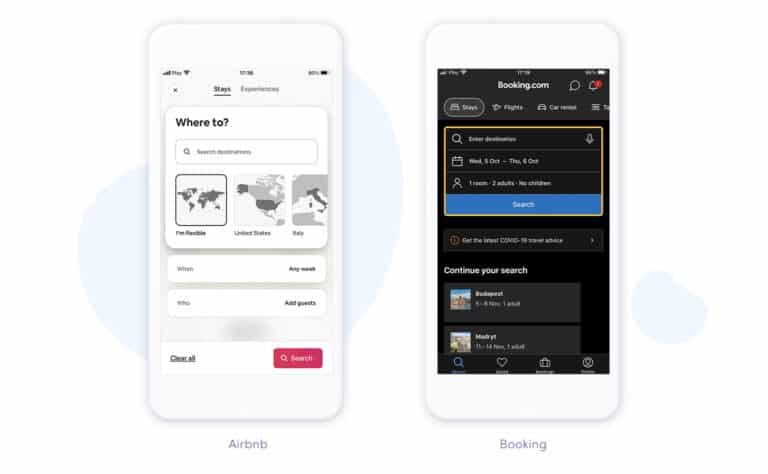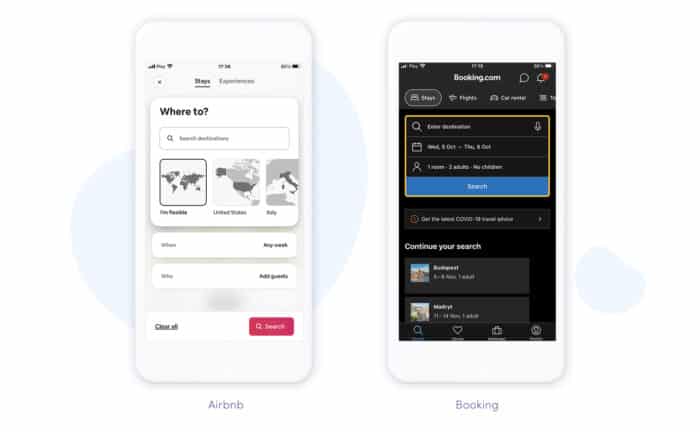 2. In-app translation functionality
The world is open to travellers more than ever. For that reason, international travelling has become a global trend that is still on the rise. However, making trips to foreign countries comes with one very significant barrier: a foreign or a regional language.
Such an issue may cause some unpleasant situations, especially when travelling abroad to countries where the English proficiency level among locals is insufficient. That's why it's crucial to include an in-app language translator in your digital product, as it allows travellers to handle stressful and unpredictable situations. And as it turns out, 46% of people avoid travelling to a country where only a foreign language is spoken.
Here, AI may also be additional support thanks to voice recognition or computer vision solutions. By processing images or videos, you will be able to implement a visual translation. With it, travellers scan text, and the translation appears immediately in the app.
3. Payment integration
Want to run a hotel or flight booking mobile application? Or, actually, any app that allows in-app purchases? In that case, implementing a fully secure payment gateway is absolutely a necessity. Users should be assured at every stage of the payment process that the money they send and the sensitive data they share won't get to unauthorised third parties. What's more, thanks to payment integration, they will be able to complete the transaction within your app.
Moreover, it's crucial that your payment options also include a currency rate converter (or at least an option to check currency exchange rates). Such a feature will respond to one of the most irritating issues travellers face when travelling abroad, i.e. the necessity of converting money to local currency and counting it. From a tourist perspective, such a feature may be handy in many situations – when paying for transportation, attractions, hotel etc. By implementing a currency converter, users won't need to use separate currency conversion apps when paying, which will fasten and facilitate the payment process.
4. Travel itinerary generator
Wouldn't it be nice if someone else could plan the trip for you and take it off your shoulders? Well, travel apps can do it, and with quite good results.
A travel itinerary generator is something that millions of travellers around the globe have been waiting for. The mechanism is quite simple: all users need to do is enter their dream travel destination, and the feature will generate the whole plan, including the best attractions or accommodation. The goal of this feature is to make planning trips way easier and more accessible.
One of the most successful "guidance" travel apps is TripAdvisor. As its creators state, "No matter what type of trip you're looking to take, the Tripadvisor app makes planning easy and lets you guide others on their way." The app lets users plan practically every aspect of their trips: from finding the best local restaurants through discovering fascinating must-see tourist attractions to booking a stay in a hotel.
Another popular all-in-one travel application, TUI, not only serves to find a dream destination or make a booking but also manages the entire trip using a single application.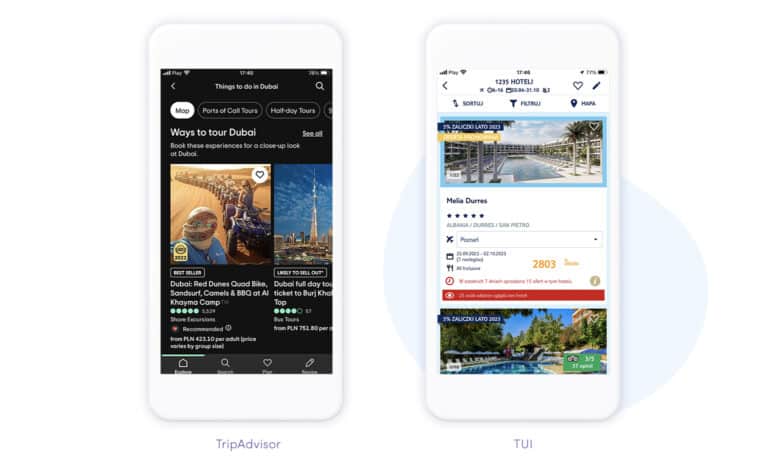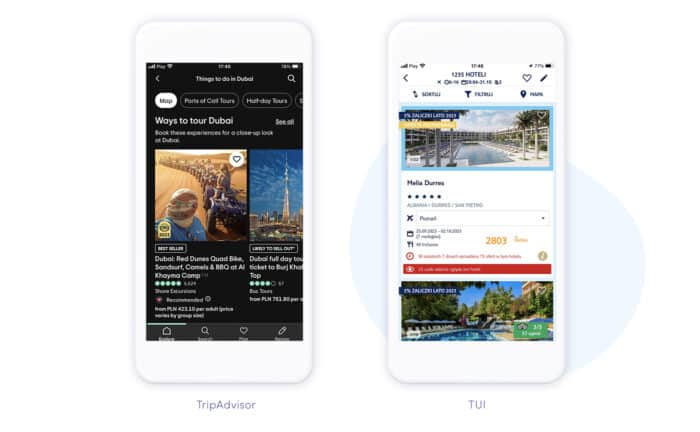 5. User ratings and trip reviews
Here's a safe bet: you read reviews and check ratings on different occasions. Moreover, positive user feedback builds your trust and supports your decisions. Am I wrong?
In the online world, we are constantly surrounded by intrusive ads that attack us everywhere. So, user ratings and reviews remain practically the only source of genuine opinions. And the rule also applies to the leisure industry. Did you know that almost 80% of users consult online reviews when selecting where to stay on their trips? Or that for 58% of customers, reviews help choose restaurants? User opinions have immense power, so following the best industry examples, you should implement the review system in your app.
The above-mentioned TripAdvisor even built its unbeatable position in the travel industry as a place where users can find legit reviews shared by the community. And believe us – users will be eager to share their experience if given such an opportunity.
If you want to learn more about how to collect more app ratings and reviews from your users – be sure to check our guide!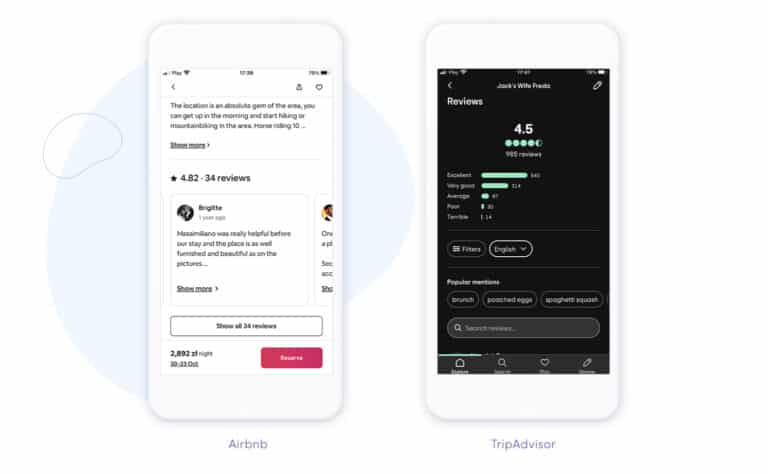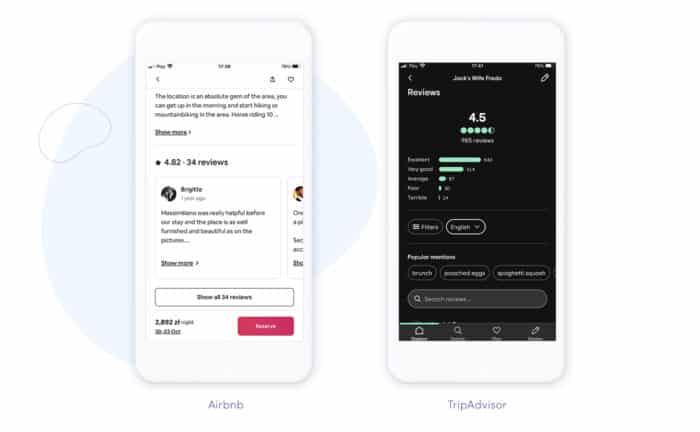 6. Easy transport order
Whether people need to get from the airport to the city or want to organise a cross-country road trip – they need safe and reliable transportation. And that's another thing that may cause some frustration. People travelling to a completely new city for the first time may find it challenging to move around, find the nearest train stations or choose a trusted transport provider to get them from point A to point B. That's why transportation services in your travel app may be a game-changer that significantly boosts the user experience.
Here, you can choose a variety of transport-related features to add to your travel app:
Uber-like cab services
Car rental
Blablacar-like community-based travel network
Booking public transport tickets
One of the most successful examples of transport features in the mobile app was implemented by Skyscanner. This world-renowned large travel company has gained massive popularity for its search engine for airlines. Over time, the company expanded its feature set to include car rental. Today, on this all-in-one mobile app, travellers can find a car abroad effortlessly within seconds.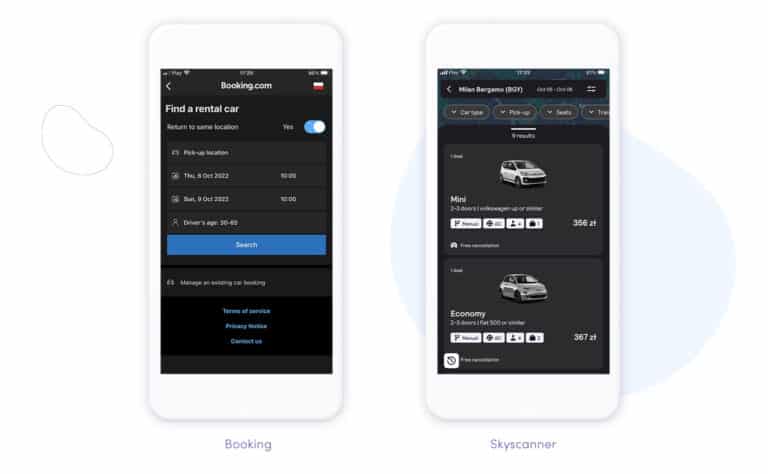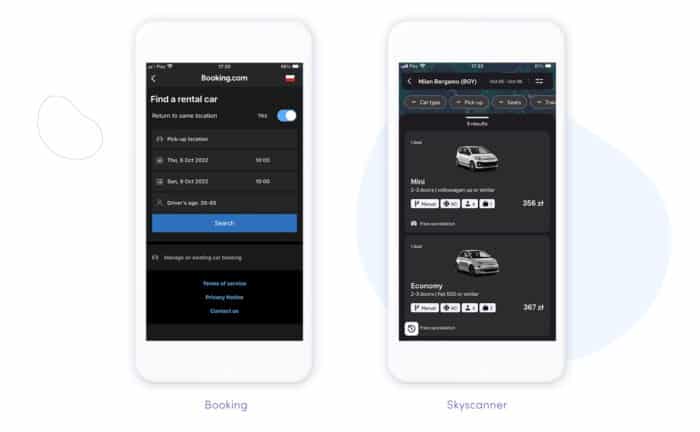 7. Weather forecasting
Sometimes bad weather can be an unpleasant surprise that ruins long-waited holidays. Massive storms can lead to flight cancellations, heat may make discovering cities unbearable, and sudden temperature drops can take all the fun out of spending evenings at the beach. For these and many other reasons, travellers want to know exactly what the weather will be like.
Implement the weather forecast feature in your app and alert your users of upcoming weather predictions. What's more, following the example of apps like RainViewer, you can also add the possibility of getting accurate short-term rain and storm forecasts for a given location.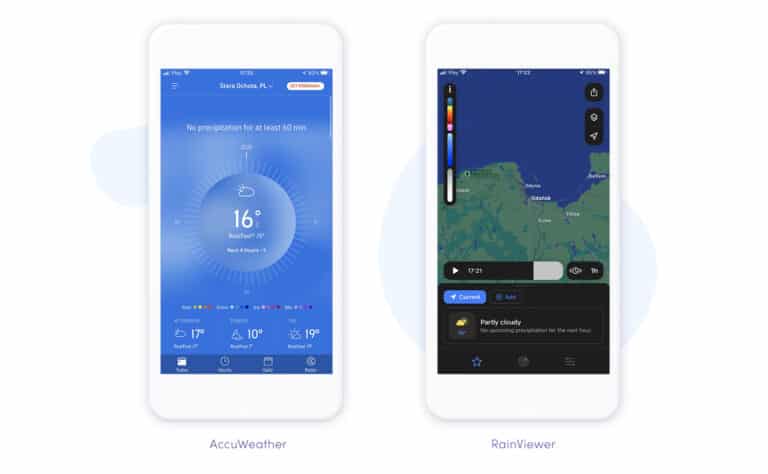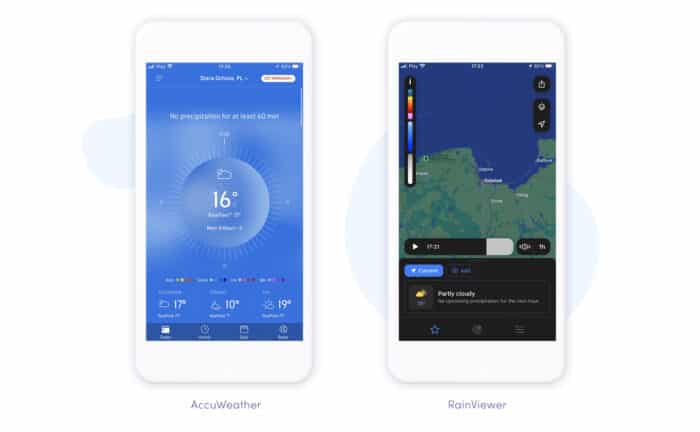 8. Emergency services
Sometimes during a journey, some unexpected situations may occur. Certainly, we hope we will never have to use emergency numbers or look for the nearest hospital, especially while travelling in a foreign country. However, life can bring us surprising turns of events, that's why travellers should be prepared for any emergencies.
This feature may genuinely save lives. By implementing a location-based emergency services feature, you can show travellers in a given area valid emergency numbers or directions to a pharmacy, clinic or police station.
Such a feature will give users a sense of security, and you will send a clear signal that you make their safety a top priority.
9. Social media integration
And last but not least…
In your travel mobile application, you can add the option to integrate your travel app with the most popular social media platforms like Instagram or Twitter. In this way, users will get to share experiences from their journeys through their social media accounts. And believe us, people love posting about their holidays – as many as 60% of travellers do it on their trips.
Importantly, to facilitate the integration, remember to add a log-in option within your app, which will significantly speed up getting access to the social media profile.
In fact, the social aspect is a vital part of practically any type of mobile application, and travel apps are no exception. Our experts at Miquido had the great pleasure of creating a network mapping app for YouMap. The project's primary goal is to enable users to create customised maps based on their personal experiences and interests, which they will then be able to share with the world. Learn more about the YouMap project!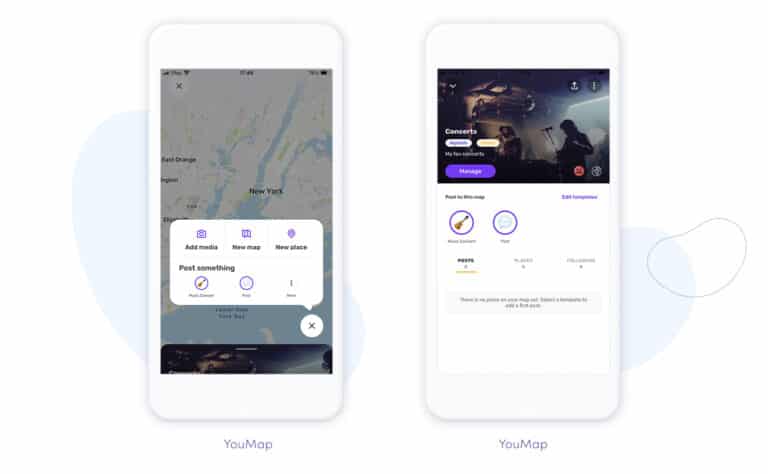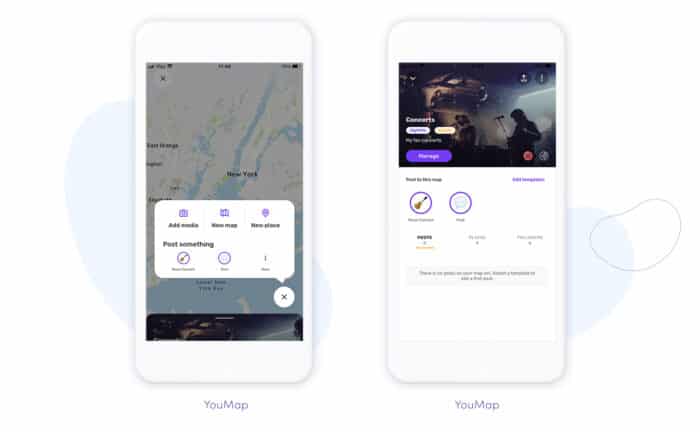 Invest in travel app development!
As the travel and tourism industry is brimming with great digital solutions, you need to bring something extra to the table to make your mobile app stand out. Implementing revolutionary user-oriented features may be a great way to achieve that.
The above list presents top features that can boost travellers' user experience and make them want to reach for your app on every journey. However, remember that your app purpose and business goals should dictate the final choice of your feature set. So choose whatever works best for you!
Need help building a dedicated travel mobile app to support your bold business goals? Or maybe the travel market is not exactly your niche, and you need an experienced entertainment app development company? Contact us – our entertainment or travel app developers will create a custom digital solution that will delight users.