Want to conquer the mobile industry? I must warn you: the market is highly competitive, so in order to stay in the game your application needs to be spot-on and bring real innovation.
Believe me, the stakes are high – if your app doesn't respond to current user needs and/or it is outdated, people will shift to your competitors. If you don't keep up, you lose. It's as simple as that.
So, why not bring the latest technology innovations to your application and stay one step ahead? This approach will pay off in time!
Download a free report with 50+ of the latest facts and stats on the future of the mobile industry!
If you want to check out what else is shaking up the mobile market in 2022, I've got you covered! In this article, I present 8 game-changing trends in mobile app development.
Let's dive right in!
8 current trends in mobile app development
These trends have been on everyone's lips in recent months. Keep up with them and build a future-oriented mobile app that will support your bold business goals:
Let's begin with one of the most apparent app development trends that revolutionised the mobile industry some time ago.
If you're still wondering what AR/VR solutions are and where you can find them, here's a quick recap. AR (Augmented Reality) and VR (Virtual Reality) are the technologies that enable the presentation of real-world elements in their computer-generated versions.
Although AR and VR are two very similar concepts, their difference comes down to their required devices. AR can be easily reached from your smartphone, whereas, for VR, you need a headset to access a virtual world.
How can you incorporate AR/VR solutions into your app? That depends on the industry. Here are the most common uses:
Education: gamified learning, digital learning materials, interactive classes
e-Commerce: 3-dimensional product visualisation, real-life photography simulation, virtual try-on solutions
Entertainment: social media face filters, 360° virtual tours
Healthcare: hospital navigation, patient education, surgery assistance
This list of AR/VR uses goes on and on. It would be highly challenging to mention all the possible applications of this technology. Like I said, your choice should depend primarily on the industry and your target audience's needs.
One thing is for sure – AR/VR solutions are here to stay, and they will continue to rock the mobile industry.
The benefits of this technology are countless! They include, but are not limited to:
higher user engagement
increased customer reach
enhanced sales
And so much more!
So, why not consider implementing such solutions into your digital product?
In recent months, 5G has been one of the hottest topics in the mobile market. And for a good reason. This revolutionary technology has already transformed the way we use our mobile devices. We can predict that its impact on app development will be even more potent in the future.
By 2026, there will be 1.4 billion mobile devices connected to 5G. So, I'm not talking about the distant future here. The revolution has already begun!
5G is shaping the mobile market in many ways:
It contributes to the further development of the already well-known solutions such as the Internet of Things, Augmented Reality, HD video streaming or Supply Chain.
It supports the ultra-fast transfer of massive amounts of data.
It ensures a richer user experience and increases retention rates.
It provides more connectivity for users worldwide.
But most importantly: 5G unlocks new business opportunities.
Simply put, with 5G technology, the world of mobile apps will never be the same, whether we want it or not.
The truth needs to be told: artificial intelligence has turned the mobile industry on its head. And while it's actually nothing new (after all, we've been using various AI solutions in mobile development for many years now), it's still one of the most powerful trends that will shape the future of apps.
We can say with certainty that AI will be the dominant trend in the coming years as well. It is estimated that the artificial intelligence market will reach a value of $190.61 billion in 2025.
So, which AI-based solutions can drive your app's success? The number of different future-proof technologies available is enormous. You can implement:
Voice assistants (also known as speech recognition technology)
Text recognition
Image recognition
Product recommendation system
Face detection
Object identification
Predictive maintenance
Whether you're going to develop an app for healthcare, education, fintech, tourism, entertainment or e-Commerce, AI solutions can be a driving force for you. Simply put, AI will prevail over practically every industry.
So what keeps you waiting? Go with AI software development and leave your competitors far behind!
Cross-platform app development means building one universal codebase that works perfectly fine on different operating systems, like iOS, Blackberry, Windows or Android, instead of creating native codes separately. This widely popular technology allows mobile application developers to build code once using a single framework.
So, how can your business benefit from building a cross-platform mobile app?
You reach a much broader target audience by building an application that runs smoothly on the most widely used operating systems.
By using a shared codebase for different operating systems, you save time and money.
Cross-platform apps are easier to maintain than native ones since you only test and fix bugs in one codebase.
You significantly reduce time-to-market. With cross-platform frameworks, you can save even 30% of the entire app development time.
If you have decided on cross-platform development, you still have one crucial decision to make: which mobile framework to choose?
According to Statista, in 2020, software developers worked mainly with React Native and Flutter. Therefore, we can assume that these two mobile frameworks will solidify their leading position in the coming years.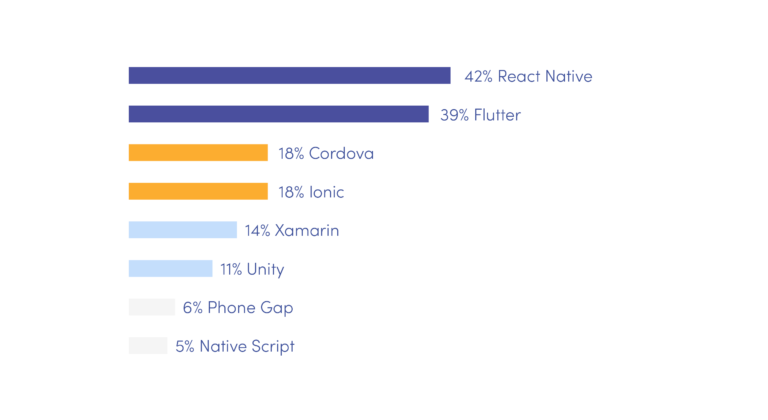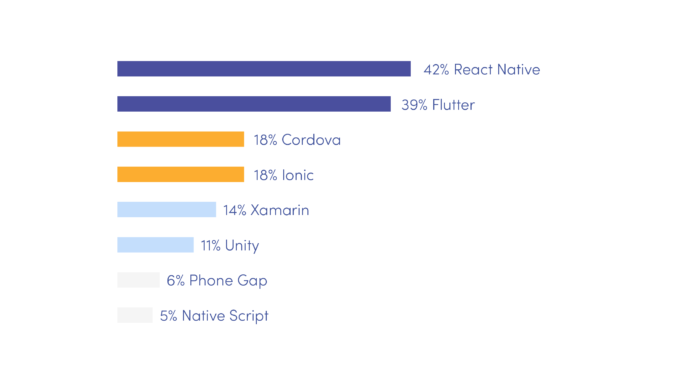 Choose our Flutter development services and leverage the full potential of this future-proof cross-platform framework!
Not so long ago, the majority of small-sized online shops and global e-commerce platforms were selling their product only via websites. However, times have changed for good, and today even the smoothest website is no longer enough to boost sales.
So, if you want to achieve massive success in e-Commerce, you need to build a mobile app for your business. BUT not any app that serves only to make purchases. Currently, mobile commerce (m-Commerce) is so much more! And here's why.
Numerous surveys demonstrate that customers use e-Commerce applications for various purposes. These apps come in handy when we need to compare prices, use discount coupons or save our favourite items for purchasing them later.
This opens up new opportunities for you. Do not just sell products but deliver a seamless customer experience from start to finish. How can you achieve that? By implementing additional features, of course! Your next m-Commerce solution could include:
product recommendations
chatbots
mobile wallets
personalisation, etc.
First, let's briefly recap what wearables are. In a nutshell, these are various electronic accessories designed to be worn on a person's body. Probably the first thing that popped into your head right now is a smartwatch. Am I right? This should come as no surprise, as smartwatches are the most notable example of this technology.
Even though wearables hit the mobile market a few years ago, it is now that this technology is growing at a breakneck speed. Today, we can easily find smart jewellery, smart jackets, smart glasses, and so much more.
But if you still have any doubt that wearable technology brings the revolution to mobile apps, let the numbers speak for themselves:
This year, end-users will spend approximately $81.5 billion on wearable devices worldwide.
In 2022, there will be over 1 billion wearable devices worldwide.
By 2027, the global smartwatch market will reach $96.31 billion.
Wearable tech is the ideal solution for many industries, but it's in healthcare that it can make a real difference. With it, you can build a patient management app or a fitness tracker that will monitor essential life-saving data, such as blood pressure, heart rate or biosensors. Just make good use of what this innovative technology offers.
We all love solutions that make our lives easier. And the Internet of Things (IoT) falls into this category. With this technology, you can control various domestic smart objects without getting up from the couch.
Things like LED light bulbs, domestic appliances, medical devices or toys can be managed via mobile applications. Basically, your mobile device can function as a remote control. And as this technology has become more intelligent and responsive in recent years, people are becoming more willing to install it in their homes and offices.
The global market of IoT is also on the rise – currently, there are more than 10 billion actively used IoT devices, and we can expect more than 25 billion of them by 2030.
Apple Pay, Samsung Pay, Google Pay – I'm sure you've heard of them (or even use them regularly). These are examples of mobile wallets, i.e. virtual wallets that store the data from the payment cards on your mobile device and allow you to make contactless payments. All you need to do to make it work is pair your payment card with the mobile app. It's as simple as that.
Mobile wallets are becoming an increasingly popular payment method among users around the world. According to the Global Payment Report, in 2023, 52.2% of online payments will be carried out via mobile wallets. This will leave practically no room for other payment methods.


What does all this mean for you? As people slowly adapt to mobile wallets, the lesson from this must be learned: implement wallet integration into your application, as this feature can make transactions much faster, easier and more comfortable.
Latest trends in app development. Final thoughts


The 8 trends from above are already shaking up the mobile industry and will play an impactful role in the future.
As you can see, the mobile world is constantly evolving. So, in order not to fall behind your competitors, you must always be up to date with the latest trends. Don't get me wrong – you don't necessarily need to implement all of these innovations into your app. But it's crucial for you to have a general overview of what trends are driving the mobile industry and to be able to adapt to these shifts.
Choose our custom app developers and build a future-oriented mobile app tailored to your needs!
FAQ
What is the future of mobile app development?
The mobile app industry is constantly expanding.
According to Statista, in 2023, mobile apps will generate more than $935 billion in revenue. What's more, it is estimated that there will be 7.49 billion mobile users worldwide in 2025. That's why we can say with certainty that in the future, the app development industry will be even more powerful than it already is.
Also, the solutions that currently shape the mobile industry will continue to lead in the following years. Therefore, when developing an app for your business, you should consider implementing future-proof solutions such as Artificial Intelligence, m-Commerce, AR/VR technology or the Internet of Things (IoT).

Want to learn more about the future of mobile app development? Read this!
What's new in mobile app development?
One of the most recent trends in mobile app development is 5G. This future-oriented technology was introduced in 2016, and since then, it has spread rapidly around the world. By 2021, 5G was already available in 620 cities, mainly in China, the US and South Korea (Statista).
Among other emerging innovations in mobile app development, voice assistants, biometric authentication, mobile wallets, wearables, the Internet of Things (IoT), and AR/VR are also worth noting.