Have you ever heard someone saying things like "We need to work a bit more on the UI of this website" or "The UX of this app is just terrible"? If product design is not your forté, and you don't know all the nuances, these two terms may sound like a secret language to you.
Even though UX and UI are nothing new in design, they are still used interchangeably and often incorrectly. So, it's high time to make things clear and explain once and for all what UX and UI designs are and how they differ.
Let's cut to the chase!
What is UX design?
User Experience (UX) design refers to the entire end-user journey, from the first interaction with a digital product, system or service.
SSimply put, the main focus of UX design process is to make a company's product as intuitive, accessible, functional, and user-friendly as possible to provide a seamless experience while interacting with the said product.
UX design's main responsibility is to answer questions like:
Is my digital product clear and intuitive enough?
Do users often hesitate when interacting with the product?
Which features of my product might be irritating or unnecessary?
How to facilitate the purchasing process to make it more seamless?
Is the navigation or information architecture entirely logical and well-organised?
Keep in mind that even though here I concentrate on UX design for digital products such as mobile apps, user experience means so much more. This approach can be applied to all types of everyday things.
Still don't believe User Experience design can make or break a project? Let's take a look at one of my favourite examples. This mug looks quite cute and innocent, right? But try to drink some tea from it. It may cost you an eye!
What is UI design?
UI (User Interface) design concentrates on the surface of the digital product and involves anything that users can interact with. In simple words, UI is the graphical presentation of the product.
It means that all visual interface elements you see on the screen from the moment you launch the product count as UI design. Therefore, user interfaces consist of the text you read, the buttons you click, the animations you view, and all other elements you can interact with.
When speaking of UI design process, you should ask yourself questions like:
Is my digital product visually appealing?
Is the text legible on different screen resolutions?
Have I chosen the right font and size?
Have I picked the best colour palette?
Do all micro-interactions work in-synch?
The main objective of mobile app UI design is to make digital products visually impressive. With an aesthetically pleasing interface you can improve product usability, build an emotional bond between end-users and the product and, thus, increase customer retention rate and achieve financial success faster and easier.
Key differences between UX and UI design
Now you know what UX and UI designs are, but the fundamental question remains: what are the key differences between these two fields? Let's find out!
Disciplines
As I have already mentioned, there is a common belief that UX and UI are all the same thing. In fact, this is far from the truth.
They are two design-related fields that are characterised by a human-first approach. However, UX and UI cover completely different disciplines. Here are the most relevant ones: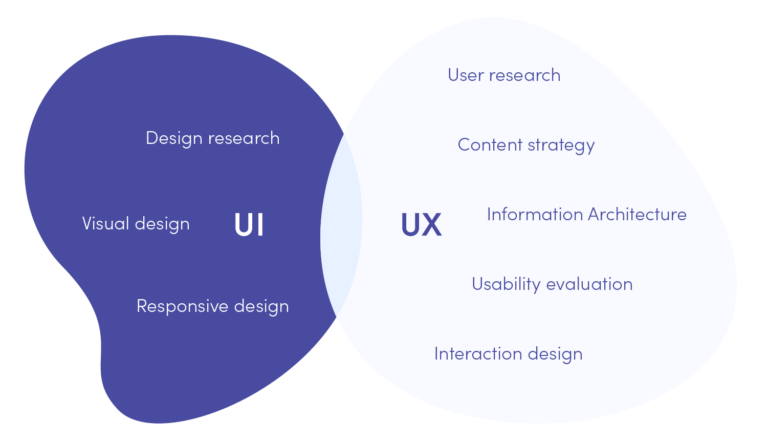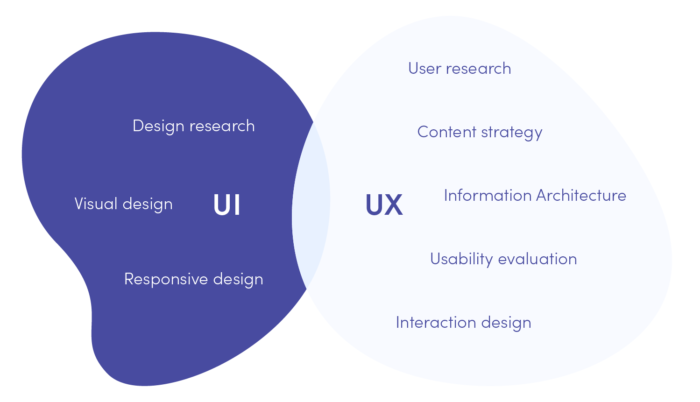 UX design disciplines
User research: analysis of the potential end-users with a goal of gaining a better understanding of their expectations, needs, pain points or reliefs; in order to gather valuable insights about users, there may be a number of UX research methods applied.
Content strategy: developing communication strategies and creating valuable content
Information Architecture: determining the structure of information and its presentation
Usability evaluation: testing user satisfaction
Interaction design: receiving insights on how users interact with the digital product
UI design disciplines
Design research: looking for design trends that can be used in the project
Visual design: creating aesthetically stunning digital solutions ​​and designing all elements of product layout, including colours, typography, animations, sounds, shapes
Responsive design: creating layouts tailored to different screen resolutions and various devices (mobile, tablet, desktop).
Purpose
Even though UX and UI share the same main goal: to make the digital product as user-friendly as possible. In fact, these two fields are introduced into product development for different purposes:
| UX design | UI design |
| --- | --- |
| Make the entire user journey meaningful and enjoyable | Make the product visually appealing and engaging |
| Tailor the digital product to the end-user needs | Adjust the product to different devices and screen resolutions |
| Gain extensive knowledge about users | Enchant users |
| Search for the most favourable solutions | Make the design consistent |
Designer responsibilities
Lately, more and more job offers don't consider UX designer and UI designer as two separate positions. It's quite the opposite: companies prefer to hire UX/UI designers.
But do the designers of these two specialities have the same roles and responsibilities? Not exactly.
So, let's check out what UI and UX designers usually do at work.
UX designer's role
In a nutshell, the central role of UX designers is to understand the potential end-users and tailor the digital solution to them. At work, they focus primarily on the functionality, strategy and structure of the product. That's why they closely collaborate with marketers, developers, business analysts, stakeholders, and product owners.
But to be more specific, a team of experts at a UX company is responsible for:
market and competition analysis
carrying out in-depth research using various methods, both qualitative and quantitative
prototyping and wireframing
conducting usability tests
analysing the results and introducing further improvements to the product
As User Experience is a multidisciplinary field, UX designers are engaged in various product development activities. They should have analytical skills, knowledge of current market trends, and a human-first approach. But that's not all. For UX specialists, expertise in cognitive science, psychology or frontend may also be a powerful asset.
UI designer's role
As UI designers are mainly concerned with creating aesthetically pleasing prototypes meant to delight and engage users. We can confidently say they are more artistic souls.
The main responsibilities of UI designers come down to:
analysis of recent trends in design, competitive analysis, looking for inspirations
creating a responsive product layout with all essential visual elements: buttons, text, font, colours, etc.
developing the brand identity and its visual communication
building style guides and component libraries to make the design of the entire project fully coherent
filling the project with interactive elements, including animations.
Simply put, UI design is a less complex field than UX. UI designers spend most of their time building beautiful, informative and engaging interfaces. For that reason, they should have a strong aesthetic sense, attention to detail and a solid knowledge of the latest design trends.
UX vs UI design: final thoughts
Even though UX and UI go hand-in-hand, they are two different disciplines. While UX is more of an analytical field focusing on user behaviour and customer psychology, UI brings in the best design practices to create a visually stunning product.
The key to success is to learn that UX and UI design should work in harmony and complement each other. After all, would it even be possible to deliver a seamless user experience without functional and intuitive visual design elements? And likewise: can you say that without extensive research, well-defined personas, or careful user testing, your interface will satisfy your target audience needs? I believe you know the right answers.