Building a thriving business and facing its day-to-day challenges is a tough nut to crack. Whether working on a rising startup, accelerating product growth after first launches, or maintaining a mature product, you probably know the feeling of being stuck in an endless debate of various solutions.
Maybe you even have a high-level business idea to validate with potential users at the moment? Are you under pressure to reduce the costs of product discovery & development? Do you experience troubles associated with looking for investors and preparing pitch decks? If you feel like it, we have your back – a design sprint process to help you frame your business problems effectively and successfully.
What is a design sprint and how can it solve your business challenges? Let's take a closer look!
What is a Product Design Sprint 2.0?
At Miquido, we are always open to exploring new trends, frameworks, and methods. Based on our experience, we came up with the Product Design Sprint 2.0 – approach, which can comprehensively cover your needs.
Product Design Sprint 2.0 is a fast-track methodology that is perfectly tied for validating ideas, solving challenges through rapid prototyping, and testing it on real users. The original idea of the five-day Design Sprint was designed in 2016 to kick off new opportunities at Google Ventures and was later optimised by various companies. The process is based on a four-day workshop, where your full attendance (as a client) is mandatory only in the first two days of the sprint – to make it easier to fit into your often busy schedule.
As of now, Design Sprint 2.0 is a common framework used in startups (Slack, Airbnb), as well as big mature organisations (Google, Uber, Facebook), schools, governments, and companies, including The New York Times or Nestle. A design sprint can be an unequivocal help at the beginning of the project, in the middle of development, or whenever you want to test a specific feature in your product.
Why do you need a Design Sprint 2.0?
What are the most important perks & benefits of Design Sprint 2.0 you should be aware of?
Building a product can look like a race against time and money. By following our approach, you can effectively save money potentially spent on your own venture building and, at the same time, increase your ROI metrics.
Many projects fail because of delivering the whole product at once, with multiple features. By defining the scope and hypothesis of the Earliest Testable Product, we can test it with the target user, quickly validate it and implement corrections.
Thanks to rapid usability testing sessions, you are given a piece of hard evidence for decision-making processes, resulting in smaller time wastages while implementing product design solutions.
Building a cross-functional, multidisciplinary team tailored to your individual needs gives you quality assurance and offers alignment with your company's culture. Team diversity encourages thinking outside the box, which is harder to achieve in a stagnated setup.
To sum up, the highest power of the design sprint is effectively squeezing work typically performed over a few months time to a few working days without losing the outcome quality.
How does a Design Sprint solve design challenges?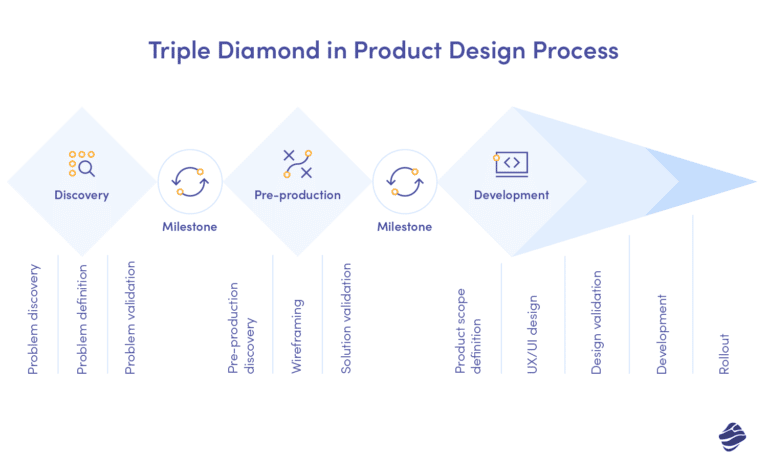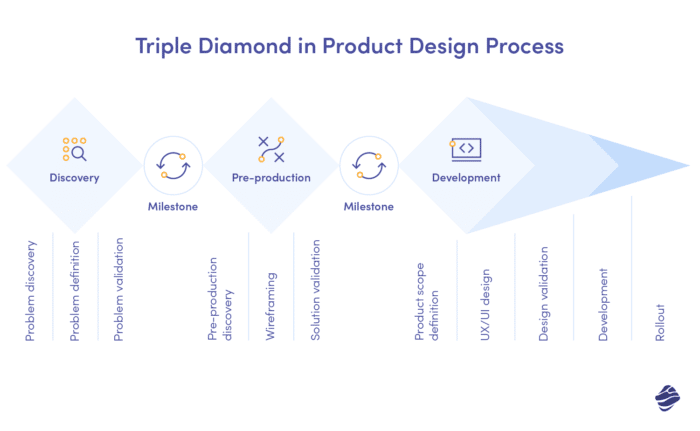 In the product design process driven by Miquido, we follow the triple diamond framework: a very flexible method fitted to the complexity of the problem.
Design Sprint 2.0 focuses on achieving the first two milestones. To solve the given design challenge, we start with problem discovery, covering the business value proposition, problem statement, and brainstorming on potential multidisciplinary solutions. Then, we create the wireframes, turn them into a prototype, and validate the problem with target users. After the successful sprint, you can briefly start the product scope definition of your problem and go straight into the MVP development, if suitable.
Design Sprint 2.0 Phases
Phase 1 – Design Sprint 2.0 Kick-Off
To prepare for a 4-day Design Sprint process, we need to gather all your documentation and collect missing data. Usually we start doing this one or two weeks before the Design Sprint week. We always meet with all stakeholders involved for a first quick kick-off to align on your sprint assumptions, long-term goals, and challenges. To dive deeper into the problem and avoid invalidation, we're re-researching the competition and market context with a team of UX/Product Designers and a Product Manager.


Phase 2 – Design Sprint 2.0 Week
Fully prepared, we go through a Design Sprint Week to validate your idea. Thanks to optimising the process from the original five to four days, you don't need to commit a whole week to it – your physical attendance at the meetings is mandatory only in the first two days. Workshops can take place remotely or in-house, as you prefer.
The first day is all about understanding the challenge and producing solutions. We start with defining your product vision and goals, as well as review your market specifics and analyse competitors. Fully prepared from the kick-off phase, we are able to review your target audience, empathise and highlight their most important problems. Based on real user needs we define your value proposition. Feeling inspired from competitive analysis, at the end of the day we sketch and brainstorm on various solutions to given problems. Without limitations, we can produce as many ideas as possible!

The second day starts with team members presenting the sketched solutions and then, voting on the best ones. Our goal is to decide on the user flow(s) that we want to cover in the following days with the prototype. With this in mind, we create a storyboard to have a common understanding of the scope for testing.
The following two days are dedicated to mostly UX/UI work. We work internally, updating you on our work progress at the check-in meeting. Everyone is heading towards the same goal – creating and testing the prototype that can validate the solutions. The third day is dedicated to building the high-fidelity prototype – we convert our ideas and storyboard into a clickable digital form.
We also set up user tests (corridor, preference or usability sessions), so that on the fourth day we meet with your target representatives to gather their feedback and see how they interact with the prototype. Our standard schedule includes five usability sessions. After that, we take some time to summarise the insights in the form of a report. This stage allows to validate the assumptions set on the first two days.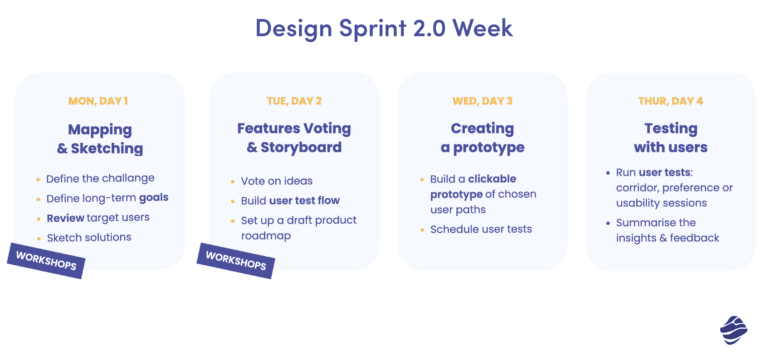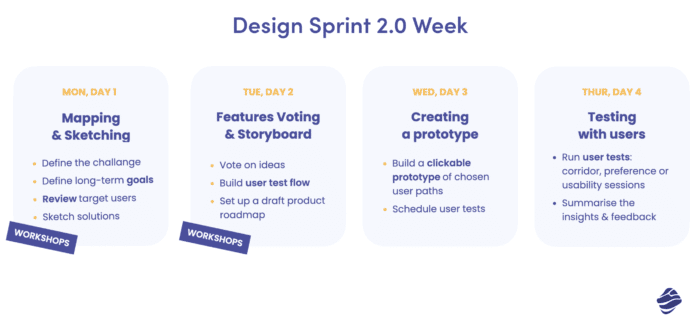 Phase 3 – Design Sprint 2.0 Summary
As our last step, after successful work, including workshops, prototyping, and testing, we gather all of the insights, key objectives, and user flows to hand it over to you. The report includes UX/UI recommendations and a proposed project roadmap outline – including team coverage and suggested development phases. They are later presented in our summary meeting with all team members involved.


Design Sprint 2.0 Deliverables
Together, we go through a tangible, summarised problem-solving process to push your business vision further. Design Sprint activities encourage collaboration through making, so everyone in our team shares the same vision. Within the Design Sprint 2.0 completed, we will prepare a complete set of deliverables needed for solid business and usability insights, as well as a detailed and prioritised roadmap of future improvements
What are the Design Sprint 2.0 deliverables?
Defined product goals and risks, a common understanding of the user flows. Defined target group, which will allow you to have customers' needs in mind.
Chosen user's paths high-fidelity wireframes in the form of a clickable prototype, walking through the application or feature. The prototype will be designed in a scalable way and prepared for the following UI phase.
Hypothesis set at the beginning of the process will be validated by the usability sessions. Thereover, you will minimise project risks by reducing time and budget on validating ideas.
High-level plan for product development, including milestones and next phases.
Design Sprint 2.0 deliverables are prepared in a way to enable you to quickly jump into the development phase (of course, only when the hypothesis is verified successfully) or redefine the business problem you're facing. When working with investors, the outcome deliverables will be perfect for building an outstanding pitch deck.
After the Design Sprint
With all the knowledge possessed during the Design Sprint 2.0, we will be more than happy to support you further on your development journey. Regardless of the Design Sprint outcomes, along with our product management, product design, and UI design teams, we can take your product journey further and advise you on the next steps.
With the successfully validated idea, we will follow the remaining triple-diamond steps to create the desired outcome of your business challenge. In the opposite case, based on the workshops' outcomes, we will rethink the opportunities and problem redefinition.
Design Sprint 2.0 Packages – which should you choose?
Here at Miquido, we prepared for you an extensive offer of three Design Sprint 2.0 process packages – adapted to various business needs and expectations. Their common core is a solid structure consisting of, mentioned above, Kick-Off, Design Sprint Week, and Summary steps.
For the standard and complex packages we deliver business reassurance through a workshop discussion about further recommendations, risks, and product challenges. We can dig deeper into data & market research (for example funnel analysis), product metrics, and data-driven design. Last but not least, we will cover a more complex UI interface work, resulting in a small key visual for the chosen user paths. 
Do you have a problem already defined and described? We can go straight into the ideation framework, putting it into the right context and your needs. Or do you feel lost in a proper problem statement? We will start directly from scratch, guiding you through the proper Design Thinking process.
In the table below, you can find the most important differences between Design Sprint 2.0 packages.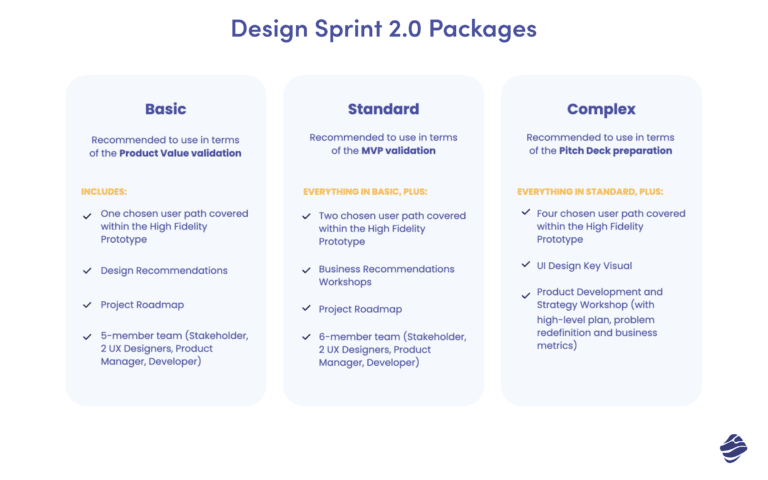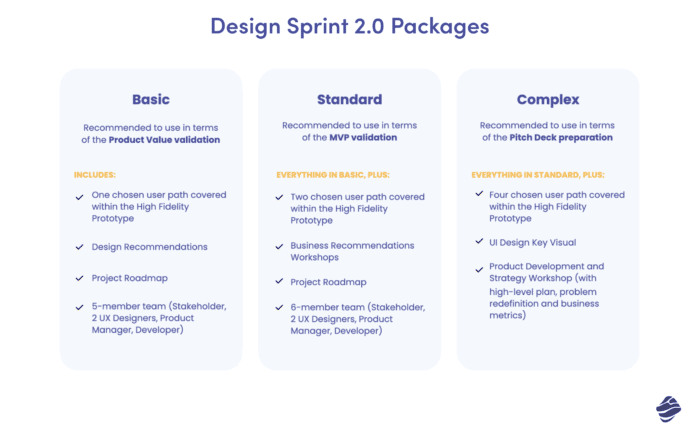 Our digital product design company will be absolutely delighted to assist you in choosing the perfect package tailored to your needs. Contact us, and we'll get back to you with comprehensive package explanations and pricing.