It's official: We're waking up in a world where mobile search exceeds desktop queries. 80% of Internet users own a smartphone and the use of smart TV, watches, wristbands and other things "smart" has been steadily increasing. Are you sure you are ready for this?
We're waking up in a world where mobile search exceeds desktop queries by far.
According to Statista (2020), the number of unique internet users stood at 4.28 billion, with over 90% of them going online on their mobile devices. The use of smart devices is on the increase, too. Globally, there were more than 8.74 billion IoT devices in 2020. This number is forecasted to triple and hit 25.4 billion in 2030.
Considering the data, if your business is not adjusted to the mobile change yet, it's high time for the switch.
Don't let yourself be left out of the race!
Instead, follow the expectations of your users and make your app respond to the market trends and customer needs.
Get to know why (and how) creating a custom mobile app may give your business a major boost.

Why you need to build a mobile app for your business
Mobile apps outperform mobile browsers
Evolution (and Google) force businesses to have mobile-responsive websites. Smartphones are becoming your clients' primary device for accessing the Internet and the object they interact with most often (even more than with other people!). Research shows that time spent on media through mobile apps is 89% vs. 11% spent through the mobile web. So what do you need to do to be a step ahead of the competition and even more customer-friendly? You clearly need an app. Faster access, more options, and only a click away!
Smartphones are often the primary device used by your customers for accessing the Internet.
According to eMarketer research, in 2019, the average person spent 90% of their mobile time in apps vs. the mobile web. The research was followed up in 2021, when App Annie published their report, showing that global consumers are spending an average of 4.2 hours per day using mobile apps. That's an increase of 30% from 2019.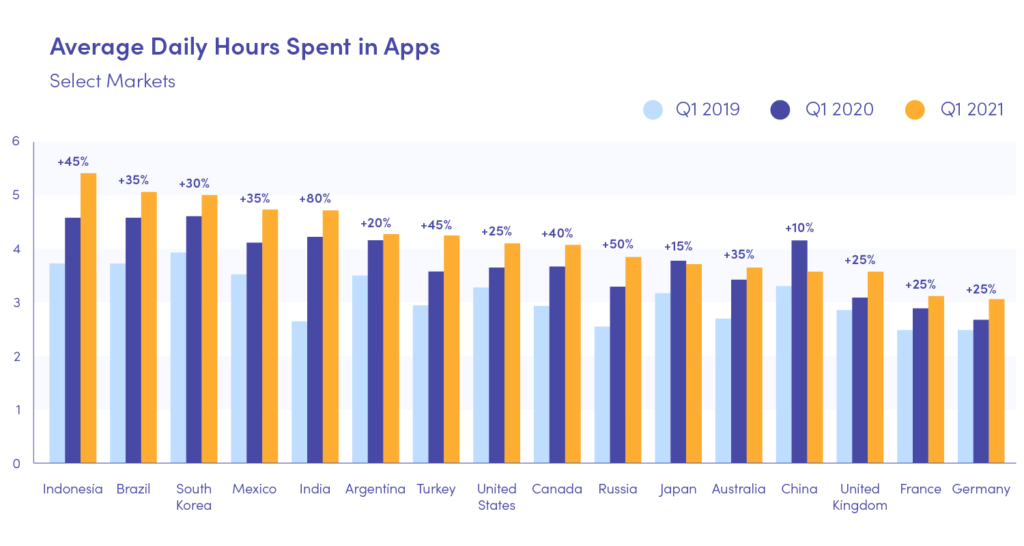 Now, just to the math. The conclusion is obvious: You clearly need to create an app. It gives your users faster access to your services with all the useful options only a tap away!

Your mobile app is your sales/marketing tool
Many modern brands are already using push notifications as a sales and marketing tool (Macy's, CVS, Groupon, to name just a few). If used wisely, push messages not only retain users, increase app launches (3 times more on average) and remind clients of your existence but can also provide information about special offers based on location. Offer personalized, relevant content and your customer engagement both online and in-store will grow!
If used wisely, push messages not only improve user retention or increase the number of app launches (3 times more on average) but can also provide information about customised offers based on location.
Offer personalised, relevant deals to skyrocket your customers' engagement!
There are a number of ways to increase user engagement, however, each aims to better understand the customer's needs and tailor your product to them.
Also, remember that both sales and digital marketing rely heavily on data analysis. Having your own mobile app allows you to get in-depth insights into your customers' in-app behaviour, preferences, and choices. The more you know about your customer personas, the better you may adjust your offer to their needs.

Mobile apps give additional value to your customers
Discount coupons, product reviews, loyalty programmes, or additional content useful for your users – these are just a few examples of extra values that your mobile app may provide to your customers.
According to Statista, 57% of US consumers used a mobile app to learn more about a product (2019).
If you manage to attract your customers with in-app content or perks and turn them into devoted users, then you're halfway through to increasing your sales.
Research conducted two years ago by Unnati Narang and Ventakesh Shankar (both of the Mays Business School at Texas A&M University) found out that mobile app users (in the retail industry) bought 34% more items than non-app clients. Moreover, they made purchases 33% more frequently and spent 37% more money than non-connected customers over 18 months after the mobile app launch.
Mobile apps bring more sales
The mobile app experience is simply more customer-friendly and trustworthy than the UX of web pages in mobile browsers. This fact reflects in the percentage of sales delivered with both sources.
According to the newest data (2021), the abandonment rate of mobile site shopping carts is 97% versus just 20% in mobile apps.
Why is the difference so clear?
First of all, processing transactions in the web store requires more customers to provide a lot of personal information, including:
Customer name
Credit card number
Credit card expiration
Card verification number
Shipping address
Billing address
Email address
Filling these in every time you make your order is extremely inconvenient for the customer. Plus, if you're doing it using a small smartphone screen, it's very easy to lose motivation and give up your purchase.
At the same time, mobile apps enable ordering within just a few taps on the screen.
Here, the process is simple. Once set up, the mobile app saves your personal details and doesn't require the customer to fill them over and over again while finalising the purchase.

Enable faster payments thanks to your mobile app
Experts predict that by the end of 2021, mobile commerce will account for 53.9% of total e-commerce sales.
With contactless payments, credit or debit cards, transfers, value cards, or micropayments, mobile payments seem the most convenient and fast way for customers to process their transactions.
Think about it:
TUI uses its mobile app to sell vacations.
HelloFresh to let their customers order personalised meal kits.
Why wouldn't you help your money will find you faster?

Use fun and let customers feel bonded to your brand
Do you consider games a pure waste of time?
Think again.
Colgate, KFC, Universal Studios — all of these brands created mobile games to draw traffic, increase user engagement or provide more conversions and better ROI. They also use it for analytics and reporting, while delivering simple, sheer fun to their customers.
Does the idea sound strange to you? If so, just have a look at the numbers:
In 2020, the total mobile app revenue reached $111 billion, a 24% increase over 2019. Games accounted for 71 percent of this figure.
Mobile applications – whether games or utility apps helping customers to use your company's services – are the true leverage for businesses and a direct response to customer demands. Below, you can find a few examples of successful apps from different industries.
How did they meet the needs of their users?
Successful mobile apps across industries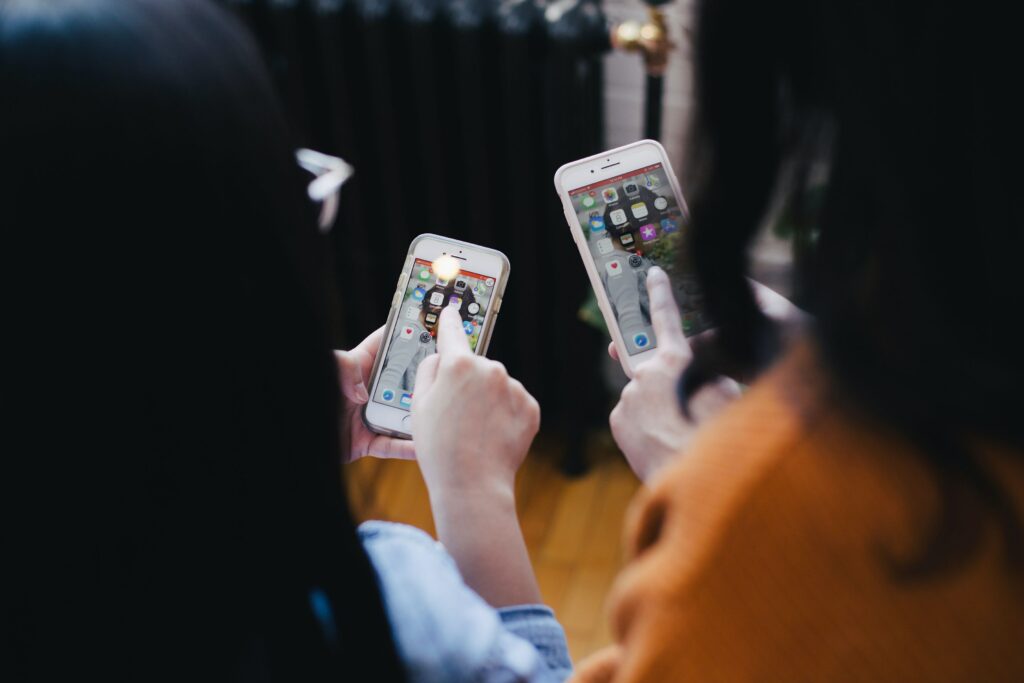 Mobile app development for banking
Nextbank was the direct answer to the needs of the Filipino people. In 2007, when Nextbank's journey started, there was no central banking system anywhere in the archipelago. With more than 500 standalone, analogue micro banks spread across the islands, money management was troublesome for both tourists and locals.
Costly banking platforms like Oracle were not an option since:
Nexbank gave people the freedom of travelling from island to island, managing their money easily and conveniently through the mobile app. Hosted in the cloud and fully customised for the market, the banking app development brought about the digital transformation of the banking system of the Philippines.
Nextbank was selected as a Finalist of the Singapore FinTech Festival 2018 and 2019, and it took 2nd place in the category of 'ASEAN Fintech' in 2020.
Mobile app development for healthcare
Vheda Health is an example of a mobile app that simplifies the process of managing chronic diseases. The app helps patients form an actionable care plan and follow it on a daily basis. It also arranges weekly live video calls between the patient and the care team.
According to estimates, Vheda Health's app saves patients an average of $15,000 by preventing the need for hospitalisation. It puts the focus on prevention rather than costly healing.
So, if you're thinking of a healthcare app that meets the pain points of the smartphone users – Vheda Health is the best example of a screaming success and well-executed mission.
Mobile app development for entertainment:
In 2018, Abbey Road Studios, the legendary recording studio known for producing The Beatles, Pink Floyd, and Lady Gaga, decided to create the first-ever music application which lets artists save their music ideas before they're gone.
Their Topline app enables artists to record their tracks, add lyrics, share files and sync them easily to the cloud, saving space on their mobile device.
The app is a jewel not only because of the famous brand or its adjustment to the needs of its users.
It is not easy to build a music app in a really short time. But it is possible. The Topline native iOS app and its version in Flutter early alpha was developed in just 10 weeks. However, this does not compromise the quality of the app, which is noted for its technical background. It overcame audio latency issues on Android. For the pioneering use of Flutter framework, the app was featured on Google I/O 2018 and Flutter Live 2018. It was also showcased by Google in their Flutter Developer Stories and announced as a winner of the UK App Awards 2018 in two categories.
Build your mobile application for business leverage!
All the examples of applications mentioned above were successfully developed by the Miquido team.
If you are thinking about joining the leaders and creating a worthy mobile app for your business, a successful custom app development company is the basis for launching your unique digital project.
Drop us a line at hello@miquido.com and let's discover the possibilities together!