Regardless of how long you run your business or develop a product, there's always room for improvement. Do you feel that your digital product could perform better, or are you unsure if the decisions you've made with your team during the design phase are the right ones? Maybe there is strong evidence in numbers that something is not working as it was intended to?
What should be your next step? There are many ways to go from this point – run usability tests, conduct AB testing or decide on a UX Audit process. All of those methods have their pros and cons from the perspective of a business owner. They have one thing in common – if done correctly, they allow your business to bring more income by boosting conversions and making the lives of your users easier. There are two major factors you should consider before you decide – the budget and time. In most cases, cost/time ratio will speak in favour of various forms UX audits. How to do a UX audit? What caused all that buzz around UX Audit services? Let's find out!
What is a UX Audit exactly?
UX Audits come by various names:
expert reviews
heuristic evaluations
cognitive walkthroughs
usability audits
PURE methods
design critiques
design reviews, etc.
Some of the names are used interchangeably. Others represent distinct methods of inspection delivering different outcomes. They all aim to analyse the interface from the perspective of UX experts (not users), who aim to identify usability problems and strengths to provide suitable solutions.
The convenience of UX audits can be performed regardless of whether your product is already on the market or still in the prototyping phase. Yet their biggest advantage is that they're the most flexible & cost-effective approach to design iteration, enabling you to adjust your work before committing the budget to the next stage and then recovering from errors. They can focus on the smaller or isolated parts of your product, its full scope or the whole ecosystem of your products.
You're probably here for a reason. Perhaps you are wondering if a UX audit will give you the answers you are looking for. Basically, UX audits, at least those in the form of "expert reviews" (on which I'll elaborate later), should be considered a repetitive part of a product's iterative design and development process. You can read more about this in our guide to the product design process.
Such evaluation might be done internally or externally. Yet it's always better to lean towards the latter option to avoid bias. You should always allow for the outside perspective – people who are not attached to the product in any way should make the proper and objective judgements. As a tradeoff, you can always choose a designer from your team to run the UX audit but make sure that this person was not directly involved in the part of the product that is the subject of evaluation.
There are numerous factors that should make you opt for UX audits – regardless if your product is already on the market or in the prototyping phase. They may be a perfect fit for emerging startups and would definitely find use in bigger organisations and enterprises. Here are some general questions you might ask yourself to help you decide – regardless if you are a CEO, Product Owner or designer:
Does your company run without a dedicated UX team ( are you outsourcing design work)?
Does your team lack strong UX leaders or experts on-board?
Are your app store rates not as positive as you expected them to be?
Have your conversion rates become lower since the last scaling?
Do you consider the product UX inconsistent due to fast development and rushed design decisions?
And more questions:
Does your customer support deal with the same usability issues frequently?
Do you have separate teams working on various areas of your product?
Do you feel that your in-house team is at its initial stage of maturity?
Are your about to introduce a major redesign for all of your live products?
If you answered YES to at least one of them, you should definitely consider choosing UX audit.
When should you conduct a User Experience Audit?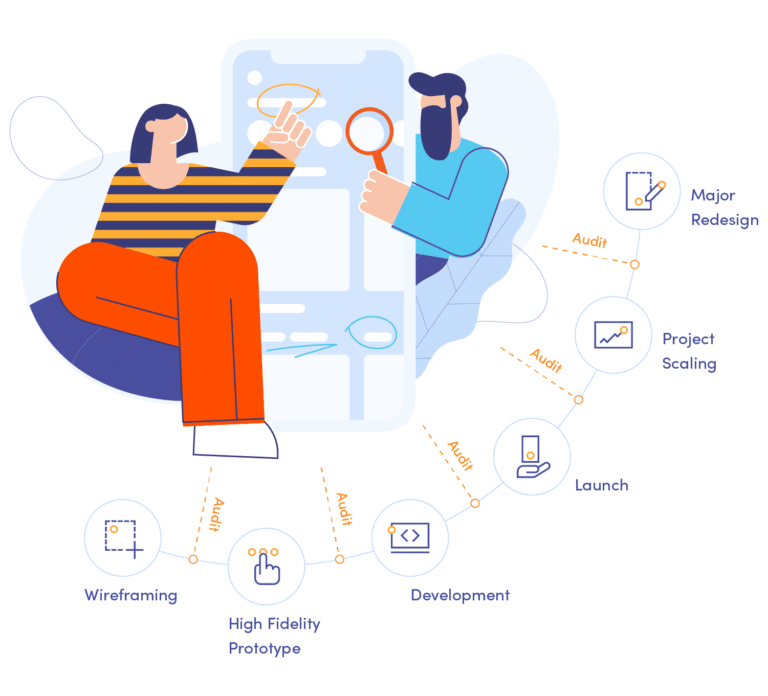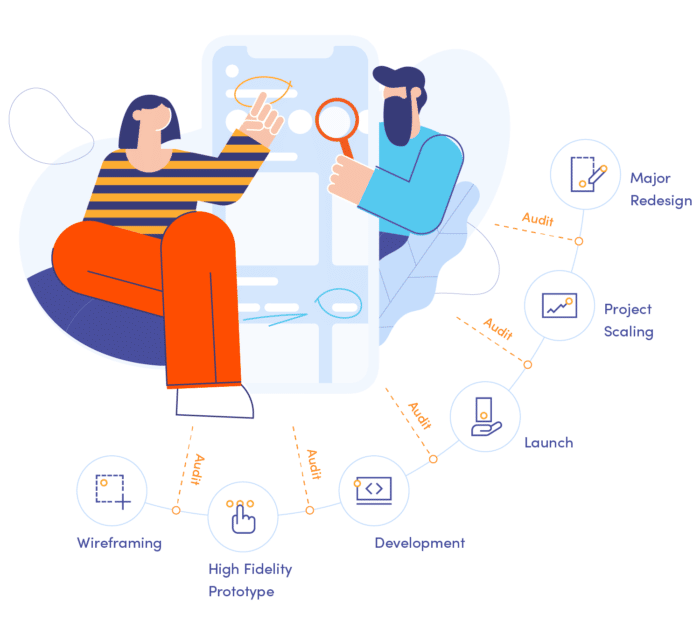 Expert reviews can be set and done at any stage in your product design cycle. Yet you should treat them as the final stage of each project phase. Just remember to run in-progress design critique sessions during the project life-cycle as much as possible.
How can you benefit from a User Experience Audit?
Expert reviews should bring you different values depending on the type of audit you should choose. Some of those benefits would be visible just after the final UX audit report is delivered. Others would take some time to make a profit.
Starting with the most straightforward, a UX audit would help you to identify existing and potential problems that may emerge in future. It will aid in discovering risks and their impact on your product early on. It will uncover hard-to-notice issues that might be easy to miss during small qualitative studies. The most basic outcome of an audit will verify if your product is compliant with industry standards, patterns and UX trends.
UX Audits should affect your team's performance
The outcomes should not only improve your product's design but affect your team's performance. A well-executed UX audit should provide you with a list of actionable recommendations to help you make the right decisions. A transparent product overview will help your team avoid similar mistakes in its further development. Additionally, some types of audits will contain valuable insights from professional UX designers, engineers & domain experts, which might elevate your product value and speed up the process of reaching the pre-defined goals.
That being said, you might expect an increase in profit or reduced implementation costs if the audit and further action were executed well. The suggestions and recommendations will help you recover from critical errors before committing workload to further implementation phases. In other cases, following proven practices indicated in the final report, the insights should be helpful when optimising existing user flows and improving conversion & success rates. To summarise, you don't have to perform costly and complex UX research to obtain an applicable UX overview and usability conditions.
How long should it take to get the results?
Apart from general benefits for you and your product UX Audits have one common advantage: a very short delivery time. You can even expect results condensed in a brief report within one week. Most methods (apart from Cognitive Walkthrough) do not require time-consuming preparations. Of course, it does not mean that audits should be made in a hurry. Before deciding on the type of audit, there are several things to consider.
The first thing that evaluators should do is encompass the product vision to define the UX audit's goals. That may include:
product owner or stakeholder interviews to understand their vision
discussing high-level business goals and KPIs in order to understand the business
analysing the target group, user personas, goals & motivation to understand the customers or end users interviews
reviewing documents and reports on product and brand guidelines to understand the task at hand.
How do UX audits compare to Usability Tests?
While expert reviews and usability tests may be considered alternatives at different points in the product life cycle, that's not always the case. UX Audits aim to evaluate UX from the perspective of experts in usability, principles of human-interface interaction, or specific domain experts (when cognitive walkthrough takes place).
UX Audits refer to a set of pre-defined industry standards, whereas usability testing focuses on problems from a user perspective, which provide equally important and valuable insights. Usability tests allow you to understand your target group's needs and expectations truly.
The outcomes of both methods are similar. The main difference between UX Audits & Usability Testing is the operational overhead and the difficulty of the recruitment process – tipping the scales in favour of UX Audits.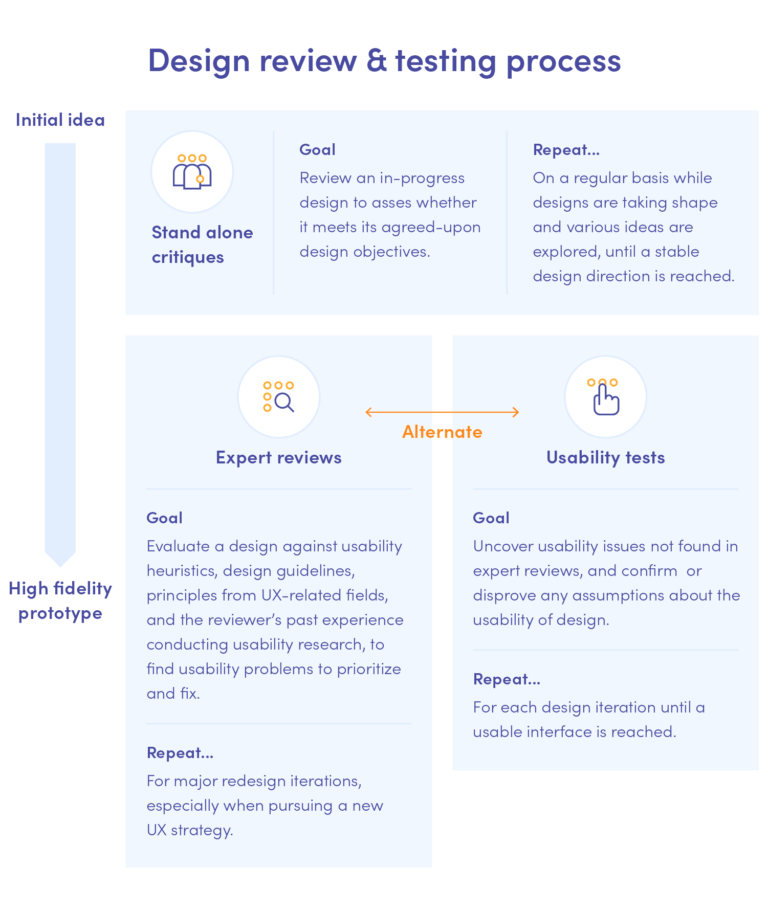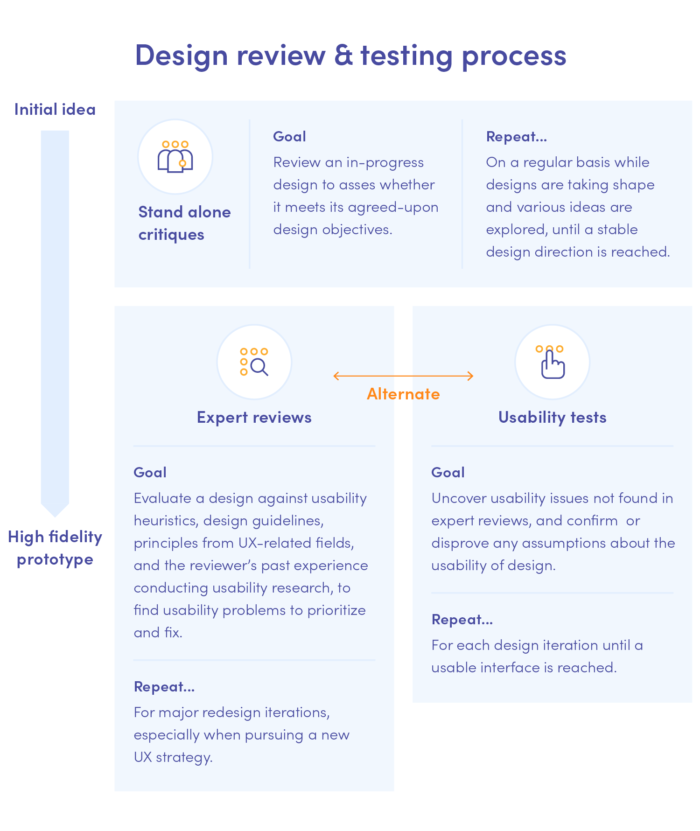 You should note that UX audits have their limitations. They may provide different results than usability studies, so it would be best to compare the outcomes of both methods to make more conscious decisions.
What type of UX Design Audit is best for your product?
Again it depends on the stage and maturity of your product, plus on the answers you are searching for. Some audits are better to be conducted on smaller isolated parts of your project. Others perform better when used to examine the designs holistically. Each type will provide a report presented from a slightly different angle.
Expert Review might be considered the simplest form of a UX audit. It's a less established form of inspection based on many factors – usability heuristics, platform guidelines & UX patterns. The main goal is to indicate possible usability issues & strengths in the fields of UX & UI design and fix them quickly. Outcomes may slightly differ in predicted issues and focus depending on the reviewer. As a result of an Expert Review, you can expect:
detailed reports – with all our findings, broken down by severity rating
list of recommendations – on how to fix each UX problem
examples – of best UX practices tailored to your needs.
Heuristic Evaluation aims to assess the usage scenarios from a broader perspective of general principles for interaction design. This form of inspection is focused on finding usability problems in the interface with references to the list of established usability principles (10 Usability Heuristics by Norman Nielsen). Similar to Expert Reviews, it may be executed by one UX professional. Yet, it is advised to engage at least a small set of evaluators (3-5) to ensure that all usability problems have been identified. As a part of the evaluation report, you may expect:
task (usage scenarios) evaluation sheets – broken down to validated heuristics on a 0-4 scale of severity rating
list of recommendations – on how to fix the indicated problems in the interface with references to usability principles
(optional) overall score comparison – showing how your products or usage scenarios perform in regard to each other
Cognitive Walkthrough is as close as you can get to regular usability tests. This method aims to evaluate the learnability of a system, assess if users can complete their goal and learn all the how's and the why's. The expertise is performed by a set (2-6) of reviewers to assess the interface. The reviewers should focus on specific user flow activities with pre-defined success criteria – from a new user's point of view. The evaluators may be chosen from the product experts who possess knowledge of the project, UX professionals, engineers building the system, and domain experts from the industry or area where the product would live.
Similar to usability tests, there is a need for a facilitator who will run the meetings and, in some cases, serve as a presenter and prototype builder. Notetakers might come in handy if cognitive walkthroughs would take the form of a workshop. The final deliverables would include:
task completion scorecards – for every participant
(optional) System Usability Scale – an intuitive scale giving a global view of each user activity.
Key takeaways
By now, you should have a general knowledge of UX Audits, their benefits and how they might impact your product development. To sum up UX audits:
aim to evaluate the usability condition of a product in various fields
provide design recommendations on fixing the problems alongside examples of industry best practices
can be tailored to any product, regardless of the phase
focus on providing suggestions to improve a product's conversion and success rate.
Are you ready to skyrocket your conversion rates and boost the business value of your products right away? Contact our UX design agency!