Other industries
Choose an agency with experience across various industries, including education, telco and more!
Let's work together


Tell us your idea, and we'll take care of the rest
Craft a tailor-made tech solutions that will help you reach your business goals and keep your customers satisfied. At Miquido, we're always ready for new challenges, so no matter the industry you operate in, or how complex you want your solution to be – we're eager to turn your idea into a seamless digital product.
Our app development services
We apply our expertise to build tech solutions that enchant users all over the world. See some examples of what we've got in store!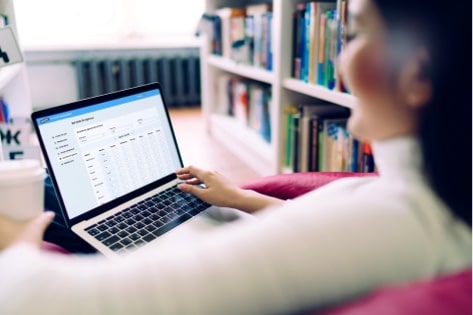 Education app development
With their variety and popularity on a steady increase, digital solutions have helped to make education fun and more accessible to people across all continents. Bring your users an intuitive application that will keep them engaged and ready to learn. With our education app development services, you can craft a one-of-a-kind solution, and help your customers reach for new educational opportunities that are yet to become available on the market.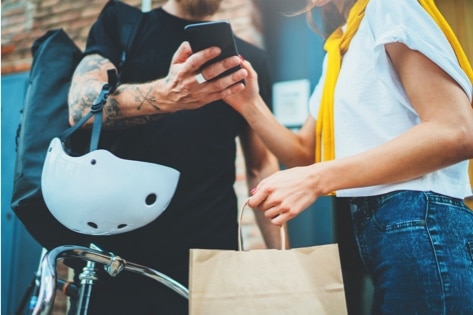 Food delivery app development
The food delivery industry is currently one of the fastest growing businesses. Make the most of it by creating your own, custom food delivery app! We'll help you craft a solution suited to your target audience, and take care of both the research and development part of the process. Whether you're an emerging business with a brand new app idea in mind, or you want to expand your food delivery services – we've got you covered.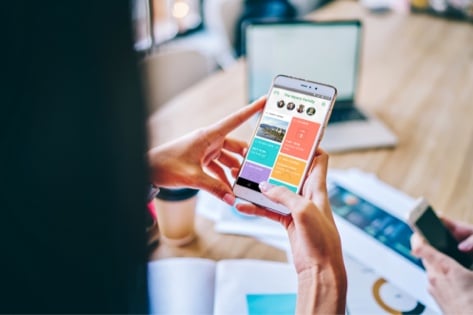 Productivity app development
Digital solutions can work wonders when it comes to organizing both business and personal affairs. At Miquido, we've helped develop custom management applications for companies to use for their inside operations, as well as ones meant to be used by the general public. Just tell us what you need, and we'll make sure to craft a productivity app suited to your requirements!
Event app development
Want to organise an event without all the hassle, or create a solution for easier management of conferences and meetings? We can make it happen! Tell us your idea for a custom event application, and we'll make sure you get a finished product that keeps your company or your end users organised. We've done it before, after all – our solutions for event management include Mobiconf, HID and Forum Ekonomiczne.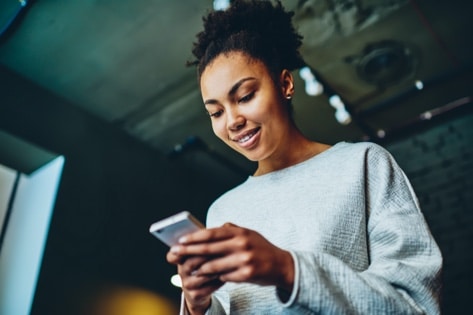 Telecom app development
Make it easier for your customers to benefit from your telecommunications services and develop your own custom application. At Miquido, we create secure, user-friendly digital telecom solutions that enable users to manage their transactions, check account details and perform various operations related to their account with just the tap of a finger. Let's make telecom more accessible together!
Tangible results, right on schedule
Need your idea verified fast?
Why choose Miquido as your tech partner?
Interested in creating an application best suited for the industry you operate in? See why you should trust us as your development partner!
Award-winning apps
We're proud of creating seamless digital solutions, but you don't have to take our word for it. Over the years, our portfolio of over 100 projects has granted us recognition from UK App Awards, Mobile Trends Awards and Fintech Awards, to name a few. We're also proud to be a Google-certified software house, so you can be sure your project is in the right hands.
All-inclusive approach
You don't have to juggle multiple vendors to develop your product. We'll take care of your project from start to finish, all while having your business goals and expectations in mind. Starting from ideation and strategy, through UX and UI design, all the way to development, data analytics and further support – whatever services you need, our experienced team is ready to deliver.
Custom solutions
There's no one-size-fits-all solutions at Miquido. The success of your product is our top priority, and that's why we create solutions that are tailor-made for you and your user base. We will go through your business needs and requirements in order to advise you on the best strategy. What matters to us is that your vision is accounted for, and the finished product can rightfully represent it.
Robust experience
With over 10 years in the business, we've worked with a myriad of different clients with various backgrounds and expectations. Fintech, entertainment, healthcare, eCommerce – those are few examples of the industries we've provided stunning applications for. We know what it takes to build products that become successful on the market – we've done it over a hundred times before!
years in software
development
digital solutions
delivered
of all projects
conducted remotely
Łukasz Nalepa, Engineering Director, Brainly Great cooperation and agility, continuously delivering value every single iteration, starting from sprint one. It was as if we had our own team working on that.
Our development process
1

Scoping & estimation

2

Workshops & preparation

3

Design & development

4

Product release

5

Product growth
Scoping & estimation
We start by identifying the scope of your project and going through your business goals. During this stage, we discuss the features you want your app to have and the overall complexity of the project. Having those in mind, we pick the best solutions to support your idea, choose the right tech stack and estimate the development time. By the end of this phase, we can give you a general quotation and schedule of development.
Workshops & preparation
We put together a session of workshops in order to help you choose the right product strategy, clarify your vision or decide on the app's appearance. Tell us what's most important to you and what you'd like to focus on the most, and we'll arrange a dedicated team to make sure your app becomes a success. We take extra time to review the tech requirements and detect possible obstacles on the way. By the end of this stage, we have the wireframes of your product, all the development requirements, and the basic documentation prepared.
Design & development
The specifics of this phase vary from project to project, as it depends on the solution, but the goal remains the same: it's time for your idea to be tuned into a finished product. This is the time we set up the backend architecture of your app, complete the design, and get to the most awaited part: the development! The length of this phase relies on the scope and complexity of the app, but most often, it takes us 3 months to create a fully-functional MVP.
Product release
The big day has finally come! When your application is ready to hit the market, we take care of the deployment and release. Time is of essence during this phase, so we make sure that every part is released on schedule and works seamlessly, without any downtime. Once your application goes live, we take care of ongoing support and maintenance.
Product growth
Your app is released, but that doesn't mean our journey ends here! If you decide to enhance your app with any additional features or changes, we'll get straight to work to make it happen. And if you'd like to transfer the project to your in-house team, we'll make sure the process goes as smoothly as possible. Just let us know what you need, and we'll be there to support your project's growth.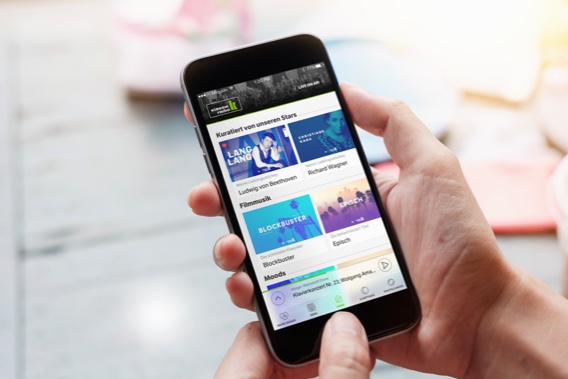 Custom app development
Want to build a solution that fits the specific needs of your industry? Choose custom app development. We build our digital products from the ground up, starting with market research; we gather insights based on available data and study your particular business needs to create a solution you and your users can be fully satisfied with.
What is there to gain? A scalable, unique product that is flexible and accounts for further growth and adjustments along the way, as your business grows. Only the features that you need, with no unnecessary ones. A development schedule and budget suited to your strategy. Ongoing support and maintenance, as well as further product growth. Ready to build something great together?
Learn about custom app development
Want to know more about application development?
See what our clients are most curious about and browse the answers to the most frequently asked questions. Don't see yours on the list? Reach out to us; we'll be happy to help!
What do I need in order to create my own app?
Ideally, you should have the basic list of features and competitive market research ready as a sort of base for your app's development. But even if you don't already have that, all we really need is an idea upon which we can build. We will provide you with the needed research and strategy, as well as propose a list of features that will make your digital product successful, and we can start off from there.
What is an enterprise application?
An enterprise application is software that is meant to satisfy the needs of an organisation, aid in solving its day-to-day challenges and, thus, improve overall efficiency. Enterprise software can encompass services such as customer relationship management, business intelligence, internal communication, etc.
How much does it cost to develop a food delivery app?
The final price will depend on many different factors, such as the complexity of the idea, the features that the app is supposed to have, and the technology that should be used for developing it. When we look at average rates for leading software houses in Central Europe, all while having in mind that developing a fully functional minimum viable product takes about 3 months, then it can safely be estimated that the cost of such MVP for one platform will reach about 30 000 GBP. Keep it mind that this price doesn't take things like project management, design and app maintenance into account, so the overall cost can likely be higher than that.
If you're curious about the details of how an app's price is estimated, make sure to check this article.
What is educational software used for?
An educational software can be used for any learning-related purpose, be it interactive teaching, educational games that make studying easier, or self-learning for both adults and children. An educational application can make learning various different subjects more accessible, engaging, and therefore more effective.
See what we can do for you
Want to talk about your project?
Hi, I'm Sławomir from Miquido. How can we help you with your project? Fill out the form – we'll get back to you soon.
The administrator of your personal data is Miquido sp. z o.o. sp.k. with its registered office in Kraków at Zabłocie 43A, 30 – 701 Kraków. The basis for processing your data is your consent and the legitimate interest of Miquido.
You may withdraw your consent at any time by contacting us at marketing@miquido.com. You have the right to object, the right to access your data, the right to request rectification, deletion or restriction of data processing. For detailed information on the processing of your personal data, please see Privacy Policy.
Show more