Over $4 trillion in annual revenue, 3.8 billion clients, and approximately 12 million shops. These incredible numbers quite accurately reflect the scale of how important and competitive the e-commerce industry is. The situation for digital shop owners appears even more complicated when considering another data set. There are over 150 marketplaces, the top 3 have nearly three billion active users per month, and the key player, Amazon, is responsible for almost 50% of e-commerce sales in the US. E-commerce in 2022 is an opportunity and a challenge – and equally a game of chance and a carefully analysed and monitored machine.
Entering this market with a new product may resemble David and Goliath combat. And that's good news: as long as we have the wits and a slingshot, we have a chance to come out on top. Let's briefly run through the last data set to approach this fight cleverly. It's time to grab your secret weapon – and learn how to use headless commerce as your competitive advantage.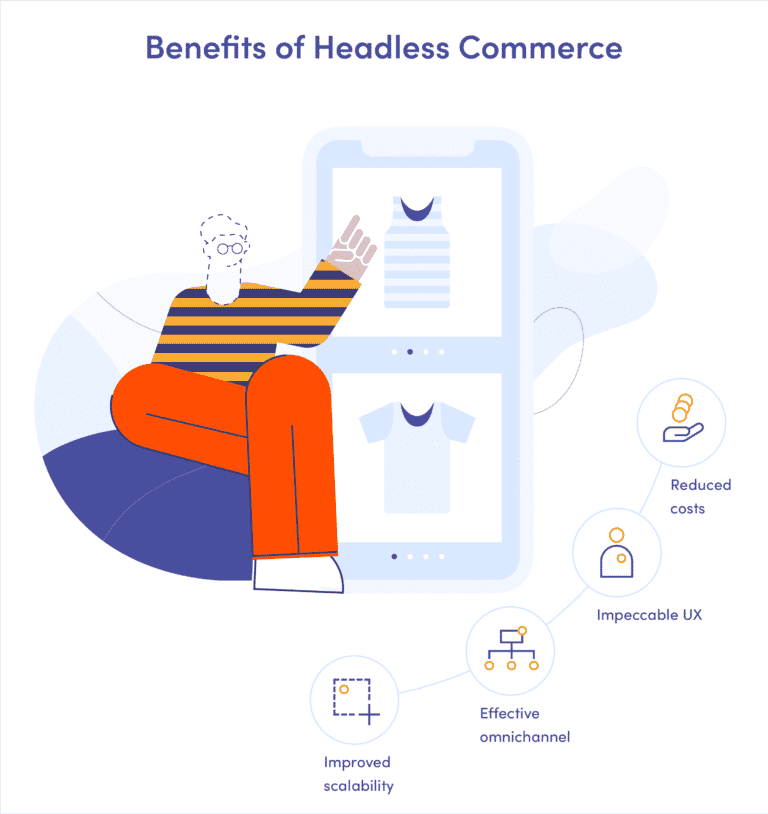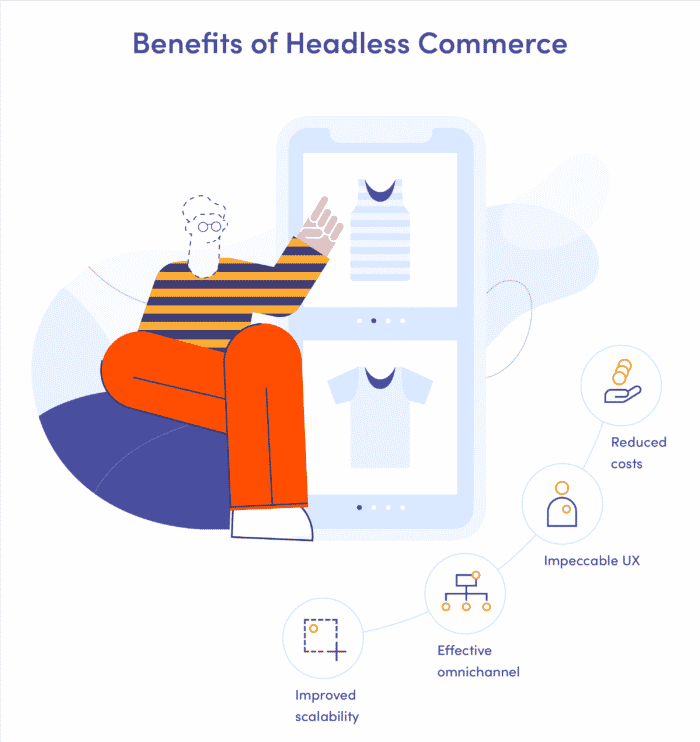 The state of e-commerce in 2022
According to The Future of Commerce. Trend Report by Shopify, the customer journey after the pandemic has brought about the next phase of omnichannel purchasing. Fifty-one percent of US customers are more likely to order a product online if they can return it in-store, and since 2019, the popularity of the click-and-collect service has increased by 70%. As a result, to remain competitive, brands need to create unique customer experiences that only omnichannel can provide.
In contemporary e-commerce, the convergence of online and offline worlds is much more than enabling customers to collect or try products in physical stores nearby. Currently, the cross-platform experience means an everlasting race of innovative solutions involving IoT, AI, ML or XR. Omnichannel stands for dedicated mobile applications with augmented reality tools, such as virtual try-ons, preview placements, and interactive user manuals. It requires a seamless customer journey and reaching the user at almost all possible touchpoints.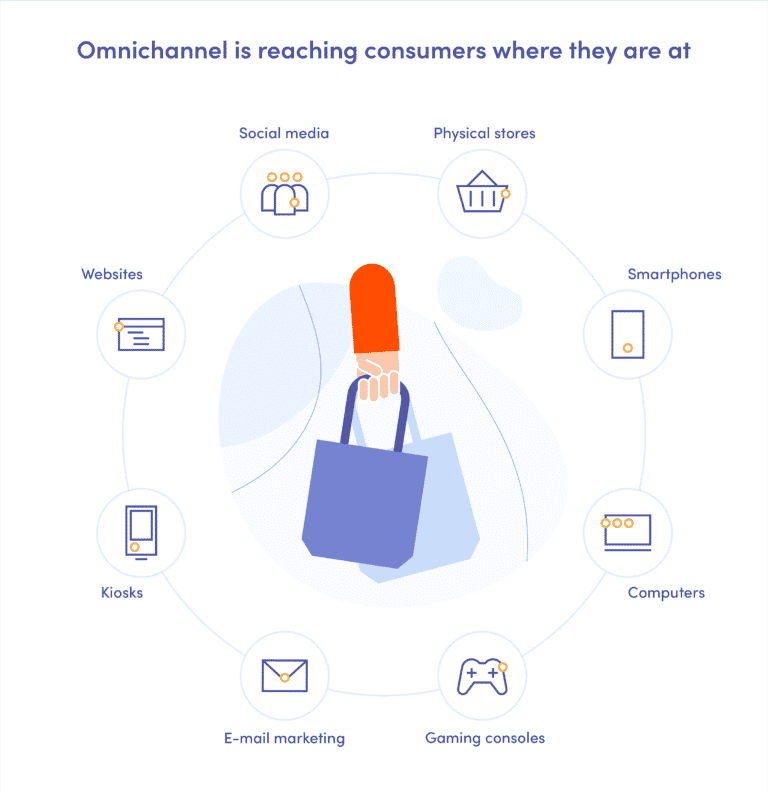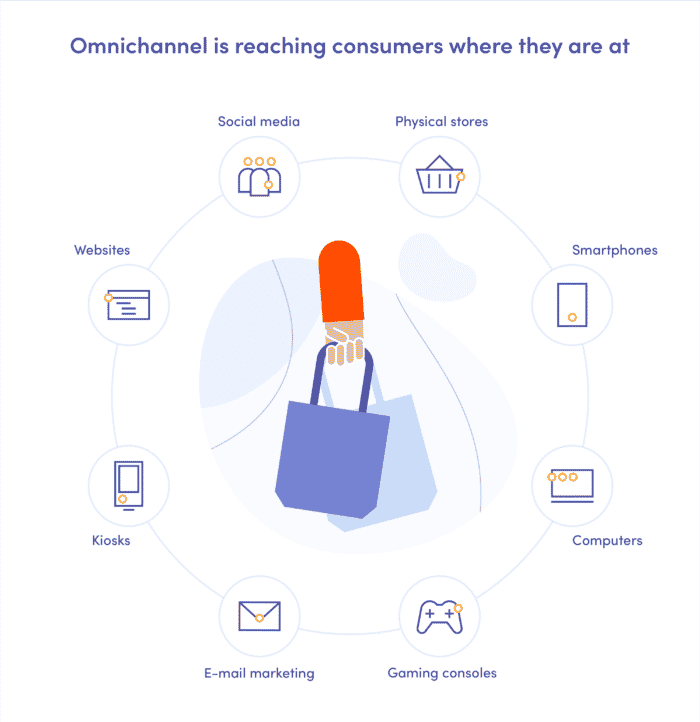 Omnichannel shopping and headless commerce
Omnichannel is a strategy successfully implemented by the world's leading brands, such as Apple, Sephora, and Starbucks. Despite its unquestionable and unparalleled effectiveness, many smaller companies may wonder whether headless is the solution that fully covers their needs. There is no doubt that omnichannel requires a high level of proficiency in software development, digital product design, and data science – not to mention the experience in integrating multiple analytic tools to get the full picture of your business.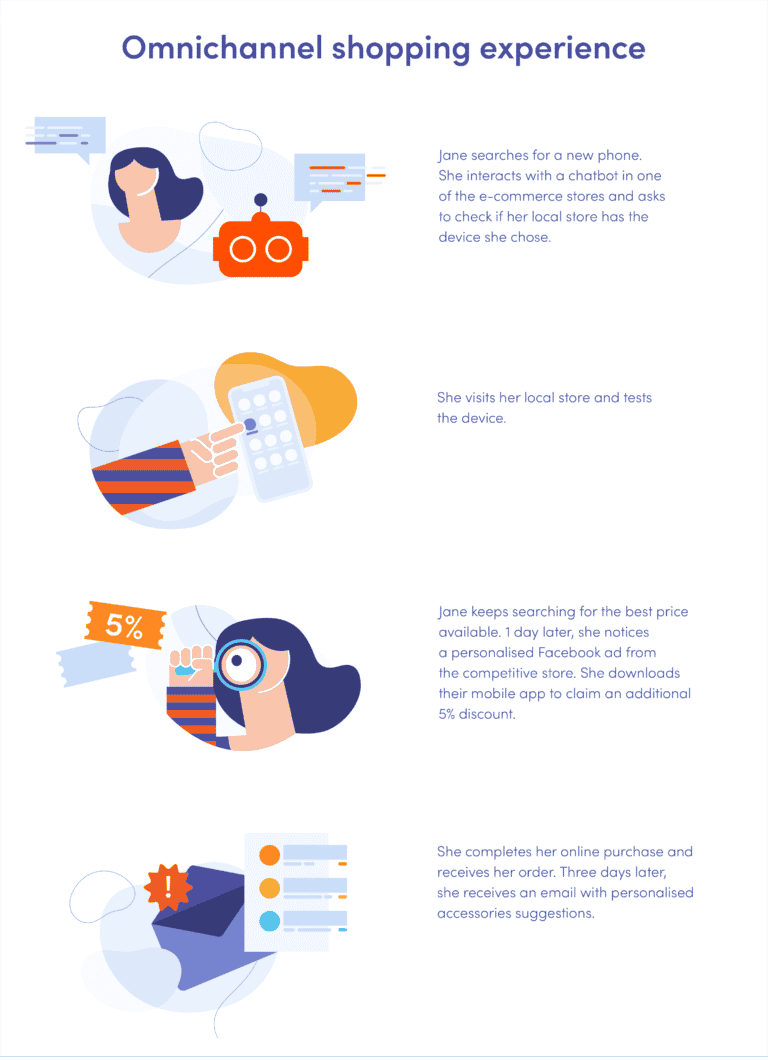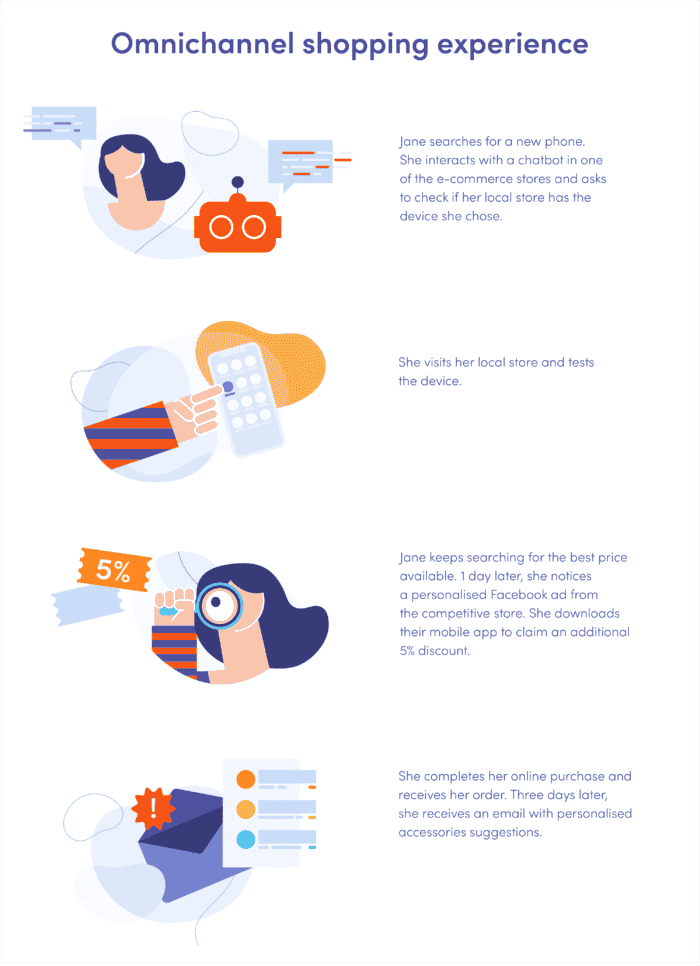 How do eCommerce stores adapt to deliver top-notch digital solutions matching the growing consumer needs? The answer is headless eCommerce – an idea that provides nearly unlimited flexibility, dynamics and independence to e-commerce businesses.
Headless commerce explained
Headless commerce is a concept of "decoupling" the frontend and backend layers in your online store and connecting them via API. The range of specialised applications integrated with an API-driven architecture and a lack of strict dependencies between the UI and the business logic makes headless an unprecedented solution regarding user experience, customisation, or time-to-market speed.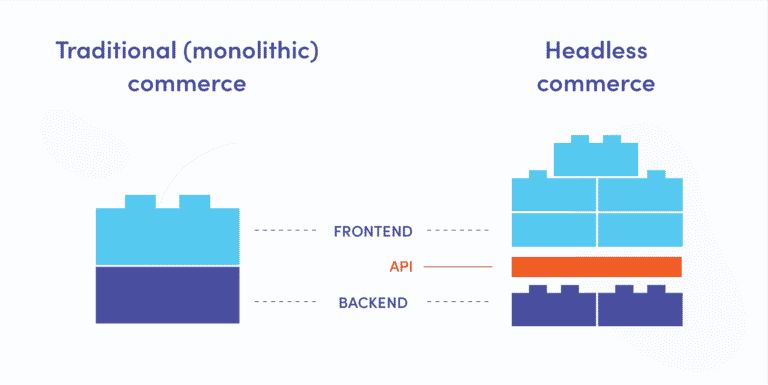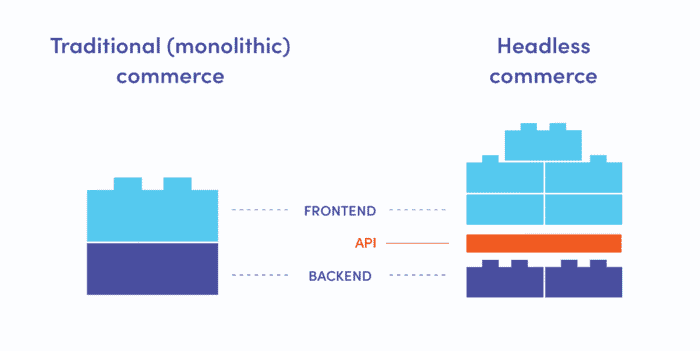 In fact, headless software architecture can be compared to digital LEGO bricks – allowing brands to compose and modify their tailor-made systems at any time. The headless flexibility is enabled by API, which serves as a bridge for data and ensures efficient communication between frontend, backend, and third-party services. Unlike traditional monolithic commerce systems with predefined core functions, headless enables the gradual and rapid addition of microservices – loose modules of a flexible ecosystem.
By separating the backend and frontend, headless commerce solution allows you to add many different elements to one joint backend, including:
Web front-ends
Mobile apps
eCommerce aggregators
Facebook marketplaces
Kiosks
Vendor Management Apps
There is no doubt that headless allows you to connect many different functionalities and services and thus automate your marketing, analytics, shipping, stock management, and so on. Read on and see how a traditional and headless commerce comparison looks from a broader perspective.
Traditional vs headless commerce
| | Traditional commerce | Headless commerce |
| --- | --- | --- |
| omnichannel possibilities | limited | enhanced |
| customisation | confined by predefined frontend tools | enhanced |
| integration possibilities | limited | enhanced |
| customer experience | limited | unified & personalised |
| frontend development cost | lower | higher |
| backend maintenance cost | higher | lower |
Traditional commerce is based on a single, tightly coupled codebase. This all-in-one model guarantees complete system control but significantly restricts personalisation and optimisation. In monolithic systems, additional features may potentially interfere with the existing codebase, so any updates must be thoroughly tested. In addition to the costs associated with introducing additional improvements, traditional systems require regular maintenance efforts. All of this makes monoliths incapable of keeping up with the latest technology advancements – and tips the scales toward the headless infrastructure.
Benefits of headless commerce platform
E-commerce is a demanding market where the seller must respond to ever-evolving customer needs in real-time and foresee trends and shifts in user behaviour. Headless makes it easy to adapt to these changes and outperform your competitors on multiple fronts, including time-to-market speed, omnichannel experience, creativity, and overall growth. What are the other important advantages of headless for e-commerce?
1. Agility and flexibility
Headless allows for dynamic changes to the UX & UI without risk to platform stability. It enables testing of marketing features, tailor-made solutions for new target groups, or implementing advanced and highly interactive interfaces – without the need to involve anyone outside the content or design team. A fun, animated mobile app for Gen Z connected with a high-end web version aimed at Gen X via the mutual backend? It's possible! Headless architecture allows for the consolidation of multiple brands within one e-commerce solution.
2. Reduced time-to-market
Headless commerce platforms make it easy to add new features and test external solutions without impacting the entire software infrastructure. Whether it comes to bug fixing, scaling or UX revamps, all actions in headless architecture are performed independently. Hence, store owners can minimise the risk of critical errors and significantly shorten the time-to-market.
3. Unlimited growth possibilities
Headless is the best answer to the dynamically changing and highly competitive e-commerce market. Thanks to the API-first approach, it enables the use of the best third-party solutions: CMSs, inventory and customer management tools, search and shipping programs. The headless online store is a perfect blend of the best solutions available and, at the same time, provides the ultimate change management agility. What more could you want?
4. Enhanced omnichannel experience
One of the most powerful headless features is the possibility to introduce omnichannel experiences with no coding required. The API-based headless architecture allows to provide a flawless design on various devices, including smartphones, desktops, and wearables and to maximise the customer touchpoints. Headless is a one-stop-shop that enables you to tick off the entire e-commerce to-do list, including:
visibility on the key communication channels
developing the mobile e-commerce application
integrating with e-commerce aggregators
joining social shopping platforms
introducing electronic kiosks.
To sum up, a well-executed marketing and sales strategy on par with excellent UX is a powerful combination that will surely affect the all-important conversion rate.
5. Scalability
The primary long-term business objective of any company should be growth. When it comes to e-commerce, this has many forms: entering foreign markets, expanding the target group, launching a new product line, or changing the business model to a more sustainable one. Unlike monoliths, headless does not block these changes. Thanks to its open architecture, it enables the connection of one core backend with multiple frontends. As a result, the scaling possibilities of headless businesses are unlimited, whether this means implementing low-cost language versions or testing a unique product line for a new target group.
6. The ability to do things that nobody has done before
Headless enables the implementation of the boldest business plans. This type of architecture is used both by pioneers, e.g. Amazon, Netflix or Zalando and by boutique e-commerce sites, such as Off Limits.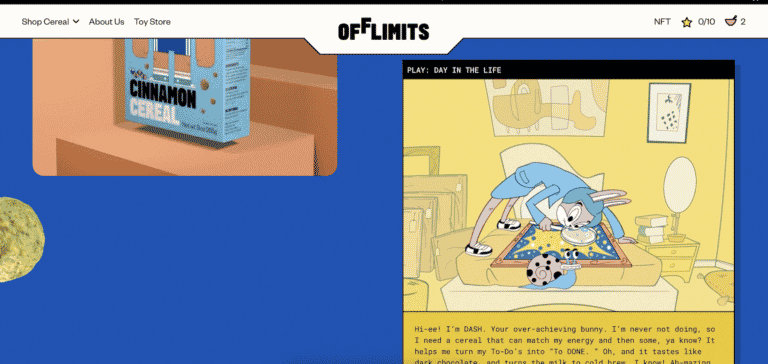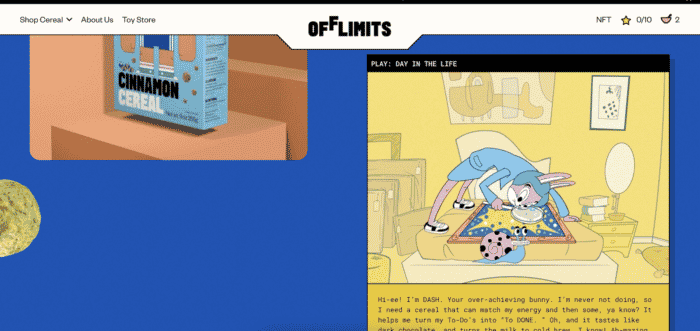 This online cereal store looks like a Millennial's dream come true: from the crunching sounds when adding a product to the basket to nostalgic animations and gamified coupons. Headless allows you to create an unforgettable customer experience, evoke your core values and build brand loyalty – all of this by using methods best suited to your business model.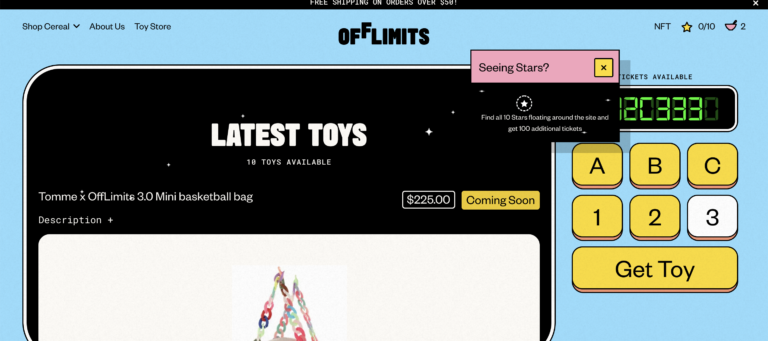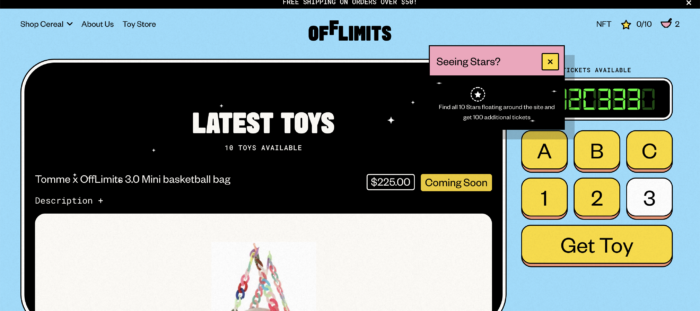 Challenges of headless commerce
When considering headless, it's worth getting to know the broader perspective. Below we have analysed the headless features that can present potential difficulties for e-commerce owners.
1. Initial costs
When choosing a headless architecture, you should consider the following costs:
implementation: decoupling backend & frontend, creating new frontends, splitting the backend into microservices (optional, but it simplifies store maintenance)
monthly software costs: e.g. eCommerce backend, headless CMS, code management
maintenance: tailor-made backend and API integrations need to be supervised by an experienced software developer or agency
To sum up, when it comes to headless, the initial financial contribution may be slightly bigger than in the monoliths case. But still, at the end of the day, it all depends on the client's individual needs. Before you decide to go headless, try a simple visualisation: if going headless increases your conversion rate by 10, 25, or 50%, how much will your revenue increase? How do these potential profits compare to the estimate of your headless transformation?
2. The need to embrace the change
Headless is a perfect business solution for companies that would rather embrace the change than stay put. Of course, it requires making many challenging decisions related to service providers, cooperation models or microservices making up the software architecture. But in the long run, it unlocks unprecedented expansion and scaling possibilities.
Let's be honest: going headless requires a lot of work. If you expect outstanding results, be ready to be highly engaged in the process. A good solution may be to search for a trusted partner who could relieve you from making technical decisions and allow you to focus on your own field of expertise.
Is headless commerce for me?
Fact no. 1: Headless is not a solution for everyone. Fact no. 2: Any software architecture changes should be grounded in a thorough profit & loss analysis. In this context, it is worth paying particular attention to product ideation and strategy. A well-conducted consulting phase should provide you with all the possible scenarios for your e-commerce transformation.
Do you care about the highest speeds and innovative UX & UIs? Do you have adequate resources and bold expansion plans? If the answer is yes, headless will surely help you scale your business and remove any obstacles on the way. If you are in doubt, struggle with a limited budget or have a well-defined target group with specific requirements – perhaps the traditional approach will be sufficient.
In e-commerce, the fight for the user is becoming more and more fierce. There is no space for any difficulties in the customer journey. E-commerce in 2022 is a saturated, demanding market in which mediocre customer experience or simple personalisation techniques are not enough to thrive. That is why, more than ever, it is worth measuring high, dreaming boldly and making the change part of your business model.
Looking for an end-to-end eCommerce software development company? Contact us – our experts will build a custom solution tailored to your business!