What do you think when you hear "Sweden" – Abba, hygge, affordable furniture? Until a while ago, these associations would come to our mind first, but we had to review our beliefs after researching the Scandinavian market! It turns out that the Swedish startup scene is booming, and many innovative initiatives have been popping up lately.
In this article, we try to get a grasp on the evolving Swedish startup landscape, catching tendencies that may shape its soonest future and ideas that could expand to the worldwide scale. Swedish entrepreneurs clearly have a thing for fintech, and that seems like a good gateway to international success, considering the pace at which the financial sector has been absorbing innovation. We thus decided to fully focus on the top startups in Sweden from the fintech sector, listing the most inspiring initiatives in the region.
Tink
Founded: 2012
Total funding amount: $308.4M
Industry: Fintech
Applications: Open banking
Mission: Powering open banking success stories
The moment the EU novelized the PSD2 directive in 2015 marked a new chapter in the European banking landscape. The novelization sanctioned the concept of open banking, promoting the exchange of financial, business, and investment data, but also placed new standards and requirements on market participants who want to operate it. This step inspired a wave of new businesses across the EU (and Europe as a whole, particularly in the UK, where the sanction of open banking originated in different circumstances) that facilitated the implementation of open banking services.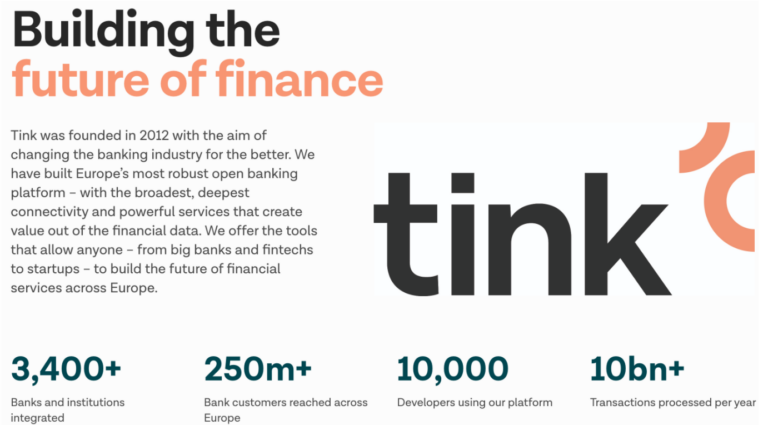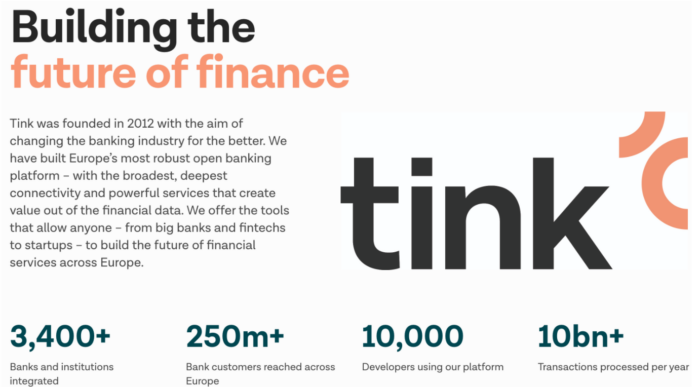 Sweden was no exception. The Stockholm-based startup Tink is one of the successful exemplifications of the open banking tide, having entered the market before the 2015 novelization and then adjusting to the evolving regulatory environment. Their platform enables financial institutions of all sizes to benefit from the opportunities this concept provides, facilitating the interoperability between their applications and tools. A/s a Tink user, you operate under the company's PSD2 license, which takes much legal worry away. Integrating with just one Tink's API, you gain the opportunity to introduce real-time payments as well as various risk decisions or finance management features in an instant. Tink acts as a bridge, linking such giants as PayPal, Nordea, or American Express with companies across different sectors.
Klarna
Founded: 2005
Total funding amount: $4.5B
Industry: Fintech
Applications: Payment app
Mission: Providing more flexible shopping experience
Can you believe that several years ago, no one trusted in the potential of "buy now, pay later"? The revolutionary concept that granted Klarna international recognition was once rejected at the startup competition, but its founders knew it had potential. Fortunately, they held onto it, slowly introducing their transactional model, first in Sweden and soon after, across different countries. This rejection marked a beginning to a success story of the brand that today allows millions of users from all over the world to pay in installments or delay payments for their shopping orders.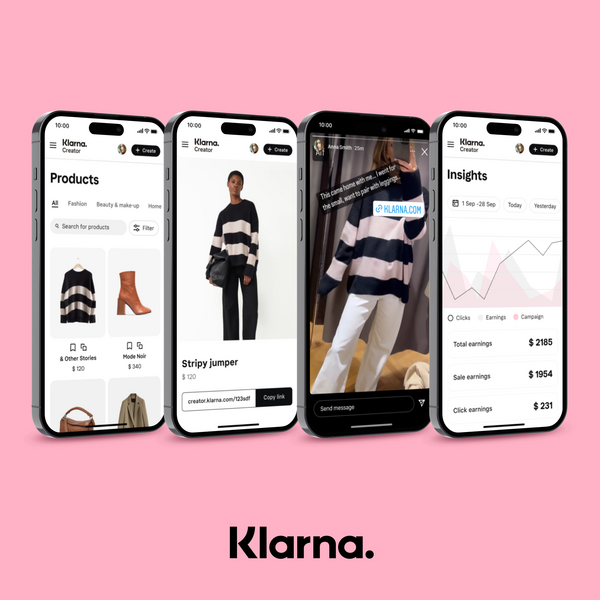 After roughly twenty years of strong market presence, Klarna is now four times a unicorn and doesn't stop growing, extending its services with Klarna-covered open banking tool Kosma and a price comparison engine PriceRunner. As one of the top startups in Sweden, it provides the online community with an opportunity to spread the cost of their purchases without paying fees and reaching out for credit, the company became a pillar of the e-commerce revolution that took place in the last two decades. By facilitating purchases, Klarna paradoxically contributes to conscious shopping, enabling users to access the items they actually want without compromises.
Trustly
Founded: 2005
Total funding amount: €23M
Industry: Fintech
Applications: Payment app
Mission: Enabling smarter and more inclusive payment experience through open banking
Another open banking startup in our ranking has a relatively long history for the company from this niche and a broad range of well-known customers such as Western Union, Lyft, Dell, GoFundMe, and many more. Trustly handles their clients' payments from initiation to collection, enabling them to deliver instant payouts and cut a number of pre-payment steps or time-to-payment. These facilitations contribute to better user experience, helping companies increase their retention and reduce the number of abandoned carts.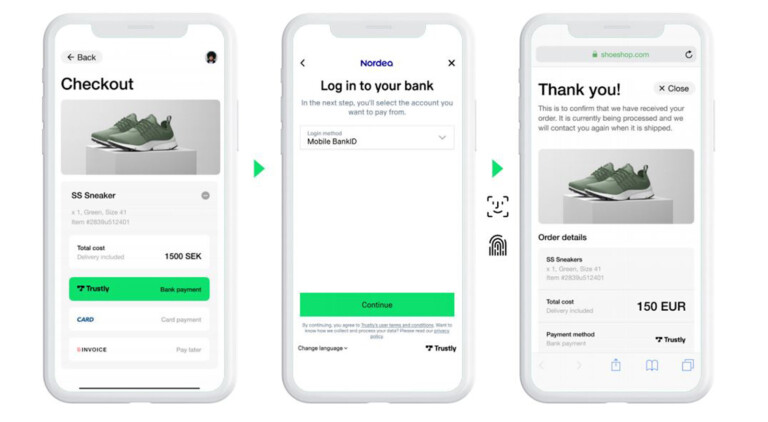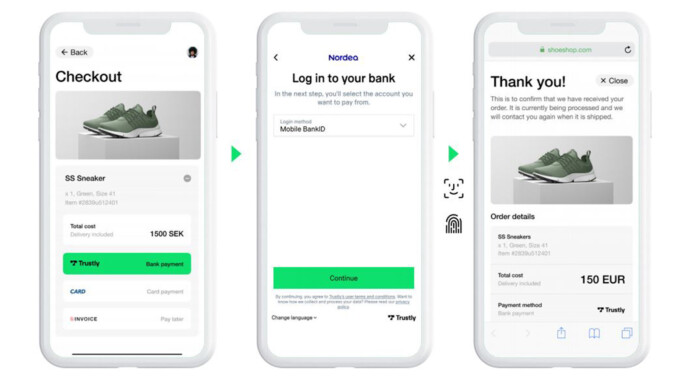 With instant payments facilitated by Trustly, companies can also improve financial inclusion in countries with a high percentage of low-income customers. Aside from the payments themselves, Trustly's users can also access bank-grade data for account authentication, account ownership verification, and risk score compilation. In simpler words, the platform grants them various features to mitigate risks for payments or underwriting.
Zettle
Founded: 2010
Total funding amount: $324.55M
Industry: Fintech
Applications: Payment solutions
Mission: Facilitating card payments for businesses
Lack of a suitable payment option is among the most common reasons behind abandoned checkouts. This issue applies to offline transactions as well. Nowadays, when the variety of payment methods and wallet providers is so broad, covering their needs with one solution can be quite a challenge. Zettle makes it easier with its versatile and portable card reader. Contrary to traditional terminals, Zettle's device supports various cards and mobile payments while remaining light and small, perfect for those who need to stay on the go.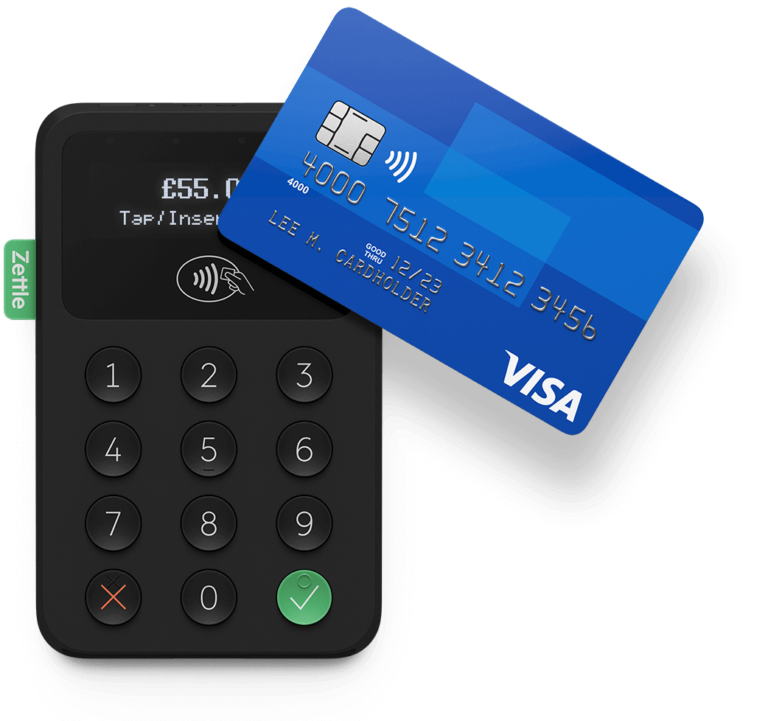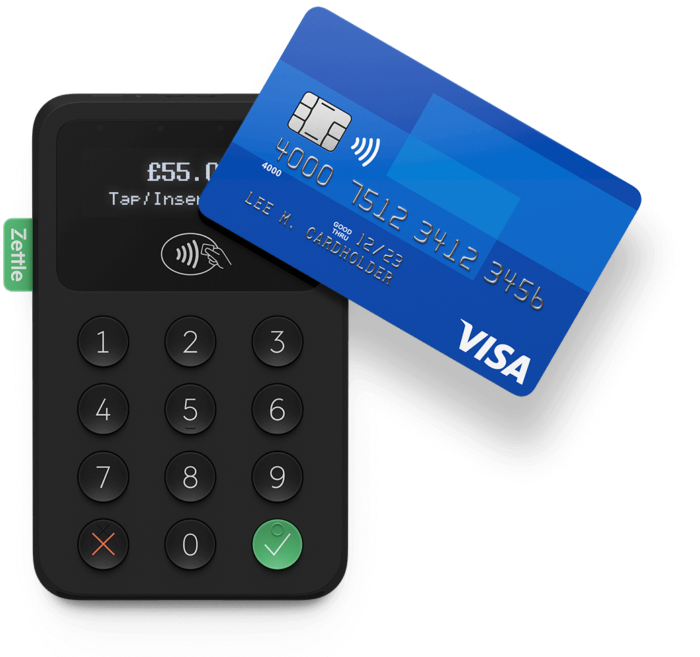 Moreover, the PayPal-backed company went a step further and introduced Zettle Terminal, an all-in-one solution that combines a payment terminal with a portable touchscreen POS. Zettle's solutions are perfect for conditions that most terminals fail to handle. Instead of relying on Wi-Fi, users can connect with a prepaid SIM card. One Zettle's device can handle actions that would need different equipment otherwise, from barcode scanning to invoicing or even selling and redeeming gift cards. Zettle's users can automatically benefit from PayPal's business account and even turn their own phone into a payment device for maximum mobility.
Billogram
Founded: 2010
Total funding amount: $71.3M
Industry: Fintech
Applications: Billing
Mission: Transforming billing into an interactive experience that improves customer satisfaction and unlocks opportunities for businesses
In B2B relationships, the invoice is often the most common point of contact. Why don't we use it to elevate the user experience? Swedish company Billogram has noticed this missed opportunity and made it its mission to change how companies interact with their clients through invoices. By replacing a regular file with an interactive digital format, they make this interaction hassle-free and much more pleasant, which results in lower churn and better customer satisfaction.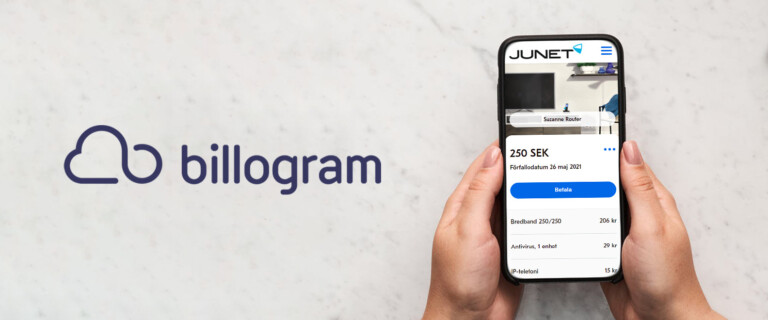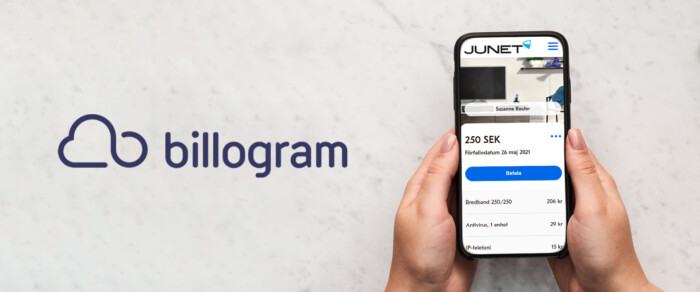 Nowadays, when market fluctuations affect companies' financial fluidity, which often results in delayed payments, such interactive billing can help businesses collect dues in a non-invasive manner. Errors related to paid amounts and payment data decrease with Billogram, as the customers are guided through the payment process. Billogram's users also gain an opportunity to upsell via invoicing, with Billogram offering them personalization features. Could you believe that so many opportunities are locked in one simple document?
Qred
Founded: 2010
Total funding amount: $70.6M
Industry: Fintech
Applications: enterprise financing
Mission: Facilitating financial support for small businesses
Qred's goal is simple – support entrepreneurship through a package of services that are usually delivered separately and are heavily charged by the financial institutions. Entrepreneurs can borrow money from Qred without having to pay it back within a defined deadline and cover their business purchases with a Qred VISA, getting a 1% cashback on every transaction. On top of that, the Swedish company also provides factoring, taking over the due payments of their customers to improve their financial liquidity.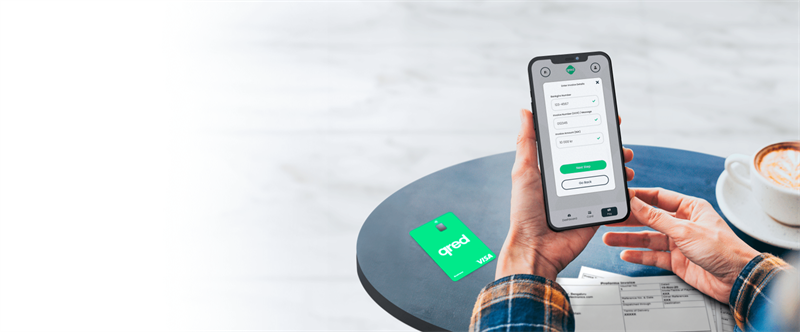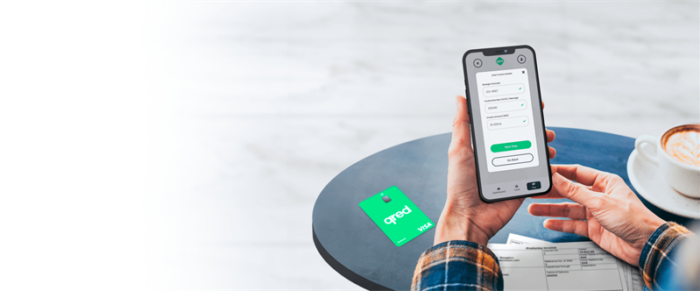 Sounds too good to be true? Testimonials prove that the Qred business model works and actually helps companies stay afloat. The market fluctuations in recent years, when the market was tormented by the pandemic and the implications of the war, show that we need initiatives like this one. Qred prioritizes small businesses, which makes it stand out on the banking map. As for most of the successful initiatives, it started as a result of a personal experience. Qred's founder was once refused a loan for his business, and making success accessible for other small businesses soon became his mission. Guess who's laughing now!
Trine
Founded: 2015
Total funding amount: $7.4M
Industry: Fintech
Applications: Solar energy investments
Mission: Increasing the number of solar energy projects through investments
Another startup on our list works with finances as well but with a mission of turning it into a greener future. More specifically, it offers a platform for investing in solar companies in emerging countries. Trine protects investors' interests with a comprehensive risk assessment process. Monitoring solar companies' progress on a daily basis, the startup provides investors with reliable feedback.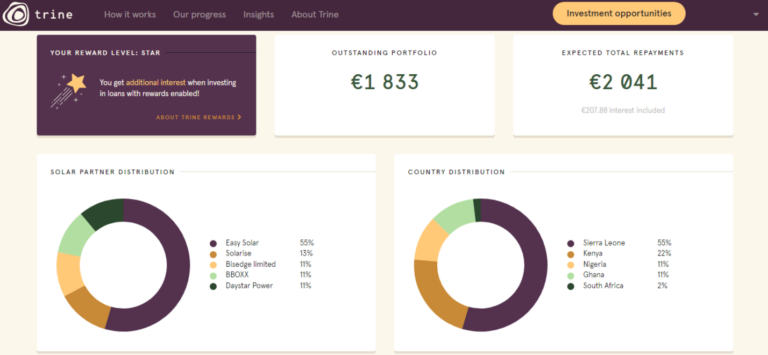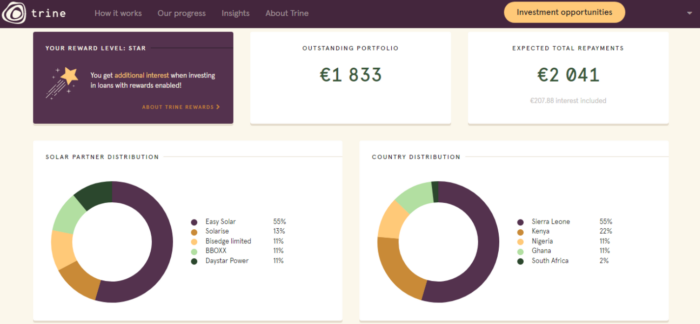 It's a win-win – the renewable initiatives in emerging markets often struggle to access the initial capital, and the investors provide them with it. For the investors themselves, the chances of multiplying their capital are high, considering that the emerging markets are often scarce with traditional electricity resources, and solar is often simply the only option in remote or excluded areas. Plus, they contribute to the expansion of the renewable energy market.
Top Swedish startups – which direction are they heading towards?
Taking a leap into finance feels like a natural step for Swedish startups, since the country has been long known for its pioneering approach to handling financial aspects. First European country to issue banknotes, today Sweden is on a fast track towards a cashless future, going head-to-head with its neighbor, Norway. No wonder top Swedish startups know the drill, fostering financial innovation in various different forms.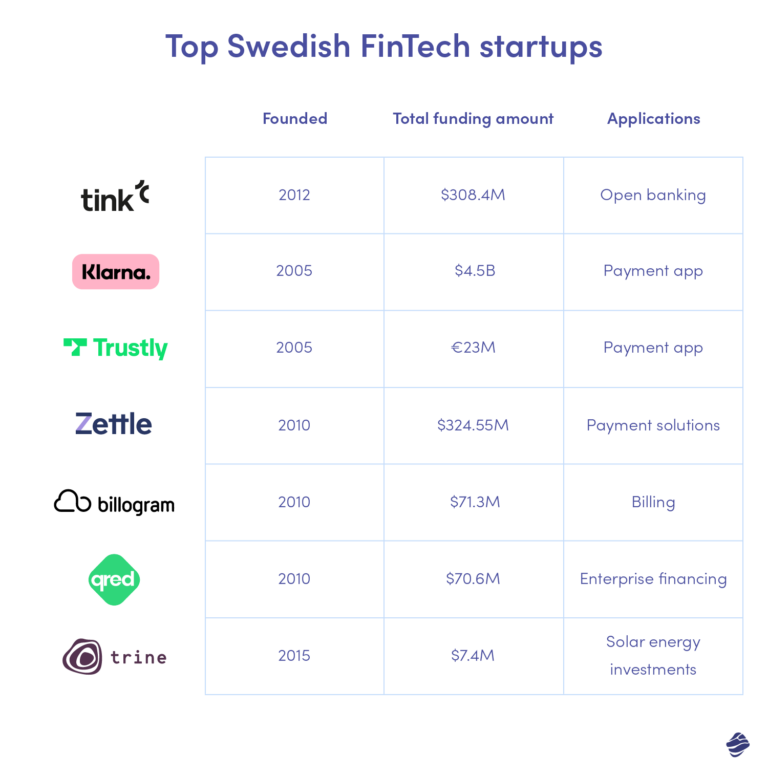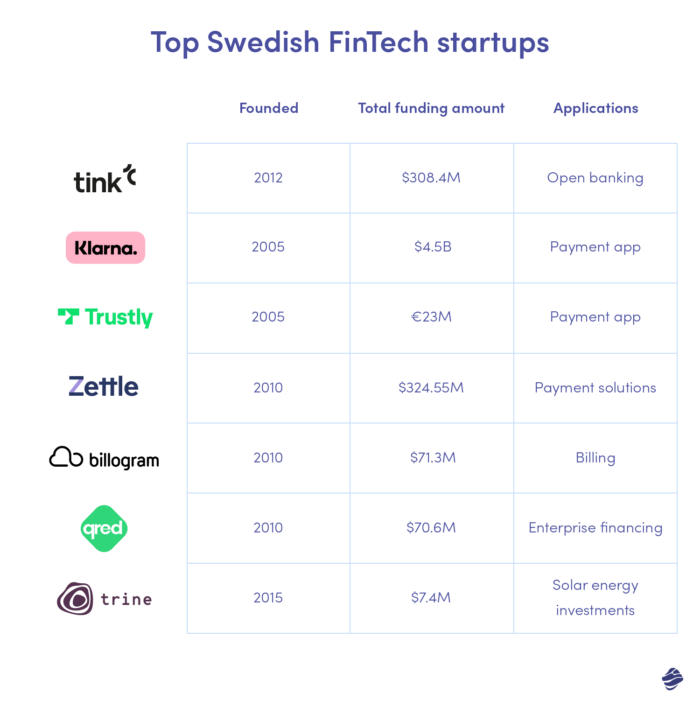 Best Swedish startups in the open banking
Open banking seems the most trending direction at the moment, since the regulations regarding such an extensive data-sharing ecosystem are still relatively new and forming, sparking additional needs among companies and financial institutions. It's a perfect occasion for the facilitators to step in, and Swedish companies are definitely taking advantage of this opportunity.
Although Europe gave foundations for the concept of open banking to develop, it soon started to spread across the world, adopting different approaches. In Asia, many countries decided to let the open banking ecosystem regulate itself for now. However, in the USA, there are hints of upcoming attempts to create a coherent federal policy. In October 2022, the CFPB proposed a regulatory framework that could change how the organizations from the sector currently operate by 2024.
Could that turn some top Swedish startups into unicorns? In our ranking, we have mentioned two open-banking Swedish companies that have achieved the biggest market success, but new initiatives are popping up, potentially filling the international demand for specific support. Let's see how it unfolds!
Why the top startups in Sweden aren't conquering crypto?
Interestingly, Swedish startups' leadership in fintech does not extend to crypto, which has received a frosty welcome in that region of Europe. Taking a quick look at crypto adoption rankings, it's conspicuous that the Scandinavian region seems to ignore the potential of crypto, not rating even in the first 25. Although the podium belongs to Australia, the US, and Brazil, many European countries – like Greece, Spain, or the Netherlands – appear in the ranking, so Europe is definitely not as crypto-skeptical as Scandinavia itself. 
First and foremost, the whole region lacks regulatory frameworks that could convince customers of crypto investments. None of the countries, including Sweden, had their national bank implement their own coin. It's thus understandable that the startups are not willing to conquer that field either. Their focus seems to shift towards streamlining the traditional finances instead, developing new initiatives and delivering software development for fintech.
That's a wrap-up for today! We hope you got a clear overview of the Swedish fintech scene. Follow our blog and newsletter for more rankings and insights. We have already covered top renewable energy startups or best startups in Dubai and there will be more coming soon! Meanwhile, if you have an idea for a fintech business – let's talk about how we can make it easier for you to enter the market with our software development outsourcing services!